But the following year the good work began to unravel. Over-ambition, a lack of frontline Fl experience, Akagi's failing financial security and intra-team politics — it would all erode the early promise. The CG891, its initials added in memory of Capelli's close friend and key Leyton House cog Cesare Gariboldi who'd died in a road accident, failed to live up to expectations. And its 1990 successor, based on the same chassis with new aero, looked to be a flop, too. But a mid-season discovery would change everything, bringing a new meaning to 'fast food', as engineer Andy Brown explains on page 60. From the French GP in July 1990, the CG901 became a contender, Capelli leading 45 laps at Paul Ricard having failed to even qualify for the preceding Mexican GP. But it was all too late for Newey. Adrian had already quit the team and would start his new job at Williams the Monday after the British GP.
"I'd been in at Leyton House pretty much from the start and although we made mistakes I thought as a team we were moving forwards," he says. "Had Leyton House continued to have proper funding we could have done a decent job, perhaps — who knows — start to win races. But Akagi was clearly in financial trouble and it was pretty obvious which way it was going, which is why I left when I did. And frankly I'd had a big fall-out with the accountant [Simon Keeble] who Akagi had appointed to run the team, and with whom I got on very badly. You can't appoint an accountant to run a race team. It's never going to work."
Akagi would later be arrested for fraud and the team, back under its March moniker, would fold on the eve of the 1993 season — by which time Newey was being hailed as the new genius of F1.
"The first two times I drove on track were both in F1 cars," says Adrian with a smile. "The first time was an 881 at Vallelunga where we were testing towards the end of the year. Both drivers [CapeIli and Mauricio Gugelmin] found the cockpit cramped, which I've had a lot of stick for since! Ivan said, 'you drive it and see what you think'. So I did. I did the outlap, got as far as the final hairpin — and spun coming out. So that was my circuit debut. "My second time was in a Williams at the end of 1993 where the team organised a day for journalists to drive at Paul Ricard, and Patrick [Head] thought it would be a good idea if he, I and Bernard Dudot from Renault had a play. Unfortunately, it was chucking it down so it was a bit daunting.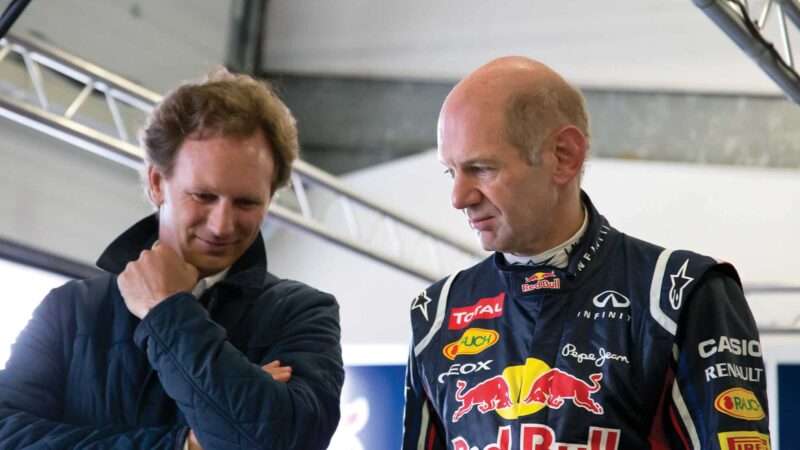 "So this is my third time in an F1 car if you discount the Goodwood hillclimb, which is not the same thing. And in preparation for this, I have to admit the guys at work — and Christian primarily — thought it would be a good idea if I tried a single-seater before being let loose in an F1 car. So I went up to Snetterton last week and jumped into one of Jonathan Palmer's F2 cars. My head was hanging off after about 15 laps, just from not being used to driving cars with a significant amount of downforce."
Newey's short on experience, but not in confidence. He looks at home in the car almost immediately, and as you can see from our pictures, his confidence was inspired by its immaculate preparation, thanks to owner Patrick Morgan and his Dawn Treader Performance team. At the Festival of Speed this year, former F3 racer Gary Ward set the fastest time of the weekend in this car. Both Adrian and Coulthard, who also enjoys a few laps during our session, relish the chance to backtrack to a 'purer' time when racing cars were made in the right proportions, and weren't littered with the turning vanes and aero flaps Newey himself must specialise in today.
"It actually felt very comfortable, funnily enough, considering I haven't driven a car like that," says Adrian. "Good visibility all round thanks to the low cockpit, which from a safety point of view you could say left the drivers quite exposed. A very tractable engine, and the physical act of driving the car is simple. Obviously it's Patrick's car and I didn't want to take any chances with it, but it felt beautifully balanced: direct steering, good brakes and very little buffeting, which was surprising because I'd had a lot in the F2 car. It just felt like an old glove, which is peculiar given that I'd never driven it before."
We were just relieved he'd been able to squeeze into the v-shaped cockpit, given how infamous his Leyton House designs were for their shrink-wrapped proportions. It helps that Newey shows no visible sign of having any hips. "Yes, Ivan and Mauricio did complain about cramped cockpits and the difficulty in changing gear, which we made a lot better on the 891 and the 901," he admits. Patrick points at a blister bubble on the right flank — a rare aero concession to the drivers and the skin on their knuckles when changing gear. Newey smiles. "For me at my size there was enough cockpit space. I don't know what they were all moaning about!"
CG901 never won a race, but its importance to Newey and F1 as a whole is obvious if it is compared to the Williams FW14 of 1991.
"Certainly from Leyton House to Williams, it was very much the same aerodynamic philosophy," says Adrian. "As I joined Williams in July 1990, I had a relatively short time to get on with designing the following year's car. Basically I brought with me the knowledge in my head — not the drawings — of what would have been the Leyton House 911 had I stayed there." Note the important clarification within that sentence.
"Obviously, Williams had much bigger resources compared to Leyton House, and all the experience, particularly on the mechanical side. But I think it's fair to say that aerodynamically what we were doing at Leyton House was much more advanced than what they were doing at Williams at the time. So if you sit an FW14 beside a 901 you'll see more than a passing resemblance."
With the 'active' FW14B of 1992, Newey claimed his first World Championship, with beefy Nigel Mansell strong-arming his way to a dominant drivers' title. But in defiance of popular belief, Newey believes Williams didn't use the best active ride system that was available. Again, his experience at Leyton House told him differently.