Lunch with... Alastair Caldwell
He rose from cleaner to team manager at McLaren, walked out on Bernie Ecclestone and then found a way to fund a passion for fine cars
Spending a day or even an hour with Alastair Caldwell, listening to his fund of stories about Formula 1 from the inside 40 or more years ago, is an unforgettable experience. As a callow, penniless 24-year-old, Alastair arrived in England from New Zealand one Saturday in 1967.
By Monday he'd found the little unit in Colnbrook that was the McLaren factory, knocked on the door and asked for a job as a mechanic. No vacancies: so on Tuesday he started there as a cleaner.
He rose rapidly to be McLaren's team manager, and went on to do the same job at Brabham and ATS. Then he turned his back on F1 – "I never made any money out of motor racing" – and set up a storage and warehousing company, the first of its kind in Europe. It has made him a wealthy man. Now he indulges his passion for adventure in long-distance historic rallying, campaigning a wild variety of cars from his collection in gruelling events from Australia to Alaska, from China to Peru.
He chooses lunch at the Crooked Billet in Stoke Row, but he suggests I go first to his house, a substantial pile off a private road in Maidenhead, to look at his toys. At the bottom of the long, lush garden are several garages. In one his two full-time mechanics are working on his AC Aceca 2.6 while his high-spec rally Austin A35 awaits attention. In another there's a delectable 1938 Alfa Romeo 6C with aerodynamic Superleggera body, rubbing wheels with a MkI Lola-Climax, a Rolls-Royce Silver Cloud, a BMW 700 coupé, a Ford Model T Speedster and a couple of motorbikes – one a classic Royal Enfield built under licence in India. Typically, Alastair bought it in Delhi and then rode it across Asia, through some pretty inhospitable countries, and back to London.
And then there's his Ferrari GTO. Not an original one, but a perfect tool-room copy, inside and out, which Alastair has had built from all-Ferrari bits around a 330 four-litre V12.
Every one of his cars has been rallied, over massive distances. His tale of changing the Alfa's shock absorbers in Mongolia, and then its head gasket in Uzbekistan, is a classic. In the Rolls – bought in a forlorn state at auction for £8000 because it was the most unlikely rally car he could think of – he did an event which started in New York and went through various American states before heading north through Canada and then up to Alaska. His navigator on this event was his mother, then 94, now a very lively 96. The end of the rally in Anchorage wasn't far enough for them, so they drove on, north of the Arctic Circle, to the very top of the American continent. "Mum's excellent on the maps. The roads up there are all gravel, and the Rolls was good for 100mph on that surface. When I got it sideways Mum got quite used to looking forward out of the side window."
The A35 has been rallied through Central America – Honduras, Guatemala and El Salvador – and then Alastair ran it in the Carrera Panamericana. At the finish he decided to visit friends in Florida, and drove the little car flat out from Mexico up through Texas and across the United Sates.
He offers me the choice of which car we take to the pub. Of course I choose the GTO. It's nearly 20 miles to Stoke Row via Alastair's winding route, and at every opportunity he takes it up to maximum revs in second and third. As I sit on those correct blue-covered seats and look across at the big rev-counter dial, the sparse cabin amplifies the glorious music of whirring cams, whining gears and symphonic exhaust. Not just because of all that wonderful noise, it feels very quick.
At the pub Alastair chooses a lobster starter with avocado, asparagus and crispy bacon, followed by a whole Cornish crab. His drink is an honest pint of beer. "I was born in the UK, youngest of three brothers. When I was seven my father, who was a vet, became disillusioned by the austerity of post-war Britain and we emigrated to New Zealand. All of us at Hamilton High School were mad for cars. Believe it or not, in my class in my year were Howden Ganley, Robbie Francevic (later Australian touring car champion), Steve Millen (IMSA champion), Jimmy Palmer (Kiwi Gold Star champion), Graeme Lawrence (Tasman champion), John Muller (team manager at Brabham) and Pete Kerr (chief mechanic at March and elsewhere). Howden's dad subscribed to Autosport, and Howden would bring it to school so we could all read it. At 12 years old I reckoned I knew just how a race team should be run.
"I loved cars and wanted to be a mechanic, so after school I got a job in the Post Office garage in Auckland. We didn't just look after Post Office vehicles: I worked on police cars, government cars, the Prime Minister's Jaguar Mk9, even the Rolls used for the Queen's royal tour. Then I started to prepare racing cars at night-time. My middle brother, Bill, worked for a music impresario and also had his own band, and he was making good money. That allowed him to go racing. He had a MkI Lola sports-racer first – like the car I've got in my garage now – and then he got a twin-cam Brabham. I helped look after it.
"He was running at Teretonga, in a Tasman Series round won by Jackie Stewart's BRM, and his throttle jammed open. The little tag on one of the throttle return springs broke off and caught against the inlet manifold. He went off into the safety bank, which launched him into a tipper truck that had a bunch of spectators sitting on it. He was killed, and two small boys died too. It put me off racing for a while, especially as it was partly my fault because I'd prepared the car. That was one tiny detail I hadn't thought through, and I felt very guilty.
"But after a while you rationalise these things. I did love motor racing, and friends like Alan McCall who'd gone to the UK to work were coming to the Tasman Series with Lotus or Brabham and saying, 'Why don't you come to Europe? You'll get a job, no sweat'. I'd got married at 19, had two kids already, but I had just enough money to get myself to England, and I ended up at McLaren, sweeping the floor.
"That first day Tyler Alexander, Mike Barney and Wally Wilmott were putting a 2-litre BRM V8 into an F2 M4A chassis – Bruce's first F1 car. At 5pm, when I was supposed to go home, I asked them if I could help. Tyler said, 'Can you change the ratios in a gearbox?' I'd never touched a gearbox like that before, but I said yes, of course I could. I worked out how to take it to bits, didn't ask any questions, found the ratios, put them in and got the box together. Then they told me to make a bracket they needed on the M4A. I made that, they put it on the car, and then at 2am Tyler said, 'We're going home now. As the cleaner, you have to be in 8.30, but we get in at 7.15'. So I walked six miles to my aunt's house in Gerrards Cross where I was staying, slept for a couple of hours, then woke my aunt up and got her to drive me back to Colnbrook. At 7.15 when Tyler arrived I was sitting outside, waiting to be let in. Tyler said, 'I guess we need a new cleaner'.
"Soon I was working on the M6A Can-Am cars. It was really tight getting them finished and on the plane for America for the start of the series. My wife and kids hadn't arrived from New Zealand yet, so I was able to work 20 hours a day, seven days a week. When the cars went to the airport I was in the truck still working on them, fitting the door catches. When they'd gone I switched to working with Mike Barney to build the V12 BRM-engined F1 car, the M5A. When it was ready to go to its first race, the Italian GP, Bruce said to me, 'You want to go to Monza?' I said, 'Do birds have pointy beaks?' So that was my first Grand Prix.
"I'd never been to Europe before. Mike Barney and I took the truck, which we called Gertie, and we had a major drama getting through French customs because they said we didn't have the correct paperwork. They impounded the truck overnight but I had the company briefcase, so I took out a couple of big French franc notes and slipped one each to the two customs officers, and that did the trick. By now it was going to be tight to get to Monza on time, and when we got to the Italian border there was a huge queue of trucks waiting hours to go through. I drove Gertie to the head of the queue, being shouted and sworn at by all the truckers, and handed in our carnets with a big lire note slipped inside. The customs man slid the note into his pocket, stamped the carnets and we were through in minutes.
"The M5A was painted red, but when we got to Monza the organisers said, 'This is an English car, it has to be green. You must get it repainted by Sunday'. Pat McLaren was sent into town to buy a dozen aerosols of green paint. Bruce's plan was to paint all of the car green, wheels, tyres, suspension, steering wheel, aero screen, everything, to tease the Italians. Then he qualified on the front row, alongside Jim Clark and Jack Brabham. The organisers, dismayed that the fastest Ferrari was only on Row 2 and there was going to be an Italian Grand Prix without a red car at the front, told us to leave the colour as it was.
"Bruce McLaren was a wonderful man: friendly, nice-natured, never showed any anger, never threw his weight around. He used persuasion to motivate his team, praised you if you did well, didn't bollock you if you didn't. And he just loved racing cars. If we were making a monocoque for a new car, when it was just sheets of aluminium held together with skin pins, as soon as he thought it would take his weight he would climb into it and make engine noises. 'Brrrmm, this feels quick, this is going to be good.' He'd go to some black-tie do in London on a Saturday night, and on his way home at 2am he'd stop by the factory to talk to us and see how things were going.
"I was at Goodwood on June 2, 1970, when Bruce was testing an F1 M14A and the new M8D Can-Am car before it went off to America. The same two mechanics were looking after both. Bruce did some laps in the M14A, then jumped into the M8D. But the mechanics hadn't replaced the two pins holding the rear bodywork. The usual thing is to clip them over the steering wheel spokes when you take them off, so they can't be forgotten. But in the confusion, maybe pushing the F1 car back to get the Can-Am car out, that didn't happen.
"From the pits you could see across to the Lavant Straight, and I saw the back come off. Bruce would have been doing about 180mph. Part of the rear body was a huge wing which gave massive downforce, and when it went, the back of the car lifted off the ground and it spun around. Then I lost sight of it behind a building.
"One of the mechanics and I drove straight there, and we found the car had gone backwards across the grass into an earth and timber marshals' post, hard as concrete. The wreck was on fire, and I used the fire extinguisher from my car to put it out. Bruce's face was burned because his visor was melted, but it wasn't the fire that killed him, it was the impact. I picked him out of the car and he was like jelly, because so many of his bones were broken. Then an ambulance came, and the police. I dragged the wreck into the truck, took it back to the factory, and went home.
"I was very, very upset. I wanted to quit. But I'd just bought my first house, had a mortgage and all that stuff. Without that, I would have taken my wife and kids to Heathrow and flown straight back to New Zealand. But I went to work the next day, everybody was there, and we pulled ourselves together and got on with it. We knew, even if we didn't sit around philosophising about it, that Bruce would have wanted us to carry on. McLaren's real success came later, and sadly Bruce wasn't there to see it.
"Bruce was my friend, and he'd been killed. My brother was also my friend, and he'd been killed. I decided: from now on drivers will just be drivers to me. Some I really liked: Nelson Piquet, while I was at Brabham, was a fantastic little guy, so funny, always playing jokes. I would have loved to be his friend. But I told him straight, 'I'll go to your funeral as your team manager, not as your friend.'
"Teddy Mayer was from a rich family – his uncle was Governor of Pennsylvania – and he originally came over to Europe with his younger brother Timmy, who was keen to move up to serious racing. Bruce got two Coopers and fitted 2.7 Climax engines to do the Tasman Series, and Teddy paid for it all. Then at Longford, Tasmania, a very dangerous track with trees, a 180mph straight and a bridge, Timmy was killed. Teddy stayed involved with Bruce, and they started Bruce McLaren Motor Racing. Teddy was intelligent, and a nice man, but not an engineer.
"Denny Hulme came to us from Brabham as the reigning world champion. He was still going strong well in his late 30s – he was third in the championship for us in 1972 – and he was a classic Kiwi: he didn't like journalists asking dumb questions, so he got a reputation in the press for being gruff. He had little time for most of his team-mates, but he liked Jochen Mass: Jochen had been a merchant seaman, there was no nonsense with him. When Jody Scheckter joined us as the F1 apprentice Denny gave him a lot of help and advice, wanted him to do well. That big pile-up at the end of Lap 1 of the 1973 British Grand Prix, when Jody went off and took seven others with him, actually got started because Denny waved Jody past going into Woodcote, as if to say, go get 'em kid. Jody came through, ran wide onto the grass, and did he back off? Nah. He very nearly made it, then round he went, hit the wall just beneath us, bounced back, and mayhem ensued. The rest of the field ran blind into the cloud of dust and smoke, they had no idea what was in there. Peter Revson, who went on to win the race for us, actually hit Jody's car with his rear wing.
"Revson wasn't world champion material, but he was good. He left us in 1974 because he didn't think he was getting the best equipment, which wasn't the case: Teddy was very keen to keep him, as a clean-cut, good-looking fellow-American. Revvie went to Shadow, and after two races he crashed in practice at Kyalami. Denny got to him first, but he was dead.
"After Bruce was killed we replaced him with Peter Gethin, who was a useful racer, always cheerful, maybe not a front-runner. We chose him because he wasn't a crasher, and the first race he did for us, Zandvoort, he flew off the road. He walked back to the pits and said, 'The car's not much damaged, it'll be fine'. Something I've always found with drivers, if they walk back to the pits and say it's a write-off, you know it won't be too bad. If they walk back and say the car's fine, you know it's well and truly stuffed.
"Aside from building the cars, I didn't get much involved in Can-Am. Then in 1969, in the two-week gap between the US and Mexican GPs, the F1 guys all went to Acapulco to have fun. But I fancied seeing a Can-Am race, so I got myself to Laguna Seca. As well as the two M8Bs for Bruce and Denny, we'd built a third car as a spare which they never took off the trailer. Chris Amon was driving that Ferrari 612P thing, a bit of a start-money special. No spare engine, and on race morning no oil pressure. The organisers said to Bruce, 'We've got Amon billed as racing, you've got a spare car, how about it?' A deal was done, and as I was there I had my very own Can-Am car to run."
Chris was allowed three familiarisation laps, and started from the back of the grid. Storming up the field, he was closing on Jo Siffert's Porsche 917 roadster when Siffert hit one of the tyre markers on the apex of a corner, which flew up and smashed the McLaren's nose.
"Chris rushed into the pits, we tore off the old nose and put on Denny's spare. But the cockpit cooling air ducts didn't marry up with the ducts on the spare car's chassis. We had to tape everything up, and out he went a lap down. He carved his way back up to sixth, and with nine laps to go the output shaft on the diff broke. He came into the pits and I leaned across the huge wide car into the cockpit and shouted, 'What's the matter?' All he could do in reply was give a little moan. The ducting was now feeding hot air from the radiator directly into the cockpit, and he was completely fried. He was like a little desiccated prune.
"We sat him on the pit counter and fed him gallons of iced tea, and after about 20 minutes he had reinflated back to his normal size. That was my Can-Am career.
"Emerson Fittipaldi came to us in 1974 from Lotus, bringing the Texaco money with him, and he won us our first world championships, for drivers and constructors. A really great guy, very hard-working, constantly testing and developing the car. We were already sponsored by Yardley, who'd got fed up with BRM and come to us in 1972. So we ran three cars, in Texaco colours for Emerson and Denny, and in Yardley colours for Mike Hailwood. The next year there was the row at the Spanish GP at Montjuich Park, because the Armco hadn't been properly built, and the drivers threatened a boycott. They said they'd do three laps of practice and then stop. But of course they all went out and did another lap, and another, and another. Only Emerson stuck to his principles, and after doing his three token slow laps he went home."
The race did take place, and after 25 laps the rear wing of Rolf Stommelen's Hill broke and flew off. The car went over the Armco and into the crowd, and five spectators were killed. The race was stopped and awarded to Jochen Mass, driving the only McLaren in the race.
"Remember the Spanish GP six years before that at Montjuich, the last race with the huge high wings? Both Lotuses crashed that day, and I always say they crashed because I was helpful. The night before the race we were in the garage in downtown Barcelona where the cars were kept, because there was no permanent paddock, and Bob Dance came over from Lotus to see if we could let him have some 22 gauge or 20 gauge aluminium sheet. Colin Chapman had decided that the rear wings on the Lotuses had to be even bigger. I said sure, and we handed it over. If you look in any picture of the Lotus 49s of Jochen Rindt and Graham Hill in that race, you'll see that most of the wing is in Gold Leaf red, but there are unpainted extensions that make the wing a foot or so wider each side, wider than the rear wheels. Graham lasted nine laps before his wing collapsed and he had a huge accident, and 11 laps later Rindt, leading the race, had a massive crash for the same reason. High wings were banned forthwith, and for Monaco two weeks later we all had low-mounted tea-trays.
"At the end of 1975 Emerson said he wanted more money out of Marlboro. I forget the figures, something like he was being paid a million dollars and he wanted two million. Philip Morris said no way, and as all the other decent seats were taken they reckoned they could call his bluff. But he went to his brother's Copersucar team, for a lot of money, and he never won another F1 race. Meanwhile Hesketh had pulled the plug, so James Hunt called me and said, 'You need a driver, I need a seat'.
"By this time I had day-to-day control of the F1 team, because Tyler and Teddy were very involved in Can-Am and Indy and pretty much left me alone. I had a great time, making all my own decisions about car development: the six-speed gearbox, moving the oil tank inside the monocoque on the M19, making the nose move so it didn't hit the ground, lots of things.
"And I can claim to be the godfather of ground-effect skirts. In 1976 I put skirts on the M23 for Kyalami, and in the first day's practice they really worked. Got to the track for second day's practice, and the skirts weren't on the cars. Teddy had got the mechanics to take them off. He said, 'Chapman and [Ken] Tyrrell say they're illegal'. I said, 'Chapman and Tyrrell don't run Formula 1, they don't write the rules'. He said, 'They'll protest'. I said, 'Let them protest. The scrutineers haven't told us to take them off'. But we raced without skirts.
"For Spain we had them back on, we won the race with Hunt half a minute ahead of Lauda, and after that they all copied us. But we were disqualified from that race – the latest tyres sat wider on the rims, so measured across the rear wheels our car was one centimetre too wide. It was like that in scrutineering, but they didn't tell us, they told Ferrari. It would have been easy for us to put it right, but Ferrari wanted us to race and then get disqualified. We appealed, and after we showed we were just as quick after narrowing it and we won at Paul Ricard, they gave us the points back.
"The Brands Hatch affair was something else. After all that mayhem at Paddock Bend on Lap 1 James, being James, drove on with the left front rocking arm bent. He dragged it around Druids and down the hill, and then he realised the race was being red-flagged, so he stopped behind the pits. I went to look at the car and realised we could fix it. We got the car back to the pitlane and got to work. Meanwhile Ferrari and Ligier, and Teddy, were arguing with Dean Delamont that T-cars should be allowed – when, according to the rules, they shouldn't. Delamont kept saying no, but finally with the crowd jeering and booing he said yes. We'd got James's race car ready to go again now. Regazzoni (Ferrari) and Laffite (Ligier) started in their T-cars. So James was the one guy who did it right: he stopped when the race was red-flagged, and he took the restart in his race car. He was disqualified because he didn't complete that first lap, but he was the only guy who followed the rules: stop when you see the red flag. So he won that race fair and square.
"But Ferrari's politics were better than our politics. They convinced the geriatrics at the FIA, and 10 weeks later we got the verdict. James and I heard the news at Mosport, where we were getting ready for the Canadian GP. James was very upset, but he qualified on pole.
"The night before a race I normally put him to bed at 10pm, having kept him off the booze. In our Toronto hotel James was putting away beers in the bar. There was a band, with a very tasty singer, and James pulled her. Every time she finished a set he'd take her to his room and give her a seeing-to, then she'd come back and do another set, then he'd take her off again, and this went on all night. He reappeared with her next morning, wearing the same clothes he'd had on yesterday, staggered out to the hire car and we drove to the track in silence. Then he got into his M23 and won the race.
"A week later at Watkins Glen it was the same story. So, with one race to go, James was three points behind Niki.
"For the final round in Japan I got James there the week before, and he was able to relax, play squash, swim every day. Our hotel in Tokyo was where British Airways and Air France rested their crews, so every day there were more stewardesses for James to choose from. When the rest got there on Wednesday, frazzled from the flight, he was raring to go.
"The story of that race, with the rain and everything, is well known. What's not well known is, with the conditions getting worse and worse, the two people who went to race control and said the race must be cancelled were Niki, and James. As the rain came sheeting down James was adamant it was too dangerous to race, even though that would mean the title would be Niki's. Of course we were determined the race should run. It was getting later and later, so I got the boys to warm up our cars, whoop, whoop, whoop. The other teams thought maybe we knew something they didn't, so they started up their cars, whoop, whoop. The whole pitlane was revving away.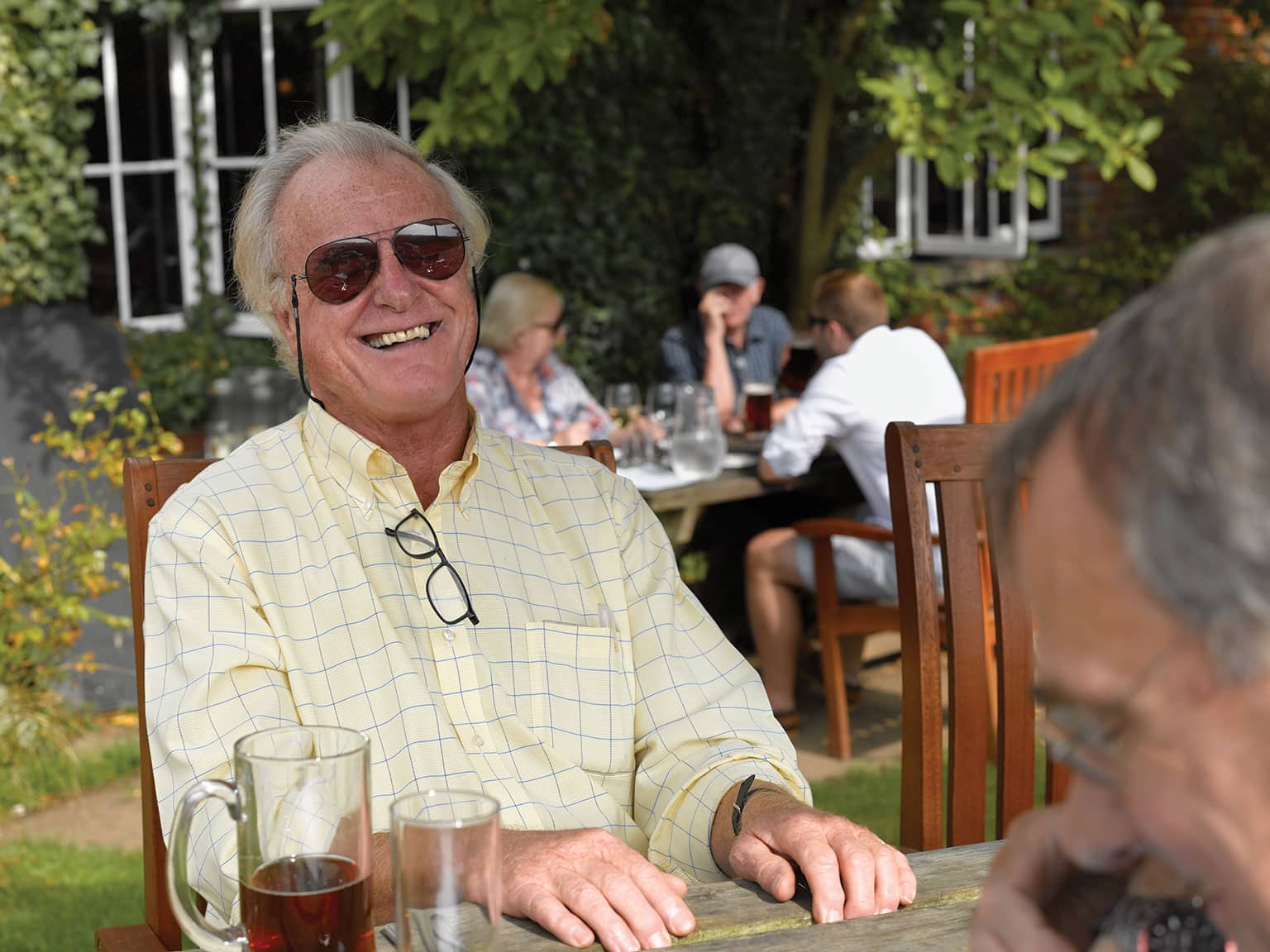 "In our team we had a guy called Lance Gibbs, a barefoot Kiwi just off the banana boat who helped with the tyres and stuff. In the stands facing the pits there were 20,000 Japanese, sitting there stoic and silent in the freezing cold. I said to Lance, 'Is there any way you can get them going?' He said, 'I'll give it a try'.
"I'd issued all my boys with something called an Acme Thunderer. It's a proper football referee's whistle which they wore on lanyards around their necks, so that when they were wheeling a car through the paddock they could clear a path through the crowd without running anyone over. Lance climbed up on the Armco barrier wearing his bright red wetsuit and faced the crowd, and blew a fanfare on his Thunderer. The crowd, with nothing else to watch, loved it. Then Lance decided to teach them a slow hand-clap, facing them all like a conductor, clapping with arms outstretched, and soon the whole crowd was doing a slow hand-clap with him. I went back up the tower and said to the old boys in race control, 'Listen, that crowd is really angry. You'd better have a race or there'll be trouble'. They'd never heard a Japanese crowd behave like that, and they said: Race. I'm certain it would never have happened if Lance hadn't got the crowd going.
"Lauda stopped after two laps, and you know the rest – except that James consistently refused to do as he was told. There were rivers on the track, but as the rain stopped it started to dry out on the racing line. We were on full wets, which would not last the race unless we were very careful. So we hung out a signal to both James and Jochen Mass, just saying in big orange letters, COOL TYRES. Jochen saw it and immediately started to run through the puddles on the straight. James ignored it. We showed it to him repeatedly, and repeatedly he ignored it. He could have won that race. Mario Andretti in the Lotus worked it out, and was running through the wet where he could. He didn't stop for tyres, and he won.
"As James's tyres got worse, he slipped to third. We couldn't see what state his tyres were in, but we were hanging out a signal which meant: Come in if and when you want to, we're ready for you. He waited until he had two punctures, left front and left rear, before he came in. When the rear was jacked up, the nose went too low to get the front jack under, and we had to lift the car – and in those days you were only allowed five mechanics in a pitstop. We got him out again in fifth place.
"To beat Lauda's score and be champion, he had to finish third. People talk about confusion at the end of the race, but we knew exactly where he was. We gave him pit signals to show he was fifth, then third, and then on the last lap we hung out P1, because he was champion. He came in thinking he had lost the title, because again he failed to look at his pit board.
"When I ran the F1 team I took all the decisions myself. Sometimes my decisions were wrong, but usually they were right, and it was a happy, easy-going team. But when McLaren were out of Can-Am and out of Indy, Teddy Mayer involved himself much more, and it became a struggle between him and me. He put me upstairs in an office, instead of downstairs with the mechanics, and now a committee was running the team, which didn't work. I told him, 'Get rid of the committee, and you and I can win the championship again'. He said, 'We can't do that'. So I quit. My wife and I went on our first holiday for 20 years. Then Gordon Murray called and said, 'Come and work for us at Brabham' – which was then Bernie Ecclestone's team. I said, 'I don't think so. Bernie and I are chalk and cheese'.
"Bernie is a very clever businessman who knows that information is power, and he never, ever tells anyone what he is doing. Nobody knows. He rules by fear, he shouts at his staff, everyone is terrified of him. I said to Bernie, 'I don't see how this can work'. He said, 'Neither do I, but let's give it a go'. I said, 'You shout and scream at your employees. If you do that to me once, I'll be off'. And in the end that's what happened. I can't remember what it was about, but I do remember it was in the Brands Hatch tunnel. He yelled at me – he uses really bad language – and I went straight to the car park, got in my car, drove home, and told my wife I'd quit.
"Then I went to ATS. Everybody who knew its owner, Günther Schmid, said I was mad, but when I met him he was charming, and seemed to have a good grasp of racing. He asked what would it take to run his single-car team. I worked out on the back of a fag packet that I could do it on £25,000 a month, engines, staff, overheads, the lot. He said, 'Fine, I'll pay that into the team account every month'.
"First race I did was Silverstone. Slim Borgudd was the driver, and up to then he'd failed to qualify for every race except one. I said, 'For qualifying we have to make the car lighter. Take everything off that doesn't actually make it move forward'. We stripped out everything we could, even took the gauges out of the dash. That saved 20 kilos, and he qualified 21st out of 24. Then he went on to finish sixth and earn ATS a championship point, which was a massive achievement.
"Never got a thank you from Schmid. More to the point, he never paid the money in. As well as running the team, I was having to deal with creditors banging on the door. Soon I couldn't buy fuel and tyres for the truck to get the car to the next race. One day, driving to work, I stopped by the side of the road and thought, 'Why am I doing this?'
"I'd always loved going to work, getting in at 7am, getting home at 4am, building racing cars, running racing cars, it was the best job in the world. And now I hated going to work. That was when I decided to walk away and start my storage business."
Looking back, Alastair retains a healthily sardonic view of F1. "I loved my time in motor racing, the people, the races, the places, all the stuff that happened. But I learned that the number one requirement for success is: you need to be a good bullshitter.
"You say to the sponsors, 'The last two years have just been practice, next weekend we're going to get it right… Oops, we got it wrong again. Now we need you to pay us a few more millions so we can really get it right'. You don't need results. If you have results as well, that's a plus. But first of all you need bullshit."