Precision Winter 2020: Vertex 75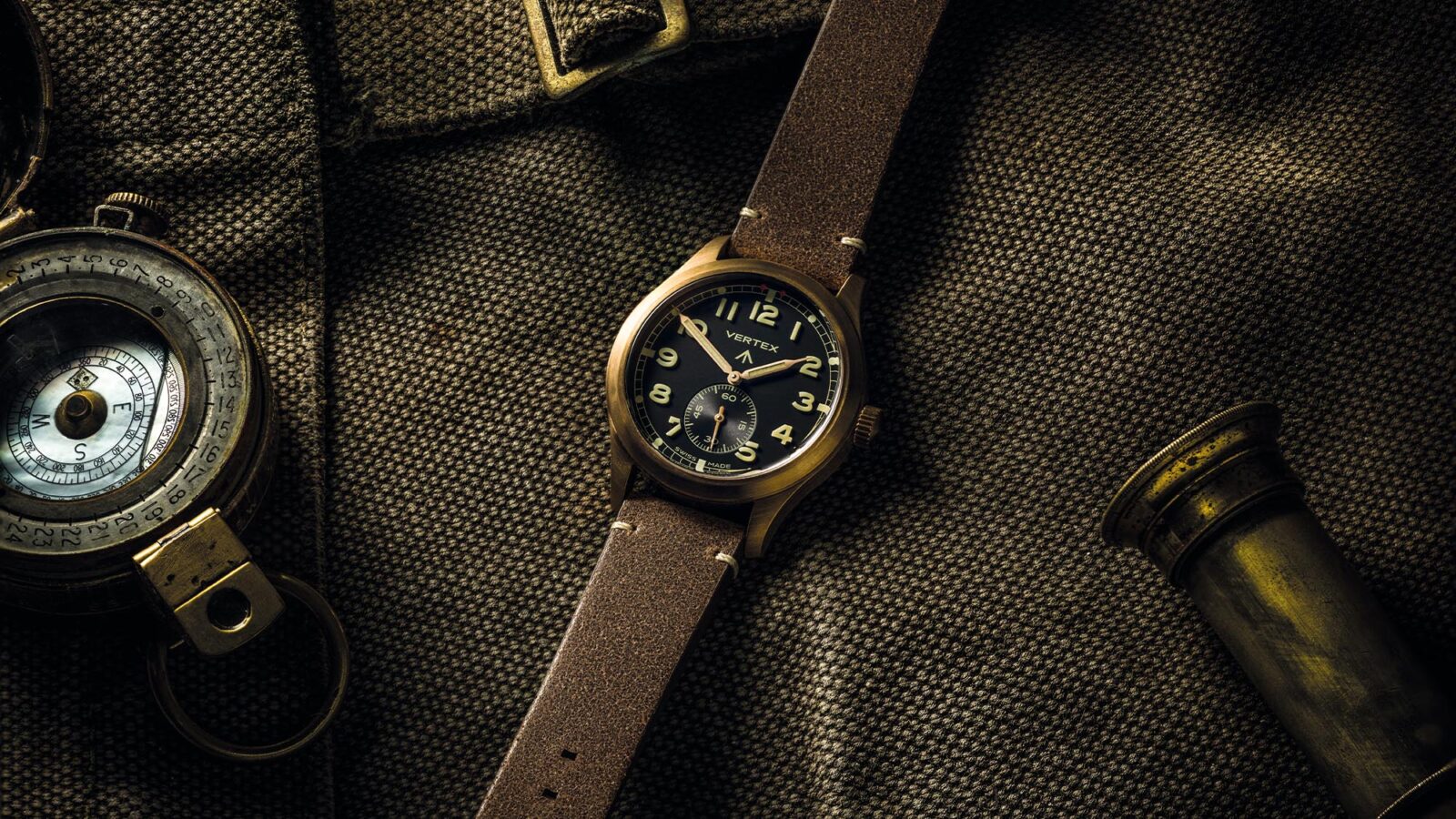 It might be 81 years since the start of World War II, but it seems that time has done little to diminish the appeal of the classic military wristwatch. In a seamless transition from the battlefield to the bar, the explosion in popularity of 'mil-look' watches has been howitzer-like.
The story of the original waterproof wristlet watch, commonly known as the WWW, dates back to the end of WWII when the Ministry of Defence introduced what is believed to have been the first standard specification for a military timepiece before commissioning 12 Swiss-based manufacturers to produce them. The standard decreed that the watches should be water and shockproof with matt-black dials, Arabic numerals, luminous hands and hour markers, an outer minute track and a shatterproof crystal, surrounded by a stainless steel case to house a movement of specific size. As a result, all the watches from the 12 manufacturers (Buren, Cyma, Eterna, Grana, Jaeger-LeCoultre, Lemania, Longines, IWC, Omega, Record, Timor, and Vertex) looked more or less the same.
Military watch geeks have been collecting these originals for decades, but only recently have manufacturers revived the look, usually bringing it up to date with larger, more contemporary case sizes than the 36mm originals.
Back in 2017, entrepreneur Don Cochrane decided to relaunch Vertex after discovering that the firm had been set-up in 1916 by his great grandfather Claude Lyons. He started with an initial, limited-edition model called the M100, which featured a black dial with highly luminous Arabic numerals, a small seconds counter and 'broad arrow' government property mark, all of which harked back to the old military issue models.
Cochrane then introduced a blackened version called the M100B, and followed that with a single-button chronograph, the MP45, that's based on a watch supplied post-war to the Royal Navy. Manual and automatic winding versions of that one are now available, along with a choice of blackened or plain steel cases and black or white dials.
The most recent addition to the Vertex range, however, is arguably the best looking and most covetable. It's a new take on the M100 called the Vertex 75, because it marks 75 years since the end of World War II.
The watch contains the same bespoke, hand-wound movement as the original M100 but features an all-new 40mm case made from bronze, the back of which is an exact reproduction of that used on the WWW made from 1944-45. It even has the WWW stamp, broad arrow mark and Army stores number.
Just 150 will be made, each priced £2,700 and supplied with a trio of straps and a genuine Pelican waterproof case. As far as we're concerned, it's mission accomplished.