The bonnet mascots that fall prey to forgers
There was a time when most manufacturers had their own radiator adornments and some are highly prized. Just look out for fakes, warns Gordon Cruickshank
On or off the car, radiator adornments have been a very popular collectible since they appeared at the turn of the 20th century. They win on all counts – the huge variety of designs, some are artistic masterpieces, and they're small. Even a large collection can hang on a wall in a glass case, while a single one is easily mounted for display.
Peter Card of Transport Collector Auctions is an expert. "As far back as 1900 the then Lord Montague had a St Christopher medallion on his Daimler. In fact Rolls-Royce commissioned the Spirit of Ecstasy because they didn't like to see their wonderful products demeaned with trivial or jokey mascots."
While some adornments represented the make of car, sometimes fitted as standard like Jaguar's leaper and Minerva's helmeted goddess of wisdom (inset), many were aftermarket accessories and reflect the owners. In Britain a love of dogs, horses and fishing means these subjects were common.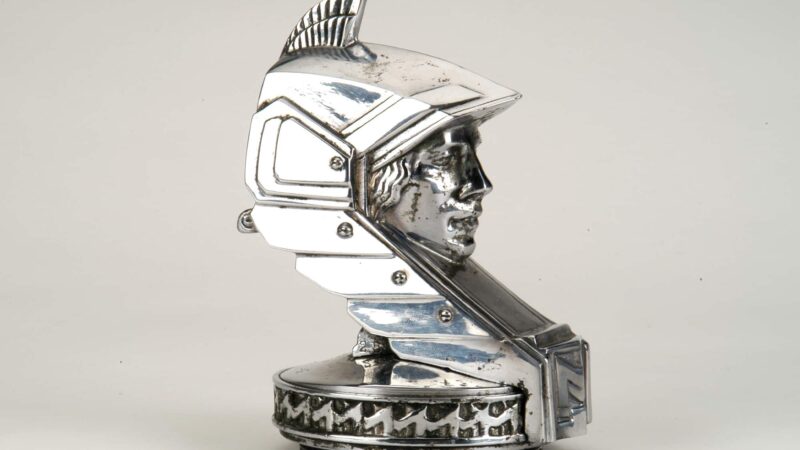 "There were two areas," Card says. "Many manufacturers offered their own mascot as a factory option – Alvis's hare or Vauxhall's griffin for example – but there was a huge variety of aftermarket choice. I know people who collect according to themes: one just collects elephant mascots, while another only collects butterflies."
Some mascots depict popular characters such as Mickey Mouse, Felix the Cat (below) or Old Bill, cartoonist Bruce Bairnsfather's famously lugubrious First World War anti-hero, while others embody the impression of speed – things like stylised aeroplanes, locomotives or bullets were especially prevalent during the 1930s, the era when streamlining was shorthand for progress, power and style.
"Many were aftermarket accessories and reflect the owners"
You can find common mascots for £10-£15, with prices easily crossing the £100 barrier as rarity and novelty combine. But since values rose in the 1980s there have been many reproductions, warns Peter. "From 1995 prices dropped dramatically as many collectors realised they'd been had. Only time and wear give the proper aged look to nickel and chrome," he says, "but look out for modern metric threads on the mount, a sure giveaway." He cites Voisin's vicious knife-wings: "Twenty years ago an original could reach £1000. Because there are so many fakes you'd now only get £200 to £300."
Prime target for fakers? Lalique, Red Ashay and Sabino. These fragile translucent glass Art Deco gems of stylised heads, animals and even a shooting star ought to be very rare, but values of many thousands have prompted plenty of copies. "Lalique's Chrysalis and Victoire used to make very good money as no one could duplicate that coloured tinge to Lalique glass. Then someone discovered you could get similar effects with a microwave, and suddenly lots appeared on the market."
This is one case where the less you pay, the more likely you are to get an original.
Lalique Archer
A French classic, the Archer from Lalique made a striking if impractical statement at the end of a long bonnet, especially if illuminated as some were.
Sold
Gorringe's, £900
Voisin
The law on bonnet ornaments is vague, but it's hard to see Voisin's twin knife-blade vertical wings being allowed today, especially as this one is 9in tall. Unusual construction of riveted aluminium.
Sold
Artcurial, £1435
Lalique Victoire
The epitome of the 1930s, Lalique's Victoire is a simple but striking depiction of a female head with flying headdress. Such fragile treasures were often fitted only to appear at concours d'elegance, and removed afterwards.
Sold
Lyon & Turnbull, £7500
Dog and pheasant
Field sports have in the past been a common subject for mascots. This chromed-plated example by Lejeune probably dates from the 1960s (they are still made) and depicts a Labrador retrieving a pheasant.
For sale
Ebay, £145
---
My prized posession
Alfa Romeo 2000 GTV
Filipe Alberquerque, sports car champion
"My dad loved cars, and when he was young he would have liked to get involved in motor sport himself, but my grandfather told him to go study instead. While he was helping me with my career he went and bought a few cars as projects and one he loved was this. He bought one and partially restored it but when he became sick he gave it to me. I decided to fully restore the car. It cost me way more than I was thinking to spend, but now I have a piece of art in the garage that reminds me of my father every time I take it for a ride."