For Valentino Rossi, retirement means more racing
"Rossi has long been famous for making crowd-pleasing gestures"
On the afternoon of November 14 Valentino Rossi will contest his last motorcycle grand prix, 26 years and seven months after his first. It's difficult to imagine the scenes that will take place at Circuit Ricardo Tormo, outside Valencia, as fans say farewell to the rider who has been as big, or ever bigger, than MotoGP itself for much of the last two decades.
It's also difficult to guess what theatrics Rossi may have planned, because he has long been famous for making grand, crowd-pleasing gestures in celebration of victories and career landmarks. Although, to be honest, the least grand of all his celebrations will always be his best, at least to me.
In May 1999, when he was on his way to the 250cc World Championship, Rossi won the Spanish GP at Jerez in front of a noisy capacity crowd, which always encouraged high jinks.
During the slowdown lap he parked his Aprilia against a tyre wall, ran over to a marshals' portable toilet, entered and shut the door, re-emerging a few seconds later to deafening applause. He had spotted the toilet while walking the track on the eve of practice and plotted the celebration right there.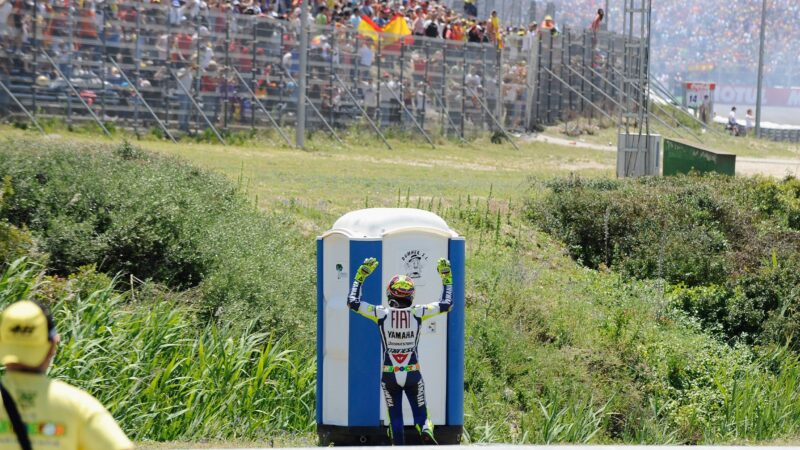 Inevitably some planned celebrations were derailed by defeat, one of which deserves mention. In July 2003 Rossi and his fan club – always involved in helping create the more complicated theatrics – convinced their local priest to travel with them to the German Grand Prix at Sachsenring.
The fan club built a small-scale replica of the Tavullia church tower which was assembled on the safe side of the guardrail, ready for action. Towards the end of the final lap – with Rossi leading – the church tower was dragged towards the track, with the priest, in his late seventies and somewhat frail, perched perilously inside.
The idea was that Rossi would celebrate with the priest, who would ring the church bells, just like he did every time the hometown hero won a race. However, Rossi nearly crashed at the final corner and was beaten to the chequered flag by Sete Gibernau. When this news reached the fan club it immediately went to abort mode, retreating behind the guardrail, where the tower was later burned.
Almost certainly the 42-year-old and his fan club will be putting the final touches to their final MotoGP celebrations as you read this. And then, of course, the bigger question: what will he do after Valencia?
Rossi already has huge interests in motorcycle racing, beyond his own career. Around ten years ago he established the VR46 Riders Academy, to mentor young Italian riders, with the intention of overcoming Spain's dominance of motorcycle grand prix racing. The academy has been a great success, winning two world titles and next year will have three riders on the MotoGP grid. VR46 also has teams in all three classes – MotoGP, Moto2 and Moto3.
Rossi also has dealings outside two wheels. The most successful premier-class motorcycle grand prix rider of all time started out in karts and will finish his racing career on four wheels.
"There will always be an open door for Valentino at Ferrari"
Way back in September 2008 I interviewed Rossi for this magazine about his plans for "ten years of extra career in cars when I stop with bikes". By then Rossi had already come close to quitting MotoGP for Formula 1, following a series of promising tests with Ferrari during which he impressed Michael Schumacher.
In 2006 he took part in F1 pre-season testing at Valencia, sharing the track with the rest of the grid, and Ferrari technical director Ross Brawn announced that Rossi would test with the team once a month that summer, with a view to contesting his rookie F1 season.
Finally, however, Rossi decided to stick to MotoGP, because he preferred the sensation of riding motorcycles and didn't want to leave the MotoGP paddock, saying: "I don't feel the F1 atmosphere is close to my lifestyle – it's a lot, lot more serious."
Since then he has continued to race cars, mostly in rallies, but more recently he's moved into endurance racing, taking part in the 2019 and 2020 Gulf 12 Hours races at Yas Marina, winning the Pro-Am class in a Ferrari 488 in 2019. This was obviously preparation for his post-MotoGP future.
Rossi has always had huge respect for all motor sport history, so his big dream is to contest the endurance car classics, like the Le Mans, Spa and Nürburgring 24-hour races.
His immediate plan is to enter next year's Le Mans 24 Hours, most likely with a Ferrari in the GT class. His current involvement with Ferrari is unofficial, but when the company courted him for Formula 1, president Luca di Montezemolo pronounced, "There will always be an open door for Valentino at Ferrari," and there are already rumours that he will be involved in Ferrari's return to the elite class of endurance racing in 2023.
Throughout his motorcycle racing career Rossi has always had a knack for doing things at the right time and it would be just like him to move into car endurance at exactly the right moment to renew his romance with Ferrari.
Rossi has also always done exactly what he wants to do, so while many MotoGP fans hope he will be a constant presence in the MotoGP paddock next year, I'm not so sure. What will be his preference: having team meetings and cheering on his riders or getting his adrenaline fix in a racing car? Stupid question.
---
Mat Oxley has covered motorcycle racing for many years – and also has the distinction of being an Isle of Man TT winner
Follow Mat on Twitter @matoxley