The final journey of Stirling Moss's 722 Mercedes-Benz SLR
"Yes, this month somebody really did send me a used sparkplug in the post"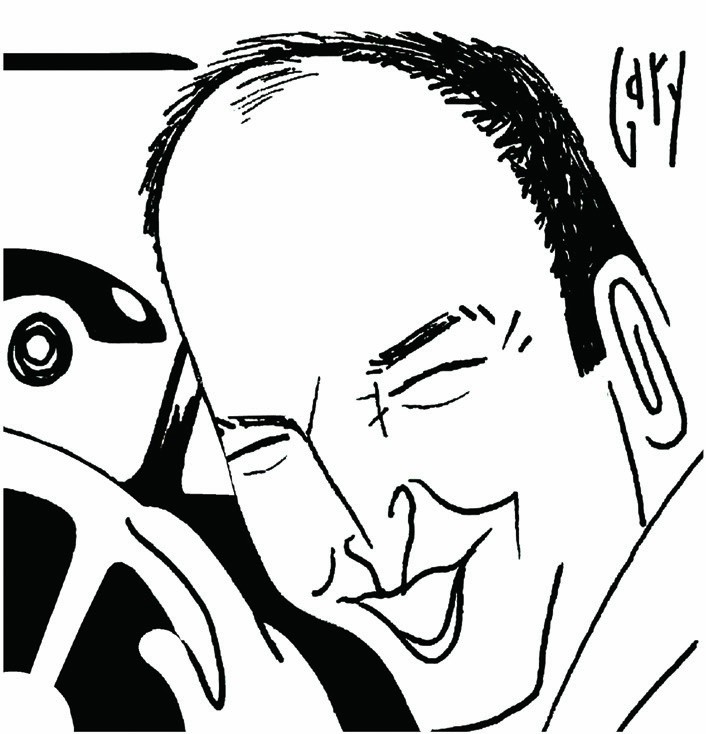 To anyone other than an extremely well-informed observer, it is just a sparkplug. A Bosch sparkplug, not that you're asking. It's a little bit oily and while in obviously perfect condition, has clearly spent at least some time in its originally intended role of igniting a fuel/air mixture within an internal combustion engine before finding its way via registered mail to me. Yes, this month someone really did send me a used sparkplug in the post.
And unusual though such an event might be, it would not normally earn itself space in a column such as this. Except this particular sparkplug was one of eight fitted to the Mercedes-Benz SLR better known as '722' on its final journey through London to the home of Sir Stirling Moss, before being retired to the Stuttgart museum with no plan for it ever to run again.
I'm lucky to have the plug, but was luckier still to have been standing outside the home in which Stirling lived for nearly 60 years when 722 roared up, making the inimitable sound of a straight-eight racing engine with desmodromic valve gear.
This was not a press junket, but a private affair. Lady Moss was there, as was their son Elliot with a few friends and the odd passer-by who either ignored us if they didn't know the car or significance of the location, or gawped in disbelief if they did.
"I'm minded to recall that this is not the first time '722' has retired"
For anyone who knew Stirling well (I have Motor Sport and my time in its editor's chair over 20 years ago to thank for that) it was a profoundly bittersweet moment, so goodness knows what it was like for his wife and son.
Will the car really never be seen moving under its own power again? I'll not be the first to point out that 'never' is really quite a long time and whatever plan for it may or may not exist for it right now, plans and the people who make them change over time. I am also minded to recall that this is not the first time it has retired, for it did so in 2005, on the 50th anniversary of that sublime Mille Miglia victory. So what I'm hoping is it will become the Frank Sinatra of racing cars and have more comeback tours than Ol' Blue Eyes himself. If not, I could not have imagined a more fitting farewell.
As for the sparkplug, were Stirling still here he'd tell me to put it in a car and use it. But he's not and I'm not, and not just because I'm fresh out of SLRs. It's just going to sit on the windowsill of my office where no one other than I will see it, a daily and permanent reminder of perhaps the single greatest combination of car and driver there has ever been.
---
Of course I hope that by the time you read these words the fuel crisis is resolved. But there is just a small part of me that is enjoying the situation and, I concede, that's because I'm lucky enough to live in a part of the country where fuel is reasonably available.
I'd not say that the roads are notably quieter, but everyone is driving with infinitely more consideration. They use their cars because they know that, ultimately, they can get fuel if needed even if it means queuing, but they want to do so as infrequently as possible, so have adapted their driving styles to suit. No one comes carving through the traffic on the motorway any more because they're all too busy trying to conserve every last drop of diesel or petrol. Even the BMW 3 Series drivers have calmed down, a sight I thought I might never see. If it hadn't also made electric car drivers even more smug at the sight of everyone else suffering the same range anxiety they feel every single day, I might have even hoped it lasted a little longer.
---
Remember the Lotus Elan? No, not that one. I mean the more modern front-drive M100 Elan of nearly 30 rather than 60 years ago. Even at the time it was a curious car, coming as it did just after the introduction of the first Mazda MX-5, which seemed to owe far more to the Chapman Elan than the one Lotus had just re-imagined.
The brief was simple and superficially attractive: 90% of drivers should be able to drive it to 90% of its capabilities for 90% of the time. And in the first two of these regards, the car could not be faulted. It not only had freakishly high limits, it was incredibly forgiving when you breached them. Back then such interests were usually diametrically opposed.
But I didn't like it. It struck me as a car with ill-judged priorities. Who cared how fast or forgiving it was when it wasn't much fun? It understeered and if you lifted off, it understeered a bit less. That was it. When I tried to explain this to the late, very great John Miles who been instrumental in its development, he did not take it very well, which saddened me.
Yet I drove one last month – actually an astonishingly rare Kia Elan, built from 1996-99 after the Korean concern had bought the tooling and installed its own engine – and really enjoyed it. And it's because when you look back at an old car, your terms of reference change. It doesn't have to be competitive any more. It was interesting and that's all I required of it. Indeed, it wasn't the car that had changed so much as its driver.
---
A former editor of Motor Sport, Andrew splits his time between testing the latest road cars and racing (mostly) historic machinery
Follow Andrew on Twitter @Andrew_Frankel