Lunch with... Gil de Ferran
He never raced in F1 but achieved great success in America, and remains one of the foremost Brazilian racers of his generation.
There's a history of young Brazilians who came over to learn the European motor racing way, grabbed everyone's attention by winning the British Formula 3 Championship, and rapidly rose towards the upper slopes of Formula 1. The glittering list, with eight world titles between them, includes Emerson Fittipaldi, Carlos Pace, Nelson Piquet, Rubens Barrichello and, of course, Ayrton Senna.
Gil de Ferran was another Brazilian who won the British F3 Championship – pretty well dominated it, in fact, in 1992 – and was widely expected to follow the same path.
But after a couple of fraught tests, Gil decided to stop chasing the F1 rainbow and move to America. There, in nine dramatic seasons, his achievements included consecutive CART Championship titles, plus a brave Indianapolis 500 victory while he was still recovering from serious injuries. Then, having retired from single-seater racing, he did find himself in F1, but on the other side of the pit wall as BAR's sports director.
At past 40 he raced again for his own ALMS outfit, then set up an Indycar team with Jay Penske. Now he's an eloquent ambassador for Formula E.
This is a man who has seen motor sport from many different angles, so I asked him to join me for lunch when he was passing through London en route from the Singapore GP, where he'd been doing some sponsor work, to his home in Florida. Having spent much of his 20s in the UK, he said his favourite food was bangers and mash – only because, as a penniless Formula Ford driver, he couldn't afford a decent steak.
So we went to Smith's, opposite the famous Smithfield meat market in east London, where Gil knew his choice of steak tartare followed by medium rare Chateaubriand could hardly be more fresh. Horseradish and peppercorn sauces and a glass of Malbec helped it on its way.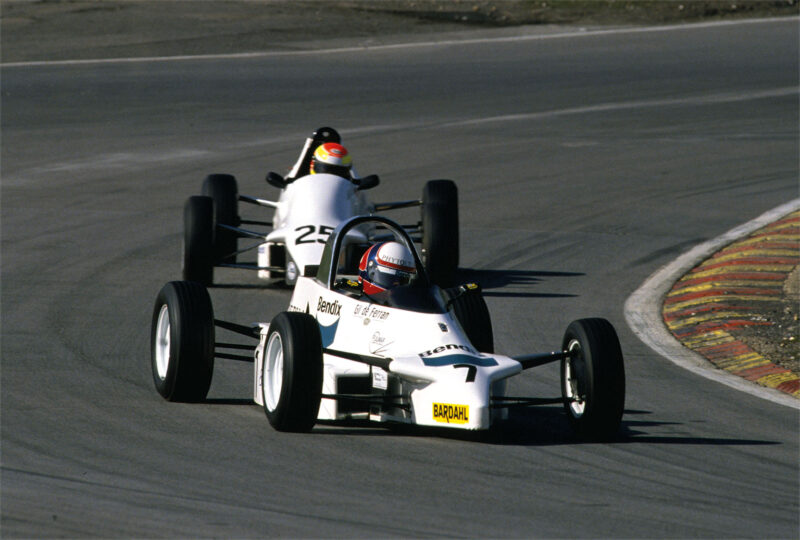 Many young Brazilian racers come from wealthy backgrounds, but the de Ferrans were strictly middle-class. His engineer father ultimately rose to be Ford's head of product development in Brazil, but when Gil wanted to go kart racing seriously at 14 his parents had to make sacrifices. "We had the minimum set-up: one chassis, two engines, two sets of wheels. Some of the other kids had lots of engines, spare chassis, paid mechanics. But my father taught me to love the mechanical side, and I became fascinated by it. We kept records of everything – I still have all those notebooks – and after every race weekend he and I would put together a job list. Each day when I got home from school I would pull the kart apart and work through the job list before the next race. And in all my karting we never had a retirement due to a mechanical problem. I was third in the championship my first year, and won it my second year. In my third year I missed several rounds because I had to study for university entrance, so I finished third.
"I got into university to read engineering, but wanted to move up to race Formula Ford. It was only meant to be for fun, because my studies had to come first, but some family friends helped me buy the car in return for their companies' names on the side. We tried to run it like we'd run the kart, from our garage at home on a tight budget, and it was tough. In karting I'd been a winner, now I was nowhere. During the second year it was still going badly, and we sat around the dinner table at home and had a family chat. We agreed I was spending our friends' sponsorship money and getting them no results, and maybe I should just stop.
"Then a little thing happened which was one of those life-changing moments. At a race I borrowed a water pump belt when mine broke. Back in São Paulo I took a new one to the guy who'd lent me his spare. This man, Armandio Ferreira, was running a professional three-car team. I told him I wasn't getting anywhere and was thinking of stopping. He said one of his drivers was pulling out, so he had a seat. I said, 'OK, how much?' and he quoted me a figure which was three times the money we had.
"I went home, we had another round-table conference, and finally my father said, 'I will find the funds to pay for the rest of this season. After that, either you do well enough to raise your own money, or it's finished'. Now, with a strong car and a strong engine, everything changed. I was running at the front, I started to win races and the next year, 1987, I won the title. Armandio became, along with my father, one of the biggest influences in my life. He was an excellent judge of character, he knew how to get the best out of me and he was very strong technically. At the old Interlagos, 4.9 miles around, he'd stand at each corner, cigarette hanging from his mouth, three stopwatches, pen and notebook, timing every car to see where we were gaining and losing.
"Now I was Brazilian FF Champion, and for the first time I started to consider making motor racing my life. I was still at university, but in the end my parents said, 'It's your life, and whatever you decide we wish you well.' About now I met Ayrton Senna. He was a god to me, like to the rest of Brazil. He told me: 'To succeed, you must put yourself in a situation where everything is on your own shoulders.' What he meant, I think, was: You need to take responsibility for your own performance, you have to put the pressure on yourself, because only you will decide how good you are. Not the team, not the car, not anything else. It's all down to you. I never forgot that.
"I decided to come to Europe to do Formula 3, and after my local success I raised £30,000 from Brazilian sponsors. But I soon found that would only buy me into a minor Formula Ford series. Ayrton gave me an introduction to Ralph Firman, and Ralph placed me with a team based at Silverstone to do the Esso Championship.
"That first year was just awful. In sunny Brazil I had a good life at university, a beautiful girlfriend, a nice circle of mates. In England it was cold and usually raining, I was living in a bed and breakfast in Silverstone village, I had no money, no friends, my conversational English was very poor. I was very lonely. And my career had gone from P1 to P Nowhere. Every race was dreadful. In Brazil the team was around me, supporting me. These guys just gave me the car and told me to get on with it. Like a lot of people who come from abroad to race in the UK, I was viewed as a PW [a paying wanker]. And I had to get used to radial tyres: in Brazil, FF ran slicks and wings.
"It took me a few races to realise that my engine was hopeless. I said to the guy running the team, 'I don't think this engine's any good.' He said, 'That's your engine, deal with it.' So, in despair, I called Ralph, and he lent me a Scholar engine. The next race was at Thruxton. I'd never been there in my life, and in a 15-minute qualifying session I was second quickest. That gave me more confidence, but I was still an angry man, I felt the whole world was against me. In the race I crashed. The rest of the season was like that. I was competitive, but I was crashing, I was doing stupid things.
"Then I managed to raise some money to do just one Formula 3 race. I hired a Class B Reynard from Techspeed for the last round of the British F3 Championship on the Silverstone GP circuit, and back on slicks and wings I felt at home at once. I qualified it on Class B pole ahead of the favourite, David Brabham, but at Stowe on the first lap we touched. I spun, and restarted dead last. I climbed back to finish second, so that wasn't bad for my first F3 race.
"After that Rick Gorne at Reynard offered me an F3 ride for £50,000. I went back to Brazil, but I could only raise £30,000. So Rick put me with Alan Cornock at Fulmar, in effect the works Reynard FF team." Gil's eight wins in 1989 were half in the British series and half in the Esso, only enough for third place in each. But his speed had been noticed by Paul and Jackie Stewart. After a Donington test Gil signed a long-term contract with the 'Staircase of Talent', starting in Formula Vauxhall.
"The Stewarts are an extraordinary family. Jackie, Helen, Paul, Mark, I love them all. To this day, 23 years later, Paul is one of my best friends." To underline this, later in the meal Gil's mobile rings: it's Paul Stewart. "With my father and Armandio, Jackie was another huge influence on my life. I learned so much from him.
"So for 1990 I wasn't a PW any more. I wasn't actually paid, but for the first time I didn't have to pay. Some stickers on the car from Brazil helped with my day-to-day living, and I earned £20 here and there doing tuition at the Silverstone school. It was a great time. David Coulthard, who was 19 then, he was my team-mate. He's still a very close friend. And there was this girl Angela working for the team, doing admin, PR, lots of stuff. She became my wife. I rented a little flat near the team base: it wasn't easy to have fun in Milton Keynes then, but David, Paul, Angela and me, we managed it. That was a good season. I finished second in the British championship and third in the Euroseries, while David was fourth and fifth.
"The next rung on the staircase was F3, of course, but Jackie lost some of his sponsorship for 1991 and had to stand me down. By now I was very friendly with the guys at Reynard, Adrian himself, Rick, Malcolm Oastler, and they put me into the team's development F3 car. Testing at Thruxton I had a massive crash, barrel-rolled, got bad concussion: for a couple of weeks it affected my eyesight badly. In the end Edenbridge Racing, with Peter Briggs and Roly Vincini, ran the car. After a few problems we got it right by mid-season. I took five poles and won three rounds – including the British GP support – and ended up third in the championship behind Rubens and DC.
"For 1992 Jackie and Paul were able to take me back, and it was all good. I loved that Reynard 923: the car fitted me like a glove, and on the limit it just felt like an extension of my arms. In 16 rounds I was on the rostrum 14 times, I won seven rounds and by August we'd clinched the British Championship. I ended up with almost double the points of the runner-up. That brought me a Williams F1 test. It was fixed for November 11 1992, my 25th birthday.
"So the day comes, I'm very excited – and it's raining. I turn up at Silverstone, and Alain Prost is there testing the new 1993 car. I'm to drive Nigel Mansell's '92 car. I'm in heaven – except it's really hard for me to sit in it. Nigel is broad, but not as tall as me. I've got no room for my elbows. I go out in the rain and, before I start going quick, my elbows jam in the cockpit and I do a slow spin. I can imagine the guys in the pits rolling their eyes. They get the car restarted, I go back to the pits, and I say, 'I'm going to have to cancel the test. I can't drive it like this. Think what you like, but I don't want to make an idiot of myself and crash your car.' They say, 'Maybe we can cut a few holes in the seat to fit your elbows,' and they butcher this beautiful carbon seat, they alter the pedals, and they say, ''Right, you've got 15 laps. Five laps and in, five laps and in, five laps and that's it.' And it's still raining.
"The first five laps I was about 3sec off Prost's times. The second five I was about 1.5sec off. The third five I was a couple of tenths off him. It doesn't mean much: the conditions were changing all the time, and Alain was just shaking down the new car, I'm sure he wasn't really pushing it. But I was pretty happy. After that I talked to the team about becoming a test driver, but they went for DC, who had already done a season in F3000. So for 1993 it was F3000 for me, with Paul Stewart Racing."
Gil won his second F3000 race from pole, and was second at Spa and the 'Ring, but had five DNFs. In 1994 he was tipped to win the championship, and after five rounds, with two wins and two podiums, he was on target. Then at Spa he spun off on the first corner, driving back from dead last to fifth, and in the final round he was the innocent victim of a tangle. Result: third in the series.
Still he was pursuing F1. "I had talks with lots of teams but they never led to anything. Maybe I was too naïve, maybe they just didn't think I was good enough. But I could never get a straight answer, not even when I asked how much sponsorship I needed to bring. Nowadays I suppose all that stuff is done by managers. Anyway, Footwork (Arrows) did offer me a test at Estoril. Again I couldn't fit in the car, I was like a frog in a sardine can. After 20 laps I was so cramped I came in, and while they were trying to make more room for me I went behind the pits to go to the toilet. I was walking between two of the trucks, looking down thinking, this is not going so well. And I hit my head on a swing-up locker door on the side of the truck. Split my head open, blood everywhere, game over.
"On a spare weekend in 1993 I went with Rick Gorne to watch the CART race at Michigan, and it blew my mind. Nigel Mansell, Emerson, Mario Andretti, all these great names wheel-to-wheel around a two-mile oval, massive atmosphere, huge crowds filling the open stands, and the fastest race lap was more than 227mph. I thought maybe if it's good enough for F1 champions it's good enough for me. And I met some of the team guys like Jim Hall and Derrick Walker." Hall, who'd designed and raced the ground-breaking Can-Am Chaparrals in the 1960s, was now running Teo Fabi in CART.
"The next summer I'm leading the F3000 championship and I go testing at Monza. And, dumb idiot, I have a big accident, come back to the UK wearing a neck brace. I'm sitting at home feeling sorry for myself and the phone rings. Guy with an American accent, very direct. 'This is Jim Hall. Fabi can't do our next test. I see you've been going well, I'd like you to sub for him.' I'm really excited, I say, 'Sure, of course, when is it?' He says, 'This weekend.' And this was Wednesday.
"I had to clear it with Paul and Jackie, and they were very supportive. Jackie sent me to a doctor in London who said I'd probably be all right and gave me some pain killers, and next day I'm on the plane. The test was at Big Spring, Texas, a scruffy little track out in the desert. I fitted the car fine, and it was a joy: no traction control, no electronics, just a basic racing car with huge power, power like I couldn't believe. I got on very well with Jim and the team, and I got under the track record.
"So he offers me a three-year deal. He says, 'As soon as your F3000 season is finished I want you over here, testing.' That's exactly what I wanted, to work hard, prepare myself, learn the Reynard-Mercedes and the CART way of doing things. Jim meant business. He wasn't Penske or Newman-Haas, his car wouldn't have the ultimate development of the very top teams, but I knew I could work with his guys and get the best out of it. So I signed." For Gil it began a nine-season CART/Indycar career.
"To begin with Jim took some flak: Who the hell is this guy, why is Hall signing Mr No One? But at the first round in Miami, after all our work over the winter, I took provisional pole on Friday. That dealt with the flak. I ran third in the race until the gearbox went." The rest of the season brought mixed fortunes, but Gil won the final round at Laguna Seca, making him Rookie of the Year.
For 1996 Hall Racing switched to Honda power. "Honda was very serious about what it was trying to do, and I did a lot of development work with them. It was the start of an important relationship for me." There was a win at Cleveland, some seconds and thirds, and sixth in the Championship, but then Hall's main sponsor Pennzoil pulled out, and Jim's team shut down. So Gil found a berth with Derrick Walker.
By now Firestones were the tyres to have, and Walker's team was signed with Goodyear. "From the beginning we're not as fast as we should be, and I start over-driving the car. Round 1, Homestead, I crash in practice, and I crash the spare in the race. Round 2, Surfer's Paradise, I crash at the start. I've destroyed three chassis in two weekends. Then comes Round 3, Long Beach. On Friday I earn provisional pole, then on Saturday I come round that blind curve and there's a car stopped. I hit him at 170mph, rip the left side off my car. So we miss Saturday, but I keep my pole. I lead the race, but my tyres are graining badly, and every time I stop for fresh tyres I'm losing another place. I'm getting more and more angry, pushing harder and harder – and I hit the wall. Crash no 5 in three weekends.
"That's when I had a moment of clarity, a life-changer. I told myself I had to stop doing this, I had to understand my racing better. I walked back to the pits and apologised to the team. I could have blamed the tyres, but I was the guy pushing the pedals, and I told them it was my fault. I said it wouldn't happen again. That year I ended up second in the series to Alex Zanardi."
One of those finishes, on the road circuit at Portland, went into the history books as the closest ever. "The race started wet and then it began to dry out. I was leading, and I decided my best bet was to make my wets last. Mark Blundell stopped for slicks and he was coming at me like a freight train, and Raul Boesel was there as well. On the final lap we were three abreast as we went for the line, and Mark took it by inches." Officially Blundell's winning margin over Gil was 0.027sec, and with Boesel the three of them were covered by 0.055sec.
"I still had the Goodyear problem in 1998 and 1999, although they were really trying to get it sorted. In '99, as well as 22 race weekends, I did 75 days of tyre testing. I did have one win, at Portland. At the end everyone was trying to make their fuel last, but our strategy was go flat out and have a splash-and-dash eight laps from the end. And it worked.
"The guy I beat that day was Juan Pablo Montoya, and I'm delighted to see he has just signed for Penske and is coming back to Indycar. As well as being a real character, Juan is one of the most naturally gifted racers I have ever seen. When it comes to car control, he does things with a racing car that very few can do.
"Apart from Portland, I was having a thin time. I'd gone from Man at the Front to Yeah, he's OK. But somebody who understood what was happening – because his team was on Goodyears too, and by his standards he hadn't been doing well for a couple of years – was Roger Penske. In July 1999 Roger sent word that he wanted to speak to me. I didn't know him at all, but I knew what a legend he was.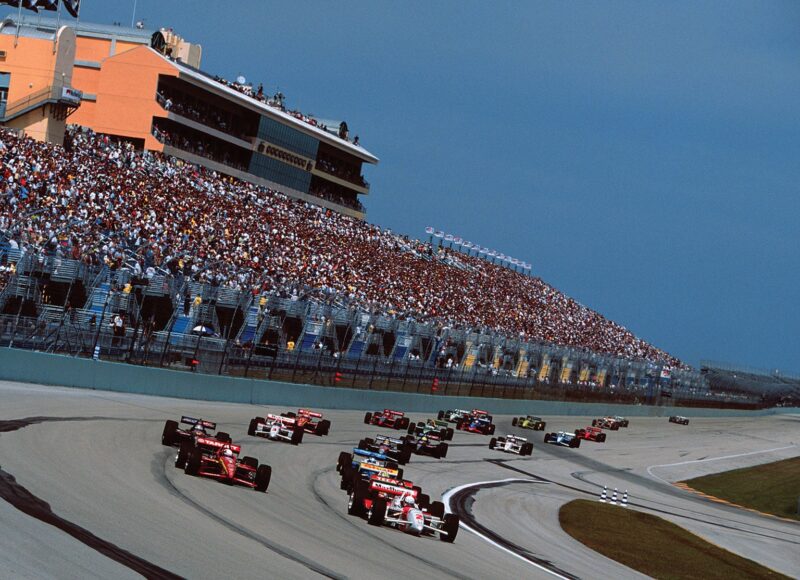 In Indycar terms it's like a summons from Enzo Ferrari. Roger was making big changes for 2000, switching to Reynard, Honda and Firestone, and he wanted me in there, along with the rising Canadian talent Greg Moore. We met, and we did the deal in a day. Roger doesn't waste time. Then, in the final race of 1999 at Fontana, having his last race for Forsythe Racing, Greg was killed. It was shocking. We'd already spent time together, talking about being team-mates the next season."
From the start Gil and Penske were an ideal combination, and their mutual respect was clear. Gil's dedication to developing the Reynard-Honda 2KI, and his intelligent racecraft, reminded some of that supreme relationship that Penske had built 30 years earlier with Mark Donohue. The American racing press dubbed Gil 'The Professor' because of his analytical approach.
"If people compare my relationship with Roger to Mark Donohue's, that's very flattering, but I'm a driver, I'm not an engineer. I just want to understand more about the car and what it's doing, to get the best from it. I'm the only person who can experience what the car is doing, so I'm the engineers' eyes and ears, and my job is to communicate back to them accurately, so that they can act on the information. And driving for Penske you have so much resource behind you, such a powerful infrastructure to support you. It's like being a kid in a candy store."
The 2000 championship, fought out between Gil, Adrian Fernandez, Paul Tracy, Roberto Moreno and Kenny Brack, was clinched by Gil in the final round at Fontana – where his qualifying average was 241.426mph, a closed circuit world record that still stands.
"CART was amazing then. The engines, 2.65-litre V8 turbos, came from four manufacturers: Honda, Mercedes, Toyota, Ford. Penske was Honda's number one team, and they were throwing the kitchen sink at it. We were running 950 horsepower all year long, and for the super-speedway races we'd optimise the engines with a more peaky rev-band for even more. Running on your own around the D-shaped two-mile oval at Fontana you don't lift anywhere, and for that last round Honda came up with a qualifying engine with well over 1000 horsepower, and probably a life of 50 miles. It was a grenade. CART had banned pneumatic valvegear, so it had old-fashioned steel springs, but it still ran to 17,000rpm.
"People used to road racing think ovals are just about sitting there, going flat all the time. It's much more complex than that. For instance, the cars run six-speed gearboxes. First, second and third are for accelerating from the pits and restarts, but the other three are all top gears. Sixth is draft gear, fifth is lead gear and fourth is traffic gear. If you're slipstreaming somebody your potential maximum speed will be higher than if you're leading, with no-one in front to give you a tow. So draft gear is slightly higher than lead gear. And if you're working through traffic you'll need a ratio that's slightly lower again. Indycar is different in almost every way from Formula 1, but I think one reason why Adrian Newey is such a brilliant force in F1 is because he's done time with Indycars, and he must have taken some lessons from that environment – certainly aerodynamic lessons."
The next year, 2001, Gil won the CART Championship again, after a great battle with Kenny Bräck. "Kenny was fast, smart, and hard as nails. In September there were two new European CART races a week apart, at Lausitzring in Germany and in England at Rockingham. We'd all just landed in Germany when the dreadful news came through of the 9/11 attacks in New York and Washington. I'm in Berlin, my wife and kids are 5000 miles away in the US, all flights have shut down, it's like World War III has broken out. Seeing those TV pictures over and over, it wasn't good. Then in the race comes Zanardi's dreadful accident. We were all sure he would die, we didn't think he could survive that. That was a black weekend.
"We arrive at Rockingham and the circuit has weepers – that's what we call it when moisture seeps out of the track surface and it won't dry out. The race is due on Saturday, and on Thursday and Friday it's too dangerous to run. On Saturday they decided it's dry enough, we get a few familiarisation laps and then we line up in points order for the start. After dreadful understeer problems in Germany I'd gone to a completely different set-up, and I had no idea how my car would handle. But it worked. I had a great battle with Kenny for the lead. He got by me in the traffic on the penultimate lap, but I used the backmarkers to dive-bomb around the outside in the very last corner of the race, and won by half a second. After the previous 12 days, that felt good.
"By now CART was beginning to come apart at the seams and Roger made the decision to move to IRL in 2002, running Dallara-Chevys for me and Helio Castroneves. Helio won the Indy 500 and I was second, and I was leading the series for much of the year. Then at Chicagoland I had a massive accident. I don't remember anything about it, but you run inches apart there, and race speeds are 220 plus. Apparently the car in front of me had a fuel pressure drop, his engine coughed, and I was straight into the wall. I had bad concussion, and I was out of things for the rest of the season. I wasn't sure how it would feel getting back in the car, but in the first 2003 round at Homestead it all felt fine, and I was second. Round 2, Phoenix, everybody's saving fuel to get to the end so Roger brings me in for a late splash. I storm back from about 20th, and with 13 laps to go I'm passing Michael Andretti for fifth. We touch, I'm backwards into the wall, the car catches fire, I've got neck and back fractures. And concussion again.
"I missed the next race, and come the first week of practice for the Indy 500 the doctors said I could get back in. At first I just could not drive the car. I'd lost my feel, my precision, I felt meat-handed. I went back to the hotel and I thought this is career over. But gradually it came back. I only qualified 10th, but I knew we had a strong race car, and Roger made a couple of good strategy calls. I kept moving up, but whenever a yellow dropped the pace the pain returned, in my back and shoulders, cramp in my hands. I said to Roger over the radio I can't move my arms, I can't keep the tyres warm. But once we were racing again I felt no pain.
"Helio was leading. He had started from pole, I had started mid-grid, so I was running more downforce than him. If you have clear road ahead you need the speed, if you have to deal with traffic you need the grip. So I knew I couldn't match him on sheer speed. But I had an advantage in the restarts after the yellows, when the tyres were cold, and that's when I was making up places. I got up to second and dropped back a bit to watch and work the traffic. When he got chopped by a backmarker in Turn 2 and had to come off the gas for a split-second I had a full head of steam and I went by him. I managed to stay ahead during several more restarts, and I won."
At the end of the 2003 season, approaching his 36th birthday, Gil won the final Indycar round in Texas to finish runner-up in the series, and announced his retirement. Then one of his contacts at Honda suggested that his intelligent, analytical approach could be useful in the BAR Formula 1 team. By the end of 2005 Honda owned 100 per cent of BAR, and was looking to improve its recent poor form. Gil joined as Sporting Director, responsible to team principal Nick Fry. "It was very much a full-time job, and I moved with my family to Oxford. I was in charge of the racing side, drivers, race engineers, mechanics, 120 people. My prime task was to create harmony and get the best out of everybody. In 2006 we had a tough season, but Jenson Button got pole in Australia, and in Hungary, from 14th on the grid, he won.
"The better I got to know Jenson, the more I admired him. He's not Mr Ego. His precision is amazing – looking at his traces, you wonder how he can show such consistency. And when it's a wet/dry situation he'll maximise the grip brilliantly and get the most speed out of any conditions. At McLaren he has maybe not been able to show how much sheer speed he has."
In 2007 Honda slipped from fourth in the Constructors' Championship to eighth, and during 2008 Gil left the team and moved back to America. "I was frustrated, really. So many of the guys were first-rate and stayed on as the team became Brawn, and they're still there at Mercedes. But I felt bogged down in internal politics. Honda is a great company run by wonderful people, but in racing you need sharpness of focus and commonality of effort, and we couldn't always get that.
"But I stayed friends with Honda, and got together with HPD – Honda Performance Development – to run in the American Le Mans Series. I set up De Ferran Motorsport, and I found myself back in the cockpit. I was 40 years old, and I didn't know if I'd still be quick, but I soon got back on the horse again. As team-mate I hired Simon Pagenaud, a young Frenchman who'd been going well in Champ Car. For 2008 we ran in LMP2 and had some good races. For 2009 we moved up to LMP1, and won five out of 10 rounds, but the David Brabham/Scott Sharp Highcroft Acura just beat us on consistency.
"Laguna Seca was my last race as a driver, and we decided to honour Jim Hall, who'd given me my first chance in America. We painted the car Chaparral white, we invited Jim along, we had some of the original Chaparrals displayed in the paddock. And, to make it a beautiful weekend, we won. In 2010 I went into partnership with Roger's son, Jay Penske, to run in IRL as De Ferran Dragon Racing, running the Brazilian Raphael Matos, who was Rookie of the Year in 2009. He had four Top 10 finishes and ran in the top three at Indy, but for 2011 we couldn't raise a decent budget and I decided to step out. Jay continued, and Dragon Racing is a good two-car team now.
"Since then I've served on the advisory committee looking into IRL's rules, done some TV work for NBC, and now I'm an ambassador for Formula E, the FIA's electric class due to start in September 2014. It's a fascinating way to showcase and develop a new technology – and we all know how racing forces the pace of technological development. It's serious: the electric motors will be made by McLaren, the batteries by Williams and the chassis by Dallara. Ten two-car teams will contest a 10-race series on street circuits in cities around the globe, and the cars will do 150mph.
"If they get the rules right, it really will benefit production cars of the future. Traditional racing won't go away – we'll still have F1, Le Mans, Indy, NASCAR. But there's room for this initiative, because it will connect with ecologically efficient road cars of the future. Since my first kart I've always loved the technical side. And motor racing, from F1 down, is always about the technology. It will never lose its fascination for me."