The name of Nannini first came to prominence when he raced for Minardi in Formula 2, his talent attracting the attention of Lancia's sports car team for whom he set the fastest lap at Le Mans and won the Kyalami 1000Kms in 1984. Giancarlo Minardi tried to sign Sandro for his new F1 team in '85, but he was refused a superlicence and finally came to the Grand Prix grid in 1986. He stayed two years before Benetton snapped him up.
"Giancarlo discovered a lot of drivers, including Alonso, and had a very good eye for talent. He had a passion for racing. Minardi was a very good little team and Giancarlo is still doing a lot for young drivers in Italy. It was my first step, I learnt a lot, but the engine, the Motori Moderni, was no good, not as much power as the others. Carlo Chiti, he was a clever man, but not so practical I think, and I had so many retirements, finished only one race, at Hockenheim. It was very frustrating, the engine broke all the time, I was not happy, but still I could beat [Andrea] de Cesaris – I was faster – and Benetton saw this so they approached me. Giancarlo was very good, he said, 'Sandro, you go, is a good chance'.
"This was a good time for Italian drivers. The 'Mother Fiat', with Abarth, Lancia and Ferrari, was investing in racing, but now it's not so good for our drivers. Back then there was support for us, for me, for Patrese, for Alboreto, for de Cesaris and many others. Now, apart from Ferrari, they don't spend so much marketing money on racing."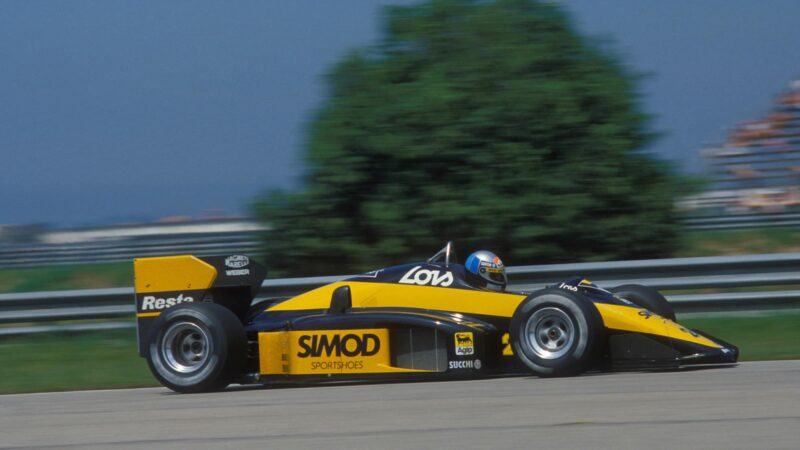 The Benetton clothing chain, with its many colours, came to F1 in spectacular fashion. It had its eyes on talented young Italians and Sandro duly signed up for 1988, the start of a three-year stint that was to prove something of a rollercoaster ride alongside the flamboyant Flavio Briatore. To begin with he partnered Thierry Boutsen and scored a point in only his second outing.
"I had a good relationship with Briatore when he came to the team," Sandro says. "He was a businessman and didn't know much about F1, you know, but he was tough, a strong manager. I remember, in Hungary, I was in third place and the gearlever broke with three laps to go. On the Monday Briatore came to Witney and asked, 'OK, who was the person checking this piece? Whose job was this?' and a guy said 'It was mine'. Briatore looked at him and said, 'Go out, go away', and he didn't do that job any more.
"When I had a chance to go to Ferrari, Briatore was correct. He did not try to stop me. 'You are ready for this', he said to me. I spoke with Cesare Fiorio, he was my friend from Lancia. He offered me a contract for 1991, but I would not sign it because it was not exclusively for the Scuderia. They could have put me with any type of team using a Ferrari engine – like a Minardi – so I was angry with Fiorio. In the end they took Alesi because, I think, they wanted the marketing in France. Maybe Ferrari was not so good for drivers anyway, eh? Look what happened to Prost when he said the car was shit. I mean this is Alain Prost, what were they doing? Crazy.
"Actually, after the accident with the helicopter I did drive a Ferrari, at Maranello, but it was difficult for me in the little tight corner, you know, with my hand. I drove a Benetton again too, at Estoril with Alesi, and that was easier for me with power steering and a paddle gearchange. I was five years out of F1, the grip was incredible and in the fast corners my head was not ready for the car. So much grip, the car was fixed to the road. I was amazed, and faster than Alesi in some places."
You might imagine that Suzuka 1989 would be Sandro's finest hour, his one and only Grand Prix victory. Not so. The victory was inherited, after Senna was disqualified, and this was not the way he wanted to win.
"Prost and Senna, they were winning everything with McLaren, and my second place in Australia was a far better result. In Japan, after they crashed at the last corner, I was way ahead when Senna came back into the race so there was no reason to go flat out with so few laps left to the end. So, for safety, I backed off, the gap was OK. Then, suddenly, Senna arrived on his new tyres but nobody told me he was catching so fast over the last laps, no pit boards, no information. He was lapping so much faster than me, but I did not know this, and then… hey, at the last corner, he arrives in my mirrors, I see only the yellow helmet. I think, what is going on? He was not there, anywhere, before, and then he passes me. What is happening? I didn't know and I couldn't fight, my tyres were gone.
"After the race I was asking, 'Why no information?' Then, very soon after the podium, Senna is disqualified, I am in first place, but not a proper win. He never spoke to me, I never saw him, there was no point."