Donald Campbell gallery: A speed odyssey
Speed was in the family DNA, but the relentless urge to push limits took Donald Campbell to the final barrier
This January marks 50 years since Donald Campbell took his jet-powered boat Bluebird K7 to Coniston Water to gain another new speed record. He never came back. A new book by David de Lara collects together testimonies of Campbell himself, his family, and many who knew him well from the time when he took up his father's record-breaking mantle to that tragic end, and from it we present here a selection of photographs illustrating one side of Campbell's drive to set fresh benchmarks – the World Water Speed Record.
Like his father Sir Malcolm, Donald aimed for records on both land and water, but unlike his parent Donald started with boats, taking over Malcolm's K4 craft hoping to regain the WSR taken from his father in 1950 by American Stanley Sayres. Replacing K4's unsuccessful jet engine with its previous Rolls-Royce R piston engine resulted in structural failure at 170mph on Coniston Water, so Donald began constructing the far more advanced K7 three-pointer hydroplane. Undeterred by the deaths of John Cobb and Mario Verga in the same quest, Campbell set a new record of 202.32mph in 1955, raising this six times over the next nine years until his mark stood at 276mph. The book's photos, many unpublished, show the team in action and at rest though this quest.
Gallery
Donald Campbell: A speed odyssey – gallery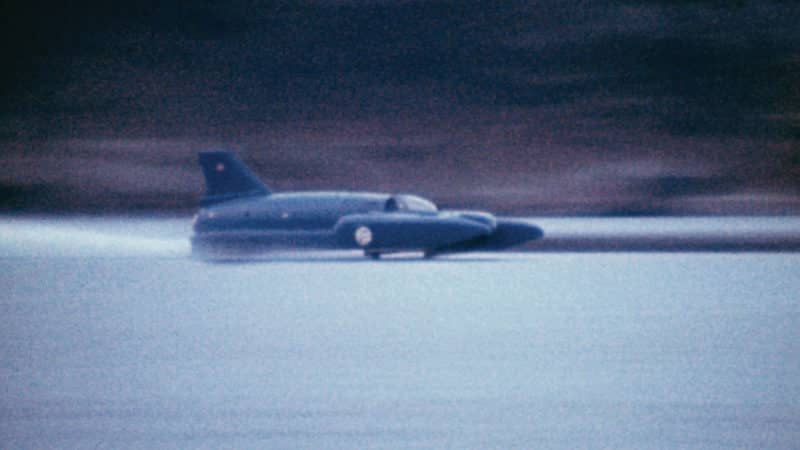 In parallel, the British speed hero built his jet turbine-powered four-wheel-drive CN7 car, hoping to match his father by taking records on land as well as water. A huge crash at Bonneville in 1960, followed by 1962's attempts in the rebuilt car being repeatedly rained off, led to a shift in public opinion; in the jet age, when anyone with an air ticket could travel faster than Campbell's targets, heroes now came from popular culture, national pride was no longer centre-stage and the press was vocal and impatient. The fact that Campbell was only breaking his own water record each time began to look indulgent, and the media seemed to imply that the delays with the car were somehow Campbell's fault.
Though bruised by these pressures, Campbell and his loyal team persisted, finally breaking the Land Speed Record with CN7 at 403.1mph in July 1964 and then, on the last day of that year, taking the jet boat to 276mph – the only man to set both records in the same year. Donald had finally surpassed his old man. Yet it wasn't enough. Craig Breedlove's rocket car had already passed Campbell's wheel-driven record, and the British adventurer could no longer back off. To sustain his public momentum he set of in pursuit of 300mph on water. He surpassed that – with catastrophic consequences.
Donald Campbell: 300+ A Speed Odyssey – his life with Bluebird, by David de Lara, is out now. £30. ISBN: 9780750970082