Brenda Vernor: Life with Ferrari
Few got close to Enzo Ferrari, but as his English PA Brenda Vernor was closer than most at the Scuderia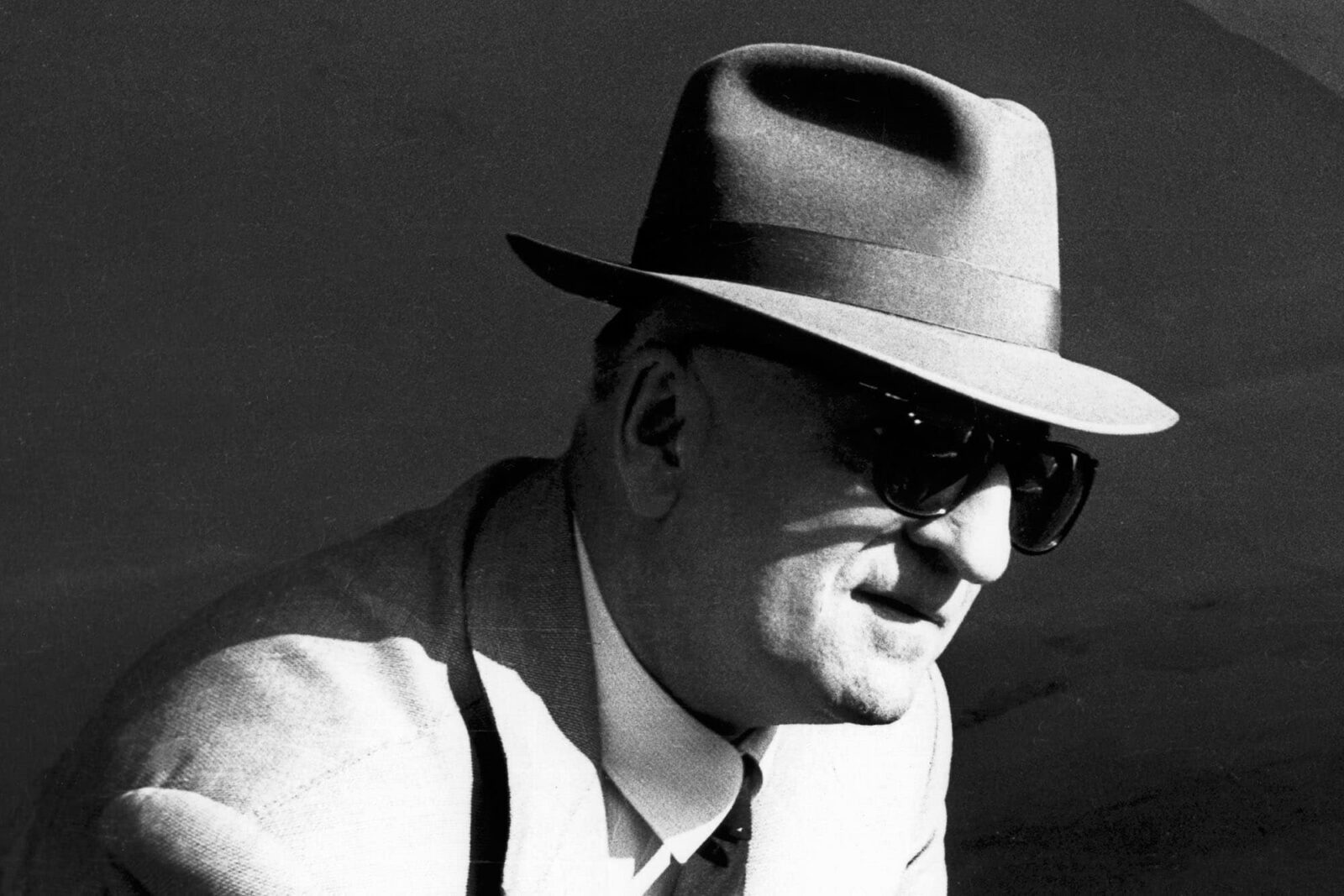 "You see the drivers every day – they're just people, neither hot not cold…" Drivers such as Bandini, Arnoux, Scheckter, Villeneuve, Tambay, Alboreto, Mansell – just people. Brenda Vernor is not being dismissive; she knew they were the greats of their era because they had received the highest honour – the invitation to drive for Ferrari. She knew all about it because often it was she who passed on that invitation, she who arranged their interview with Enzo Ferrari. She was Ferrari's personal assistant, and she saw the drivers every day.
And the Old Man too. Every day, on hand to scoot into his private sanctum to take letters, translate correspondence, phone Bernie Ecclestone as Enzo's linguistic go-between. It was a privileged post and it went not to a Modenese signorina, not even to an Italian, but to a girl from Croydon who in time would become the mother of the racing department.
It's been a while since she retired – after Enzo died in 1988 she continued as Piero Lardi Ferrari's PA in the road car department – but Brenda is still close to many Ferrari figures, drivers and customers. We – an MS quorum of self, Simon Arron and proprietor Edward Atkin – meet over lunch in the sun-filled garden of one such marque enthusiast in North London as Brenda pauses on her way to the States, and the questions flow.
Behind her dark glasses (shades of Enzo's shades) Vernor, now in her early eighties, is precise, quick to reply, quick to dismiss when the subject is something – or someone – she dislikes. You can sense toughness, the steel that let her stand up to one of Italy's grandest men. "Having three older brothers in a house of five men," she says, "I had to learn to defend myself".
When Niki Lauda is mentioned, she says "I like Niki. He's like me – says what he thinks and couldn't care less." In a culture built around one towering figure, a man whose employees were afraid to tell him bad news, perhaps that's why Enzo noticed her.
Italy had already taken hold of her. Bored with 1960s life in Croydon – "I hated Croydon. Still do." – she spent three months on a job exchange in Perugia, then 18 as an au pair in Bologna where she had to learn Italian as none of the family spoke English. By 1962 that landed her a teaching post in Modena, where a certain Michael Parkes wanted someone to deal with correspondence and a young lad named Piero Lardi Ferrari was one of her pupils.
Although by now Ferrari had splashed scarlet across the results books, it was a mere name to Brenda. She was hardly a motor sport fan. "I just thought why are those silly buggers going round and round?" But working for Parkes, the team's development driver, drew her into the racing world and introduced her to the other Ferrari drivers and to Enzo himself. She must have made an impact, though it was not until the 1970s that the connection crystallised. "He said 'one of these days I might employ you'. Then he rang and said 'come and work for me'. After a three-month trial I was still there, doing his translations, the F1 telexes to FOCA and team heads." She worked alongside two male secretaries, one handling Ferrari's personal affairs, one administrative tasks, but her language skills put her closer to the real centre, looking after drivers and working with Franco Gozzi in the press office.
Some have suggested that Ferrari spoke English but concealed it; Brenda scotches this. "I never heard him speak English. But he did speak good French."
How quickly did she grasp the significance of the heritage? "Quickly. Had to be quick with the Old Man, if you were dumb you were out. I was the only woman among 199 men in the racing department. I had a whale of a time. But I was respected because I did things for everybody, including the mechanics, taking them cakes and beer during an all-nighter. If they needed anything they knew where to come. And if they did something wrong I put them in their place."
Did the Old Man criticise her? "Not criticise, but if you wrote something he had to change it, even if it was just a comma. Once I wrote a telex and he said 'move that here and put that there and when you've changed it bring it to me at the Cavallino [restaurant]' – he always had his lunch there. I took it, he chucked it in the air screaming. I said 'I did exactly what you said'. He said 'Humph. Send it'. That was all. He wouldn't apologise, or say thank you. If we had a press conference, he would want the whole thing transcribed on Sunday; he would never personally thank me, but on Monday I'd find a present on my desk – a watch, for instance."
Did he ever admit a mistake? "No. And you never argued with the Old Man."
As Brenda was establishing a life in Modena Ferrari was recovering from a fallow couple of years following the Carlo Chiti-led walkout of 1961, with Surtees taking the 1964 world championship and charismatic team-mate Lorenzo Bandini fourth.
"Lorenzo was a lovely guy." Brenda recalls, animated. "I lived in the same block of flats. He was a naughty boy. He used to bang on my door at 2am, asking me to help him cover his tracks – I'd be shaking blonde hairs from his sheets. He had a photo of his wife which he'd lay flat at such times, then when he picked it up he'd say, 'You know I love you.' I was in Monte Carlo when he died [following a crash in the 1967 GP] and said I'd never go back there.
"And then there was 'Lulu' [Lodovico Scarfiotti]. God, the things they did. They sometimes used to lock me in my bedroom, but they were good times."
Bandini's was only one of many Grand Prix fatalities in this fragile time. How did the team handle those? "We just carried on as though it were a normal day. Whenever the team lost a race on Sunday, you'd walk in on Monday and there would be silence everywhere. There were no discussions and it was just the same when there was a fatality. You didn't go and see Mr Ferrari; you just closed your door. When you lose somebody, there's nothing you can do to bring them back, is there?"
If that sounds hard, it's the realism of racing. All teams race on after these traumas, yet Vernor's memories show close ties between her and most – not all – of the Scuderia's drivers. "I did everything for them, packed their bags. You wouldn't believe some of their luggage when they came back."
Care to tell us? "No. I've written a book all about the drivers – My Boys. They're getting worried. If I told everything they'd shoot me. Gerhard Berger said, 'If you write everything about me I'll have to take the boat out to sea. My wife will kill me!' They were good times. We had fun, real fun."
Some had extra appeal. "Jochen Rindt's eyes – oh my God! The most beautiful eyes I've ever seen. And the first time I saw Carlos Reutemann I couldn't talk. I'd never seen such
a handsome guy."
Then there's Patrick Tambay, who rates her highest epithet – a gentleman. "Patrick was the only driver I cried for when he left. [Sporting director Marco] Piccinini and Piero came into my office and stuck up a huge poster of Alboreto. I said, 'You can take that down immediately'."
On the other hand – "I remember sewing a Ferrari patch on Andretti's overalls and he didn't even say thank you. I thought, 'You miserable bugger'." And Alain Prost? Crisp comment – then "don't put that down".
She is more forthright about Michael Schumacher, who in the 2000s brought such astounding success back to Maranello. "I'm very sorry about what has happened to him, but there was something I didn't like. All the other drivers stayed in hotels, or found a flat, but he moved in to The Old Man's house, had his dogs in there eating off the floor and wanted clean sheets every day. I wondered who the hell he thought he was – he was just a driver like any of the others."
She won't admit to having favourites, but some drivers figure larger in her stories, especially those she's still in touch with – Arnoux, Scheckter, Tambay, Alesi. "They were all my boys. René Arnoux never grows up. He's always the same, a heart of gold. I won't have anything said against him. Unfortunately he's very naïve and he gets into the wrong company who lead him astray…"
And then there was Gilles Villeneuve, who scared the hell out of her in his 328. "Oh my god! One evening Ingeniere Ferrari" – Vernor never called him anything but Ingeniere or Mr Ferrari – "invited us to dinner up in the mountains. Gilles said 'You'd better come with me as I don't know where it is.' It was a narrow twisty road up in the mountains and he drove like a madman. I said 'Listen, if a car comes the other way we won't be here tomorrow.' 'Oh, I'm enjoying myself!' 'I don't care, stop this bloody car, I'm getting out'."
On another occasion Gilles burst into the works, exclaiming, "Bloody car, the brakes don't work."
"I sent the car to the experimental department," says Brenda. "Half an hour later they rang and said it was ready. 'What was the matter?' 'Would you ask Mr Villeneuve to put coins in his pocket and not under the brake?"
Brenda has many mementos in her Modena flat – she has no interest in returning to the UK – but one is extra-special. "I phoned Gilles in Monte Carlo because I needed some certificate. So he sent me the document and instead of putting 'Brenda Vernor, care of Ferrari' he put 'Ferrari, care of Brenda Vernor'. I still have it."
She may not yet have been officially on the strength, but Vernor was on the scene as the Scuderia went through the Surtees schism, when during the one sports car race that really mattered to Enzo Il Grande John's frustrations with team manager Eugenio Dragoni boiled over. "I was at Le Mans in 1966 when it all happened. Dragoni and John had an argument, Dragoni phoned The Old Man and John walked out. They put Mike [Parkes] in John's place so then he had it in for Mike. Mike was just doing what he'd been told but John refused to talk to him. I stayed with John a few years ago and he was still saying, 'Your Mike this, your Mike that.' He wouldn't speak to Mike."
Brenda, on the other hand, had a soft spot for Parkes, despite another scary trip. "A charmer – couldn't tell you all the girls he had. I remember driving back from Brands Hatch in an Imp and it was foggy in France but he wouldn't stop. There was a guy keeping up with him which annoyed him, so he switched off his lights and kept going at full speed in thick fog. I wanted to stop at a hotel but he said 'No, let's go on.' That was after he'd been racing all day. We got in at 3am. That was Mike…"
We've talked much about the Scuderia's pilots as we consume our host's chicken salad. It's time to find out some secrets about the Old Man himself, about his vague wartime life, his unclear political affiliations, the firm's opaque finances. Only Brenda isn't playing. "There's nothing to say; he never talked about himself, to anyone." That may be entirely true, but at another point she relates "The Old Man said, 'I took you because you are like the three monkeys: hear no evil, see no evil, speak no evil'." You get the sense that if a rival team had tied her up and interrogated her for secrets, they'd have got nothing…
There are flashes of illumination: that Enzo liked opera but never took a holiday; that he dressed well in British clothes; that he watched the televised races from Fiorano with Sergio Scaglietti, his best friend; that he never talked about Dino, the loved son lost to muscular dystrophy in 1956 at the age of 24; that the perpetual dark glasses were no public affectation. "I don't think he liked looking at people. He seemed to be embarrassed by it. I never saw him without sunglasses."
She agrees that he saw the road cars as fund-raisers for racing, but continues "He wanted to be driven in every new car. If a customer complained, he'd want to know why. He liked to be on top of everything." He was no slouch himself, either: she relates a hair-raising drive with him in a 330GTC, adding "Even when he didn't drive any more he'd say to his chauffeur – quicker, quicker!"
But as is well known he had no sentiment for old racing cars: "They just chopped them up. I'd see these bits of F1 and sports cars at the back of the factory and think 'My god, they must be nuts'."
On politics, Vernor's take is this: "You never knew which party he followed. Some said he was socialist, others felt he was something else. You could never discuss it. I'm sure his voting depended on what he wanted and which way the wind was blowing."
Yet this powerful man, one notch down from the Papacy in Italian eyes, was in touch with his employees. "He always tried to give jobs to local people, and when one got cancer he paid for specialist treatment without anyone knowing".
He wasn't so affable with those in closer positions, nervous of his responses to anything less than success. "They used to tell him what they wanted to tell him," says Brenda. "So after a while the Old Man decided he wanted a telex from each of them so he really knew what went on."
But as he aged, more direct control passed to his subordinates; imported design skills supplanted home-grown; drivers negotiated harder. The old world of the autocrat was vanishing; the web's threads still led to the centre, but fewer twitches disturbed that dimly-lit den. In 1982 the racing team moved out of the venerable old works to a modern facility at Fiorano circuit; it was also the year Gilles Villeneuve was killed.
"Gilles was like another son to him. People would say, 'He breaks the cars all the bloody time,' but The Old Man would never say a word against Gilles." Yet he responded as expected to the terrible news. "Monday morning was Monday morning, as usual. He did take care of the family, though."
While Modena remains her home, the factory is no longer her place. She's cagey about the new regime after Enzo's death, but the impression is that she felt the talents of Piero Lardi, Ferrari's illegitimate son, were overlooked as Fiat increased its dominance, though he has stated in this magazine he did not want to head the firm, and has proved a valued diplomat as vice-president.
"Piero had a difficult time with his Old Man. He was very hard on him. Piero is technically very skilled but was never allowed to show what he could do. It was Ferrari's mother who said Piero must work in the business, the only woman the Old Man was frightened of. She used to ring him: "Enzo!" He'd say, 'Yes, mama!' and stand to attention."
Asked about Luca di Montezemolo, who in 1991 came from Fiat to become president of Ferrari, Vernor pauses – "You're asking me embarrassing questions." A phone call reminds her she has things to do, that pleasant though it's been in this sunny London garden we've had our slot. We put our recorders away but not before catching her lament. "Ferrari is not the same. When I worked there we were small, we were a family. With the Old Man there were certain things you did and didn't do. I wouldn't last five minutes now. Montezemolo said to Piero 'Brenda talks too much.' I know the company has grown but I reckon the Old Man turns in his grave every day."