It's not often I'd publish a road test based on 20 minutes in a pre-production prototype, but there are two reasons I am now: first, this new Polestar 1 is significant, and not just because it's a brand new car from a brand new constructor. It is also unlike anything else; the usual carefully assembled view as to whether a car is or is not preferable to any given rival simply doesn't apply. It doesn't have any rivals. You'll either love it and buy it, or it won't even get on the shopping list.
I'll start by telling you what it is not, which is a high-performance Volvo. It would be an understandable conclusion to reach seeing as Polestar made its name tuning Volvos, it's owned by Geely, which also owns Volvo and it is based on a Volvo platform with a Volvo powertrain. But you can say the same about Porsche's use of VW architecture and no-one thinks a Cayenne is a Touareg.
And yes, it even looks like a Volvo because that's how its life started back in 2013 as the Volvo Concept Coupé. But it's not a Volvo, or so I am told most emphatically.
Yes, it's a dazzling amount of money, enough to put this not-Volvo on a collision course with the Bentley Continental GT V8 in the marketplace
It's important customers don't think it's a Volvo too, because otherwise when they reached for their Meisterstücks to write the £139,500 cheque, they might find the ink frozen in the pen.
Yes, it's a dazzling amount of money, enough to put this not-Volvo on a collision course with the Bentley Continental GT V8 in the marketplace. Or so you'd have thought. In fact I cannot see a single Bentley customer being interested in the Polestar, but I can see Polestar customers feeling equally strongly and negatively about Bentley ownerships.
For this is a car not with a thumping V8 or W12 under its bonnet, but a 2-litre four cylinder, which was then supercharged, turbocharged and hybridised until the right numbers appeared on the board: no fewer than 600bhp backed by 738lb ft of torque, which is far more power and wildly more torque than that achieved by the aforementioned Bentley.
If now you're thinking all that tech sounds heavy, it is. Despite extensive use of carbon fibre in its massively stiff structure, and producing the entire body in carbon, it still weighs 2350kg, which is more even than the 12-cylinder Continental carrying an engine three times the size.
And yet the Polestar doesn't feel enormously overweight when you drive it, and for that I credit what must count among the most expensive passive dampers ever fitted to a road car: a set of dual-flow Öhlins with 22 driver adjustable settings each.
Most of all it feels quiet and comfortable, the former because for almost all drivers almost all of the time, the Polestar 1 is effectively a pure EV. Indeed it will do 78 miles on electricity alone, which places it in a different league to any other plug-in EV (which is not the same as a range-extender like the now deleted REX-version of the BMW i3). So you should be able to travel from London to Cambridge without the petrol motor completing a single revolution.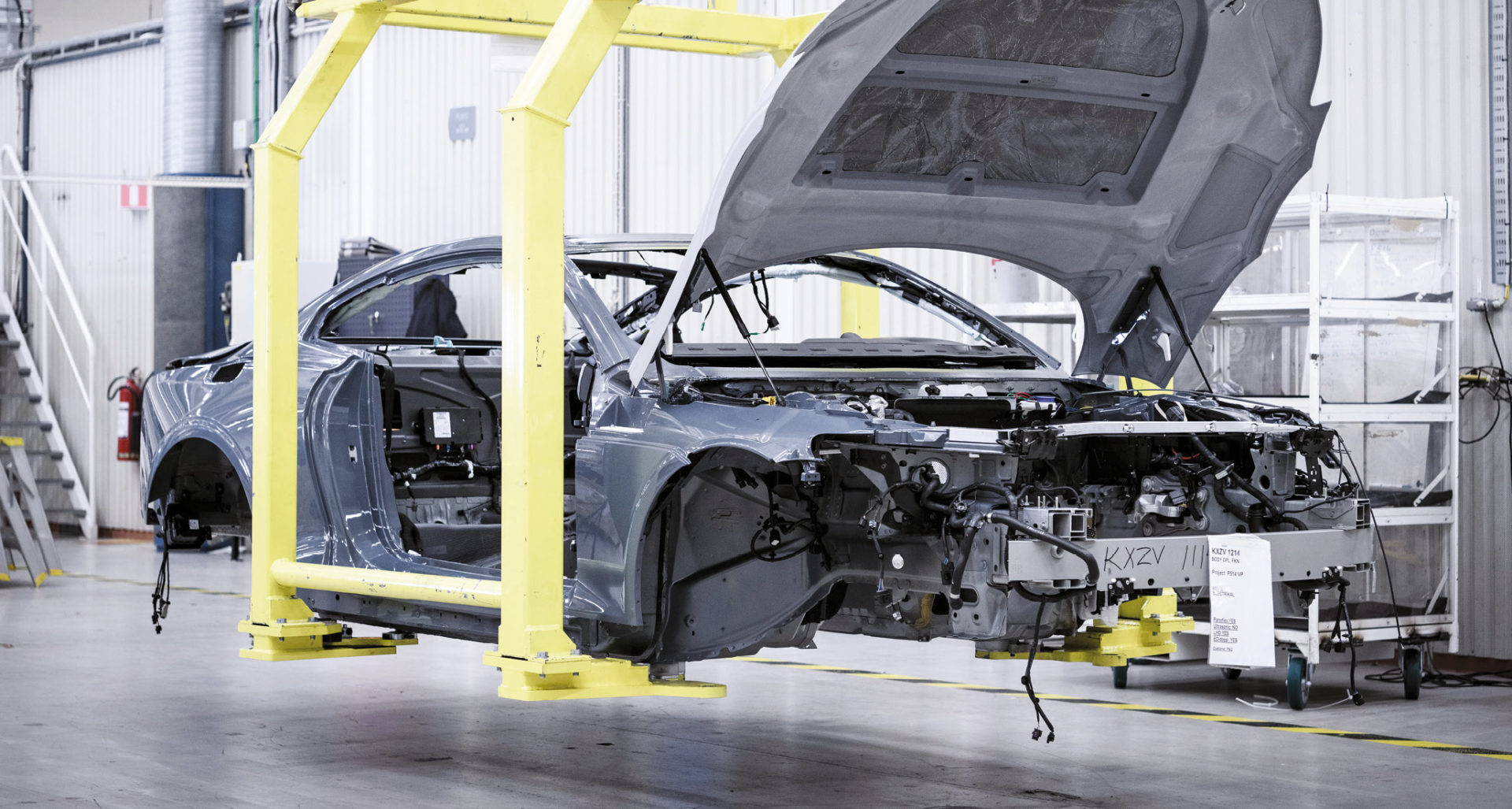 When it does kick in there's no escaping the fact that, for all its technological sophistication, it's still just a 2-litre four, and those used to the sound and smoothness of a six, eight or even 12 may be taken aback by its ordinary voice. But the performance is there: its mass means it doesn't accelerate quite as strongly as 600bhp and all that torque suggests, but it's still entirely convincing in this regard: no one is going to return this car on the grounds it's too slow.
Or too dull to drive. Lack of time meant I wasn't able to throw it around – though it's hard to imagine a Polestar customer complaining about its handling. The car is poised and controlled and, as mentioned, conceals its mass brilliantly. My fear that with it being left-hand drive only it would feel too wide and unwieldy on British country lanes came to nothing. An Aston DB11 it ain't, but it's a very pleasurable driving experience.
I don't mind the limited rear seat space, because it's limited in any Bentley, Aston or Mercedes S-class, but the boot is quite small.
Even so, the car gave such a good account of itself my primary concern has nothing to do with it per se, but its price alone. The interior is good, and in the top of the range XC90 with which it shares almost its entire operating system it would be stunning. But the Polestar costs more than twice as much and it's not that good. And I fear buyers of British blue-bloods would baulk at that engine noise. But as discussed, this car is not really for them. It's for someone who's probably not bought a car like this before, not least because there hasn't been a car like this before. He or she wants a car that looks cool and is fast and comfortable but also one that projects the image of an owner looking forward to the future, not over their shoulder to the past. They'll like the carbon tech, the fantastic EV range, the reassurance of the back-up petrol engine and probably the fact that with only 1500 being built over three years, they'll be pretty exclusive.
What is slightly perplexing is that this petrol-electric hybrid with which Polestar has launched its brand is the last one it will ever make.
Early next year the all-electric Polestar 2 will go on sale priced at a far more realistic £49,900. And unlike its big brother, there will be no problem working out the identity of its biggest rival: in size, shape, price and power it's aiming straight at the Tesla Model 3. If it can maintain these standards, it's going to be a hell of a contest.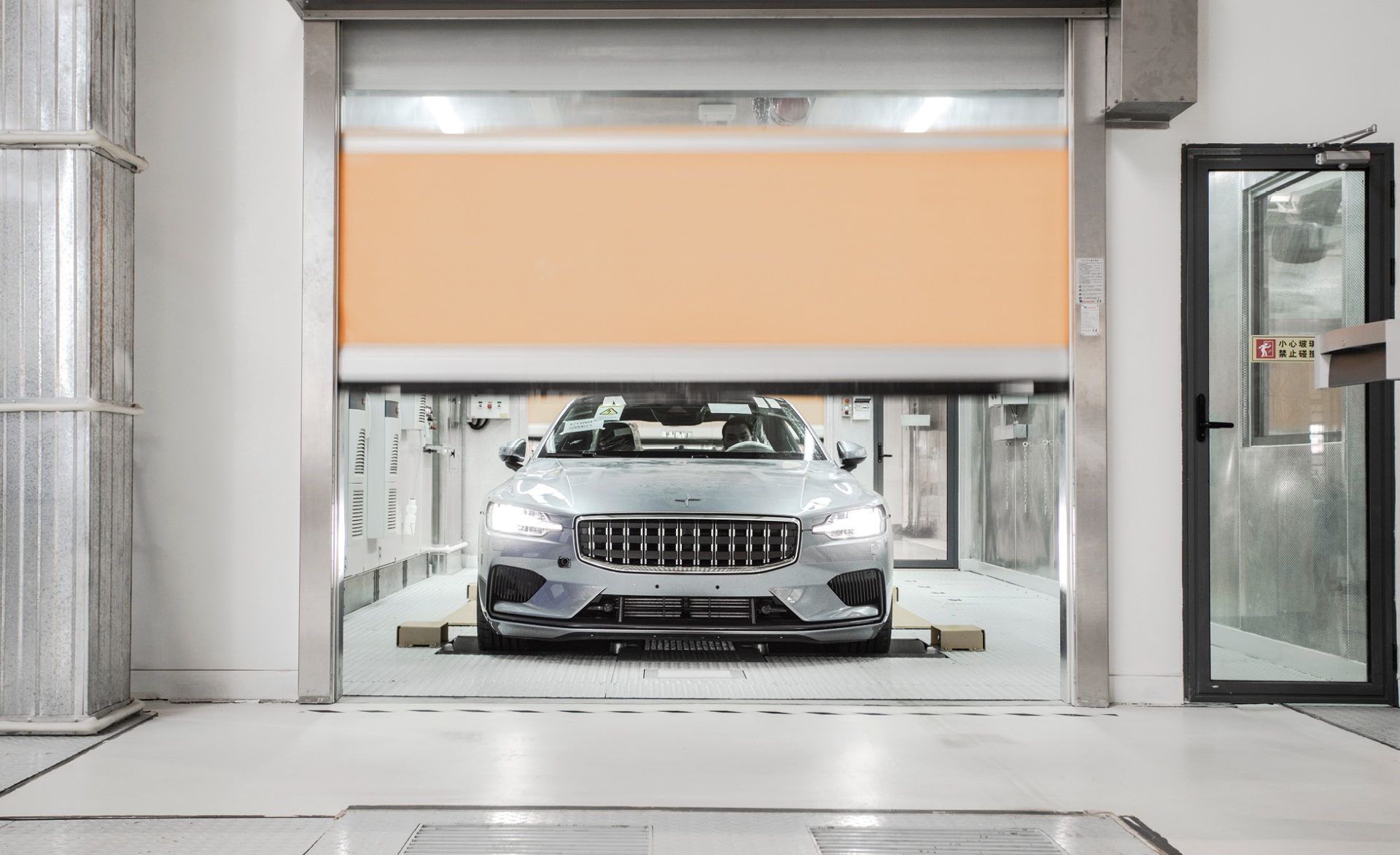 ---
Polestar 1
Price £135,500
Engine 2.0 litres, 4 cylinders, turbocharged, supercharged + hybrid drive
Power 600bhp
Weight 2350kg
Power to weight 255bhp per tonne
Transmission Eight-speed automatic, four-wheel drive
0-60mph 4.2sec
Top speed 155mph
Economy n/a
CO2 n/a
Verdict Great, but very pricey
---
DIGITAL EXTRA