Motor Sport Letters, January 2021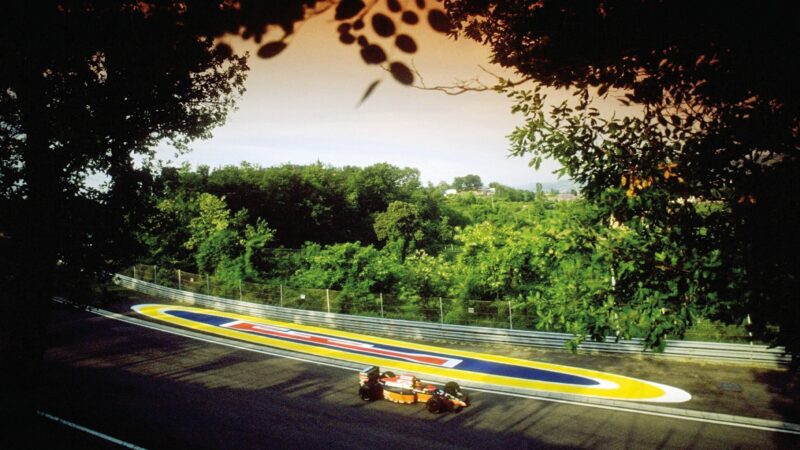 While not being particularly enamoured with current Formula 1, I was most impressed with the changes made to the Imola circuit [Where Ayrton Left His Heart, last month]. I still decry the loss of Tamburello and the Villeneuve curve before Tosa, the removal of three chicanes is almost a first in modern circuit alterations. I remembered how much better the double-apex Acque Minerali was in the 1979 non-championship race before the ridiculously tight chicane was added for 1980, and the reinstatement of the flat-out blast from the second Rivazza to Tamburello removing Varianta Bassa has much improved this section of track. I accept that with the latter change it would be nearly impossible to sanction the return of Tamburello, but I'd love to see the Villeneuve 'S' removed and put back to the curve it was before. Well done to Imola for making these changes; great to see the circuit back on the calendar.
Andrew Scoley, Bracebridge Heath, Lincoln
---
I loved the cult heroes feature [November 2020]; can I throw one of my heroes into the ring? I have loved IndyCar ever since Eurosport aired it. It was everything I wanted racing to be: fast, exciting, close, dramatic and dangerous. For me, the man who stood out among a sea of legends was Paul Tracy. He was too big to be a racing driver and looked like the Milky Bar Kid, but in the car he was magic. A maverick on the limit at all times. He got gripped by the throat by Al Jr, wrestled with Alex Tagliani and fought with Sébastien Bourdais. I remember a 1992 race at Belle Isle where he and Michael Andretti fought each other so hard that they fell over themselves and let Bobby Rahal through for the win. Just brilliant. Paul Tracy was a racer and while he was more Mansell than Prost, he learned from the genius of Rick Mears and changed his technique when he was witness to the Senna/Penske test. The fireworks were always there and you knew if Paul was in the race, he would be at 10/10ths and hang the consequences!
Paul is now the best part of possibly the strongest commentary line-up in motor sport, as he adds his intelligent, funny and irreverent views to modern-day IndyCar.
I suppose IndyCar itself could be a cult hero to UK enthusiasts, but Paul Tracy was mine.
Richard Bott, Northwich, Cheshire  
---
In the October issue Doug Nye dismantles the late Ed Hugus' claim to have driven a pre-dawn stint in the winning Ferrari 250LM at Le Mans in 1965, which I attended. He suggests that Masten Gregory could not have been bothered by early morning mist as it was 25 degrees and windy. It was indeed warm and I was able to snatch two or three hours sleep on the grass with only a light raincoat to cover me.
In 1965 driver changes and work on the cars took place on the track as the pits were quite small and it seems unlikely the pit marshals would have failed to spot a substitute driver.  Although the rules allowed for reserve drivers, they stated that if the reserve driver drove the car, disqualification would occur if the driver who was replaced drove it later.
The official history of Le Mans, by Quentin Spurring, quotes Hugus as saying that he had tried to join Gregory and Rindt on the victory podium but had been unable to push through the crowd – yet Motor Sport's photos show Hugus sitting on the winning car! Surprisingly, Quentin Spurring suggests Hugus' claim could be true but, unlike Janos Wimpffen, he doesn't include Hugus' name in the 1965 race results.
Some years ago Richard Heseltine quoted 'Coco' Chinetti in an article: "Sure, he [Gregory] wore glasses, but he'd raced after dark on other occasions.  I shared a Ferrari Daytona with him at Le Mans in 1972 and Masten never once complained about his eyesight or about having to drive at night. It just wasn't an issue."
I'm very glad that Doug Nye has cast aside the shadow that has lingered over Masten Gregory and Jochen Rindt as the true winners of this great race.
Richard Batchelor, Melbourne, Australia  
---
Andrew Frankel hit the nail on the head in proclaiming that road car development has probably gone too far today [Diary, December 2020]. Up until a few years ago, any competent driver could take any car you could buy to the limit, without having to be Max Verstappen.
With more than 50 years of racing behind me, and having raced the McLaren F1, Vipers, a Ferrari F1 and many other cars, I don't think I could ever get the maximum out of today's supercars boasting 800bhp or more on the road. The danger for less experienced drivers is the extensive electronic controls that are now a standard feature to prevent them from crashing during their first drive. None of these will help you when you are just going too fast – you will crash anyway.
Take the controls off to have fun and you'll find that there is simply too much power; it just scares the hell out of you. My F40 in the wet was great, sliding, power-drifting with full control. Anything over say 650bhp is just too powerful. Who needs 1200bhp cars? Gordon Murray's T50 is as far as you want to go – perfect.
Hans (John) Hugenholtz, Holland
---
I have just read with great affection Nigel Roebuck's article in December's Motor Sport ['The Summer of Love']. In 1967 he was 21 and enjoying his first year attending many events in the motor sport calendar. I was 13 and just awakened to the sport having seen an article on Jim Clark's South African GP win in the sublime Lotus 49. I later purchased the March '67 edition and have subscribed ever since. I still have a complete set of the 1967 copies. What a year, what articles, what characters – Jim Clark and Dan Gurney are still my all-time heroes – and what innovations. Lotus and Eagle, Ford GT40 Mk IV, Chaparral, Ferrari P4. A halcyon time indeed, not just for Nigel!
Titles come and go but Motor Sport has always been the crème de la crème in my eyes.  Congratulations on yet another great article to enlighten the current generations of our sport's rich history.
Chris Kadwill, Harlow, Essex  
---
I was delighted to see Archie Scott Brown feature in the article on Cult Heroes [November 2020]. As a Norfolk schoolboy I used to cycle the 40-mile round trip to Snetterton from home; from the Arctic March cold to the occasionally scorching days of summer I rarely missed a meeting. Archie, based in Cambridge, was the local hero. With his extrovert driving style and wonderful car control he was unbeatable at the circuit unless his car failed. In 1957  I travelled to Freiburg on a school trip. When we arrived at our hotel there was a message from my mother to tell me that Archie had won the British Empire Trophy race at Oulton Park. Quite made my holiday!
John Hindle, Penshurst, Kent
---
Nigel Roebuck's article on 1967 ['The Summer of Love', December 2020] flashed me back to my youth. I had been in 'swinging' London since 1962, the year I saw my first British GP. By 1967, I had my first Elan and Lotus had a competitive F1 car again. I was at Hethel to see the new Elan +2 when they wheeled out the sparkling Type 49 R1.
I then followed the Team Lotus truck to Snetterton where I watched Graham Hill howling around the old long circuit, on which the fast Norwich Straight was only separated from the A11 road by a modest hedge! Graham seemed pleased with his new toy. Happy days.
Incidentally in the piece on the six Vanwall re-creations (page 15), it states that the team won seven of the eleven races. They actually won six (Moss and Brooks three each) of the nine races entered. At the season's opening grand prix in Argentina Moss drove Rob Walker's Cooper-Climax (in Vanwall's absence) to a remarkable victory.
John Hostler, Brundall, Norfolk
---
Timothy Hadleigh in the December edition [Letters] says Schumacher learnt how to 'lose magnanimously' and Hamilton should do the same – really? The later article on Schumacher demonstrates that this was not the case – just ask Damon and Villeneuve Jr. That bad and ugly (your words) side of Schumacher is absent from Hamilton's record.
On Timothy's other points, the Monza incident wasn't Hamilton's fault (and was spotted late by a Mercedes team member back in the UK), and the Sochi one was a fiasco caused by Michael Masi interpreting the pre-race directions on the basis of what he meant to say rather than what he'd written down.
No one's perfect, but it just looks like another unfortunate and unjustified example of Hamilton bashing.
Martin Evans, Mortlake, London
---
At the back of the November issue the 'You Were There' article shows some excellent images taken by James Cooper at the 1965 British GP. I too was there but in a very different capacity. As part of my Brabham 'apprenticeship' I had been assigned to help Denny Hulme when required, as he looked after his own F1 and F2 cars. I was very much the gofer, tea-maker and polisher, being of no mechanical use at all. To this effect I was taken to most of the UK races the team attended and as Denny was driving the third Brabham I was part of the group that left the workshops at 6am for Silverstone.
In those days it was usual for most UK F1 teams to travel back to their base after practice had finished and prepare the cars there, as we had no garages or cover, just the paddock dirt. The Brabham transporter had broken down so a convoy of three vans and trailers left the Brabham workshop for the race. As Denny's girlfriend was travelling up with him I went in the Gurney van, sitting between Dan and his mechanic Tim Wall. A tight squeeze! Just after leaving Buckingham an axle on the Gurney trailer broke, and as there was no means to repair it the car was offloaded and with Dan sitting in his cockpit it was towed the remaining distance to Silverstone! The problems did not cease there for during the pre-race warm up the new flat-crank Climax that had been fitted to Dan's car failed so as there was no spare Jack relinquished his car for Dan to race. Yes, things were very different in those days.
Nick Goozee, Dorset
---
Write to Motor Sport, 18-20 Rosemont Road, London, NW3 6NE
or e-mail,

[email protected]