Motor Sport memorabilia and gifts: January 2022 selection
Whether hunting for gifts or buying for yourself, you'll find a miscellany of motor-racing ideas at the Motor Sport Magazine shop
Tyrrell P34 poster
Brace yourself… but it's been 45 years since Jody Scheckter shocked Formula 1 by dominating the Swedish Grand Prix at Anderstorp in the radical six-wheeled Tyrrell P34. Yes… 45 years since he and team-mate Patrick Depailler made the car that many dismissed as a freak show into a winner, the two pulling comfortably clear of Niki Lauda's Ferrari to score an emphatic 1-2 for Ken Tyrrell's team.
While it may have been a flash in the pan – there wouldn't be another win – the P34 has gone down as one of the most recognisable F1 designs ever.
We've got our hands on a whole range of suitably themed and officially licensed Tyrrell merchandise to help you mark almost half a century since the first (and only!) six-wheeled F1 win.
Interested in the inner workings of the P34? In that case you'll want our Automobilist poster, stylishly exploding the car down to its component parts. They're limited to just 500 and each is foil-embossed and numbered.
£92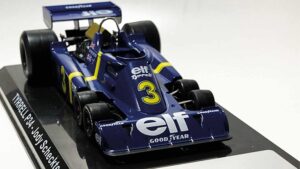 How about a memento from Scheckter himself? We have 1:24-scale P34 models featuring the South African's signature.
£149.95
If you're just not a fan of six-wheelers, perhaps our latest retro T-shirt will be of interest? The official Tyrrell team tee is gloriously simple in design and 100% cotton.
£18.50
---
Lewis Hamilton LH100 poster
It feels like we're living through history with Lewis Hamilton at the moment, even if sometimes he isn't quite as appreciated as he could be. Regardless, the British ace has made a habit of grabbing the record books and ripping them apart. His latest milestone came in the Russian Grand Prix, when a wet-weather tyre gamble helped him to become the first grand prix driver in history to record a century of wins. He has since added to his victory tally but that 100 still deserves a special edition collectors' poster.
£92
---
Andrew Barber print
Want something truly distinctive on your wall? Then look no further than Andrew Barber's wonderful range of both modern and classic racing cars. Barber's technique gives his images an otherworldly 3D quality, as if they're constantly in action and conveying that feeling of speed. This Alain Prost one shows the Frenchman's Renault at the 1983 British Grand Prix. Each print is digitally signed and numbered and they come in three sizes.
£55-225
---
Murray Walker: Incredible!
In March the motor sport world lost a true giant. He wasn't a driver, team boss or championship official, but Murray Walker was the voice of Formula 1. He was the vital link between the sport and its fans. When Murray's tones were on the telly, the sport came alive. Of course he was more than just an F1 commentator, he was a sporting icon in his own right, able to inject life and enthusiasm into everything from touring car racing to snooker (if you've not seen the famous Clarkson clip, it's on YouTube). This celebration of his life is written by Maurice Hamilton and features a multitude of tales about the man himself, with many anecdotes from those in the sport and who knew him best. It's a must-read.
£20
---
About the Motor Sport shop
With hundreds of special and unique racing-themed products, and many new items regularly added, the Motor Sport shop is aimed at both serious and casual collectors with a number of price points to suit your budget.