Murray Walker Incredible! book review
Mic and the mechanics: A new biography of Murray Walker highlights how much racing's greatest commentator is missed, says Simon Arron
He was part of the broadcasting landscape for more than 50 years and his celebrity extended far beyond the sport that made him famous. Murray Walker published his own autobiography in 2002, but this is his life story told from the other side, by those who knew him well, collaborated with him – and universally adored him. As they would, for he had a warmth and humility that made it almost impossible not to like him.
Published as a tribute to Walker, who died last March at the age of 97, the book is a series of (mostly) chronological essays assembled by Maurice Hamilton and related with his trademark literary elegance. There are plenty of Walker TV transcripts, too – and they come across not as words on a page but as a voice in your head.
The biographical details – father Graham's success as a motorcycle racer (he also sold Rudge-Whitworth bikes to Enzo Ferrari), his own military career (he was a tank captain during the Second World War) and a long, distinguished stint in the advertising industry (he sometimes ate dog food, to illustrate how good it was to potential customers) – are covered in dispatches, but the heart of the book is his commentary career, which began on a part-time basis in the 1940s and then accelerated as he shared microphone duties with his father on the Isle of Man TT before becoming the voice of rallycross, scrambling (motocross, for those under 40) and eventually Formula 1.
When the BBC had the bright idea of putting grand prix racing on TV in the late 1970s, largely in response to the sport's rising popularity in the wake of the memorable James Hunt vs Niki Lauda duel in 1976, it was Walker they chose to spearhead a half-hour highlights programme, which subsequently morphed into full, live coverage. Walker sold his advertising business interests in 1982, aged 58, and 'retired' to embark on a new career that would last for 20 seasons (and beyond, as he remained active well into his nineties, albeit not on a full-time basis).
There is plenty of Murray in the book, too, culled from bygone interviews. This, for instance, on the subject of scrambling: "Every Friday, I'd leave the office in St James's Square at 5pm and get on the Tube to Cockfosters, at the northern extremity of the London Underground system. Elizabeth [his wife] would be waiting in the car, loaded up with the dog and provisions, and we would then drive to Yorkshire – and this was before motorways – to somewhere like Wakefield, Ripon or Leeds, work all day Saturday for the national network, and then on Sunday, with the same riders on the same bikes at the same circuit, do the whole thing again for the northern TV network, ABC. When it got dark at 4pm, I would drive back in our Triumph Herald estate with the boxer dog in the back.
"The verbal faux pas tended to be slips of the tongue, Murray tripping over his own enthusiasm"
"It makes my blood run cold to think about this, because we had one of those gas stoves which Elizabeth had in the footwell. She would heat up some stew, which I would eat on the move. On Monday morning, I was back in the office. One year, we did this for 32 weekends in succession. And I loved it! Adrenaline conquers all."
Dedication was always his motif – and the celebrated verbal faux pas tended to be slips of the tongue, Murray tripping over his own enthusiasm, rather than absence of knowledge. Whether he was covering Formula 3 races or grands prix, he applied the same committed work ethic in the pursuit of information that might be useful.
In 1996, Neil Duncanson was appointed to head ITV's Formula 1 coverage when it began the following season – and Walker was his first major signing.
Here, he recalls: "Murray was on our flight [to Australia] – and we just weren't ready for what happened when we landed. It was like travelling with someone like Bono. We'd never seen anything like it. Getting Murray out of the airport felt to us what it must have been like trying to get Jimi Hendrix out of Woodstock. It was absolutely extraordinary."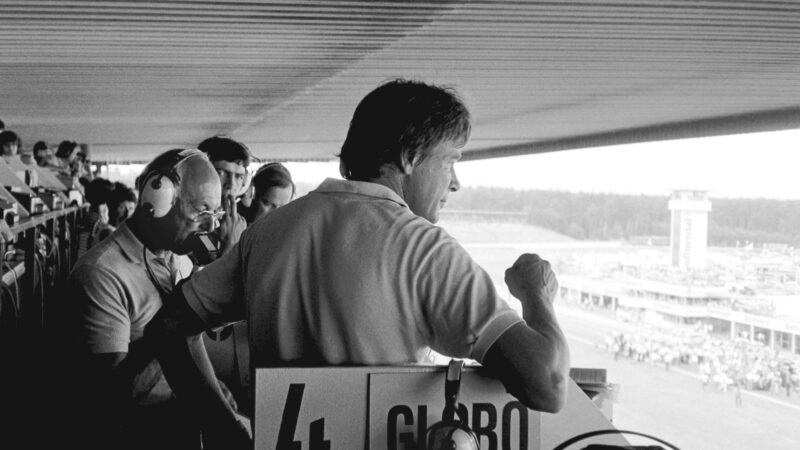 F1 was a step into the unknown for the commercial channel – and although things began smoothly, there were plenty of nerves on the morning of that first race. Duncanson remembers Walker entering the hotel breakfast room, perceiving an awkward silence among his colleagues and breaking it as only he knew how. "'What will Murray have? Hmmm! Murray's looking at all the cereals. There are cornflakes. Look at that! There's muesli. No! Murray's not going to have cereal. He's going for porridge. Incredible!' We're sitting watching all this as he assembles his breakfast, talking all the way. By the time he reaches the table, we're in hysterics. Completely broke the tension. We were ready to roll."
There are many similar anecdotes related by such as Damon Hill, Jonathan Palmer and Martin Brundle, plus a litany of James Hunt stories (most people know the one about Murray preparing to thump him at Donington Park in 1993, but I wasn't aware Hunt had once spilled a pint of lager over some of Murray's diligently collated notes).
This is a story very well written about a life extremely well lived.
---
Murray Walker Incredible! A Tribute to a Formula 1 Legend
Maurice Hamilton
Bantam Press, £20
ISBN 9781787635593