Jacky Ickx: His ten finest races
Jon Saltinstall, author of a new book on the multi-discipline Belgian, focuses on the results and reports to give us the master's 10 key outings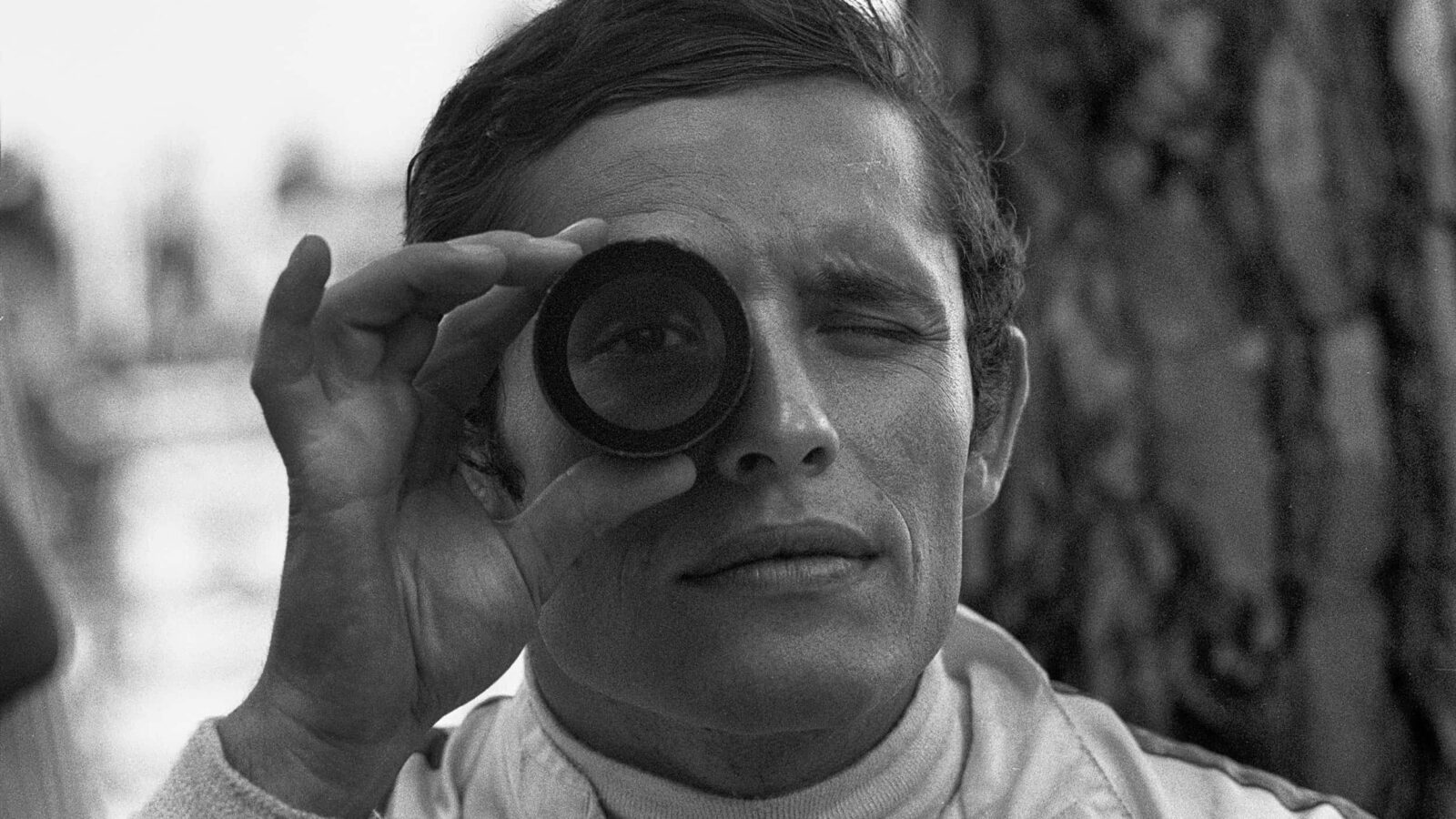 In a career spanning nearly 40 years, Jacky Ickx proved himself to be one of the true greats of motor racing. Hugely successful and versatile, he raced at the highest level in a wide variety of categories — including Formula 1, sports cars, touring cars and rally raids — winning in all of them. His successes have entered motor racing folklore, not least his unprecedented six victories in the Le Mans 24 Hours (1969, '75, '76, '77, '81 and '82) and his two runner-up positions in the Formula 1 world championship (1969 and '70). His reputation as an exceptional wet-weather driver is virtually unequalled.
Choosing 10 key races from a career total of over 570 contests was never going to be an easy task, but equally I wanted to avoid simply re-telling the accounts of his most famous and well-documented successes. His 1969 win at Le Mans, by a matter of mere yards after 24 hours of racing; his dominant final grand prix victory at the Nürburgring in 1972 that made the others look like also-rans; his virtuoso triumph at the rain-soaked Race of Champions in 1974 that featured one of the greatest overtakes ever witnessed in F1 (on Niki Lauda's Ferrari via the outside of Brands Hatch's off-camber Paddock Hill Bend); mastering the 1983 Paris-Dakar to become the first F1 driver to win the marathon event; these glorious moments have entered racing legend. Instead, while revisiting some of Jacky's most celebrated races, I have also selected a handful of key events where his stand-out performances had a significant bearing on the direction of his career or, indeed, ones that he himself considers among his best.
This latter point is a tricky one to draw out; as many journalists have discovered, getting Jacky to talk about his achievements is far from easy. Unlike most elite sportsmen, he is very self-effacing about the part his talents played in his remarkable career. He is much more focused on giving credit to the people away from the spotlight who made it possible; the team owners, designers, mechanics and crew members who built and ran the machines in which he competed. He expands on this philosophy at some length in the heartfelt preface he provided for the book on which I eventually persuaded him to collaborate, examining and illustrating every single event in which he took part.
Sharing his amazing recollections and insight into a hugely eclectic career made the task of picking just 10 events harder still, but I hope that what you see in the following pages gives a taster.
---
Trial de Plainevaux
Plainevaux, March 17, 1963 50cc class Zündapp GS50 Result: 1st
Plainevaux traditionally hosted the last trial of the winter season but this year it also saw the finale of the battle for the first Belgian 50cc trials championship. The winner would be decided after two 23-mile loops divided into 22 sections and 20 non-stops. With Jacky Ickx and Roger De Coster level on points, the tension was palpable when they started their runs. Whoever won would become champion.
The event unfolded like a Hollywood script. After the first round, Ickx led with four 'clears' against two for De Coster on his Moto BM, but as they neared the end of the second loop De Coster had recovered beautifully. Everything hinged on the 24th and last section. De Coster made a minor error. Ickx rode flawlessly. – and won the championship at the very last gasp. The sensational manner of his victory impressed Albert Moorkens sufficiently for him to offer Ickx his own BMW 700S car with which to contest the La Roche hillclimb six weeks later. Jacky later commented – perhaps only half-jokingly – that his entire racing career hung on the last 30 metres of the 1963 Trial de Plainevaux.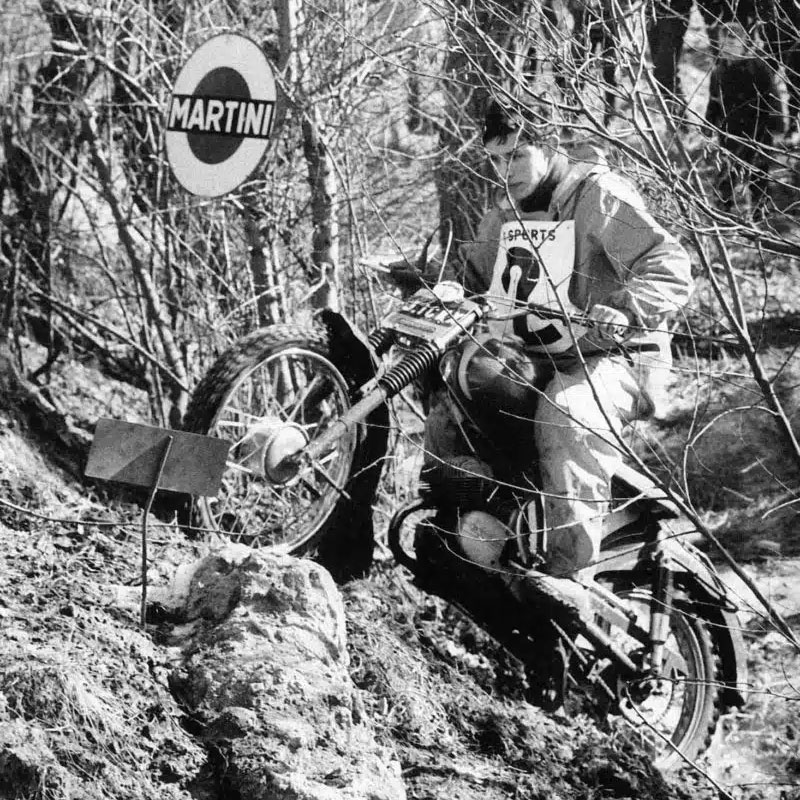 ---
Budapest Grand Prix
Nepliget Park, September 20, 1964, Group 2 Ford Lotus Cortina (BTW 298B) No23. Qualifying: 4th Result: 13th (3rd in class)
Jacky Ickx's third outing for Alan Mann Racing – the penultimate round of the European Touring Car Challenge – took place in Hungary and proved to be a defining moment in his career. Ickx was required to support John Whitmore's title challenge and carried out his role to the letter during practice, following his team leader carefully and neatly around the dangerous course, which was a variant of the pre-war parkland circuit, surfaced mainly with paving stones and criss-crossed by tram tracks that pounded suspensions and caused many breakages.
The 1600cc, 1300cc and 850cc classes were combined for a single three-hour race. While Whitmore disputed the lead with Hubert Hahne's BMW 1800TI, Ickx became embroiled in a battle with Gianni Balzarini's factory Alfa Romeo Giulia TI and Warwick Banks's Mini Cooper, which was being run by Ken Tyrrell.
Tyrrell had a keen eye for talent and two incidents in the race gave him the opportunity to witness Ickx's stoicism in adversity. First, Jacky lost his left-front wheel and arrived at the pits with the brake disc dragging on the road and trailing sparks, but the youngster pulled in without drama and waited calmly on the pitwall while a new wheel was fitted. Some time later, overheated brake drums caused a small rear-end fire during a refuelling stop, but Ickx again remained unruffled and sat patiently in his car while the mechanics worked away before rejoining the race with undiminished determination. Tyrrell, watching from the adjoining pit, was impressed.
Ickx later recalled: "Ken came up to me at the finish line. He was tall and had a wild, determined smile on his face. I was reserved in such company, almost shy. Ken asked me if I wanted to try a Formula 3 single- seater. I politely declined the offer and said that my impending military service didn't give me much time, but he wrote down my contact details and my parents' address and insisted that we stay in touch."
As for the rest of the gruelling Budapest Grand Prix, Hahne beat Whitmore by a lap while Ickx finished 13th overall and third in class after the delays, having completed just 89 laps compared with the winner's 103.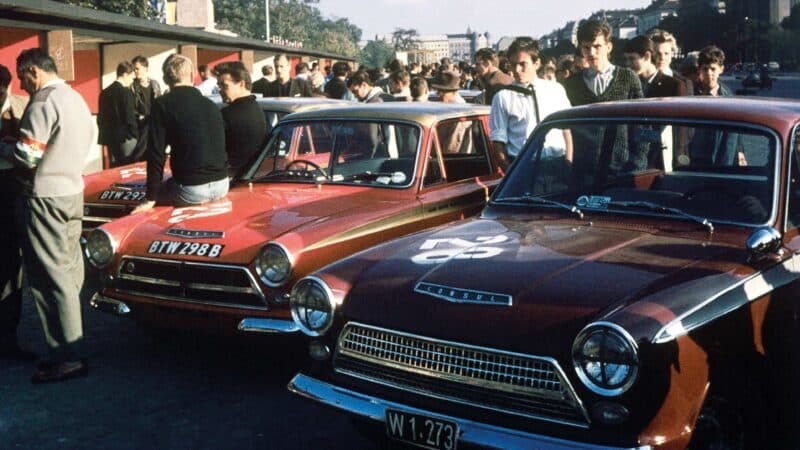 ---
Spa 1000kms
Spa-Francorchamps, May 1, 1967, Group 4 Mirage M1 (M10003) No6 (shared with Alan Rees/Dick Thompson). Qualifying: 2nd Result: 1st
Rain fell throughout Monday morning and the 29-car field prepared for a wet race. Ickx in his Mirage shot into an immediate lead with the Ferrari of Willy Mairesse/'Beurlys' (Jean Blaton) right behind. That was as close as anyone got all afternoon. A little over four minutes later, the Mirage plunged past the pits, through Eau Rouge and disappeared out of sight towards Les Combes before the next car arrived on the back straight behind the pits. The bemused spectators thought there must have been an accident that had delayed the others, but no.
Ickx lapped Beurlys on lap 38, shortly before the Ferrari made its next pitstop, and as Mairesse left the pits, Ickx was to be called in. Trouble was, his team-mate Dick Thompson couldn't be found; he was eventually located in the paddock. Ickx was forced to continue until Thompson was ready to take over and that meant he exceeded the three-hour maximum. The Mirage should have been penalised a lap, but the team argued that there had been extenuating circumstances. The ploy worked.
Thompson circulated some 30sec per lap down on Ickx's times but nonetheless retained the lead. All Ickx needed to do was to keep going for the final 13 laps to take the win, although he didn't slacken off much, continuing to average over 120mph.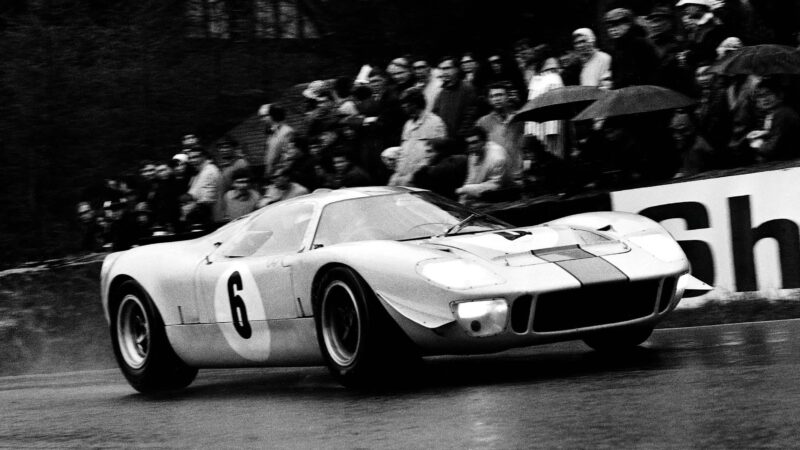 ---
German Grand Prix
Nürburgring, August 6, 1967, Formula 2 Matra-Cosworth MS5-11 No29 Qualifying: 3rd (1st in class) Result: DNF (suspension; fastest lap in class)
Once again, the AvD invited a select group of F2 runners to bulk out the grand prix field at the Nürburgring, albeit in a separate race run concurrently. Jacky Ickx in his Matra MS5 was impressive on Saturday and for a while he was second fastest, 0.5sec behind Denny Hulme's F1 Brabham. Eventually Jim Clark's Lotus 49 eclipsed them both but the fact remained that Ickx in his MS5 recorded the third-quickest lap ever at the 'Ring.
Mindful of the first-lap incidents in the previous year's race, Grand Prix Drivers' Association president Jo Bonnier insisted that Ickx mustn't be allowed to start from the front row, claiming that an F2 car would get in everybody's way. He persuaded the organisers that all the F2 cars should instead start from a separate grid some distance behind the F1 field. Bonnier's high-handed tactics motivated Jacky to make a point.
It was no surprise that by the end of the first lap Ickx was ahead of five F1 cars. On the third lap he set a new record at 8min 21.8sec, passing the start/finish right behind John Surtees before nipping by the Honda in a full-lock drift. A lap later he was fifth. By the sixth lap he had got past Jackie Stewart and was hustling third-placed Jack Brabham. However, Jacky's remarkable climb could go no further, and Chris Amon's Ferrari, improving as its fuel load lightened, passed.
Ickx's race ended on lap 12 with collapsed front suspension, much to the relief of some of the outshone F1 drivers. Ken Tyrrell, meanwhile, greeted his young star with a huge smile and said: "You got them!"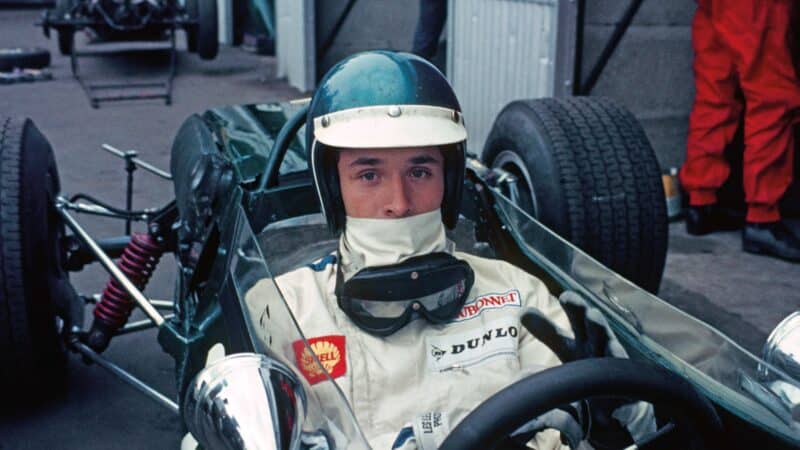 ---
Dutch Grand Prix
Zandvoort, June 20, 1971, F1 Ferrari 312B2 (006) No2 Qualifying: 1st Result: 1st (fastest lap)
Jacky Ickx took pole position narrowly from Pedro Rodriguez's BRM, his Ferrari running on 17in rims rather than the usual 15in.
A large crowd braved wet conditions for the race and when the flag fell, the Firestone B26 tyres on Ickx's Ferrari and Rodriguez's BRM were the first to find grip and the two 12-cylinder cars pulled away from Jackie Stewart's Tyrrell, with Jacky well ahead. The race quickly developed into a private duel between Ickx and Rodriguez.
What unfolded was one of the finest races seen at Zandvoort, with Ickx and Rodriguez locked in a no-holds-barred contest. They ended lap eight side by side as they played a late-braking game into Tarzan, Rodriguez scraping into the lead. By lap 10 they had caught up with the tailenders but there was no let-up in their battle.
As half distance approached, traffic allowed Ickx to close on his rival and slipstream past along the straight to reclaim the lead on lap 30, but as they came up behind the squabbling pair of Tim Schenken (Brabham) and Henri Pescarolo (March), the Mexican got his BRM alongside again. With the Ferrari boxed in, Rodriguez dived between the two backmarkers to snatch the lead back, but next time round Ickx was in front again – and this time he stayed there.
Ickx's winning margin was 7.9sec and he completed a clean sweep of pole position, victory and fastest lap.
In an interview in 2013, Motor Sport's Simon Taylor suggested to Ickx that he must have welcomed rain because it gave him a clear advantage. Jacky's reply was surprising: "You are wrong. I hated the rain, because the dangers were multiplied. But maybe it disturbed other drivers more. If everybody believes you are good in wet conditions, perhaps they give up more easily."
The victory put Ickx second in the F1 standings, five points behind Stewart.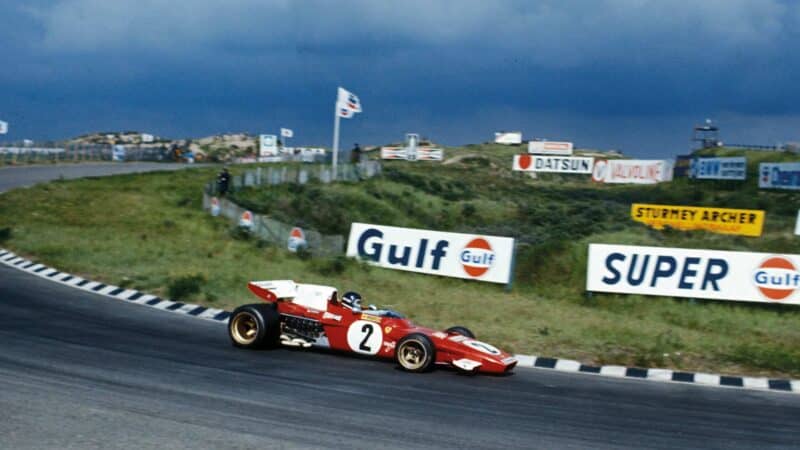 ---
Spa 1000Kms
Spa-Francorchamps, May 6, 1973, Group 5 Ferrari 312PB (0888) No1 (shared with Brian Redman). Qualifying: 1st Result: DNF (gearbox)
Ferrari arrived with two 312PBs in long-tail form and equipped with F1-spec engines for qualifying. Jacky Ickx/Brian Redman in their Monza-winning chassis were backed up by Arturo Merzario/Carlos Pace. The irony of these Ferraris and Matras – thinly disguised F1 cars clothed in two-seater bodywork – racing on a track that the GPDA had deemed unfit for purpose wasn't lost on everybody and their speed was immediately evident.
At 3min 12.7sec, Ickx beat Jo Siffert's 1971 outright lap record by nearly 2sec to claim pole. Although the official record books log only lap times set during races, this lap would stand in perpetuity as the fastest ever recorded around the full public-roads circuit.
For the race Ickx made the best start but Henri Pescarolo's Matra overtook and pulled away. But the Frenchman suffered a tyre failure which left Ickx with a solid lead and when he made his first routine stop, on lap 14, Redman rejoined with a 33sec advantage over Chris Amon in the Matra.
Six laps on, the Kiwi suffered a high-speed tyre failure, so now the Ferrari had a commanding lead. Ickx's advantage at half distance was 1min 47sec, but two laps later he went missing. Merzario signalled that something was amiss as he passed the pits and shortly afterwards Jacky arrived on foot. His car had rolled to a standstill and he had been unable to select any of the lower gears. He accepted the failure stoically and stood in front of the Ferrari pits to wave to spectators.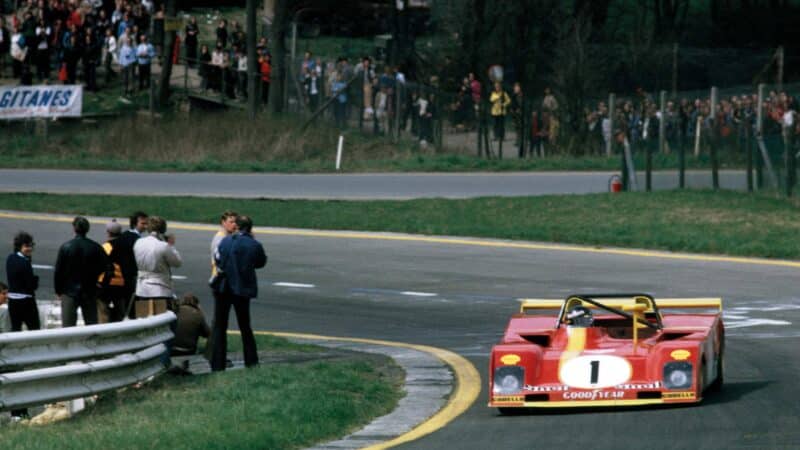 ---
German Grand Prix
Nürburgring, August 5, 1973 F1 McLaren M23/4 No30 Qualifying: 4th Result: 3rd
Jacky Ickx missed the Dutch GP, held at Zandvoort on July 29. That weekend, McLaren mechanic Leo Wybrott and team manager Alastair Caldwell hatched a plan to secure his services for the German GP, as no other active F1 driver knew the Nürburgring better. They started a paddock rumour, prompting a Belgian journalist to phone Jacky to check if the story was true.
Ickx drove the short distance to Zandvoort and struck a one-off deal with McLaren boss Teddy Mayer to drive a third M23, a new chassis that replaced the one wrecked by Jody Scheckter at Silverstone. It would be his first drive in a Cosworth-powered car for four years.
From the beginning of practice at the Nürburgring, Ickx, one of the first to go out, proved quicker than regular McLaren drivers Denny Hulme and Peter Revson. Revelling in a competitive car at last and reporting that the M23 possessed the stiffest chassis he had experienced, he swiftly set a time of 7min 9.7sec, well under his 1972 outright circuit record (7min 13.6sec) and just 2.7sec shy of his 1972 pole time (7min 7.0sec). Confident of beating that pole time, he was on target until halfway round his sixth lap when his engine blew up. It took two hours to recover the car before an engine change could begin, so there was no chance of improving that day.
Patchy rain the next day prevented super-quick times but his best lap, 7min 10.3sec, was way better than anyone else. As Jackie Stewart (Tyrrell), Ronnie Peterson (Lotus) and François Cevert (Tyrrell) had gone a little quicker after his engine blow-up, he started fourth, while Revson and Hulme, who were not happy about the performance of the interloper, qualified seventh and eighth.
When the starter's flag went up, Stewart, Cevert and Peterson got away swiftly and Ickx was left to jostle with Niki Lauda's BRM for fourth, emerging from the Südkehre in that position. Halfway round the lap, that became third when Peterson's engine cut out. However, the blue cars had a comfortable advantage and Jacky could make no impression on them on his harder rubber.
After Lauda's pursuing BRM crashed on the second lap, Jacky circulated on his own, with no other cars in sight. He remained third for the rest of the race, unable to catch the Tyrrells. Nonetheless, it was a fine drive in an unfamiliar car and he had made his point, finishing more than 1.5min ahead of ninth-placed Revson and 3min ahead of Hulme.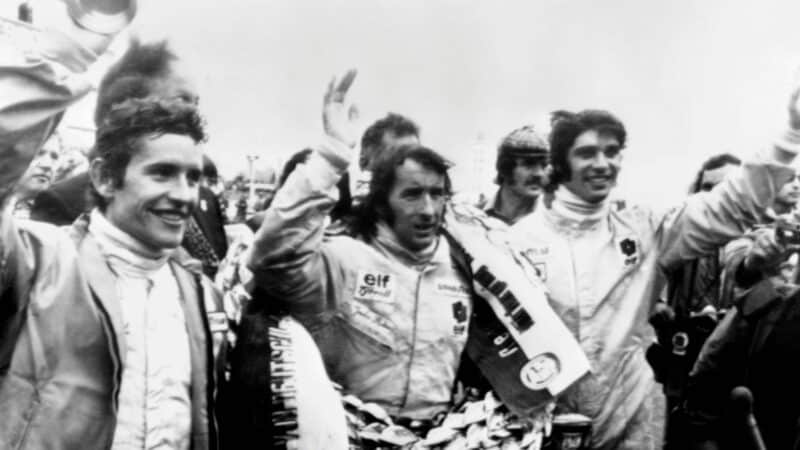 ---
Le Mans
Le Mans, June 11-12, 1977, Group 6 Porsche 936/77 (002) No3 (shared with Henri Pescarolo) Porsche 936/77 (001) No4 (shared with Jürgen Barth/Hurley Haywood) Qualifying: 3rd Result: No3, DNF (engine); No4, 1st (fastest lap)
The Alpine-Renault team had concentrated its entire Group 6 programme on Le Mans and sent four long-tail A442s. Porsche faced them with two 936/77s, pairing Jacky Ickx with Henri Pescarolo in its No3 car and Jürgen Barth with Hurley Haywood in No4. The French took four of the top five grid positions, split by third-placed Ickx.
The start saw Jean-Pierre Jabouille take command but the French assault faltered halfway round the lap when Didier Pironi stopped his A442 with loss of oil from a split pipe. After half an hour, the 936s of Ickx and Barth lay second and third, with Jabouille 25sec ahead. The Porsches had much greater range than the Alpine-Renaults, so when Jabouille stopped after only 18 laps to refuel, Ickx briefly assumed the lead, relinquishing it again when he made his refuelling stop five laps later. By lap 42 Jabouille was back in front and second-placed Pescarolo's own pitstop was now imminent – except he didn't get that far. He over-revved the Porsche engine and it expired in a cloud of oil smoke. Alpine-Renault occupied the top three places.
By this time, Barth/Haywood had suffered two delays, first with 20min lost for a change of fuel pump, then 30min with a blown head gasket. They retired after 45 laps. This was the moment for team manager Manfred Jantke to play his trump card and transfer Ickx to the surviving 936 with orders to push.
For the next 20 hours, the three Porsche drivers went flat out, scything through the field with Ickx taking the lion's share of time at the wheel. Through the night, he drove for hour after hour, completing triple stints. He shattered the lap record three times to leave it 2.8sec below the previous best recorded by François Cevert's Matra in 1973.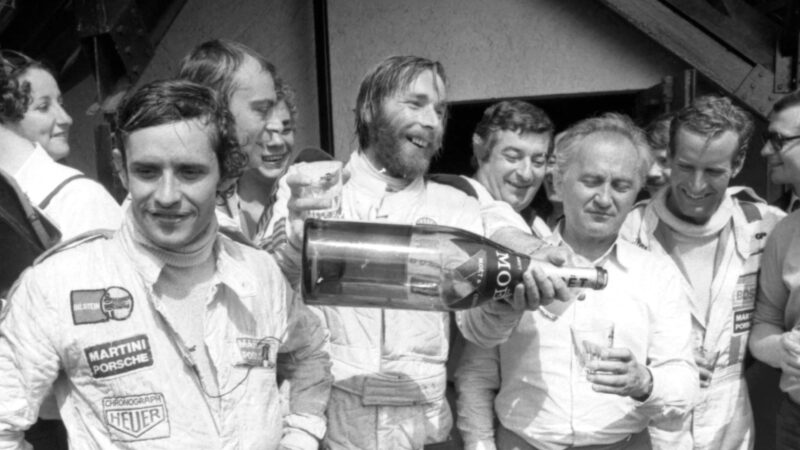 Despite rain and fog, the 936 reached sixth place by 10pm, fifth by midnight and fourth by 1am, now with just the Alpine-Renaults ahead. A little before 3am came the first Renault engine failure, eliminating third-placed Patrick Tambay/Jean-Pierre Jaussaud. About 90min later, Patrick Depailler pitted to have the second-placed car's gearbox rebuilt and by the time it could rejoin, the Porsche had swept by, six laps behind Jabouille/Derek Bell. The Alpine-Renault drivers were able to hold the gap but the three-man Porsche squad kept up the pressure. Shortly after 9am, Jabouille arrived in the pitlane trailing smoke, and after one more lap the car retired with piston failure.
Ickx, Barth and Haywood were now in front but couldn't relax. Depailler/Jacques Laffite were chasing hard in the surviving Alpine-Renault, but French hopes were finally dashed when its engine blew up.
A comfortable victory beckoned but high drama was to come. With 45min remaining, the 936 began to emit smoke. Haywood headed for the pits where the mechanics identified that a piston had burned out. The Porsche still had an advantage of 17 laps over the Mirage but it couldn't win the race sitting in the pits. While the mechanics disconnected the valve gear on the offending cylinder, Jantke took the decision to hold the car in the pits until the end of the race. To be classified as a finisher, the regulations required a car to complete its last lap within a given percentage of its penultimate one, so two final laps were required. The task was entrusted to Barth.
He set off running on five cylinders and with a stopwatch taped to the dashboard so that he could regulate his speed. He carried out his role to perfection, crossing the line 11 laps ahead of the Mirage. Ickx, Barth and Haywood became the first three-driver line-up to win Le Mans. Many years later, Jacky judged the race to be the finest of his career.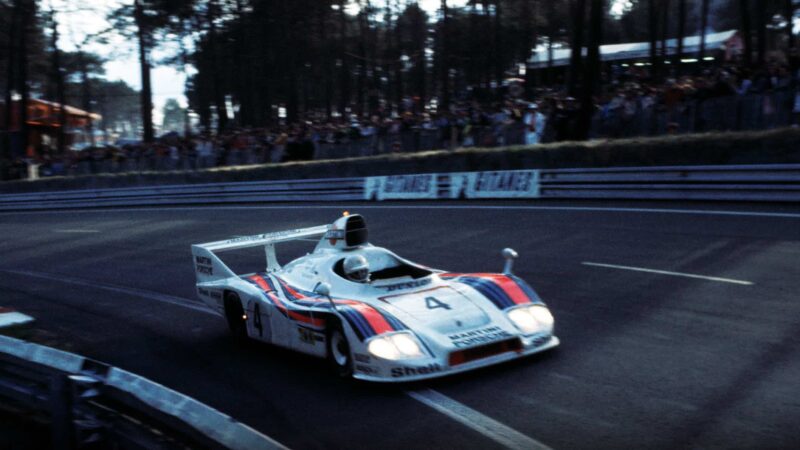 ---
Brands Hatch 1000Kms
October 7, 1982, Group C Porsche 956 (003) No11 (shared with Derek Bell). Qualifying: 6th Result: 1st (fastest lap)
The race started in pouring rain and saw Ford drivers Marc Surer and Manfred Winkelhock storm away in a reckless duel that looked almost bound to end badly. It did so when they touched in Paddock Hill Bend on lap 5, causing Winkelhock to lose control and crash heavily, bringing out the pace car. Four laps later, with several other cars abandoned at the trackside, the race was red-flagged with Brun's Hans Stuck leading from Surer and Jacky Ickx.
At the restart with conditions gradually improving, Stuck's challenge receded as his tyres went off and Ickx took over at the front, but soon found himself under attack from the two Lancias, both getting past.
Derek Bell took over from Jacky at the first pitstop and shortly afterwards the sun briefly emerged, but Porsche's Peter Falk decided to sweat it out in the hope that the weather would turn again and allow the 956 to cover the race on four refuelling stops rather than the normal five. This was a dubious call: by the time Bell handed back to Ickx, the car was a lap and a half behind the Lancia.
On intermediate tyres, Jacky needed to push hard. He unlapped himself after 14 laps, then briefly took the lead when the Lancia pitted. A lap later, Ickx made his own scheduled stop and Bell resumed, now behind the Lancia again, but only by a minute. With the weather improving once more and the 956 now on slicks for the first time, Bell gained some ground before he and the leading Lancia pitted again, this time on the same lap.
Ickx took over from Bell again and resumed his charge despite the driver's door of the 956 swinging open on some corners because it hadn't been properly latched. With 10 laps to go Jacky needed to pull back about 8sec. It seemed possible but, just to be sure, Jacky wound the boost up to 1.4 bar.
With three laps left, the Lancia led by 7.8sec. Next time round, Ickx lost ground thanks to trouble with backmarkers and trailed by 9.1sec. It was all or nothing. Jacky hurled the 956 around the penultimate lap and gained an astonishing 5sec, so that he went into the last lap only 4.1sec behind with headlights blazing through the gathering gloom. With everyone on tenterhooks, Jacky made more strides and took the chequered flag. He had done it! And for the first time in his career, Ickx had claimed a world championship crown.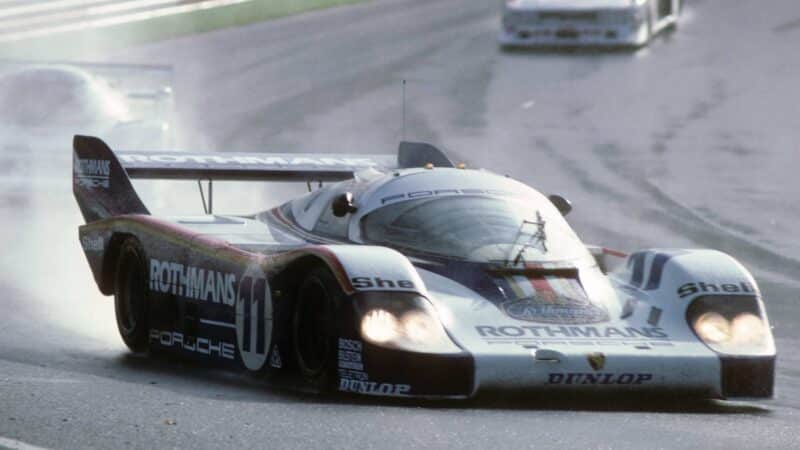 ---
Granada-Dakar Rally
January 1-15, 1995, Class T1 Toyota Land Cruiser Prado (NLT 886) No220 Result: 18th (1st in diesel class)
Jacky Ickx entered the 1995 Dakar as a pure amateur. He chose a Toyota Land Cruiser for its legendary durability and tackled it on his own, as driver, navigator and mechanic. Although the turbo-diesel engine remained basically standard, the Land Cruiser's chassis was reinforced and its suspension uprated, and a bigger fuel tank was fitted.
To make sure he understood the car's technical specification, Ickx followed its construction at Toyota France Competition's workshops in Gennevilliers, harking back in a way to his early days when he built his own Zündapp trials bikes and maintained his BMW 700S.
A much reduced field of only 86 cars assembled at a new starting point in Granada, southern Spain, to face the 6281-mile route to Dakar. As Ickx had deliberately chosen the T1 diesel class, there was no question of him challenging for outright victory, but his experience showed throughout.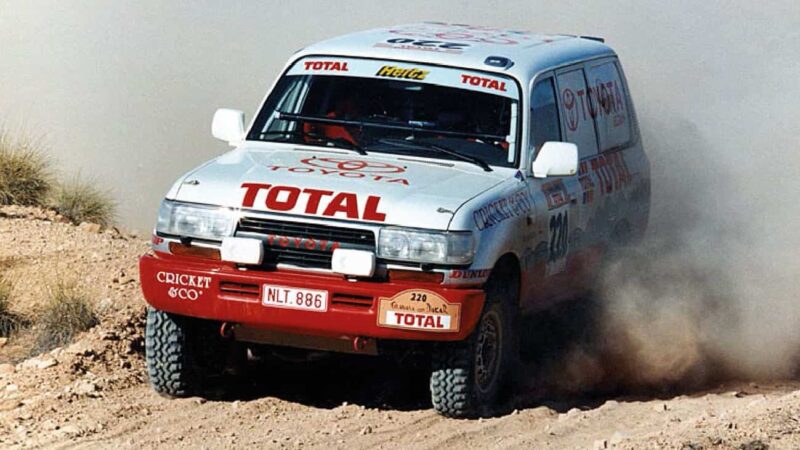 Having been consistently the front-runner in the T1 class, Ickx had been both fast and determined, bringing the bulletproof Toyota to the finish in 18th place overall and first in the diesel category. His class victory won the respect and admiration of all and was achieved in the purest amateur spirit.
Jacky himself considered it one of the most rewarding accomplishments of his career, reflecting that it had been a huge physical and mental challenge – and all on his own.
| | |
| --- | --- |
| | Jacky Ickx: His Authorised Competition History by Jon Saltinstall is published by Evro, £95, and is available at the Motor Sport shop |