1958 Dutch Grand Prix race report: Moss takes victory amongst the dunes
Stirling Moss wins his first race of the season after another Vanwall 1-2-3 in qualifying; BRMs of Harry Schell and Jean Behra finish second and third
THE last time that a Grand Prix was held at Zandvoort was in 1955, the year that Mercedes-Benz conquered all the opposition, and since then the KNAC, who organise the race, felt they could not afford the capital outlay to run a World Championship event. However, this year preliminary work was started early and there was sufficient financial backing to enter the Dutch GP once more in the list of races for Formula 1 to count for the World Championship.
Coming as it did just one week after Monaco it meant that the Grand Prix teams had to hustle about to get ready in time, but with the first practice being on Saturday it was not impossible and all the teams from Monaco were present. Three of the four Vanwalls at Monaco were flown back to England from Nice the Monday after the race and were overhauled at the factory and flown out to Calais, by which time the transporters had driven up from the South of France. The BRM, Lotus and Cooper teams did not return home travelling direct from Monte Carlo to Zandvoort, while the Ferrari team went back to Maranello for service, as did the private Maseratis.
Qualifying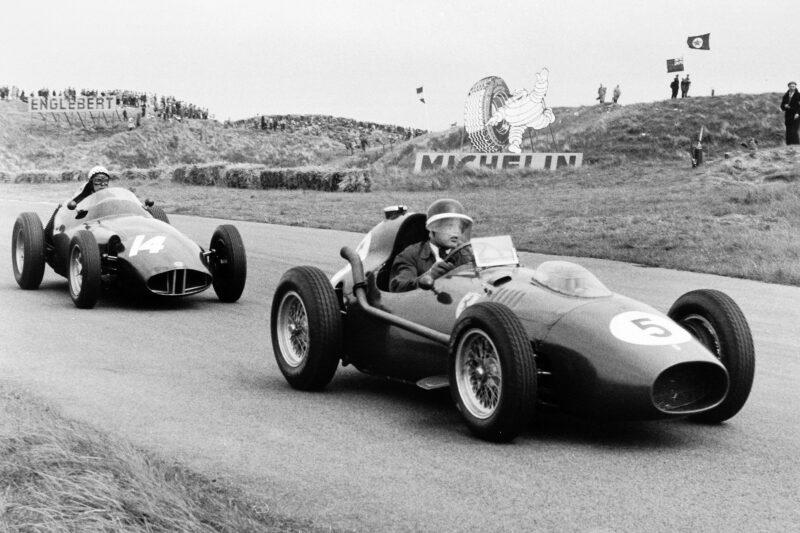 The Saturday practice was divided into two sessions, one in the morning and another in the afternoon, so that any faults discovered in the morning could be rectified in the lunch hour and the cars tried again in the afternoon. Moss, Brooks and Lewis-Evans were out in the Vanwalls, finding the smooth surface of the Zandvoort circuit particularly kind to roadholding characteristics, though those of the Vanwalls were not ideally suited to all the corners.
Collins, Hawthorn and Musso were finding their V6 Ferraris had too lunch understeer and though possessing lots of bhp it was coming in rather suddenly, while the change to oversteer was too sudden and too late.
BRM were extremely happy and Behra was an obvious favourite, while Schell was going surprisingly quickly, due, it was said, to having received "the gypsy's warning" after his miserable efforts at Monaco. They had the old 1957 car available as a training car, the two 1958 cars forming the mainstay of the team.
In the Cooper works team Salvadori and Brabham had changed cars since Monaco, the Australian now having the 1,960cc-engined car and Salvadori the 2.2-litre car. Lotus had now produced their larger engine, also of 2.2-litres, from Coventry-Climax, and fitted it to Allison's car, Hill still having the 1,960cc version.
The Rob Walker team were present and correct, with Trintignant in the 1958 Cooper, fresh from its Monaco victory, and they were in the happy state of having their 1957 car as a standby.
To complete the field there were three Maseratis belonging to Bonnier, Scarlatti and Gould, the Swedish driver's car having had a quick rebuild after its Monaco crash. This made a total of 16, which is usually considered sufficient for a Grand Prix, but as a sop to Holland their number one driver, de Beaufort, was allowed to enter with his Porsche Spyder RS, and it was hoped that he would keep out of the way of the Grand Prix cars.
When the last Grand Prix was run at Zandvoort in 1955 it was the Argentine driver Mieres with a Maserati who set up the lap record with a time of 1min 40.9sec, though in practice that year Fangio had recorded 1min 40.0sec. Now, in 1958, bearing in mind the obvious progress in Grand Prix car design that should have taken place during 1956 and 1957, it was reasonable to suppose that 1min 40sec would be a simple target to beat, for the track had not been altered in any way since 1955.
"The "baby" cars were a little out of their element on the Dutch track and were not approaching the bogey time"
The Vanwall team soon showed that they had moved on over the years and it was not long before Moss and Brooks were well below 1min 40 sec, and as it was Brooks' first visit to the track he did well to be only 1sec behind his team leader, who had made 1min 38.0sec. After his talking-to, Schell responded nobly and clocked 1min 39.6sec, while the only other driver/car combination to show the results of two years of learning was Hawthorn, with a time of 1min 39.7 sec.
The "baby" cars were a little out of their element on the Dutch track and were not approaching the bogey time, the two Lotuses being hopelessly undergeared. The end of the first practice saw Moss leading, closely followed by Brooks, and Lewis-Evans in fifth place, so they decided not to practice in the afternoon. The three BRMs were spot-on so they merely sat in an orderly row while the drivers and mechanics lunched, but both Ferrari and Lotus were juggling about with final-drive ratios.
The morning had been overcast and windy, and the afternoon was no better, occasional showers of rain falling, but between these there was plenty of activity. The three Ferrari drivers were trying hard, Musso in particular being keen to put up a good show, his second places in the first two World Championship events having given him a good lead on points.
BRM did some more training and Flockhart joined in on the spare car as it was hoped that he could be added to the list of runners as a last-minute entry, and Behra and Schell continued to show that the morning times were not a fluke, the number one driver getting down to 1min 38.8 sec.
Towards the end of the afternoon Ferrari and BRM packed up and went home and Zandvoort took on the appearance of Brands Hatch with the Lotus team vying with the Cooper team to clock times below 1min 40sec, and Trintignant in the Walker car also joining in the fun. Allison in the 2.2-litre Lotus beat the bogey time, as did Trintignant, the little Frenchman trying really hard, so much so that he spun right round on one lap, and shortly afterwards Allison did the same thing, but luckily there was no damage in either camp.
Salvadori and Hill could not better 1min 40.0sec, the former clocking that time exactly and the latter being 0.5sec slower, but Brabham pulled a crafty one and got himself credited with 1min 38.5sec, a time he personally achieved but not in his own car. It was Salvadori's turn to have the 2.2-litre and, thanks to some quickly removable plastic numbers, Brabham put his number on the 2.2-litre, recorded 1min 38.5sec and then put the number back on his own car! Things were definitely warming up for whereas before lunch there were only four drivers below 1min 40.0sec. there were now nine, being Moss, Brabham, Behra, Brooks, Musso, Schell, Hawthorn, Trintignant and Allison, with only 1.9 sec between the first and ninth.
Next morning the track was given a rest but at 3pm it all started again and everyone was out, including the three Vanwalls, and though the engines were behaving perfectly there was a certain amount of discord among the drivers for Lewis-Evans had asked to have his alloy front wheels replaced by the older-type wire-spoke wheels and was finding the handling of his car apparently more suited to the circuit. This left Moss and Brooks with the new alloy front wheels and when Lewis-Evans began to approach their lap times they felt it must be something to do with improved steering, so Moss tried the car and found it nearly half a second a lap quicker.
Whether there was any sound technical reason for all this or whether it was a simple matter of psychology, is hard to say, but there might have been something to it for undoubtedly the wire-spoke wheel can flex on a corner and give a different slip-angle relative to the steering geometry and the steering wheel, whereas the alloy wheel is fundamentally more rigid and would certainly give a different feel to the steering, all other things being equal. As the tyres on the wire wheels on Lewis-Evans car were not the same as those on the alloy wheels of the day before, all things were not equal, so that most of the controversy that arose could be put down to "cockpit trouble".
"In spite of all this apparent difficulty and dissension in the Vanwall team the cars were very much faster than all the opposition"
A simple answer would have been to make a quick change of wheels, but that was not possible as it is a major operation to remove the alloy wheels, the centre fixing nut not only keeping the wheel in place, but also retaining the wheel races, while the brake disc is attached to the alloy wheel by eight nuts and bolts. Even then, when all this is removed, the inner tracks of the wheel races have to be pulled off the stub axle, and then the normal splined hub and its races can be pressed onto the stub axle and the stub axle nut replaced and split-pinned.
In spite of all this apparent difficulty and dissension in the Vanwall team the cars were very much faster than all the opposition, which is probably why the three drivers had time to fuss about so much; had the BRMs and Ferraris been going faster they would have been too busy trying to make good times to worry too much about the handling.
Throughout the two hours of practice there was immense activity and more and more cars were getting down below 1 min. 40.0 sec., so that the first three rows of the starting grid were being decided by tenths of seconds or the trembling of a time-keeper's hand. The Lotus cars were looking beautifully steady but were not quite as fast as the Coopers, while Brabham was really enjoying himself and broadsiding many of the corners.
Of the three private Maseratis, Bonnier was easily the fastest until Gould lent his car to Masten Gregory, who was "on holiday" in the pits, whereupon Bonnier took a back seat for Gregory drove some beautifully smooth and fast laps and clocked 1 min. 42.0 sec., so that Gould immediately nominated the American as his driver and became a patron himself. This made Bonnier really try hard but he could get no closer than 1 min. 42.3 sec., while Scarlatti was more than two seconds slower, all of which was most amusing as Gould's car is not exactly the ultimate in 250F Maseratis.
The three Vanwalls were complete masters of the practice and before they finished for the afternoon Moss did a remarkable 1min 37.2 sec in the Lewis-Evans car, which was by far the fastest lap of the day, though it did not count, not being in his own car, but then Lewis-Evans got in the car as if to stake his claim on what was obviously a good car, and with apparent ease did 1min 37.1sec which rather embarrassed Moss, and the Ferrari drivers goaded him on to "do a Fangio " and make a faster lap, but he did not rise to the bait; the Vanwalls were all in the front row and that was good enough for him.
Right at the end of practice there was a momentary hush as Graham Hill spun off the road in a big way in the 1.9-litre Lotus and disappeared backwards over a sharp edge on the sand dunes; fortunately he landed right way up, shaken but undamaged, and at last knowing the ultimate limit of the Lotus' cornering power. Although it had landed from a height of some four feet the car was quite undamaged and after being lifted bodily back onto the road it was driven back to the pits just after practice finished. Whether the third BRM started or not depended on anyone falling out during practice and the Bounrne interest in Hornsey for a short time was acute, but to no avail for the Lotus had proved to be stronger than it looked and all was well.
Race
After the time-keepers had apparently put all the times from the three practice periods into a hat and shaken them up the starting-grid positions were announced as follows :
1. Lewis-Evans (Vanwall) 1min 37.1sec
2. Moss (Vanwall) 1min 38.0sec
3. Brooks (Vanwall) 1min 38.1sec
4. Behra (BRM) 1min 38.4sec
5. Brabham (Cooper) 1min 38.5sec
6.Hawthorn (Ferrari) 1min 39.1sec
7. Schell (B.R.M.) 1min 39.2sec
8. Trintignant (Cooper) 1min 39.2sec
9. Salvadori (Cooper) 1min 39.2sec
10. Collins (Ferrari) 1min 39.3sec
11. Allison (Lotus) 1min 39.4sec
12. Musso (Ferrari) 1min 39.5sec
13. Hill (Lotus) 1min 39.8sec
14. Gregory (Maserati) 1min 42.0sec
15. Bonnier (Maserati) 1min 42.3sec
16. Scarlatti (Maserati) 1min 44.6sec
17. de Baufort (Porsche) 1min 46.7sec
It was very much a repetition of Monaco, with green cars dominating the field and the first red car in row three, once again driven by Hawthorn, so that no-one could deny the dominance of the British, but there were now 75 non-stop laps to cover, not just one quick one. With thirteen cars under 1min 40.0sec, and only 2.7 sec between them, no one can say Grand Prix racing is becoming dull from the competition point of view, even if it is not so exciting technically.
With the three Vanwalls in the front row and after the way they had set the pace in practice it looked as though they might pull off a 1-2-3, but Behra and Schell in the 1958 BRMs could not be ignored while it was hard to believe that the Ferrari team were really outclassed. Since the "technical exercise" the day before Moss had decided to have his car converted back to the heavy splined front hubs and wire wheels, and as there were only two sets available Brooks had to retain the alloy wheels. All three cars kept the alloy wheels on the rear.
The sky was dull and cloudy and there was a strong cold wind blowing in from the sea, so that when the start was delayed for half an hour because of some difficulties with the fire-brigade on duty round the circuit, the cars and drivers became somewhat chilly. By 2:30pm everything was under control and the flag fell to a perfect start, all seventeen cars getting away in a tight jostling bunch. The Vanwall team were so busy keeping eyes on each other and also seeing that there was no room for Behra to nip through from row two that they overlooked Schell in row three, and he was in amongst them as they went round the first corner.
"Many of the drivers were beginning to find their cars handling in a peculiar fashion on certain parts of the circuit due to the strong cross-wind blowing gustily between the sand dunes"
Along behind the pits the order was Moss, Lewis-Evans, Schell, Brooks, with Behra being hounded by Coopers and Ferraris. In this pushing-and-shoving someone bumped the back of Brooks' car and after two laps he thought it was handling oddly so he came into the pits to see if a wheel or something was bent.
The order of the race was Moss, Lewis-Evans, Schell, Salvadori, Behra, Brabham, Hawthorn, Collins, Trintignant, Allison, Musso and the rest, and many of the drivers were beginning to find their cars handling in a peculiar fashion on certain parts of the circuit due to the strong cross-wind blowing gustily between the sand dunes. Some, like Moss and Brabham, realised what was happening, while others, like Salvadori and Brooks, thought something was broken on the suspension.
After his pit stop Brooks set off right at the back of the field, still not convinced of the handling of his car, and he was lapping much slower than his team-mates. Moss was in grand form and was leaving everyone behind him, driving a smooth, perfect race, and by eight laps there was no-one in sight behind him as he came past the pits looking his typical calm and relaxed self. Behind him Lewis-Evans was holding second position but Schell was closing up rapidly, the BRM with full tanks apparently handling better than the Vanwall with full tanks, and on lap 12 Schell got by on the inside of the hairpin behind the pits and took second place.
Both BRMs were sounding very healthy, though Behra was all tangled up in a scrap for fifth place, this consisting of the BRM, Hawthorn, Collins, Brabham and Allison, these five lapping in a solid bunch. Salvadori in the 2.2-litre Cooper had got himself firmly in fourth place when Brooks stopped at the pits and while the five cars behind him were getting in each other's way he pulled out a long lead on them. Poor Musso, who had been holding out great hopes for a good place in this race, made a poor start and was having to work his way up from 13th place.
Moss was just going on and on into an unassailable lead and Schell had outdistanced Lewis-Evans, who was equally a long way ahead of Salvadori, so that very early in the race the first four cars were spread out in a high-speed procession. Moss had already lapped the last car, which was de Beaufort's Porsche, and by lap 13 he was not far off lapping Brooks, who was making poor progress since his pit stop, lapping in 1min 43.0sec. compared with 1min 39.0sec for Moss and 1min 40.0sec for Lewis-Evans.
Before suffering the indignity of being lapped by his team leader Brooks came in and gave up as the handling of his car just wasn't right, causing him great anguish on the fast back swerves on the circuit even at the low speed at which he was lapping. Among the tail-enders Gregory was going extremely well in Gould's Maserati, ahead of Bonnier and Scarlatti and even ahead of Trintignant and Hill, but as the Maserati went past the pits on lap 17 it popped and banged, and disappeared out of sight sounding as if bits were going to fly in all directions. Much to the relief of its owner the trouble was only a defective fuel feed and the Maserati came to rest with no means of getting petrol to the carburetters.
"As the Maserati went past the pits on lap 17 it popped and banged, and disappeared out of sight sounding as if bits were going to fly in all directions"
The scrap in the centre of the field resolved itself into two parts, with Hawthorn and Behra together and Collins trying to get rid of Brabham and Allison; after getting the Ferrari ahead of the Cooper and the Lotus for a couple of laps, Collins let Allison by again and the Lotus then drew away leaving Brabham to nibble at the Ferrari tail, and a few laps later Musso caught them up and joined in.
On lap 15 Behra at last got past Hawthorn, and having a clear track ahead of him for the first time since the start he was able to get motoring and catch up Salvadori, but there was little hope of catching anyone else, especially Moss, who was still forging ahead and some 15 sec in front of Schell. By 20 laps Beira was right behind Salvadori and in front on lap 21, now in fourth position but not close enough to Lewis-Evans in third place to cause the Vanwall pit any concern. Collins, Brabham and Musso were now nose-to-tail and Moss had them in his sights ready to lap them, which gives a good impression of his rate of progress.
At this point Hill failed to go by and later came running into the pits with the tiny Lotus in tow, its engine having gone dead. This was traced to one of the ignition contact points having broken off, and after fitting a new one he rejoined the race right at the back of the field, nine laps behind the leader. Musso was now making progress and got by Brabham and then got by Collins, and all three caught Allison, while Moss was right behind about to lap them.
On lap 35, as Moss got past Brabham, Collins spun off due to a gearbox seizure, and Moss then lapped Musso and after that Allison, for there was nobody capable of stopping the meteoric flight of the Vanwall. Schell was 25 sec behind, followed by Lewis-Evans, Behra, Salvadori and Hawthorn, the Ferrari driver trying really hard to overcome the unsuitable handing of his car. At the back of the field nothing very exciting was happening; Trintignant was leading Bonnier, while Scarlatti retired with rear-end trouble and Hill was in trouble with overheating on the Lotus, eventually retiring when the head gasket broke.
Moss went on piling up his lead, setting a new lap record at 1min 38.0sec, later to improve on this and continually circulating in under 1min 40.0sec, so that by lap 42 he had 28 sec, lead over Schell, 48sec over Lewis-Evans and 64sec over Behra. Apart from this, of course, there was the truly wonderful sight of four British Grand Prix cars running 1-2-3-4 with Salvadori's 2.2-litre Cooper following, and Hawthorn's was the only red car not to be lapped by the leader.
However, this did not last for long and on lap 48 Moss was right behind him. The satisfaction of this was dulled somewhat by Lewis-Evans running into trouble for as he went by the pits on lap 45 there was an ominous puff of smoke from the Vanwall's exhaust pipe, and when he stopped at the end of the next lap it was found that a valve-spring holder had broken and the valve had dropped onto the piston, and that was that.
There were still 30 laps to run and only one Vanwall left, but it was sounding healthy enough and Moss was looking as confident as ever, while the BRMs, now in second and third places, were running superbly, these 1958 models making up for all the faults of the earlier cars. After lapping Hawthorn the leading Vanwall then lapped Salvadori and was not far off lapping Behra while Schell in second place was also lapping the cars at the end of the field, and as the race entered its last 10 laps he was getting ready to lap Musso, who was in seventh place.
With five laps to go Moss had 48sec lead over Schell, which amounted to just on half a lap, while he had almost a lap lead on Behra. On lap 70 Schell came up behind Hawthorn to lap the Ferrari but the Farnham driver thought otherwise. To be lapped by Moss in a Vanwall was an indignity he could stomach but to be lapped by Schell in a BRM was more than Hawthorn could stand and he pressed-on madly with Schell trying to get past. Leaving the 180-deg turn at the end of the straight the BRM got by but took to the grass and the Ferrari went ahead again, three more laps being covered before Hawthorn waved Schell by.
Moss looked as though he could have lapped Behra but there was little point in it and he finished the race a convincing and worthy winner, with only the two BRMs on the same lap. While not being an exciting race it had been a wonderful demonstration of Britain's supremacy in Grand Prix racing and the BRMs had at last proved their worth. While the Acton team were busy battling against the Bourne team their impetus had thoroughly trounced the Maranello team.
Zandvoort Zideslips
When Graham Hill came running into the pits on lap 22 we thought for a moment that he had the Lotus single-seater under his arm! With the large and heavy Graham in a Lotus and "pea-sized " Lewis-Evans in a Vanwall we wonder if it is not time for British Grand Prix car constructors to think about driver-designs.
The Dutch Grand Prix was a nice tidy race on a nice safe circuit and to help with the neatness of the event certain drivers placed their cars in the results according to their race numbers. Vanwall number one was first, Ferrari number five was fifth, Cooper number eight was eighth and Cooper number nine was ninth.
It was obvious that the time-keepers were out of practice in dealing with Grand Prix cars for training times were often a little suspect, just as they had been at Monaco, which suggests that perhaps the time has come for a reform in timing methods.
Without Hawthorn the Scuderia Ferrari would be in a very sorry state.
It is difficult to deride which is the most gratifying, to start three cars and have only one finish, but in first place, or start two cars and finish second and third.