1961 Belgium Grand Prix race report: Scuderia produce another dominant display
Phil Hill takes second consecutive victory as Ferrari occupy the top four positions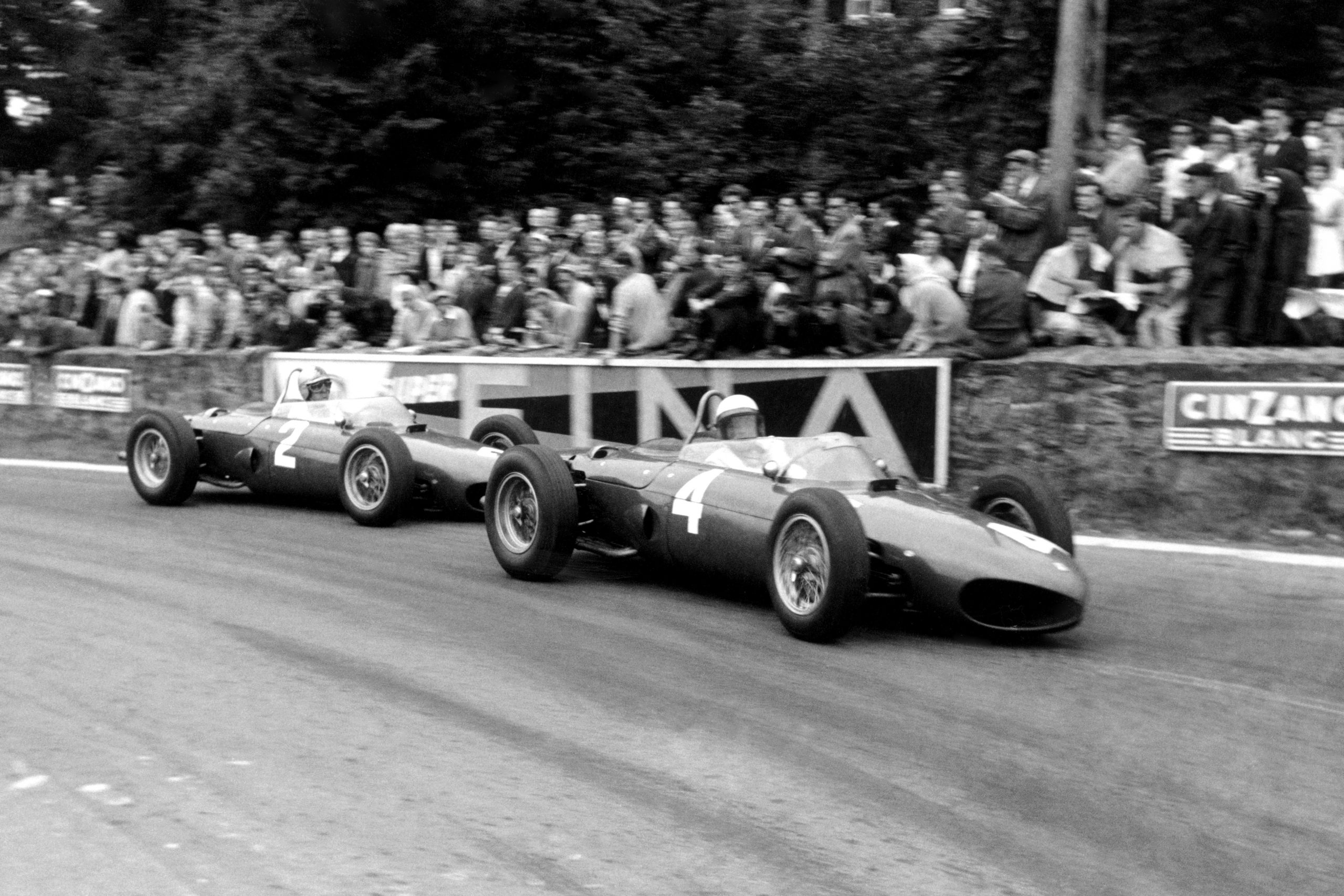 If there is a finer Grand Prix racing circuit than the one at Francorchamps, on which the Belgian Grand Prix is held, it would be hard to name it. Grand Prix racing has always been that class of event and type of driving that is beyond the ability of mere mortals, and calls for supermen. On the Francorchamps circuit, with its lap speed of around 130mph, and plenty of 150mph corners, it presents the Grand Prix driver with the opportunity to show his true ability, and to demonstrate just how much ahead in ability he is over the ordinary driver. This year, when practice began conditions were ideal, being warm and dry with no breeze, and just after 5:30pm on Friday the cars set off from the pits on their opening lap of practice of the 14.1 kilometres circuit.
The organisers had invited sixteen entries to take part, and another nine to qualify for three remaining places, these three to receive full starting money. The remainder could start in the race for a nominal sum of money that would just about pay the hotel bills. The elite sixteen were Phil Hill, von Trips (Scuderia Ferrari), Gendebien, Mairesse, Bianchi (Equipe National Belge), Moss (Equipe Walker), Bonnier, Gurney (Porsche works team), Surtees (Yeoman Credit), Trintignant (Scuderia Serenissima), Brabham, McLaren (Cooper works team), Clark, Ireland (Team Lotus), and Graham Hill, Brooks (BRM). The nine to try and qualify were Ginther (Ferrari), UDT Laystall with either Allison or Henry Taylor, but only one of them, de Beaufort (Porsche works supported), Jack Lewis (Cooper), Marsh (Lotus), Seidel (Lotus), Bandini (Centro-Sud Cooper) and Gregory, Burgess (Camoradi team).
SEFAC, or the Scuderia Ferrari as we know them, had the same three cars as they used at Zandvoort, all with 120 degree V6 engines, and they had painted an older 60 degree V6 car yellow and lent it to the ENB for Gendebien to drive, though the Maranello mechanics were looking after it. The ENB had two of their Emeryson-Maseratis for their other two drivers, while Moss was driving Walker's Lotus-Climax with new slimmer bodywork similar to that on the UDT-Laystall Lotus-Climax.
The Walker car was the chassis fitted with the 5-speed Colotti gearbox, and had had the rear suspension modified in line with the 1961 works cars. That is to say that a top link is used on each side from the top of the hub carrier to the chassis, removing all suspension strain from the drive shafts, and these were of the orthodox sliding spline type.
For a time the Porsche factory thought of giving Spa a miss, especially after their poor showing at Zandvoort, but in the end they changed their mind and arrived with their three 1960 cars, of the old trailing link front end type and the 4-cylinder engines were all fitted with Weber carburetters instead of the fuel-injection they have been using recently.
Yeoman Credit had two cars for Surtees, a normal 1961 Cooper with Mk II Climax engine, and their modified one with the slim body and altered rear-end of the chassis to take a Colotti gearbox, but with only a Mk I Climax engine fitted at present. Trintignant had two cars available, his own old F2 Cooper-Climax, with Colotti gearbox and modified suspension, having short torsion bars under each suspension unit, operated by a link from the bottom wishbones, these torsion bars being in addition to the normal Cooper springs.
The other car was a 1960 Cooper chassis with a 4-cylinder Maserati engine and Colotti gearbox, and having a new body shape with a rather square looking tail. Brabham and McLaren had the two regular Cooper works cars, with Mk II engines of course, McLaren's having had its chassis straightened after his crash at Brands Hatch recently.
Qualifying
There were no works Lotus cars on this first evening of practice as the transporter was delayed, so Clark and Ireland had to be spectators. The two BRM drivers had a spare car to use for training, all three cars using Coventry-Climax engines, and Lewis had a brand new Mk II Climax engine in his 1961 Cooper. Marsh was driving his much modified Lotus-Climax, direct from his Shelsley Walsh Hill-Climb win, and Gregory had the Camoradi Cooper-Climax, and Burgess the Camoradi Lotus-Climax, the latter car having a slimmer nose cowling. Seidel had a similar 1960 Lotus-Climax and Bandini was driving a brand new 1961 Cooper fitted with a 4-Cylinder Maserati engine.
Before the cars completed their opening lap Cliff Allison had crashed heavily on the fast approach to Blanchimont corner, sustaining leg injuries, writing the UDT Lotus off completely, and covering the road with a mess of oil, water, mud and grass. In consequence practice was stopped for nearly 40 minutes while things were sorted out, and it was 6:15pm before any more motoring began. Brooks was going well in the BRM and was one of the first to set the pace, with a lap of just under 4min 10sec (approx 126mph average) which was a good start with a 1,500cc unsupercharged car.
McLaren was kept at the pits for a long while having a leaking oil pipe repaired and Moss was in and out of the pits, his engine not getting sufficient revs down the straights. Brabham seemed happy enough and was running his engine to 8,000rpm and over but was not approaching Brooks time. After a little while the Ferraris began to show their paces and times under 4min 10sec came easily for Hill, von Trips and Gendebien, but not so for Ginther who was still learning the circuit, having never raced on it before. Graham Hill was very quickly in the groove, and going fast, the BRM handling well and being very stable on the long fast bends, even where in places the surface was beginning to show signs of age and ripples and bumps were appearing.
At one time the Francorchamps Circuit was a billiard table, but not so any more, although it is still pretty smooth, but a number of years racing and a few hard winters have taken their toll and part of the circuit could do with surfacing. Brooks came to rest out on the circuit with an engine that did not feel right and team-mate Hill brought him back to the pits balanced precariously above the engine of his BRM. Surtees was trying both Yeoman Credit cars and finding that the slight increase in power of the Mk. II engine offset any advantage of the slimmer and improved car.
ln the Ferrari pits the Dunlop men were sucking their thermometers and worrying about the temperature of the rear treads, for the cars all had excessive lean-in on the rear wheels and the inside edge of the tyres were doing all the work. Reluctantly the Ferrari people reduced the lean-in and this improved the tyre temperature situation to Dunlop's satisfaction, but to Ferrari's amazement it also improved the handling of the cars, once more proving that what is right for an artificial circuit like Zandvoort is not necessarily right for the very high speed Spa circuit.
"At one time the Francorchamps Circuit was a billiard table, but not so any more"
As practice drew to a close at 7:30pm no extra time being allowed for the delay incurred by Allison's crash, Gendebien, Hill and von Trips began turning on the heat, and showed that horsepower counts above all else when racing becomes high speed. It was von Trips who recorded best time, but it was obvious that they had only just begun to get into their stride.
On Saturday practice was from 3pm until 5pm and again conditions were ideal and everyone was off at once, the chosen sixteen to vie for grid positions and the remainder to try and get on the grid and be paid for doing so. Lotus were all present, if not necessarily correct, and had the 1961 car used at Zandvoort and two brand new ones, on the same lines but with small modifications here and there, the major ones being the use of very large ball joints on the front suspension in place of the rather flimsy looking ones on the earlier 1961 car, and solid U/J sliding spline drive shafts in place of the rubber ones used at first.
They all had 5-speed ZF gearboxes, and one of the new cars was using carburetters. The Walker Team had fitted an air intake trunk alongside the cockpit on the left, to try and force air into the carburetters and Cooper was fitting scoops to the works cars to try and gain revs down the fast straights. In the last day's practice the Ferraris had been undergeared and were reaching 10,000rpm in 5th gear on the straights, so they had all had a change of axle ratio, but they soon found they were still wrong and now could only reach 9,000rpm instead of the desired 9,500rpm.
Surtees was really going in the Yeoman Credit Cooper-Climax with the Mk II engine, running completely standard as regards air intakes, etc., the car obviously benefiting from first class preparation. He was driving round the circuit on a motor-cycle line, which meant taking some of the fast corners in an apparently unorthodox fashion, but his lap times were proving to be the fastest of the Climax brigade, though not quick enough to challenge the Ferraris, apart from Ginther's, for the freckle-faced Californian was still learning his way round this very high-speed and exacting course.
Ireland was having his first drive since his Monaco accident and going round steadily, while Clark was not being outstanding, Chapman experimenting with carburetter air intakes, which meant a lot of single lap outings which naturally prevented any fast times appearing, while in addition the gear change was requiring adjustment. After some laps at 4min 05sec and thereabouts the Ferrari team disappeared for a time and checked fuel consumption and filled the tanks round behind the pits, leaving the British and German teams to try and approach their times.
The Equipe National Belge were in dire trouble as one of the Emeryson's broke its chassis tubes rather severely, so they decided to withdraw both cars. They set about finding other cars for Mairesse and Bianchi to drive approaching Yeoman Credit, Lotus and BRM, all of whom had spare cars with them. As a gesture Chapman let Mairesse do a few laps in one of his team cars, but left the decision as to whether he would tend it for the race until later, depending on the financial aspect.
At 4:30pm the Ferrari team reappeared, driving out from the bottom of the paddock and going straight-off round the circuit. In a very short time they were circulating regularly and began turning on the heat in a big way and both Hill and von Trips rapidly approached the 4 minute mark for the lap, while Gendebien was down to 4min 03sec, and Ginther was progressing steadily with 4min 06.1sec. With only 15 minutes left Hill and von Trips showed their true paces and clocked 3min 59.3sec and 4min 00.1sec, respectively, and the nearest British car was Surtees with a remarkable 4min 06sec, his high-speed two-wheeled knowledge of the circuit paying off.
The two Porsches were as equals makes no odds at just over 4min 08sec and before practice finished Moss had some worn down tyres put on the Walker Lotus and made a last desperate bid to make up on driving what he was lacking in power, and managed 4min 08.2sec fractionally faster than Brabham. Of the qualifiers, Gregory and Lewis were streets ahead of everyone else, and were very evenly matched, having done a number of laps in close company during practice, and these two with Ginther were the lucky ones to qualify tor full starting money.
The full list of practice times is given below, together with a list of the weights of the cars, measured on a reasonable weighbridge at the Station, so that if not accurate to the kilo, at least the discrepancy was the same for all, and therefore the comparative weights significant.
Race
The start was scheduled for 3pm on Sunday, by which time a terrific crowd had gathered, even though practice had showed that the outcome was foregone, and after various parades the racing cars were lined up on the grid as follows. Of the non-qualifiers de Beaufort, and Bandini elected to start anyway, so there were 21 starters. The ENB had finally made deals with two private owners for the loan of cars for their drivers, Mairesse driving Marsh's Lotus-Climax and Bianchi driving Seidel's Lotus-Climax, both cars being quickly distempered in the Belgian national colour of yellow. Surtees was driving the standard Yeoman Credit Cooper with Mk II engine, as the modified car will only take a Mk I engine.
"After being given a good 'talking to' by the Director of the Race, M Rene Baken, the boys all behaved themselves, no-one jumped the start and the whole field made a fine sight"
After being given a good 'talking to' by the Director of the Race, M Rene Baken, the boys all behaved themselves, no-one jumped the start and the whole field made a fine sight as they rushed down to l'Eau Rouge Bridge, and it was Graham Hill's BRM which led up the climb to the Burnenville Forest. Naturally it did not stay in the lead for long, and well before the end of the opening lap the four Ferraris were up in the front. Gendebien had been given a free hand to drive as he wished, being controlled from the ENB pit, which was next door to the Ferrari pit, and came round in second position, mixing it well with the works cars.
Having the less powerful 60 degree V6 engine he had little hope of beating the works cars, but nevertheless he had a bit of a go in the opening stages of the race. At the end of the first lap most drivers had someone in sight in front of them, except for Clark who came slowly into the pits unable to select his gears properly, and McLaren who arrived long after everyone had gone by, his engine cutting out at soon as he put any load on. It only needed the second lap for the four Ferraris to get well clear on their own and they then started a triumphal procession, lapping at around 4min 04sec, so that Gendebien was able to keep with them.
Phil Hill, von Trips and Gendebien pushed this to 4min 03sec on the third lap and this caused Ginther to fall a little way behind, as he was not yet conversant enough with the circuit to turn in such times, but even so he was well ahead of the rest. Graham Hill and Surtees were having a terrific battle for fifth place, passing and repaasing each other and then came Bonnier, Brabham and Gurney, also involved in a little personal scrap for seventh place. Behind them Brooks was running on his own and then came Moss and Gregory in close campany, followed at a little distance by Lewis.
After that there were gaps, with Ireland, de Beaufort, Trintignant and Bandini filling them, and a long way back the two "hired" Lotus cars of the ENB drivers. Clark rejoined the race while the Ferraris were on lap four, stopped yet again for more gearchange adjustments and finally joined in many laps in arrears, while McLaren never did join in the race again, merely doing exploratory laps now and then to see if any improvement had been made to the carburation, only to find that mostly there was no improvement.
Gendebien was forcing as hard as he could go and put in a lap at 4min 01.7sec (approx 130mph average) and actually led the race on laps six and seven, but he realised that he could not hope to keep ahead of Hill and von Trips, so after that little demonstration of the fighting spirit he eased off rather than risk blowing up the motor. Brooks went into the pits after six laps, with misfiring Climax engine in his BRM and the magneto was changed, losing him nearly six laps, and the two borrowed Lotuses retired, Biancni with a broken oil pipe to the camboxes and Mairesse with obscure misfiring.
At 10 laps, or one third distance, the two Ferraris of von Trips and Phil Hill were in complete command, taking turns at leading, just like Hawthorn and Collins used to do a few years ago, but this time there was no Fangio to upset things. They were 12 seconds ahead of Gendebien, who was in turn five seconds ahead of Ginther, but the "new boy" was beginning to get the hang of the circuit and was closing up on the yellow Ferrari. In fifth place, 34 seconds behind the leaders came Graham Hill (BRM) but he was only just ahead of Surtees (Cooper), and in fact on the previous lap the positions had been reversed.
Fifty-one seconds behind the leaders came a close trio consisting of Gurney, Brabham and Bonnier in that order, but there was nothing much to choose between them, they were so close, and 63 seconds behind the Ferraris came a lonely Moss in a car that just would not go, even with his driving ability. Next was Gregory, but he pulled into the pits to check his gearbox oil as the pressure gauge was indicating trouble, and then came Lewis, having a lonely, but smooth drive, rather like Moss.
"The two Ferraris of von Trips and Phil Hill were in complete command, taking turns at leading, just like Hawthorn and Collins used to do a few years ago"
The Dutchman de Beaufort was leading the two red Cooper-Maseratis of Bandini and Trintignant, who were engaged in a personal duel, and well behind came Clark in the new Lotus. Gregory was soon back in the race, the trouble being a faulty pressure gauge, and de Beaufort saw the two red cars in his mirrors and thinking it was Hill and von Trips, moved over and waved them by, only to find that they were the Cooper-Maseratis is that he was supposed to be racing against!
Ireland had failed to finish lap 10, his Coventry-Climax breaking a con-rod and wrecking the engine in a big way, and as Brabham finished lap 12 his Climax engine broke a piston; there was a puff of smoke and then a shower of bits and pieces as the engine came apart at the seams and Brabham pulled onto the grass in a cloud of oil smoke as the two Porsches went past him. On lap 13 de Beaufort saw two more red cars in his mirrors and this time it was the Ferraris, as they lapped him, and next lap they lapped the Cooper-Maseratis.
Ginther was now gaining speed rapidly and had obviously found out how to take the really fast corners, for he gained on Gendebien, went by him and set off after his team-mates, not to disturb them, but to keep the scene tidy, with the Ferrari team in close company. At lap 16 he was 13 seconds behind them, and on lap 18 he was only 10 seconds behind them.
On lap 20 he put in a searing time of 3min 59.8sec, the fastest for the race, and by lap 24 was right up with them, and able to match anything they wanted to do. By now, of course, they were so far ahead of anyone else that there was no point in hurrying unduly, and the three long thin red cars, sounding really magnificent, made a fine sight as they climbed up the steep hill towards Burnenville, followed after a little while by the yellow one of Gendebien, safely in fourth place.
The Surtees/Graham Hill duel ended after 19 laps when the BRM appeared going slowly and stopped at the pits, leaving Surtees safely in fifth place. The BRM had split an exhaust pipe and the hot gases had burnt the plug leads, so these were changed and fixed out of the way and Hill continued, sounding a bit flat, due to the split pipe. At 20 laps the order was von Trips, Hill, Ginther, Gendebien all on Ferraris, Surtees (Cooper), Gurney, Bonnier (Porsches), then a long gap and Moss (Lotus), another long gap and Graham Hill (BRM), Lewis (Cooper), and Gregory (Cooper), and then the Ferraris appeared again to start lap 21.
A lap behind came Trintignant (Cooper) and de Beaufort (Porsche), and Bandini drew into the pits with the nice new red Cooper with no oil pressure in his Maserati engine, stud bearings suffering because of it. Then way back due to their pit stops came Clark (Lotus) and Brooks (BRM). After 23 laps Trintignant came slowly into the pits to retire, with damaged transmission, and he brought Ireland in standing on the back, and on the next lap Graham Hill stopped at the pits and retired with oil leaking from his engine.
On lap 25 a very slight drizzle of rain fell, but not enough to wet the circuit, and the three Ferraris lapped young Lewis, who promptly tucked in behind them and was still there after another lap, and in fact stayed with them to the end of the race, though by now they had reduced their lap times to 4min 10sec.
In the closing laps there was a ray of hope that Gendebien was slowing unintentionally and that Surtees might move up a place, but it was a false impression, and equally Gurney was still pressing hard and was closing on Surtees, but not sufficiently to be a danger, and thus the race ran out, with Phil Hill leading von Trips across the line by a few feet to record the most convincing Ferrari victory for some time. Ginther came in third and Gendebien fourth, to complete a Ferrari Grand Slam, Running Flush, or what-have-you. It was a perfect demonstration, if demonstration is needed, that the Maranello engineers have built yet another first-class racing engine, the real heart of a true Grand Prix car.