1965 Belgian Grand Prix race report: Clark weathers the storm at Spa
Jim Clark puts in an unparalleled drive to win his second Grand Prix of the season in dominant fashion; impressive rookie Jackie Stewart is only other runner to finish on lead lap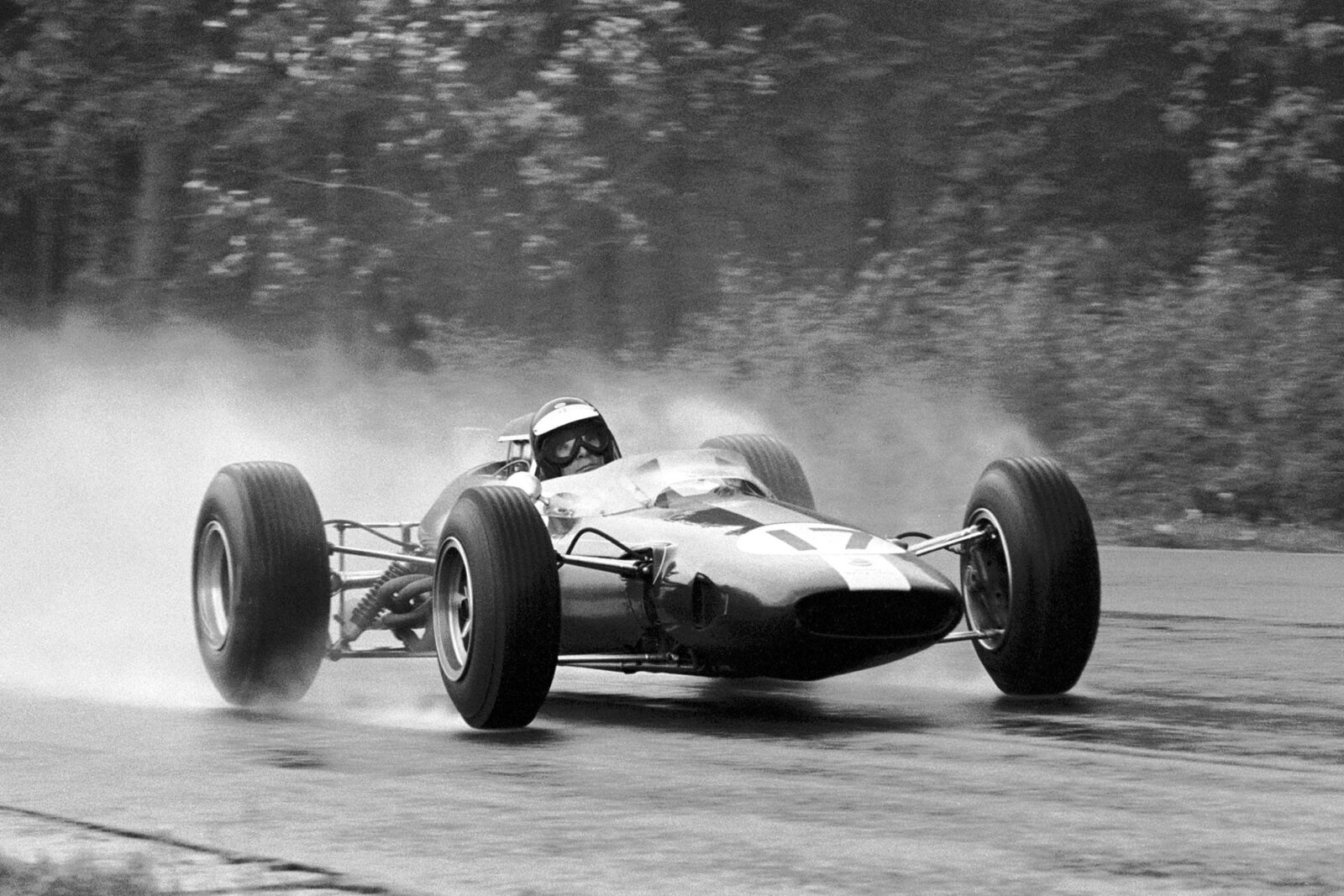 The factory teams were out in force for the Belgian Grand Prix on the 14.1-kilometre Francorchamps circuit, through the wooded hills and valleys near Malmedy and Stavelot, and the Royal Automobile club of Belgium assured each team two starting grid positions, irrespective of the fact that three of the number-two drivers had never been to the Spa-Francorchamps circuit before. This caused a certain amount of dissati
sfaction among the private teams and independent runners, as there was starting money for sixteen cars only and twelve of these were works cars, but the RACB originally said they would only invite six private entries to compete for the four paid starting places during practice.
When the official list of runners was published it was found that ten non-works cars had been invited, with only four to qualify. In consequence of this there was a certain amount of lobbying in the paddock on Friday afternoon and none of the private entries turned out for practice, leaving the track clear for the twelve invited factory drivers.
BRM had three cars, the spare development car with the non-plated wishbones having an earlier type of gearbox with different ratios to the two regular cars, and Graham Hill and Stewart were the drivers. Team Lotus were back on the strength again, with Clark and Spence, and they had three cars, one with a 32-valve Coventry-Climax V8 engine, one with the latest pattern 16-valve V8 engine, these two having low-level exhaust systems, and the third with an earlier V8 Climax engine with the high level, cross-over exhaust system. All three cars were in the process of being converted to knock-off hubs, with similar pattern 13in alloy spoked wheels to those used with bolt fixings.
Cooper had only two cars, the 1965 chassis, with external side fuel tank in place of a scuttle tank, for McLaren, and a 1964 car for Rindt, and Brabham also had only two cars, for himself and Gurney, both using 16-valve Climax engines as their 32-valve engine had broken while running on the test bed. Ferrari had the same three cars as at Monaco, the two V8-engined ones for Surtees and the flat 12-cylinder car for Bandini, and extra fuel tanks had been mounted in a rather temporary fashion above the engines. Honda had the three cars used at Monaco, but, needless to 'say, they had new drive-shaft universal joints and revised gear linkage after the Monaco debacle.
Qualifying
From 5pm to 7pm the twelve works drivers practised unhampered by an slower cars, and young Stewart caused quite a stir by breaking the 4min mark for a lap, after only a few laps of reconnaissance on his first visit to the rapid Spa circuit. The lap record of 3min 49.2sec was set up by Gurney in last year's race, but by any standards an under 4min lap is good going. Next surprise was Ginther, who screamed the Honda round in 3min 57sec and began to set the pace for the day, getting down to 3min 55sec, but then Graham Hill got under way, and still on top of the field after his Monaco drive he was in great form and took the lead away from Honda.
Surtees was soon challenging him, with the V8 Ferrari, and Clark joined in with the 32-valve Lotus-Climax, its large megaphones making a terrific noise, and they were soon approaching the existing lap record, but it was difficult to see how Gurney was going to be able to join them, for his car was not much improved from last year, the only real change being that he was running on Goodyear tyres.
Without the latest Coventry-Climax engine he could hardly hope to keep pace with Clark, Hill and Surtees, and after a short rest Stewart went out again and joined the "big boys" by getting under 3min 50sec. Clark had barely started to get wound up when an oil leak developed in the pipe to the radiator, and that put paid to any more practice with the 32-valve engine and he had to make do with the flat-crank 16-valve engine. Ginther very nearly joined the "big boys" by getting the Honda round in 3min 50.3sec but his team-mate Bucknum was still trying to get used to the high-speed cornering involved at Francorchamps.
Graham Hill was working away consistently and wound up with 3min 48sec, a speed of 222.631kph average (approx 138mph), but he was almost overshadowed by his "Scottish Apprentice" who got down to 3min 49.5sec on his first meeting with a real Grand Prix circuit, and he seemed quite unabashed by it all, though he did admit it was "a wee bit fast". There was a mild gloom in the Honda camp when they found that bits of tread had come off their Goodyear tyres, but it proved to be caused by excessive camber on the rear wheels, rather than tyre failure, and was corrected before the second practice. This caused the Brabham team to worry a bit, but they had bigger worries when jack Brabham's engine broke.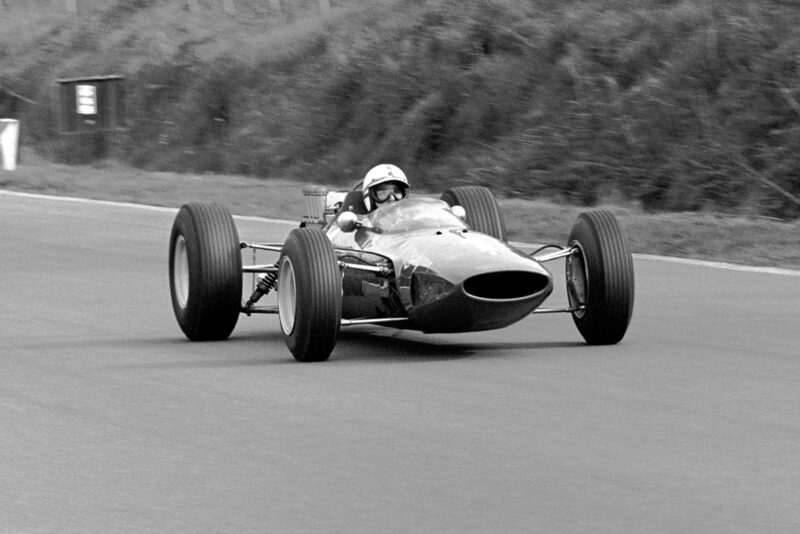 The 12-cylinder Ferrari was disappointing, for it had been tuned a bit to get better fuel consumption, and with Bandini not really liking the high-speed swerves it only just got below 4min, so Surtees was happy that Enzo Ferrari had not decided to give him the 12-cylinder car.
Next day all was well in the private-owner camp for the RACB agreed to accept six qualifiers. As Stoop's Lotus 33 was not yet repaired after its Monaco harbour plunge, and Mairesse took one lap in one of the Centro-Sud BRMs and decided to go and race a BMW saloon at Nürburgring, this meant that it would be six out of eight to get starting money, the other two starting far nothing if they wanted to. This scratch for "the scratch" involved Attwood and Ireland in Tim Parnell's Lotus-BRMs, using the spare that had been built up for Monaco, as Attwood's crashed car was still being rebuilt.
Ireland was "standing-in" for Hailwood, who was in the Isle of Mann for the TT races. Rob Walker had his Swedish and Swiss drivers, with their respective Brabhams, a Climax V8 for Bonnier and a BRM V8 for Siffert. Anderson (Brabham-Climax V8) and Gardner (Willment-Brabham-BRM V8) completed the regulars, but in addition there were two Centro-Sud BRM V8s, the old 1962/3 space-frame works cars, driven by Lucien Bianchi and Masten Gregory.
Weather conditions were good for racing, being dry and cool with complete cloud cover, and from 3pm to 5pm there was some pretty rapid motoring going on. The BRM pair were really cracking and both got below the lap record, but Hill's progress was stopped by clutch-slip on his regular car, so he switched to the practice car and proceeded to go even quicker. He did a great number of laps altogether but nevertheless got really wound up and whittled his time down to an incredible 3min 45.4sec—225.199kph (approx 140mph)—and this with a maximum of 162-165mph and during the lap you have to take a bottom-gear hairpin bend at 40mph. This gives some idea of the speed at which fast corners are taken on the Francorchamps circuit.
Team Lotus were still having troubles, Clark's car being halfway through a conversion to knock-off hubs which was causing wheel fitting problems, and the 32-valve engine was not convincing him about its power output of 210bhp. With one thing and another he was spending more time in the pits than out on the track and could never get a series of flying laps, most of them being "starting" or "stopping" laps. He managed one isolated quick one in 3min 47.5sec, which got him second but it was 2sec down on Hill's best.
The new Scots laddie, was still staggering everyone, doing a best of 3min 48.8sec in the number two BRM without apparently straining himself. Ginther joined the "big boys" with 3min 49.0sec, the Honda going now like everyone had expected it to go last year, and Gurney equalled his own lap record of last year.
Rob Walker was delighted with his two drivers, for they were not only well ahead of the other private runners, but also ahead of a lot of works cars, and by getting a "tow" in Gurney's slip-stream Bonnier had joined the under 3 min. so sec. brigade. Tim Parnell's drivers were the next "qualifiers" and the last two were Bianchi and Gardner, the two unfortunates being Anderson and Gregory.
Race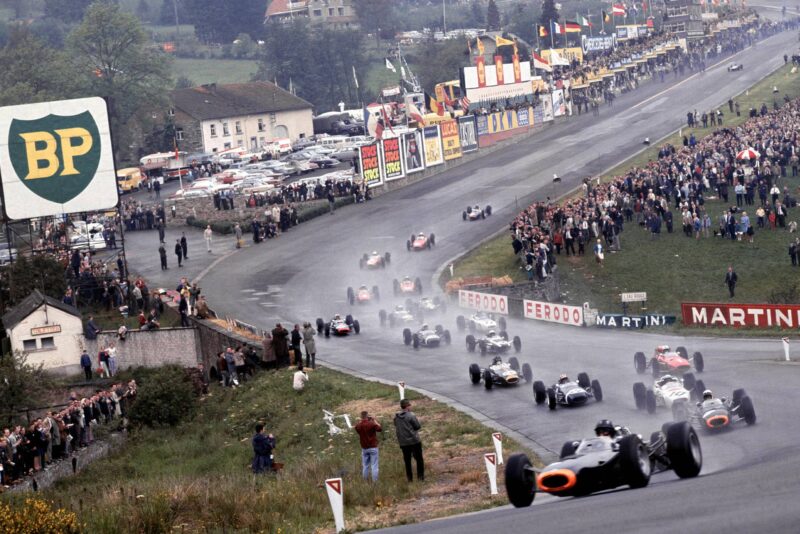 The race was due to start on Sunday at 3:30pm but by midday there were ominous clouds gathering and by the time the cars were being got ready to assemble on the grid the rain started to fall. Most team managers had decided to use rain-tyres, the Dunlop runners being on yellow spot R6, with the exception of Ireland and Spence who decided to stick to R7 tyres, the new pattern ones.
Surtees was using the newer of the two V8 Ferraris, and Graham Hill was driving the spare BRM that was really meant for development work. It was decided that the ratios in the older gearbox were advantageous, so Stewart's car had been fitted with one in place of the new and lighter gearbox. All the Lotus works cars had been changed to knock-off hubs and Clark was driving the 32-valve Climax-engined car, and Spence had the next best one with the flat-crank 16-valve engine. Centro-Sud decided to start Gregory anyway, even without starting money, but Anderson decided to pack up and go home, his failure to qualify being due to minor troubles that he would have found out about had he not gone on strike on Friday.
"The 19 starters went off in a flurry of wheelspin and spray that almost obliterated everything"
By 3:30pm the roads were very wet and the 19 starters went off in a flurry of wheelspin and spray that almost obliterated everything. The BRM pair, being on each side of Clark on the front row, had hoped to "shut the door" on the Lotus as they went over the Eau Rouge bridge, but it didn't quite come off. Hill sat it out with the Lotus right to the bridge and took the lead up the hill, followed by Clark, Stewart and Surtees, and the rest of the field in a cloud of spray, with visibility down to nil. Driving close in these conditions at 80mph is one thing, but at 140mph is different altogether, and down the Masta straight they all kept a respectable distance from each other, except Clark who took his Lotus through the spray from Hill's BRM and into the lead.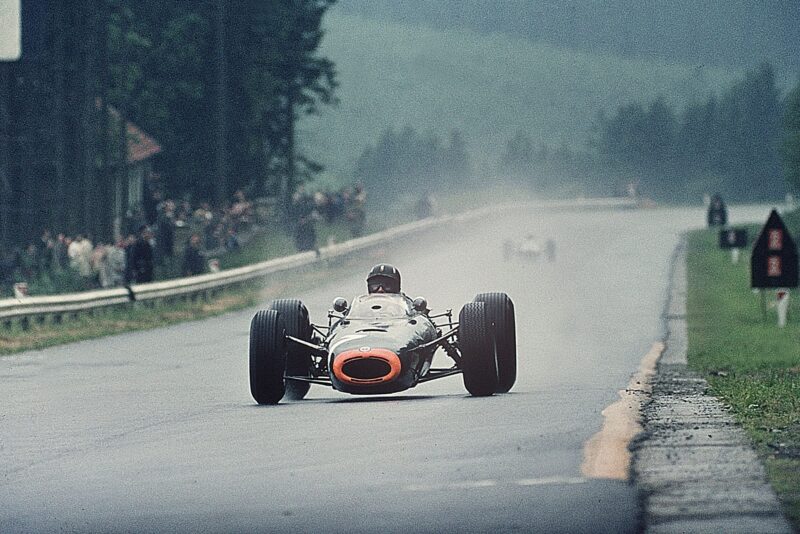 By the end of the lap he had a substantial lead over the BRM, and following Hill came Stewart (BRM), Surtees (Ferrari), Ginther (Honda), McLaren (Cooper), Bonnier (Brabham), Gurney (Brabham), Siffert (Brabham), Brabham (Brabham) Attwood (Lotus), and the rest, with one missing, for Gardner had stopped out on the circuit when the distributor cap had come adrift on his BRM engine. The passing of the field on this opening lap was accompanied by another downfall of rain, and fluctuating showers were covering the whole circuit.
"On the next lap the 'apprentice' went by his Master, into second place, and Hill began a steady decline"
Having got the lead Clark made the most of the clear road ahead and out-paced everyone, explaining after the race that it was so treacherous and slippery that it was a case of continually lifting his foot off the accelerator pedal; the skill being to lift off just that bit less than all the others, rather than opening it more than his rivals. After only three laps he was well up into the hills of Burneville before Graham Hill's BRM rounded the hairpin at La Source, and it was obvious that the BRM number one driver was very unhappy, for Stewart was closing up on him.
On the next lap the "apprentice" went by his Master, into second place, and Hill began a steady decline that was to move him slowly down the field. His BRM that had handled perfectly in the dry was impossible on the greasy surface and it was all he could do to keep it in a straight line, let alone corner fast, so he resigned himself to having a miserable race. Less placid drivers would have given up or come into the pits to complain, or just retired and blamed the brakes or the engine.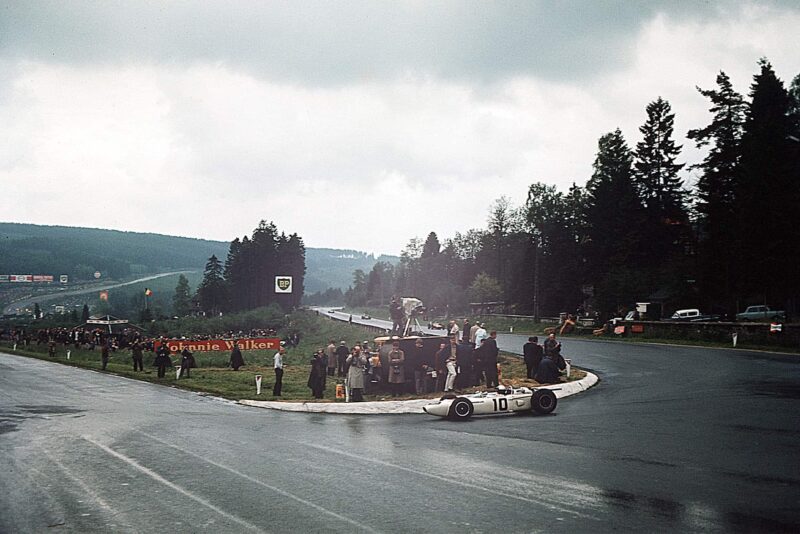 The whole field had settled down into a procession, spaced out with about 360 yards between cars, and it looked as though no one wanted to get too close to the cloud of spray in front of them, except Stewart who would have liked to have seen a spray cloud in front of him, but Clark was so far ahead that the water had settled before the BRM arrived. Some idea of the conditions can be gained from the fact that Clark was lapping in 4min 21sec, some 30sec slower than in practice, and at that he was leaving everyone behind and making them look like amateurs. They all had their personal reasons for not keeping up, of course, but the truth was that Clark had forced his way into the lead on the opening lap.
If we had twelve cars as good as a Lotus 33-Climax and twelve drivers as determined and skilful as Clark we would get some terrific Grand Prix racing! Surtees finished lap six by coasting into the pits to retire the Ferrari V8 with a broken engine, and this let Ginther into fourth place with his Honda, which was pretty impressive, but he was passed by McLaren (Cooper) on the next lap, the New Zealander doing one of those quiet unflurried drives that was taking-advantage of other people's troubles, and the slippery conditions slowing everyone to an equal pace, for in the dry the Cooper seems unable to challenge the other works cars for speed.
Gardner had got his car going again and returned to the pits and then done some hesitant laps before retiring due to ignition trouble, and on lap seven Bonnier called at the pits with a misfiring engine, and though he kept going out for single laps he finally had to give up as the trouble lay in the ignition system and could not be found. Rindt had his rev-counter fall out of the dashboard, and made a pit-stop to have some new clamps fitted, and Gregory stopped at the Centro-Sud pit, but none of these were serious contenders in the race.
Gurney was getting nowhere, for, like Graham Hill, his car was being a pig on the slippery surface, but Brabham was gradually closing up on Ginther's Honda. The other Japanese car, driven by Bucknum, was steadily losing speed, going slower each lap until it finally stopped out on the circuit, coming to a grinding halt with trouble in the transmission.
Attwood was leading all the private owners very comfortably and even a stop to collect a rain visor from the pits did not lose him his eighth place, ahead of Siffert and a very depressed Bandini who was trailing along in the 12-cylinder Ferrari, this not being his idea of racing at all. Gurney had virtually given up and stopped to have a private chat to his mechanic, and this allowed Clark to lap him, and while others were being troubled by spray thrown up by cars in front of them Clark seemed to whip by people with no trouble at all, lapping the slower cars relentlessly.
"Hill was grimly hanging on to third place, but McLaren had him in sight"
It was raining at some point on the circuit all the time, and at the pits the sun shone very briefly, accompanied by falling rain, a terrific flash of lightning and a clap of thunder. Next moment all was grey and rain fell steadily. In spite of all this Clark was averaging over 190kph (103mph) and was nearly three-quarters of a minute ahead of his fellow Scot of the rival BRM team.
Hill was grimly hanging on to third place, but McLaren had him in sight and Brabham was trying to see both of them, having got past Ginther's Honda. At half-distance, which was 16 laps, Clark was 43sec ahead of Stewart, these two being way out on their own, the new Scots lad's performance becoming more and more impressive as you realised who was behind him, plus the fact that it was his first race at Spa and his first race in the wet with a BRM. Then came Hill (BRM), McLaren (Cooper) and Brabham, all more or less in the same cloud of spray, followed by Ginther who was losing ground to them and was soon to be lapped by Clark.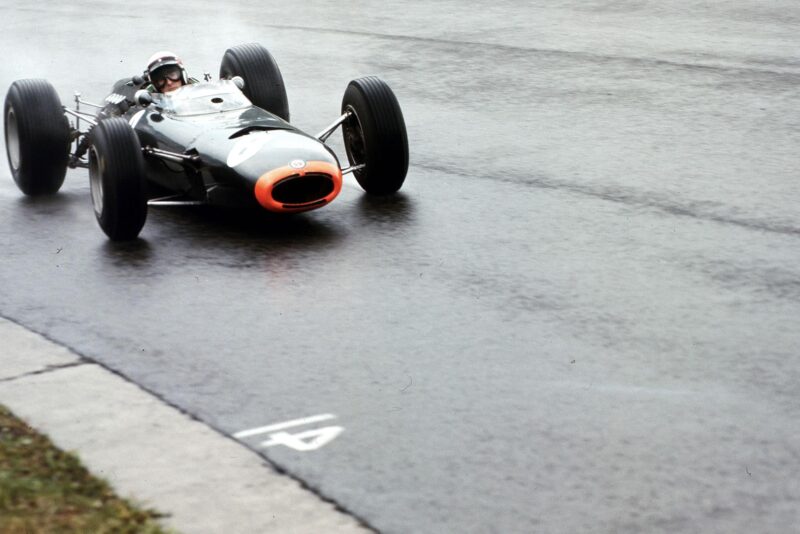 In seventh place was Spence, hampered by being on the R7 Dunlops, which only come into their own on a really flooded track, rather than a slippery one, but he was just managing to stay ahead of Attwood. The rest of the runners had been lapped by the leader, who seemed untroubled by the spray, for on lap 17 he passed Spence and Attwood in one go, and was lapping in 4min 15sec.
Gurney came in for another chat with his mechanic and Graham Hill finally had to give best to McLaren, but he had by no means given up and hung on to fourth place as long as he could, though Brabham was obviously going to catch him shortly. Attwood caught Spence and was making steady progress towards catching Ginther, while Clark lapped Brabham, which delayed the Australian's progress towards fourth place, for when he could only see spray he eased off.
The incredible Clark then lapped Graham Hill and three laps later he lapped McLaren, and he was now well over one minute ahead of Stewart and the two Scotsmen were the only ones on the same lap. About this time Ireland arrived at the pits with Bucknum on the back of his car, the Honda driver having been stuck out on the circuit when his Honda broke down, and then Attwood was missing. He crashed on the Masta straight, having got into difficulties coming out of the ess-bend in the middle of the straight. His Lotus-BRM hit a telegraph pole, virtually broke in two and then caught fire, and he was very lucky to escape with minor burns.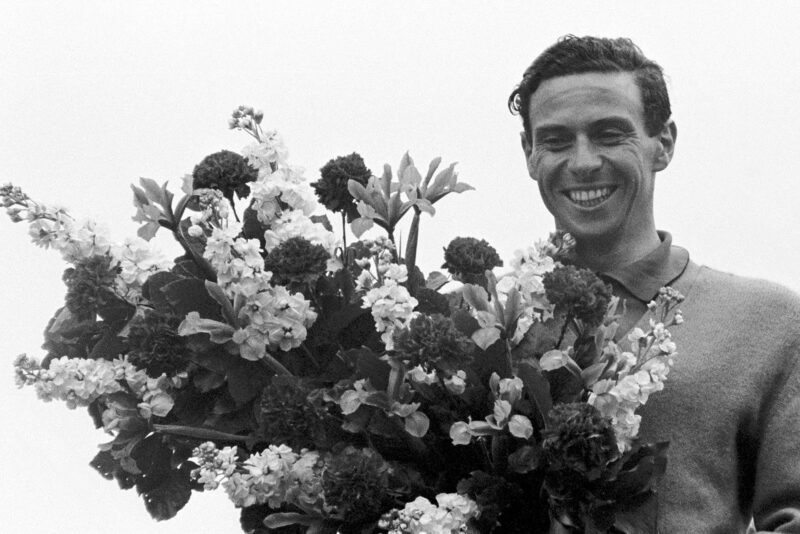 With the end almost in sight Clark went by the pits to the accompaniment of the sound of clutch-slip and there were two uncomfortable laps while he nursed the clutch, during which time Stewart closed the gap to 31sec, not by going faster but because Clark was going slower. However, the Lotus driver had plenty in hand and anyway the signs of clutch trouble disappeared and he finished the last two laps going as strongly as ever.
"It had been a remarkable demonstration of the prowess of Jim Clark, Team Lotus and Coventry-Climax"
It had been a remarkable demonstration of the prowess of Jim Clark, Team Lotus and Coventry-Climax, and an equally interesting demonstration of how easily other drivers and teams can get caught out by freak conditions. At the end Stewart was the only one to complete 32 laps like the winner and his performance was such that no-one can overlook it or brush it aside as luck. When his team leader Graham Hill had stumbled, he had stepped into the breach in an outstanding manner.
Spa Spouts
The talk of resurrecting Hadrian's Wall is not true; but Scotsmen in first and second places in a GP is too much. We thought the Americans were going to replace the English.
It is interesting to listen to the reasons given by other drivers as to why they don't win at Spa.
The International make-up of drivers in the first four rows of the starting grid was interesting. Two Scots, two Americans, two English, and one each from Sweden, Switzerland, New Zealand and Australia. Seems no-one has a monopoly. And five makes of car.
Was it 1962 when I said "The driver who wins at Spa is a real Grand Prix driver?" Since then only Clark has won GP races on this circuit.
The next Formula One cars should be exciting to watch at Spa, the 3-litre engines giving 400bhp won't allow the cars to be driven "flat out" most of the way round.
If there is a better Grand Prix Circuit than the Spa-Francorchamps one then it would be nice to hear about it.
Bucknum spectated at the ess-bend in the Masta straight after his Honda broke down. He was impressed by "the confidence" of drivers like Clark and Stewart. Question? Were there any other drivers like Clark and Stewart?