1973 Belgian Grand Prix race report
telland voor het Wereldkampioenschap der Bestuurders
Zolder, Limbourg, May 20th.
If the title of this article appears to be gibberish it is intentional, for it sums up the whole scene of the 1973 Belgian Grand Prix. It is in fact Flemish for "The Belgian Grand Prix for the Drivers World Championship", for internal Belgian politics caused this year's race to be held at Zolder, in the northern, or Flemish part of Belgium, and through general mismanagement on the part of all concerned the event must rank as the absolute bottom in the long history of the Belgian Grand Prix. When J. Y. Stewart and his small, but vociferous, band got the Belgian Grand Prix removed from the Spa-Francorchamps circuit I was very sad, for they had removed a pure road-race from the Grand Prix scene, and when there was no Belgian Grand Prix in 1971 I was equally sad, but thought it best that the whole affair be dead and buried and we could close the book on a history of twenty-nine Belgian Grand Prix races, all but one held on the Spa-Francorchamps circuit, the odd one being in 1946, immediately after the war when the race was held in Bruxelles. Last year the Grand Prix was revived on the Nivelles-Baulers Autodrom, and it all seemed a bit of a joke as regards being the Belgian Grand Prix. This year it moved to Zolder and was such a huge joke that it was no longer funny, it was depressing in the extreme.
The circuit of Zolder itself is not all that bad, and exudes quite a pleasant atmosphere, situated on sandy heathland amid pine trees, and is infinitely more pleasant than Nivelles-Baulers. For club-racing or small International events it is quite good, but it does not exude the air of a Great Occasion that is befitting a Nation's Grand Prix. A great deal needed doing to the circuit itself to bring it anywhere near the standards required for a full-scale Grand Prix, and the work was done with enormous enthusiasm and energy by the circuit owners, but all much too late in the day. The CSI and the Royal Automobile Club of Belgium bent over backwards to get everything ready for the event, and the Formula One Constructors were equally helpful. When the whole Formula One "circus" arrived for practice on Friday it was obvious that there were going to be short-comings, but everyone was committed.
Qualifying
Practice had hardly been going for one hour before the Grand Prix Drivers Association militant group, of five or six, were convening a Union meeting and threatening strike action. The main complaint was that the newly-laid tarmac surface was being torn up by the enormous side-forces that their tyres were generating, and lumps of soft tar were flying about on two of the corners, and it looked as though the same thing was going to happen on other corners. The second half of practice was abandoned and while the GPDA held their protest meeting the circuit owners brought in contractors who scraped up the faulty surface and started laying a new one. Although times were issued for the Friday practice, and all the drivers had taken part, it was all of little significance for no-one had been trying terribly hard or with much enthusiasm. The findings of the GPDA were quite remarkable, they wanted to abandon the whole event, and even suggested it should be moved en bloc to Nivelles-Baulers! This was on Friday evening. Two drivers made sound and sensible comment under the circumstances. Mike Hailwood shrugged and said "Let's get on with the event, it's the same for all of us" and Jacky Ickx said, "We must do the best we can".
When practice was due to resume on Saturday afternoon the GPDA was once more in conclave and asking that the Belgian Club or the CSI representative be charged with the responsibility of cancelling the event if the new surface broke up as it had done the day before. While all this was going on the pits were packed out with cars ready to go, and certain team-managers and constructors were beginning to get very short tempered with their absent drivers. The Constructors Association had agreed from the start that their teams would take part, and while they all realised that the circuit was far from ideal, they were sensible enough to appreciate that the whole affair had gone too far to backtrack, and like Ickx had agreed that "We must do the best we can".
Not being a member of the GPDA, having resigned a long time ago as he didn't agree with their continued talk of boycotts and strikes and never-ending demands, Ickx was sitting in the pits amongst his Ferrari team and ready to go. While the GPDA were still having their meeting the Belgian started practice in one of the Ferraris, and the Union meeting was drowned every now and then as the Ferrari blasted along the back leg of the circuit.
Nanni Galli had arrived too late for the meeting and had gone straight to the pits, so he started practising in one of Frank Williams' lso-Marlboro cars, and John Surtees was preparing to drive his own cars, as time was running out and he wanted to get brakes bedded in and tyres scrubbed, ready for race-day. Most of the team managements were beginning to get quite vociferous and some were wondering about tearing up drivers' contracts. They all knew the Belgian Grand Prix had got itself into a bit of a shambles, but for the overall good of racing were prepared to suffer and get on with the job. One or two said their cars were going to start the race, come-what-may, for they needed the starting money to survive. Finally the GPDA and the CSI representative came to an agreement and all the members (workers!) returned to work.
The afternoon was divided into two sessions, with a track inspection in the interval, and though everyone went round and round and some actually tried quite hard, there was a terribly non-serious atmosphere all afternoon. The newly-laid surface stayed down, principally because it was slippery and the tyres could not get a grip on it, but in other places sand was coming up through the tarmac and was being flung to the outside of some corners, so that there was only one line of travel through the bends, and to be off-line put you "on the marbles", with an inevitable spin. Like Zandvoort, in Holland, there were a lot of fine sand particles flying about, which were being sucked into the engines and into the throttle slides and measures to prevent this ranged from old stockings and plastic bags, to nicely made aluminium dust shields, but all this was the problem of the engineers and mechanics, a problem they accepted resignedly.
Shortly before the end of the second practice session on Saturday, everyone realised that the race was definitely going to be held though in the minds of the organisers and the team managements there had never been any doubt. Consequently, practice suddenly got serious, when it was almost too late, and the pits became a seething hive of activity as last minute decisions were made, and lots of drivers realised they were not in the starting grid position they would have liked to have been.
Race
On Sunday morning there was a test-session of one hour, then a Formula Super-Vee race, and eventually the Grand Prix field was lined up and ready to go by 3.30 p.m. Even the starting grid suffered in the overall chaos, for it was marked out for a 3 x 2 x 3 line-up, even though months beforehand it had been agreed that the track was too narrow for this arrangement, and a 2 x 2 x 2 line-up would be used. At 2 p.m., when the cars were being made ready a revised list of practice times was published, which completely re-arranged the starting-grid, this being as a result of a protest by the teams. The timekeepers had a complete reshuffle of the second session Saturday times and everyone was fairly happy.
After so much haggling and chat, it was remarkable that the start was given a mere 13 minutes late, and Peterson shot off into the lead with the other 22 runners hard after him. His hastily rebuilt car (see Notes on the Cars at Zolder) was far from perfect and he was only able to hold his lead for a lap and a half, before Cevert forced his Tyrrell past the Lotus. The French star was on great form and simply ran away from everyone, going faster and faster until on lap 20 he overdid his braking going into the hairpin in the Bolderburg forest and spun to a stop on the soft earth on the edge of the track, rejoining the race in eighth position. While Cevert had been running away with the race the rest of the field had sorted itself out in one way or another. Hailwood had spun his Surtees off the track at the Terlaemen corner, and ended up in the catch-fence, Hulrne had been off in the dirt and got his throttle-slides and engine air box all clogged up necessitating a long stop at the pits, both of the Williams cars had been into the pits, the lone Ferrari lasted only six laps before it went out with engine oil pump trouble, Beltoise had been to the pits with brake trouble on his BRM, Oliver had spun off in his UOP-Shadow and crashed into Hailwood's abandoned Surtees; Follmer had come to a stop at the same part of the circuit because his UOP-Shadow had collected sand and dirt in the throttle slides and they had jammed shut, and the car would not drag itself along on tick-over so he could not get back to the pits. Beuttler had arrived at the pits with a flat rear tyre on his March, Reutemann retired at the pits when lying third when his Cosworth engine broke a connecting rod, and the remainder had got themselves into a semblance of order.
Peterson held second place for eighteen laps, but behind him his tearn-mate Fittipaldi was being very hard pressed by Stewart and the lap before Cevert spun away his lead they both passed the Swede, so that while Cevert was in the dirt, Fittipaldi went by into the lead with Stewart hard on his tail, and as they started the twenty-fifth lap the Scot outbraked the Brazilian into the first corner and took the lead. From then on it was all over, even though there were still forty-five laps to run, for Stewart just drove away from everyone.
By now many parts of the circuit were suffering from surface damage and there was one "clean" groove in which to try and stay. Those who managed this kept going until the end or until some mechanical disaster intervened, while those who got a fraction off line and "on the marbles" were doomed to end up in the dirt, the wire catch nets, the guardrails or into an already abandoned car. Regazzoni's attempt at racing was delayed on lap 33 when his right front tyre deflated and he limped round to the pits to have it changed. Revson ended up in the fence on lap 34, when lying third, for Peterson had dropped further and further back with uncertain handling and suspect brakes, and he eventually parked his Lotus backwards into the fence alongside the McLaren, having spun out of the groove. The only interest was that Cevert was regaining most of the ground he lost when he spun, and was climbing back up to second place, especially as Fittipaldi was suffering a loss of fuel pressure which was causing his engine to lose power and go slower and slower. When Cevert spun he blamed a loss of brakes, yet eight laps later he set up a new lap record, the brakes presumably having returned! When he got past the sick Lotus of Fittipaldi the Tyrrell pit displayed the signal "STAY" to their two drivers, and that's how it was to the end of the seventy laps, the two blue cars coming through triumphant and unscathed in a magnificent 1-2 victory.
Of the rest, Fittipaldi nursed his sick Lotus home into third place, and Pace would have been fourth with his Surtees, but a rear tyre "crept" round on its rim and put everything out of balance and broke the rear aerofoil mounting, so that the "wing" collapsed onto the gearbox. He stopped to have the wreckage removed and struggled to the finish with an oddly-handling car. This drama let Lauda into fourth place, but two laps from the end his BRM ran low on petrol and he made a quick pit stop, which let de Adamich go by, the bespectacled Italian having driven his Brabharn BT37 steadily along "in the groove". With only a lap remaining Lauda just failed to snatch back fourth place. Beuttler, Jarier, Ganley and Regazzoni all went off on the broken-up surface, with varying degrees of mechanical damage, but no personal injury, and Jarier's works March collected Revson's abandoned McLaren as it spun off. In amongst all this carnage Amon had kept the new Tecno going non-stop and finished sixth, even though he was so "cooked" in the cockpit as to be almost comatose. Hulme, Pace, Hill and Beltoise all trailed in behind the winners and after the two Elf-sponsored Tyrrells had made their joyful parade lap, ten derelict cars were retrieved from one end of the circuit and the most disastrous Belgian Grand Prix of all time fizzled quietly out, and one had the feeling that if it was an example of the way Grand Prix racing is going, then we ought to fold the whole thing up before it becomes the laughing-stock of the rest of the world.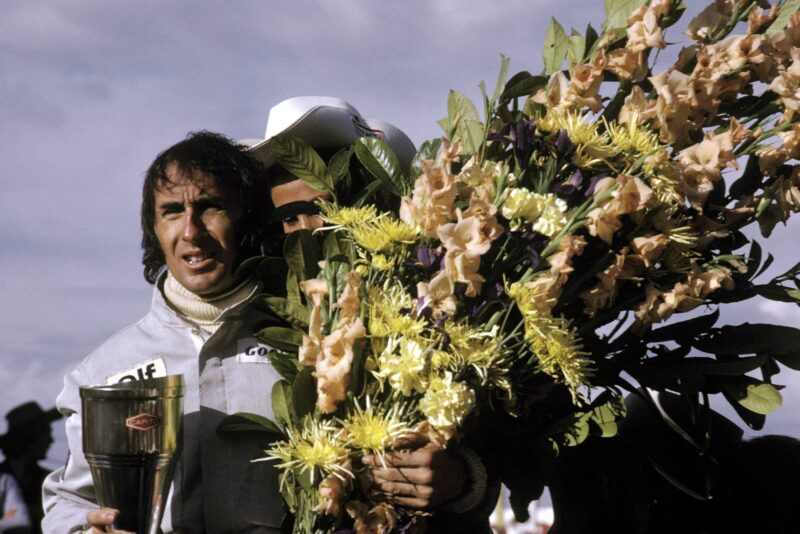 Fortunately the average human being has a short memory and after a mere two weeks the whole scene was re-energised and wound up once more and put on display at Monte Carlo. It is doubtful if anyone noticed, but the Grote Prijs van Belgie was given the old and worn-out title of the Grand Prix of Europe.—D.S.J.
Results:
Belgian Grand Prix – Formula One – 70 laps – Zolder – 4.22 km/lap – 295.4 kms – Warm & Dry
1st: J. Stewart (Tyrrell 006/2) ….. 1 hr. 42 min. 13.43 sec. – 173.384 k.p.h.
2nd: F. Cevert (Tyrrell 006) ….. 1 hr. 42 min. 45.27 sec.
3rd: E. Fittipaldi (Lotus 72/R7) ….. 1 hr. 44 min. 16.22 sec.
4th: A. de Adamich (Brabham BT37/2) ….. 1 lap behind (1 hr. 43 min. 35.88 sec.)
5th: N. Lauda (BRM P160/08) ….. 1 lap behind (1 hr. 43 min. 36.17 sec.)
6th: C. Amon (Tecno-McCall PA123/6) ….. 3 laps behind (1 hr. 42 min. 34.51 sec.)
7th: D. Hulme (McLaren M23/1) ….. 3 laps behind (1 hr. 42 min. 59.66 sec.)
8th: C. Pace (Surtees TS14A/03) ….. 4 laps behind
9th: G. Hill (Shadow DN1/3A) ….. 5 laps behind
10th: G. Regazzoni (BRM P160/07) ….. 7 laps behind (Not running at finish)
11th: M. Beuttler (March 721G/2) ….. 7 laps behind (Not running at finish)
12th: J-P. Beltoise (BRM P160/03) ….. 14 laps behind (Still running, not classified)
Fastest lap: F. Cevert (Tyrrell 006) on lap 28, in 1 min. 25.42 sec. – 177.850 k.p.h. lap record
Retirements: M. Hailwood (Surtees TS14A/04) on lap 5, accident; N. Galli (Williams IR/01) on lap 7, engine; J. Ickx (Ferrari 312 B3/010) on lap 7, engine; J. Oliver (Shadow DN1/01) on lap 12, accident; G. Follmer (Shadow DN1/02) on lap 14, jammed throttle slides; C. Reutemann (Brabham BT42/3) on lap 15, engine; H. Ganley (Williams IR/02) on lap 17, accident; P. Revson (McLaren M23/2) on lap 34, accident; R. Peterson (Lotus 72/R6) on lap 43, accident; W. Fittipaldi (Brabham BT42/2) on lap 46, engine; J-P. Jarier (March 721G/4) on lap 61, accident; G. Regazzoni (BRM P160/07) on lap 64, accident; M. Beuttler (March 721G/2) on lap 64, accident.
23 starters – 11 finishers