1983 Detroit Grand Prix race report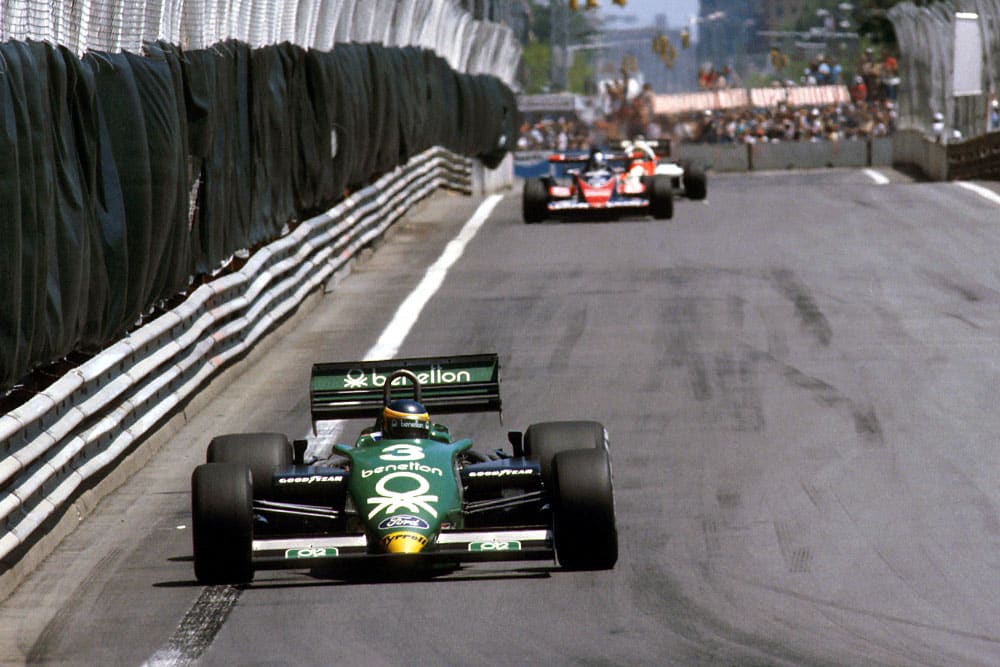 Surprises
Downtown, Detroit, June 5th
The big surprise, albeit a pleasant one, was that another Formula One race was held in Detroit. By any standards the 1982 event was a bit of a shambles and justified the simple rule that was not adhered to. Any new venue for a World Championship race is supposed to run a non-championship race first of all, to get the circuit and organisation working properly and to prove that the organisation is capable of running a World Championship event. Somehow this rule did not apply to Detroit in 1982 and that first event was a success more by luck than judgement. In my report I said "For a first attempt the Detroit Grand Prix was a bit of a shambles at times but enjoyable nevertheless and I am sure the organisers will learn by their mistakes." Well, I am pleased to say that they did, and this year's race round the streets of downtown Detroit, the motor city of the USA, or "Motown" as they call it, was a great success. So much so, in fact, that everyone was saying the day afterwards that the 1984 event was assured and they could see no reason why it should not become a permanent fixture in the Formula One calandar.
The first thing that was done for this year's event was to alter the circuit, to make if faster and better, which in itself is unusual for most circuit alterations seem to make circuits slower and worse. The very tight hairpin at corner number five was eliminated this year and the course now ran straight across the dual carriageway on to corners six and seven. Hairpin bends themselves are no bad thing, but this one had been followed immediately by a very slow right hand turn and the whole thing was too tight and too slow, so the alteration was very welcome. The other alteration was to the "Chicane" before the pits, from where the pit lane entrance was taken; this was completely revised with the "chicane" made into a fast and exciting ess-bend and the pit lane entrance being sited well before the "chicane" and over to the left. The rest of the circuit was unchanged, it still ran along the main streets, dived down under a pedestrian precinct on to the river front, ran through the three-lane tunnel and jinked right and left onto the pits straight on the edge of the Detroit River.
Everywhere was as rough and bumpy as last year, but with the 1983 rules encouraging the use of suspension travel and springs it all seemed to be much smoother than last year as far as the drivers were concerned. Bearing in mind that the whole circuit had to be built from scratch, using concrete blocks, guard-rails, catch-fences, and "spherical elasticated attenuators" (bundles of old car tyres), and footbridges had to be built, roads blocked off, traffic diversions organised and control exercised over the public to ensure that they paid to come in.
Qualifying
A delay of 50 minutes in starting the first session of testing on Friday morning was not too bad. Unfortunately it was raining as preparations were made to begin and with the pits being in the open air there was a certain lack of enthusiasm when the track opened for the first 11/2 hour session. The rain continued to fall intermittently throughout the morning and the streets were always wet and slippery, and as soon as the semblance of a "dry line" was generated by the cars another shower of rain would wet everything again.
The public were allowed in free for this first day, to encourage them to come and see what Formula One was all about, but the dull weather kept them down to around 25,000. On the interesting downhill dive under the bridge at the far end of the circuit a large platform had been erected looking down onto the track. This was reserved for handicapped people in wheelchairs, with an electric lift provided to get them up on to it, and even in the rain there were quite a number taking advantage of this civic amenity and by the looks on their faces they seemed to be enjoying the spectacle and noise of racing cars in the streets of their city.
In the afternoon it rained really hard so the results of the qualifying hour were very inconclusive, but while Rosberg was revelling in the conditions and recording the fastest lap (at 69 m.p.h. average speed) an unhappy Jacques Laffite walked away from his bent Williams car after losing control in the "chicane" and spinning into the pits wall. Everyone had splashed round in the rain, with the exception of Eliseo Salazar, who was a non-starter with the MacDonald March, as his sponsorship money, dependent on results, had dried up.
As can be seen from the list of practice times, there was a space of more than 12 seconds covering the field of 27 drivers, from Rosberg's 2 min 06.382 sec to Danny Sullivan's 2 min 18.758 sec and anyone who was at the Race of Champions at Brands Hatch back in April where these two appeared to be racing nose-to-tail, must be wondering what that was all about).
Saturday was grey and dull but at least it was dry so the serious business of testing and qualifying could begin, which it did with some alacrity.In spite of the cars being a bit slower this year, the circuit improvements resulted in lap speeds being a bit up on last year, though not enough to excite an American public brought up on Indianapolis and its lap speeds of over 200 m.p.h. or NASCAR saloon car racing on Super Speedways at 195 m.p.h. However, the noise, the confusion and the "funny foreign people in Formula One" seemed to intrigue the American public and the Detroit newspapers and especially the foriegn drivers with the unpronounceable names who spoke a strange form of English — "not American, boy, with a big A" The single dry hour of qualifying on Saturday afternoon decided the formation of the grid, and once again prompted the thought that a short two-hour sprint race that constitutes a Grand Prix, could easily get by with a programme like a CART championship race where you practice and qualify on Sunday morning and race in the afternoon.
The time spent actually racing in a Formula One event doesn't really justify the time spent practising, testing and qualifying. However, the Saturday afternoon hour at Detroit was not all that simple for half way through, the clouds parted and a blazing sun shone down very suddenly and raised the temperature of the road surface as you looked at it. Consequently all the guesses made about tyre compounds and suspension settings during the grey morning were suddenly proved wrong, but with tyre choices already made and two sets of tyres already marked nothing could be changed. This meant that if you hadn't made a quick lap in the first 30 minutes, there was little chance of improving in the second 30 minutes, and one or two drivers, notably Prost, Patrese, Laffite, Baldi and Winkelhock got caught out by this unexpected quirk of the weather.
After some of their recent "go slow" activities the McLaren team had shaken off their lethargy and Watson and Lauda were the first two out on the track when qualifying began. Even so, they were only in 21st and 18th places on the grid, but they could have been even further back. With only 27 entries and a grid of 26, there was only one unfortunate and this was Corrado Fabi in the Cosworth powered Osella. This did not help the Americans to understand Formula One, for only the week before Corrado's elder brother Teo had been on pole-position at Indianopolis at ". . . What speed was it? 205 m.p.h. and here is his kid brother last at Detroit at 77 m.p.h. . . What kind of racing is this Formula One . . . and the French guy on pole position here has a girl's name, Rene something or other . . . gee, they are strange people this lot from Europe."
For once the Ferrari team had got through practice with very little trouble and had not needed to use their spare car at all, which suggests that they had left all their "super-screamer" qualifying engines at home. Even so Arnoux and Tambay only had Piquet between them in the line-up, but of all the drivers in Formula One today Nelson Piquet is the one driver I would not want splitting my team in the line-up. Profiting from the freak conditions, but driving nicely nonetheless, Marc Surer got his Arrows A6 into fifth place overall to lead all the "wittering" Cosworth-powered runners, except that Surer is one of the few who do not "witter" on about the unfairness of turbocharged engines. He just gets on with the job, and a big "A for effort" must go to his Arrows team-mate, young Thierry Boutsen, who was in tenth place, ahead of Rosberg, Prost, Mansell, Patrese, Lauda, Laffite, and Watson among others.
Freak conditions or luck apart, it was still a good effort for a young driver in only his second Grand Prix and with no previous knowledge of Detroit street racing, and even Alan Jones had to admit that the Arrows A6 is not the best car in the game. What it does seem to be is a straightforward "honest" car that a driver can learn to drive to its very limit, with no nasty vices or bad habits, and Surer and Boutsen were using all there was available while others with ostensibly better cars were fiddling about trying to make improvements or were continually altering things.
In fourth place in the line-up was Elio de Angelis with the Renault-powered Lotus 93T, though you could not help feeling that nobody quite knew why, and with Rosberg, Laffite, Prost, Patrese and Winkelhock not in their usual places, perhaps fourth place for a turbocharged Renault-powered car was not so good after all. One only hopes for his own sake that Nigel Mansell will be higher than fourth when he gets his Renault-powered Lotus to replace his present Cosworth-powered one.
Race
Sunday was incredible, not a cloud in the sky, the sun burning down on all the glass and stainless steel of which "downtown" Detroit seems to be constructed and a crowd of over 71,000 paying customers thronging into the circuit, even though only those with expensive grandstand seats could hope to see very much. First estimates had put the paying gate at 68,100 but this was amended later to over 71,000, but whatever it was it was a happy crowd out in the lovely warm sunshine and a good party atmosphere was prevalent.
Anyone with a boat, large or small, was out on the wide river and a fire-protection boat was moving up and down in mid-stream spraying powerful jets of water to keep the small craft in orderly lines and clear of the main shipping lane. USA and Canadian coastguard patrol boats cruised up and down to see that there was no "unofficial landings" on either side of the river and also to keep the small boats away from the Detroit side of the river where the track ran close to the edge. By all accounts the whole scene was very orderly and the crowd were enjoying themselves without getting unruly and a guesstimated 100,000 people were watching the overall scene from afar, outside the confines of the circuit, but they could not have seen very much, apart from the gigantic Rennaissance Centre in the middle of the circuit. The atmosphere was a bit like the Le Mans 24-hour race, you didn't have to see anything or know what was happening, you just had to be there.
With the race due to start at 12.15 p.m. the half-hour warm-up was bright and early at 9.15 a.m. and it really was June, the traditional height of summer, like days gone by. Everything was running very smoothly, the only unknown quantity being whether everyone of any importance was going to go through the pit-stop routine. Gordon Murray started the pit-stop lark last year in order to gain an advantage over his rivals, but they all caught on to it which put everyone on to the same footing. Neither Tyrrell nor McLaren subscribed to the pit-stop idea, deciding to keep plodding on regardless, but Ligier, Williams and Lotus with Cosworth power went to the half a tank of fuel routine. Now there was a change of attitude and while Ferrari and Alfa Romeo made no bones about their refuelling routine, others were a bit guarded, Williams saying they might or they might not. Gordon Murray was saying nothing, merely looking at enquirers through his black John Lennon-type spectacles with a non-committal look on his face. It was all good gamesmanship that filled in the time before the start.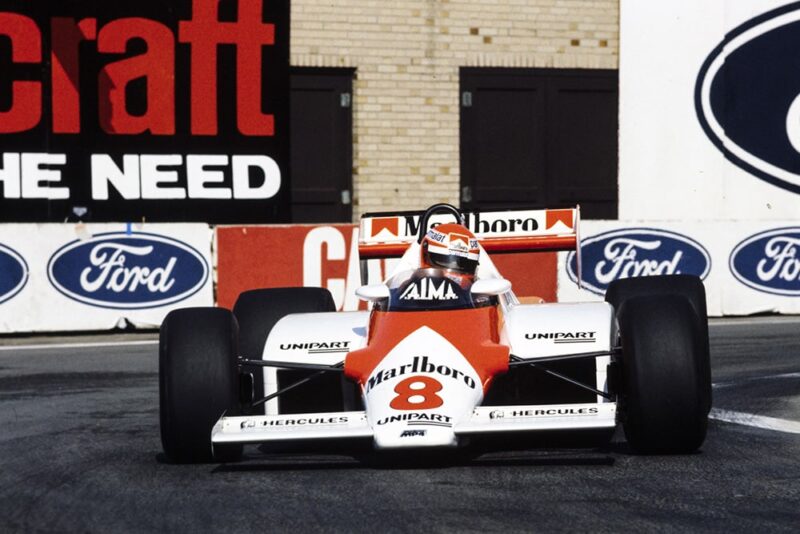 Because the circuit had been changed the race distance was reduced from 62 laps to 61 laps to avoid the chance of running over the maximum permitted two hours, and at 11.45 a.m. the pit lane was opened and everyone except the unfortunate Corrado Fabi drove round for a lap and lined up on the grid. Cecotto, Watson, Cheever, Prost, Sullivan, Tambay, Mansell, Jarier and de Angelis all took a second lap and Rosberg and Laffite took two extra laps. With everyone running nicely to time the 26 cars set off on their parade lap, led by Amoux's Ferrari. As they reappeared, with the two red Ferraris one behind the other on the left of the road and the sleek blue and white Brabham of Nelson Piquet on the right, something told you that the Brazilian was going to be leading into the first corner. In spite of having a "hunted" look you could be sure Arnoux was not going to be beaten easily from his pale position.
There was interest down the field, for Rosberg was going to pass as many cars as possible before the first corner, and Surer, Alboreto and Boutsen were going to make the most of their high placings. As de Cesaris arrived at his grid position his Alfa Romeo engine stalled and he promptly waved his arms frantically. The quick thinking girl marshal who had just withdrawn her marker board promptly put it out again and waved it energetically. Derek Ongaro had not put the red count-down light on at this point, so he aborted the start with the START DELAYED board and everyone switched off. There was the regulation five minute delay before the restart and regulation reduction of the race distance by one lap, from 61 laps to 60 laps now.
Round they went on another parade lap and this time all was well, everyone stopped in position, all the marker boards were withdrawn, the red light came on . . . and Elio de Angelis took off from his position in the second row behind Piquet and was actually alongside the Brabham as the green light came on and the field surged forward. Tambay's Ferrari leapt forward a length and stopped suddenly, as the driver stalled the engine! Miraculously everyone missed the stationary Ferrari and the race was on, with Piquet into the lead as expected, followed by Arnoux's Ferrari and the Lotus-Renault of de Angelis third, but already the Stewards were sending a note to Peter Warr to tell him his driver had been penalised a minute for a really blatant piece of start-jumping. While the 25 cars covered the opening lap a breakdown truck rapidly towed Tambay's Ferrari into a safe place and then Piquet led the field through the fast "chicane". By the end of the second lap he and Arnoux had pulled out a substantial lead over de Angelis, who himself was well ahead of de Cesaris who was leading, Alboreto, Warwick, Rosberg, Cheever, Boutsen, Prost and Surer. By a confused mistake on the part of the start line officials Tambay's Ferrari was not push-started, as it could have been, and he was left fuming in the pit lane. As Ghinzani trickled into the pits to retire the Osella-Alfa Romeo V12 at the end of lap five, Eddie Cheever had already stopped his Renault out on the circuit with ignition failure, and just as de Angelis started his sixth lap the Lotus transmission broke its crownwheel and pinion, so his penalisation was nullified and that demon start had availed him nothing.
By the completion of only six laps we were down to 22 cars, and Corrado Fabi must have wondered about the injustice of qualifying eliminating one car from the grid. Already a pattern had formed, with Arnoux pressuring Piquet for the lead, already a long way ahead of de Cesaris leading Alboreto and Rosberg. About the length of the pit straight behind came Warwick, his Toleman-Hart running well and keeping ahead of a depressed Alain Prost who had broken a front nose fin, he said on Boutsen's rear wheel, but marshals reported he had done it on a barrier. Whatever the reason, it had upset the stability of the Renault and Prost is not a driver to press on regardless under difficulties.
Boutsen was keeping up with the Renault and was ahead of Patrese, so this was enough excuse for the Italian to head for the pits for a rear set of tyres, as if they were going to make any difference to the way he was driving. The Brabham team had him out on a harder set of tyres and with some more petrol in the tank in double-quick time, but the stop had put him back to 19th place so he had no hope of getting anywhere and he gave up before half-distance complaining about brakes this time. Jarier was another one to blame his inability to keep up on his tyres and he stopped at the Ligier pit for another set, in a vain hope that by some magic they would not only make up for the time lost, but give him increased speed. All this was before even ten laps had been run, and in eighth place was Thierry Boutsen with the Arrows and in ninth place Roberto Guerrero with the Theodore, both young drivers simply getting on with the job with what they had got.
On the tenth lap Arnoux eased his way by Piquet and took the lead, but the little Brazilian was not too worried as he knew he was going to run through non-stop and everyone knew the Ferrari was going to make a stop. Rosberg now began to get into his stride and after passing the Alfa Romeo of de Cesaris he began to close up on Piquet. The Ferrari pit was well awake to the situation and rather than give Arnoux his lead over Piquet, they indicated to him the gap back to Rosberg because they were not too sure that the Williams team were planning a pit-stop. Arnoux, on softer tyres and with less petrol load than Piquet, was pulling away steadily, endeavouring to build up a big enough time differential to allow for his stop, while Rosberg, in a similar state to Arnoux, was right behind the Brabham and went by into second place on lap 20, but still Piquet was not unduly worried. A long way back and no danger to the status quo came Alboreto in his DFY Mk.2 powered Tyrrell, staying just ahead of Warwick's Toleman-Hart.
Then came de Cesaris and Laffite, followed by Boutsen, Sullivan and Watson. The other Arrows driven by Surer had been reported to be losing fluid, thought to be oil by the course marshals. He was black-flagged into the pits but no leak could be found and he went out again only to be reported again that fluid was still coming out of somewhere. Another stop revealed some paper caught up in one of the radiators which was causing the engine to run hot and the liquid was water from the radiator overflow. By the time all this had been sorted out the Swiss driver had lost over a lap. Lauda was another driver to feel unhappy about his position, behind the likes of Sullivan and Guerrero, and the only way to negate the embarrassment was to blame the tyres and stop for another set (as if it would make any difference to his attitude). In contrast Watson was driving his McLaren round neatly and tidily and every time anyone went into the pits, for whatever reason, he moved up a place. Prost had stopped for a tyre change which had moved Watson up a place, then Warwick stopped to investigate a misfire in his Hart engine and Watson moved up one more, and so it went on. Warwick did one more lap and then gave up with an internal malady in his engine. Guerrero was in the pits with his Theodore and Watson moved up another place, and his smooth consistent driving was paying off yet again. An effective way of getting results, but not exactly motor racing in the Villeneuve/Rosberg style.
As half-distance approached there was a bustle of activity in the Ferrari and Williams pits, which were adjacent at the head of the pit lane, and signals made it clear that Arnoux and Rosberg were both coming in at the end of lap 29. Sure enough the Ferrari arrived, stopping perfectly without any fuss, and in a flash fuel was in, new wheels on and the red car was away as Rosberg headed for the pit lane in his Williams. Arnoux was back in the race without losing the lead, but the Williams stop was not so slick and Piquet, Alboreto and Laffite went by before the World Champion was back on the track. The Alfa Romeo of de Cesaris would also have gone by had he not made his pit stop at this point, so when it was all over the order was Arnoux still in the lead, Piquet second, Alboreto third, Laffite briefly in fourth place as he was due to stop, and then Rosberg. In sixth place was John Watson, ahead of Boutsen, but only because the Belgian had let the McLaren go by. In only his second Grand Prix Boutsen was still learning, and his driving position was not perfect and he was tiring physically; this caused a lapse in concentration and he got into an enormous slide through the "chicane" which was only sorted out by sheer luck. As he had Sullivan and Watson close behind he eased up a bit and let them go by, whereupon Sullivan's Tyrrell broke down and Watson found himself sixth. He wasn't doing an heroic drive though the field from the back, as the media seemed to think, the "front" was destroying itself in front of him.
On lap 32 Arnoux was reported to be slowing, then Piquet went by and the Ferrari stopped with a fault in its electronic system for the fuel-injection, so everyone moved up a place, and at the end of the lap Laffite made his scheduled pit stop and those close behind him moved up another place. The order now was Piquet, Alboreto, Rosberg, Watson, de Cesaris, Laffite, Boutsen, Prost and Cecotto, with the last named about to be lapped by the leader. Piquet had it made now, as he was running right through without a stop and there was no way Alboreto, Rosberg and Watson were going to challenge him.
The race was being run at the pace provided by a trio of good Cosworth engines, Alboreto with a Mk.2 DFY, Rosberg with the Williams/John Judd special DFV and Watson with a production DFY. Piquet had the boost turned down to conserve fuel, and you could almost see the boost control knob registering "Cosworth Power" which was all he needed to stay ahead. Had it been up at "Ferrari Power" or "Renault Power" it might have been a different story.
Piquet controlled the race at his ease, never letting Aboreto get too close, even when they were lapping slower cars, while Watson had a little bit of a go to challenge Rosberg, but it came to nothing. In the midst of all this Guerrero suddenly re-appeared on the track, having apparently retired a long time before. He had been at the pits having the gear linkage mended and an engine mounting replaced and was now going as well as ever. As Piquet started lap 51 the Brabham gave a nasty lurch and the left rear tyre deflated with a puncture. As the stricken car limped round to the pits Alboreto and Rosberg went by and with the Brabham in the pit lane Watson also went by, so now Cosworth-powered cars were first, second and third, and the whole of Detroit were told that they were Ford engines, "our engines", that were winning!
Keith Duckworth and Mike Costin who make the Cosworth engines smile at this sort of thing and say with grateful thanks "The Ford money in 1967 when the project got going was very good." You don't see too many Ford engineers working in Northampton.
It was now all over, Piquet was serviced in the usual Brabham efficient manner, with new tyres and some more petrol as a precaution and was back in the race in fourth place, but with only nine laps left to run there was nothing he could do, and a certain winner had to be content with fourth place. But that is the fascination of racing, you can never anticipate surprises, and this time Team Tyrrell profited and the Brabham team were the losers. Equally you might say Ferrari were similar losers, for Arnoux had the race in the bag when he retired, and Tambay fans were certain that Patrick was going to win as the cars came to the starting grid.
It had been an interesting race, full of surprises and most surprised of all was Michele Alboreto, but unlike some drivers who gave up, whimpering, he kept on with the job, as did Rosberg and Watson and they all profited. It was an interesting trio up on the winner's podium, for the first drives neatly and tidily and to the best of his ability all the time, the second doesn't know the meaning of giving up trying and the third always keeps going as it seems to be the only thing to do. Poor Nelson Piquet was not up there with them through no fault of his own. The strategy of a non-stop run schemed up by him and Gordon Murray had very nearly paid off regardless of the Ferrari failure. There should now be some second thoughts on the value of two short sprint races versus one full-length steady run.
This second race through the streets of Detroit was an unqualified success and though the United States have lost Long Beach (sob!) and Las Vegas (hurrah!) and never had New York (oh dear!) it looks as though "Motown" is going to stay as the "Gotown". What was that you said about Watkins Glen? — DSJ.