In the heat of Imola nothing could stop Nigel Mansell setting another record.
This time last year, at the fifth Grand Prix of the season, Williams-Renault had firmly indicated the strength of its challenge to McLaren-Honda. That race, the Canadian GP, ultimately fell to poor old Nelson Piquet in the Benetton-Ford, but only after Mansell's last minute drama. Senna had won the previous four, but both Patrese and Mansell had shown the pace of the FW14 and its ultimate challenge was inevitable.
If McLaren had hoped to pose a similar threat as the F1 circus rolled into the Autodromo Enzo e Dino Ferrari in mid-May, it was in for an unpleasant shock.
After the inconclusive event in Spain expec tations were raised for Imola, and when Senna finished Friday's first free practice session a mere tenth adrift of Mansell, having been very close also in pre-race testing, pulses began to race. Perhaps, after all, we were going to have a real race? The truth, however, was that Mansell had been unhappy with the set-up of his Williams. That afternoon he wrapped up his fifth consecutive pole position, well over a second clear of Senna, and after all manner of drama awaiting an engine change that day, Riccardo Patrese came out fighting on Saturday afternoon too. Though a second slower than Mansell's pole, and half a second off the Briton's best in that session, the local boy pushed Senna off the front row altogether.
Qualifying is one thing; racing another. And never was that more apparent than when the field finally got away properly after the first start had been cancelled when Karl Wendlinger stalled his well-qualified March on the original grid.
Coming out of the final corner every lap you could hear both Williams-Renaults apparently up against their rev limiters; it was in fact the traction control device at work, and now that it also operates on first gear as well the system allowed both Didcot drivers to make terrific starts. Within three laps Mansell was 3.2s clear of Riccardo, behind whom Senna lay a similar distance. Effectively, even at that stage, it was all over bar the shouting. In previous races Mansell has rather put his foot in it at subsequent conferences, but this day he was perfection itself. Without apparent effort he drew away from Patrese, made the perfect pit stop on his 23rd lap for a fresh set of Goodyear's softer compound race tyres, and emerged from his pit with his lead intact. There were momentary worries, such as when Berger and Alesi left debris all over the road after colliding at Tosa on lap 40, and when a marshal ran out to recover some of it, but they were of minor nature. So, too, were the leg cramps he suffered from time to time. That Sunday Mansell was utterly invulnerable as he stamped his mark on yet another Grand Prix. The success took his score to 26, one behind Jackie Stewart in third place behind Prost (44) and Senna (33), and accorded him the accolade of the first man to win the first five races of a season. It is hard to see what else he could have done bar set fastest lap.
That, ultimately, fell to Patrese on his final tour, and it was always going to be one of the Williams FW14Bs that set it, such was their dominance.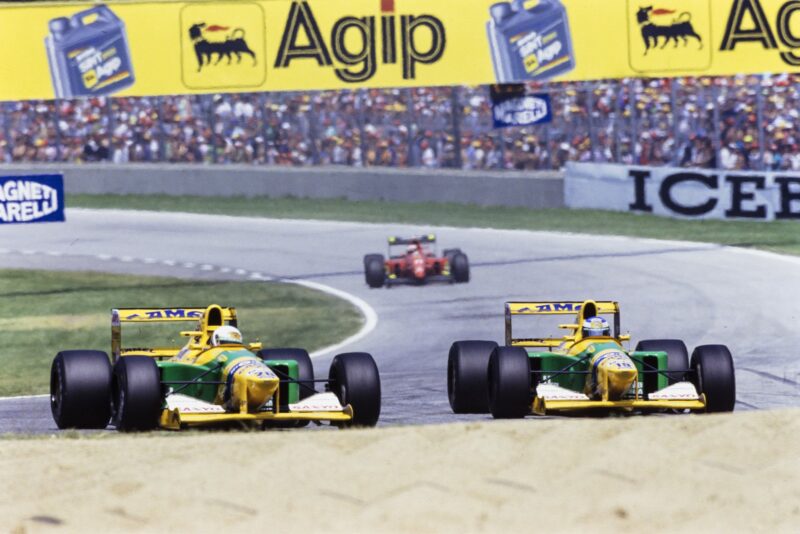 One had to feel sorry for Riccardo. The Friday prior to the race he had suffered a huge accident at Tamburello during testing, when a tyre deflated slowly and then exploded as he went flat-out through the corner. He had escaped with bruising, but presented himself in apparently unabashed form on Friday only to spend most of his day waiting for an engine change to be completed. Such is the complexity of the modern F1 car that Williams and Renault finally realised that it could not be achieved in time to send him out in the official session, whereupon he was entrusted with Mansell's spare which was equipped with the latest Renault RS4 V10. Both men liked the new power unit, although it would be kept in hand as yet more ammunition against McLaren-Honda as they raced the trusty RS3C.
In the race Patrese looked strong again, and cannily made his stop for tyres on lap 19 just as he was in danger of running into backmarker traffic. It was a superb stop, not only because his crew serviced him quickly, but also because he minimised his time decelerating and accelerating and only lost an effective 10s. Nevertheless, just as he did not lose a place during his stop, so Mansell did not lose his lead, and though the gap was 2.5s between them on the 24th lap, Mansell was able to stretch that as he obliged Riccardo to settle again for second.
In their wake, Senna trailed home an exhausted third and sat for a long time in his McLaren as he nursed upset nerves in his shoulders. It was a similar problem to the one he suffered in Brazil last year, where the seat belts aggravated the nerves in his chest and shoulders, but though the pain passed eventually, McLaren's suffering had no immediate end in sight. After seven laps the World Champion had been more than nine seconds adrift of Patrese and 13s behind Mansell, and was struggling not only to keep ahead of team-mate Gerhard Berger but also the Benettons of Brundle and Schumacher. Certainly, McLaren had made sufficient progress to get its cars ahead of the yellow and green machines for this race, but the B192s had struggled for grip in qualifying and both Brundle and Schumacher looked as if they could have gone quicker if they had been able to find a way past the MP4/7As in the race.
This time, for the first time in the season, Brundle was very close to Schumacher in qualifying, even though the German had the benefit of the latest Series VII version of the Ford HB as opposed to Brundle's Series VI. And in the race the Briton sped round the outside of his team-mate as Berger rudely chopped over to the left and lost Michael momentum as they left the grid. That put the Briton into fourth place momentarily and he nearly had a look at Senna, but uppermost in his mind was the need to finish the race and score points. A clash in qualifying on Friday with Alesi had unsettled him, and he wasn't about to try anything too risky. When Senna then treated a corner with greater than usual caution, Martin found himself having to back off in a hurry, and lost a place to Berger.
Thus the two McLarens and the two Benettons circulated nose to tail for the first 18 laps, Senna just clear enough of Gerhard to resist attack, Schumacher darting every which way in his efforts to unsettle the Austrian and Brundle. The latter looked in control of the situation, although one wondered at times if the two Benettons might not have got the better of the second McLaren by working together rather than fighting each other. Uncharacteristically, the German made a mistake in the second Rivazza on his 19th lap, spinning the Benetton into the wall backwards. Though he continued to his pit and made one more slow lap, his race – and his run of points finishes – was over.
Brundle spun, too, in the fast corner on his 25th lap, but with great presence of mind he kept his orientation and headed straight for the pits for fresh tyres. That allowed Alesi through into fifth place, and when the McLarens stopped for tyres the Frenchman rose as high as third as he attempted to go the distance on Cs. To the intense dismay of the tifosi, the Ferraris were again no match for the McLarens and the Benettons, let alone the Williamses, but at least Alesi tried to take the fight further than the car wanted to. Team-mate Ivan CapeIli again looked detuned, although he qualified close to Alesi, and was running a lonely race in eighth place in the spare after electrical failure in his race chassis, when he was caught out by locking rear brakes at Acque Minerale on lap 12 and ended his race in the sandtrap.
Prior to the race Brundle had gone down Ferrari to shake hands with Alesi, even though all observers of their Friday altercation laid the blame squarely on the Frenchman's shoulders. Informed of this fresh entente cordiale between two drivers who had clashed strongly in Brazil, Berger laughed aloud and predicted: "For sure they crash together in the race!" He was correct in his prediction about Jean, but wrong about the other party. As Brundle chased from them sixth place Senna managed to pass Alesi, with the latter's help, in Tosa on the 40th lap. Berger thought he saw a gap too and dived into it late, whereupon Jean defended his position. The result was yet another collision and instant retirement for both, which elevated Brundle to the fourth place he held to the end. Afterwards he was honest enough to admit that the car was capable of beating Senna, but that he did not believe the risk of no points at all was worth jeopardising the three he finally took home.
Michele Alboreto's Indian summer continued with another storming race for Footwork in which he thoroughly outclassed team-mate Aguri Suzuki. The previous week the Italian had worried his team in testing by suggesting that they could win at Imola, and while that proved wide of the mark he did drive a superb race. Once Suzuki had got the last corner all wrong on lap eight while trying to stay with him, the pressure on Michele came from the battling Dallara duo of Martini and Lehto, but just as he finally pulled clear of the former by lap 49, Michele came up behind . . . his team-mate! Suzuki resolutely refused to let himself be lapped, with the result that it was lap 56 before the Italian overtook. By then Martini was flying again but Alboreto held him off by 2.5s as they took the final points. Unlucky in the closing stages were Lehto, whose engine developed an electrical fault in sight of the finish, and de Cesaris who had again driven well in the Tyrrell and was chasing Gugelmin's seventh placed Jordan when his fuel pump broke.
For Jordan that was a fillip, after a qualifying in which it had gone through some seven or eight Yamaha OX-99 V12s and, one suspects, not a little patience. Where Modena butchered his transmission into submission, the Brazilian's more delicate touch brought a much needed result. Wendlinger again looked good as he qualified the March 12th, but after starting from the back after stalling he clobbered Johnny Herbert's new Lotus 107. The Austrian went on to finish an unhappy 12th, but after posting 10th fastest time in the morning warm-up after all manner of mechanical problems with both the 107 and the old 102D in qualifying, Herbert lasted only another seven laps after an early stop for a bent track rod to be replaced. The untested 107 had stuck in third gear, but had shown promise.
The two Venturi drivers were notable for their bravery, Gachot in particular adding a spectacular dimension in his recovery after getting away very slowly, but perhaps inevitably his out-of-his-skin drive ended in the sandtrap at Tosa on lap 34.
This time there were no arguments to spoil Mansell's great day, and as he flew home he could savour a 42 point lead over Senna. Last year the Brazilian had a similar advantage which was subsequently eroded, but by then the Williams-Renault had already begun to show its hand. For McLaren-Honda, 1992 seemed to hold nothing like the same promise.
SAN MARINO GRAND PRIX, Imola, May 17
60 laps of 3.132 mile (5.039 km) circuit (187.92 miles; 302.363 km)
1st: Nigel Mansell – Williams FW14B-Renault V10 – 1h 28m 40.927s
2nd: Riccardo Patrese – Williams FW14B-Renault V10 – 1h 28m 50.378s
3rd: Ayrton Senna – McLaren MP4/7A-Honda V12 – 1h 29m 29.911s
4th: Martin Brundle – Benneton B192-Ford HB V8 – 1h 29m 33.934s
5th: Michele Alboreto – Footwork FA13-Mugen V10 – 59 laps
6th: Pier-Luigi Martini – Dallara BMS 192-Ferrari V12 – 59 laps