Ligier's shock victory in Monaco dispelled a number of myths about the world's most famous Grand Prix. By Mark Skews
Monaco is like no other race, and this was like no other result. At least not in the last 15 years.
That is how long Ligier had waited for its barren spell to end. That the drought finally broke was due largely to the thunderstorm which ensured that the sixth race of the year would begin wet and end dry. The decision to call Olivier Panis in early for slick tyres was instrumental in the success but there is no escaping the fact that this result, Iike that morning's weather, was a freak.
From the moment that Michael Schumacher slid into the barrier on the first lap just yards from the place where Ayrton Senna made a similar unfathomable error in 1988 until Renault suffered a rare engine failure just after half-distance the race had belonged to Damon Hill.
Like his father, who won the event five times in the 1960s, Damon relishes the challenge presented by the circuit that time forgot.
"It's an anachronism," he admits. "Nowadays we would never choose to go to Monaco, but for 80 per cent of the time that you're thrashing around there you're enjoying yourself. The other 20 per cent of the time you're scaring yourself silly.
"Some bits are ridiculously slow, and you just think, 'What am I doing here? I feel like I'm standing still.' But, for all that, Monaco is one of the places where you suddenly appreciate jus how quick these cars are. You're always balancing on a knife-edge because you always have that definite limit the barrier… "
Success on the Principality's streets tends to be as exclusive as the goods which adorn the shop windows in the playground of the rich and famous. For many, Monte Carlo remains the barometer of true driver talent. Only three men, Schumacher, Senna and Prost, had won in the past 12 years, and Hill's efforts to gain elevation to the pantheon are often portrayed as the pursuit of a Holy Grail. In reality, he insists, victory there would mean more to the press than to the man himself.
"It's one of those things that would be nice to win, but really and truly I don't know what difference it would make to my life," he ponders. "The world watches Monaco. It has a history, a reputation of only rewarding the drivers who have had success and acclaim, namely Prost, Senna and Schumacher. Olivier has now joined those ranks and broken that pattern. But you have to remember that Jim Clark never won it, Nigel Mansell never won it, despite being well on course to do so a number of times."
Having qualified on pole in 1995, only to be out-manoeuvred by Benetton's strategy, and led for so long 12 months later, Damon must begin to wonder whether he will follow in Mansell's Monaco footsteps, rather than those of his own father.
If Hill should have won this year's race, all manner of people could have monopolised the most bizarre GP since Riccardo Patrese emerged a bewildered victor at the same track in 1982. The words stable, door and bolt sprang to mind when Benetton abandoned its torsion bar suspension for Canada, for by then a failure had already cost Jean Alesi victory in Monaco.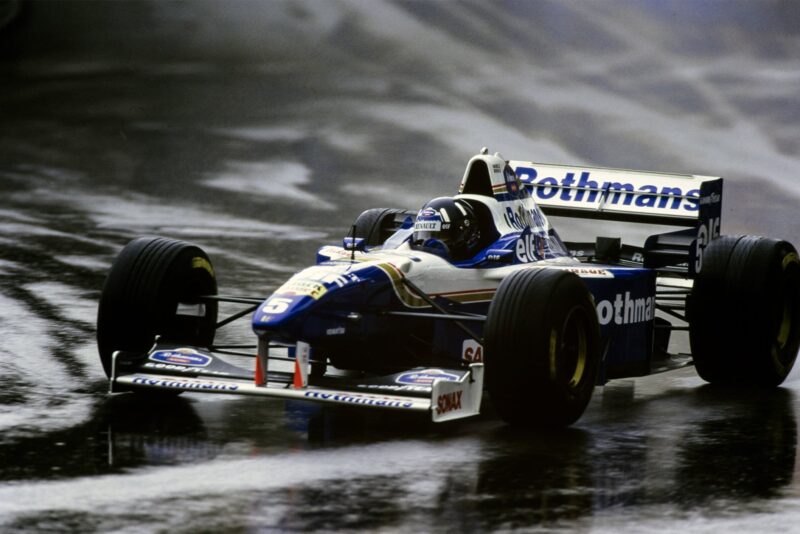 Had Sauber given Heinz-Harald Frentzen slicks when he requested them, at an early stop for a new nose, the fourth and final car running at the finish could well have snatched an unlikely win from a race of such high attrition
McLaren also called David Coulthard in for slicks too late, preferring instead to test the water first with team-mate Mika Hakkinen. How the Scot must have rued that lost time as he vainly chased Panis through the final lap of a race which ran to the maximum two hours' duration.
For all that Ligier's success was fortunate, the timing of Pans' pit stop, and the manner in which he attacked after it, rendered the result a fitting one.
In the process the 29-year-old not only gate crashed a hitherto exclusive club, but torpedoed the myth that you have to be on the front row to win. His passage from 14th on the grid was not only a reminder of his natural speed on some occasions he lapped three seconds faster than Hill – but disproved those who cruelly suggested that never mind overtaking F1 rivals, he couldn't even pass water!
Indeed Monaco underlined the impressive rehabilitation of an F3000 champion whose star had waned to such a degree that TWR attempted to offload him for Indycar's Gil de Ferran over the winter.
Tom Walkinshaw has always maintained that Ligier's problems lay with its management, rather than the engineering staff, and was one of the first to congratulate his former charges. His conviction was endorsed by the team's performance over a weekend when owner Flavio Briatore admitted that he would sell his interest if the price is right.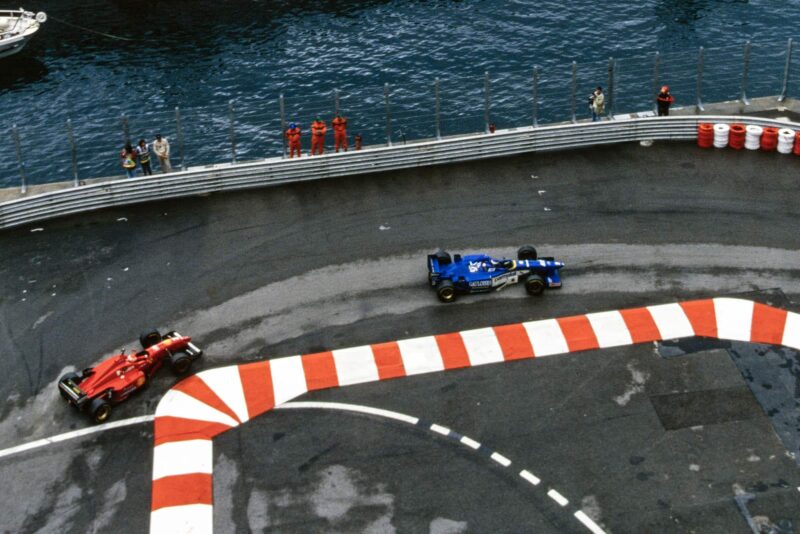 Without doubt the split with TWR has added to the remaining staff's motivation "We wanted to show that the team was still on the right track," admits general manager Bruno Michel "When Tom left the people were very keen to prove we could do it on our own.
There were a lot of declarations saying that Liger would die, but now I think proved what we can do.'
Jacques Laffite, who scored Ligier's previous victory 15 long years ago in Montreal, stressed the triumph was vital for team and driver alike. "I feel so happy for Olivier. and this team has worked like hell for so many years. It is so difficult to raise yourself when you are so down, but the team has proved it is able to win a race, just as importantly. Olivier has proved he can win. To do it in Monaco was extra special."
Michel sees strong links between Panis and Laffite, both of whom recorded their first victory in their 39th GP: "I was with Jacques on the pit wall throughout the race and I told him Olivier reminded me of him. He drove just like him with aggression, with stubbornness. I think Olivier drove the race his life. I've been defending him for two or three years now and I knew he had fantastic potential, but he needed to do something to show it. He knew starting from 14th on the grid he had to take risks or he was going nowhere, but he did a fantastic job."
Since Liger was repatriated, Panis' confidence has soared. But why the transformation? Last season he made too many unforced errors, partly because he felt pressured by the presence of Martin Brundle. The latter may be an F1 veteran but, for all his failings in qualifying, there aren't too better lights-to-flag racers. He was also Walkinshaw's blue-eyed boy. Now Olivier is not team leader once more, but is patently comfortable in an environment where his own tongue is once again the first language.
"This year Olivier's attitude has been very good, very stable," reflects Mugen boss Hirotoshi Honda who was delighted by the first win of his company's present F1 campaign. "This year we've been able see him becoming stronger with every race. He has a lot of confidence now, you can tell that. " "I don't think I'll ever forget the sounds of yacht sirens in the harbour and the fireworks being let off in my honour," recalls Panis. "As I crossed the line I gave a cry of joy into the intercom. To win your first Grand Prix, and to do it at Monaco, is unbelievable.
"When I was handed the French flag I couldn't resist taking it. Ever since seeing Alain Prost do it. I've always wanted to see it happen again. But could I imagine it would be my turn next?"