Brunch with... Anthony Davidson
From karting stardom to a testing time in Formula 1, this dedicated professional is now chasing victory at Le Mans
The British have always had a special relationship with Les Vingt-Quatre Heures du Mans. It's the arena that built the racing reputations of Bentley and Jaguar, and of a raft of drivers from Barnato to Bell, from Rolt to McNish. In fact, in the 80 races held so far, 42 of the winning drivers have come from the UK. It's always said that there are more British spectators at Le Mans each year than at any motor race in this country except our Grand Prix. In my 30-plus visits to the 24 Hours, ever since I first watched that last-lap showdown in 1969 between Jacky Ickx's GT40 and Hans Herrmann's Porsche 908, the loudest cheers have always come from union flag-waving Brits enjoying themselves on the spectator terraces and in the camp-sites. In the lead-up to the race the roads south from the French coast are awash with UK-registered vehicles, from E-types to motor caravans, battered Minis to vintage Bentleys. Each year more and more of them carry real lovers of motor sport who are turning their backs on today's F1, with its artificial regulations and manipulative pit-wall strategies, its super-softs and DRS. At Le Mans they know they're more likely to see a proper old-fashioned motor race.
One Brit who had to turn his back on Formula 1 as a driver, and has now embraced endurance racing, is Anthony Davidson. Of course he desperately wanted an F1 career, and his speed, racecraft and dedication showed he had all the necessary qualifications. But a combination of circumstances and how the cards fell mean the record books only credit him with 24 F1 starts, in lesser teams — Minardi and Super Aguri. As is so often the case, the record books don't tell the whole story, for between 2001 and 2008 he clocked up a huge number of miles in F1 cockpits testing for BAR, Honda and Mercedes.
As a youngster, Anthony's devastating pace in karting, and his winning form in Formula Ford and F3, marked him out as an F1 star of the future. It didn't work out like that. But in 2008, when he first discovered top-line endurance racing, he felt he had come home. "The trouble is that after Formula 1 you feel anything else will be a disappointment, because the cars are so good, so fast, so high-tech. But from the moment I drove out of the garage on my first test in a proper LMP1 I had a smile on my face. Those cars are just amazing."
Nowadays he has to juggle his time between three consuming roles: racing and testing as a works driver for Toyota in the World Endurance Championship; putting in massive hours on the Mercedes F1 simulator as a journeyman data-gatherer who understands what it's really like out there; and facing the TV cameras as part of Sky TV's F1 coverage team. Arranging to meet shortly before the Silverstone endurance round, he hasn't a single day when he can make lunch. So we take a late breakfast at Limes Farm, which serves good home-grown food in the village of Farthinghoe, between Silverstone and his home near Brackley. Small, wiry and clearly super-fit as an endurance racer has to be, Anthony goes for poached egg, toast, no butter, baked beans and a mug of English tea.
He started karting at eight years old, and almost from the first he seemed to be following a relentless path to racing stardom. His graphic designer father was a racing enthusiast, sign-writing friends' Super Saloons, dragsters and Formula Fords. "He could never afford to race himself, but with my older brother Andy and me he realised he could get involved through karting. At the start it was just for fun, but it got quite serious quite quickly, and after Andy broke his ankle in a testing accident he fell out of love with driving and more or less became my mechanic and helper. Soon we were racing people like Jenson Button and Danny Wheldon, and from doing six meetings a year it snowballed up to 42 weekends out of 52." By his early teens Anthony was dominating his age group, winning British championship titles three years running between 1993-95.
"All this time my dad was running the whole operation, organising the entries, buying the equipment, loading the van, driving all over the country week in, week out, managing everything when we were at the tracks. I was just driving the thing. Karting dads are incredibly dedicated, living the racing life through their kids, pushing them on to more and more success. Karting mums, too: I've come across a few of those, and they can be just as tough. Sometimes the parent is more keen than the kid, who just gets swept along in it all.
"But when kids begin to grow up, they start to have their own thoughts and beliefs. It's like when you first stand up for yourself around the house, you develop your own theories on life, and that happens in racing as well. Maybe the dad wants to stay in control — especially if he's got the money that's paying for it all — and then things can get difficult. In Lewis Hamilton's case, his dad was there all the way, managing everything, until after Lewis got into F1, and they went through a difficult period when Lewis became his own man and wanted to go his own way. In my case it happened a lot earlier, and for 1996, when I was 17, I had an offer from Terry Fullerton to go international.
"Terry has huge respect in the karting world. As a driver he was Ayrton Senna's team-mate, and sometimes he beat him. Years later when Ayrton was F1 World Champion, he was asked who he'd most enjoyed racing against, in all his career, and he said Terry Fullerton. Now Terry had put his faith in me, I was a works driver at top level, it was his team and he was paying for it. Dad realised he had to let me spread my wings and go on my way. It must have been really hard for him.
"Racing in Europe was a big jump. I was a rookie up against hard experienced racers, on tracks around Europe that they knew and I didn't. It was incredibly competitive. You know, people don't understand how serious top-level karting is. In all my career, I have to tell you it's the hardest racing I have ever done, by a country mile. What karting teaches you, from an early age, is that you're not special. Even when you're winning everything through Juniors and Cadets and everybody is telling you you're brilliant, as you rise to the top you find there are always going to be at least five or six other people in the world who are at least as brilliant as you. It's a very good lesson. And the earlier you learn that lesson, the better racer you'll be. Some don't really get it until they reach Formula 1, and then it can be painful. It's like a dawning realisation: this is really, really hard. Maybe I'm not the chosen one after all. Has my dad been lying to me?"
Nevertheless, in that first year in Europe Anthony astonished everyone by his speed and his capacity to learn fast. At the season's end he'd missed being European Champion by just one point, beaten by the acknowledged top man Giorgio Pantano. Jenson Button finished fifth. "Losing by a single point still bugs me to this day. Pantano may not have made it to the top in car racing, but in karting he was one of the best I've ever seen. Vitantonio Liuzzi was another who was stellar. It's interesting that success in karting doesn't necessarily translate into success in cars; and also the reverse is the case. I raced against Kimi Raikkonen, and he wasn't really special in karts. He was just one of many. He could be up at the sharp end, but then other days he'd be mid-grid and you wouldn't see him all weekend. You'd never see him do something amazing like he did later in F1.
"After two seasons with Fullerton I signed for the Italian team Biesse, replacing Pantano who'd moved on to cars. I lived in a room over the factory, I didn't speak Italian, but I was being paid — they gave me £10,000 a year, which wasn't bad for a teenager 15 years ago. We were fast straight away, but it was one of those years when we just had shitty luck, right from the word go. On my first test the seat wasn't quite right and I broke a rib, just from the G-forces and the pounding in the kart, which took six weeks to heal. We had some poles and some good places, but I ended up well down in the championship — with Fernando Alonso one point ahead of me. We raced in America, too, places like Las Vegas and Charlotte. When you're part of the karting circus it's relentless, weekend after weekend, and it doesn't leave much time for schooling, let alone university. I think Jenson and I probably have about two GCSEs between us…
"Car racing seemed like an impossible dream. I had no money to make the jump, and I thought I was going to be a karter for ever. Well, that was OK; I was good at it, I was getting paid to do it. But Jenson had moved into Formula Ford and was doing very well, and I knew we were at a pretty similar level. It was now or never.
"Then a friend dragged me to Brands and introduced me to FF chassis builder Bert Ray. With him was a French investment banker called Didier Stoessel, who was driving for Bert for fun. His brother was a karter, so Didier knew about me from the European karting scene. The next day Didier phoned asking me if I wanted to race in Formula Ford. I thought, Here we go, he's just touting for business for Bert, looking for a young driver who could bring money. But as we talked it emerged that Didier had said to Bert, "Put a quick driver in one of your cars to get yourself on the map, and I'll pay." And Bert had suggested me.
"So I did my first car races, six FF outings in a Ray. I was on pole for all of them, and I won all of them. Then Haywood Racing offered me a ride in the FF Winter Series. They needed money for the drive, so Didier paid for it. And I won the series.
"After that Didier offered me a deal. He saw the results Jenson and Kimi were getting, having moved from karts to cars. He knew I was part of that generation, and he decided he wanted a bit of that. He drew up a 10-year contract, which was a big scary thing. That's when I brought my Dad back into the picture to see what he thought about it all. I was about to sign a 10-year deal with a multi-millionaire I'd only just met, and the car racing world still seemed very alien to me after the karting scene I'd been used to. It was like being in the sixth form at one school, and then moving to a new school with older boys and having to start at the bottom again. Dad and I chewed it over for a long time, and in the end we decided it was the right thing to do, and I signed.
"The contract stipulated that Didier would pay for everything to get my career up and running, and only when I started earning more than a certain figure would I have to start paying him 25 per cent of what I made. And if I ended up making millions and millions he'd go on getting 25 per cent of that until I'd paid him back his investment. The relationship did last pretty much the whole 10 years, but he lost a bit of interest when he realised that managing a driver isn't just about hanging around him on race weekends. He moved on to other things in his business career, but we remained friends. And in the end I did pay him back all his investment — which was around £1 million
"For 2000 we had a Formula Ford Mygale run by Haywood. My main rival was James Courtney in the works Van Diemen: I'd raced against him in karts, too. The Van Diemens got most of the victories, but I had a great rookie season, culminating in winning the Formula Ford Festival at Brands Hatch in October. That was a magic day, a pivotal moment in my career. Didier got Rick Gorne of BAR to come to Brands to watch the Festival, and a few days later I found myself at the BAR Fl HQ in a meeting with Rick and Craig Pollock. A couple of weeks after that I won the McLaren Autosport BRDC Young Driver Award, which put me seriously into the limelight. The award included an Fl test drive in a McLaren, but I couldn't take that, because I'd already started a relationship with BAR.
"Then I moved up to Formula 3 with Carlin Motorsport alongside Takuma Sato, who was in his second full year of F3. Taku was really quick. Still is — look how well he's going now in Indycar for A J Foyt. A really friendly guy out of the cockpit, but a totally dedicated racer. F3 was the first time I'd driven with downforce. You go from FF, skating around on the surface like driving a kart in the wet, to levels of grip that you've never experienced. I took a few races to get properly used to it, but by the second half of the season it was all making sense. Taku took the championship and I was runner-up, but I ended up with more poles than him, and I won six rounds — plus the F3 Masters at Spa and the Pau Grand Prix, which was for F3 cars then, on a real round-thehouses circuit. That was a key win for me.
"I'd started straight-line F1 work for BAR by now. Because there was unlimited testing then, most teams would do straight-line sessions on aerodynamics rather than just staying in the wind tunnel. The night before my first F1 test I was so nervous. They'd given me a steering wheel to play with, so I could get used to all the controls, and I lay in bed with it in my hands. Serious things can happen in a straight-line test, so you have plenty of opportunity to make a fool of yourself. Drivers without much imagination might not get fazed by it, but I felt the weight of it all. You're supposed to have arrived in F1 as the finished article, all ready to go, and you're not. At an F3 test you have just one or two people with you. In F1 there are about 30 people there, all performing their roles, all knowing exactly what they're there to do, all working like clockwork, and you're the one cog in that clock that doesn't know what the hell you're doing. They take the blankets off the tyres, drop the car off the jacks, step back, and it's your moment. It's up to you now.
"But it all went fine, and by 2002 I was doing proper circuit testing at places like Barcelona, Mugello, Silverstone. I did about 6000 miles of F1 work that year. By now it wasn't just me: the team's race drivers, Jacques Villeneuve and Olivier Panis, were there. So were the other teams, with their race drivers on track with me. There was nowhere to hide. From the beginning Villeneuve gave me the cold shoulder. He wasn't too happy that I was doing better times than his friend Patrick Lemarie, who was the team's official tester and wasn't very quick. Taking flak from Jacques was another character-building experience. But by degrees he started to trust my feedback. I was doing decent times, talking good sense, and in the end he'd ask the engineers for me to be there. I loved those days of testing. It was proper hard work, pitting yourself against some of the best drivers in the world. No excuses, you knew where you stood.
*
"Then in August 2002 something happened which, looking back, is one of my very few regrets. Paul Stoddart had taken over Minardi, and was running Mark Webber and Alex Yoong. Yoong was having trouble qualifying and was stood down for a couple of races, and the drive was offered to Justin Wilson. Well, Justin is 6ft 3ins tall, and they couldn't fit him in the car. No problem for a short-arse like me. So BAR released me to do two races, Hungary and Spa. I guess they thought it'd be good for me. Off to Hungary. I'd never sat in the car before, never seen the track before, never driven on Michelins before. Talk about jumping in the deep end.
"But I didn't spin, didn't make any mistakes, did the job. I was actually quicker than Webber on Friday, and on Saturday I qualified half a second off his best, even though I had to carry an extra 10 kilos of fuel because we had a pick-up problem. In the race I started OK, Mark gradually pulled away but not by much, and then I started to run out of arm strength. The Minardi had power steering, but it was based around the old Bridgestone tyre, and in fast corners you reached a plateau of what the power assistance could do for you. This was something completely new to me: in the BAR I could do a full day round Mugello, no problem, but it got to the point where I just couldn't turn the bloody wheel. I had blisters on my hands, my arms were aching, and after 58 laps I couldn't get round one of the Hungaroring corners and I went off.
"Two weeks later at Spa, same thing. I knew the circuit this time — I'd won there in F3 — but I sat on the grid knowing I wasn't going to be able to go the distance, through sheer lack of strength. I ended up in the gravel at Pouhon. I wasn't ready for F1, I was trying to run before I could walk."
"In 2003 I signed a three-year deal with BAR, and by 2004 I knew my knowledge and my speed were all coming together, and now I felt ready to race. I was BAR's Friday driver at all the Grands Prix, which kept me visible, put me back on the map again, and I had talks with Williams and with Jaguar. The Williams thing looked strong. But BAR were using me a lot in testing now as well, and they wouldn't release me from my contract. They gave me one race in 2005, in Malaysia, when Taku was ill. I qualified 15th, playing myself in, and in the Sunday warm-up I was only 0.4sec away from Jenson, who was team leader. I was raring to go. And a lap into the race the engine blew up.
"At the end of 2005 Honda took over BAR completely. They brought in Rubens Barrichello from Ferrari to race alongside Jenson, but they really needed a home for Taku, who was such a huge hero in Japan. So with Honda's help Super Aguri was more or less set up around him. I carried on as BAR's Friday man in 2006, and then for 2007 I got a proper F1 drive at last with Taku in Super Aguri.
"For my first race in Australia I qualified 11th — ahead of both Jenson and Rubens in the Hondas! — and then I was pushed off on the first lap by Adrian Sutil. The car was launched in the air, landing square on its wheels with a terrific impact which damaged my back, giving me a severe spinal compression. But I'd set myself the goal of finishing, I just had to do it, and with gritted teeth I got to the end. As soon as I got out of the car my muscles went into spasm and I was carted off to hospital."
The other memorable place in a long hard season was Canada, where he was fuelled for a single stop. "And the race really fell towards the one-stoppers. At half-distance I was in third place! Based on the speed I had and where the people I was racing against finished, the team reckoned I'd have been fifth. But then, can you believe it, a groundhog ran across the track straight into my path. It wrecked my front wing, tore off a barge board and damaged a sidepod. Didn't do much for the groundhog, either." A stop to replace the front wing dropped him right out of contention.
"By the start of 2008 there were signs that Super Aguri was in trouble, and that Honda didn't want to go on supporting the team. We went to Australia having had no development, with the old car from the year before. We struggled through the first four races, and then the team folded for good. I was desperate to stay in F1, but there was nothing around. In November, after a pretty depressing six months, Peugeot invited me to try their LMP1 car. The test went really well, I was fast, I loved the car, and Serge Saulnier, the team manager, drafted a contract for me for 2009. Next thing I know, it's all gone quiet. Political change at the top, Olivier Quesnel is the new head of Peugeot Sport, and I'm out of the picture."
Anthony had already sampled Le Mans in 2003, driving a Veloqx Prodrive Ferrari GT, which came about through Prodrive boss David Richards' role at BAR. "Being familiar with F1, I wasn't too sure about racing what was basically a beefed-up road car. It was big and cumbersome, it wallowed around, the tyres were rock hard, it had no downforce. But every category demands its own techniques and has its own good guys. If a top Formula 1 driver did a BTCC race, any of the top British touring car drivers would whip him. Of course they would. It's not like the old days when you'd get a Stirling Moss or a Jim Clark going around all the different disciplines of the sport in one meeting and being at the sharp end of all of them. Modern motor racing is far more specific, with experts at each discipline. I got into a GT car and I was struggling to be as quick as the real specialists in those cars. In endurance racing today, the guys at the top of GT are just as good at what they're doing as the guys at the top of LMP1. But when a GT driver gets into an LMP1 he finds it completely alien. Different drivers have their different niches.
"In 2009 I did Le Mans with Prodrive in a Lola-Aston Martin LMP1, with Darren Turner and Jos Verstappen. We ran as high as third place, but then we had some transmission problems which lost a lot of time. We did finish, but well down. But I loved Le Mans at LMP1 level. I decided it was what I wanted to do, and that winning Le Mans had to be my new goal in racing.
"But at the end of 2009 I had nothing, and I spent another depressing winter. January came and went, still nothing. And then in February I got another call from Peugeot: come over for a chat and a look at the race car factory. They had an opening for a reserve driver, maybe with a drive at Spa. But as I left they said, 'We are talking to other drivers.' Didn't sound too great. I get back to a freezing cold, grey Luton Airport, and then Olivier Quesnel's right-hand man, Sven Smeets, is on my phone. He doesn't sound very happy, and I steel myself for more disappointment. He says, 'Since we spoke today something's changed.' I think, here we go again, and I get ready to slit my wrists. And he says, 'We want you to do everything, drive for us in every round, starting with Sebring in four weeks.' I'd been through such a bad run, and now it was the start of brilliant times.
"Well, I did Sebring, with Alex Wurz and Marc Gene, and we won. I won Silverstone too, with Nicolas Minassian. And Marc, Alex and I led Le Mans, ahead of the Audis, until the alternator packed up. We caught up most of the time we'd lost, but after 21 hours the engine failed. For 2011 I signed a new two-year deal, and we arrived at Le Mans fresh from winning the Spa 1000Kms, but we didn't have the speed of the Audis. All the Peugeots finished, but the remaining Audi was in front of us.
"I loved my time at Peugeot, loved the car, loved the team, loved driving with Alex and Marc. And then at the beginning of 2012 came another blow. Peugeot announced they were pulling out. It was like Super Aguri all over again. To be honest it wasn't that much of a shock: in the real world the Peugeot Citroen group was having a tough time. And right away Toyota, who were coming into world sports car racing in a big way, contacted me."
The Toyota T5030 Hybrid made its debut at last year's Le Mans 24 Hours, in what promised to be a classic head-to-head with Audi's R18 e-tron quattros. Anthony, sharing with Stephane Sarrazin and Sebastien Buemi, qualified the No8 car third, 1sec adrift of the two lead Audis. But for him the fight only lasted until Saturday evening. Lying third, as he braked from over 200mph for Mulsanne Corner, an amateur driver in a GT Ferrari turned straight into him. The Toyota took off and cartwheeled through the air, flying upsidedown for some distance and then slamming, right side up, into the tyre barriers. "It was like being in a crashing aeroplane. As the car landed I felt an almighty punch up my spine, and half a second after that came the impact with the barrier. When everything stopped I opened my eyes and realised I was still here, but hurting a lot. I had feeling and could move my feet, so everything was working. I knew I should stay in the car until they got me out, but my first feeling was one of panic, of claustrophobia. I got the door open and got myself out, and then the medics got to me and carted me off."
Two broken vertebrae kept Anthony out of racing for the rest of the season, although the Toyotas went on to vanquish the Audis in the six-hour rounds of Sao Paulo, Fuji and Shanghai. He was fully fit again for February's Daytona 24 Hours, which he did in a rear-engined Coyote-Corvette. "Gearbox bothers dropped us back, but I loved Daytona. It's quite a brutal race. On the banking you get pushed down into the car, you're constantly turning and you don't have time to draw breath like you do on the Mulsanne Straight. It was bloody good fun."
*
The 2013 World Endurance Championship has eight rounds, from Brazil to China. In the opening races at Silverstone and Spa Anthony drove last year's car, each time finishing behind the Audis.
"The T5030 has a conventional V8 engine, developing about 500bhp, plus a supercapacitor powered by kinetic energy from the car's braking that gives an additional 300bhp or so for a couple of seconds. At the end of the Mulsanne Straight, for example, the energy generated by braking from 210mph to 45mph is stored by the super-capacitor, and then released to drive an electric motor that powers the rear wheels. So it kicks in as you accelerate out of the corner. It doesn't come in with an absolute bang because we've got traction control which filters the power within the grip of the rear wheels, but if you've got lots of grip it's like pressing a switch. Then after a couple of seconds it's all gone, and when it shuts down it's like someone has yanked on the handbrake. So it's a real Jekyll and Hyde to drive.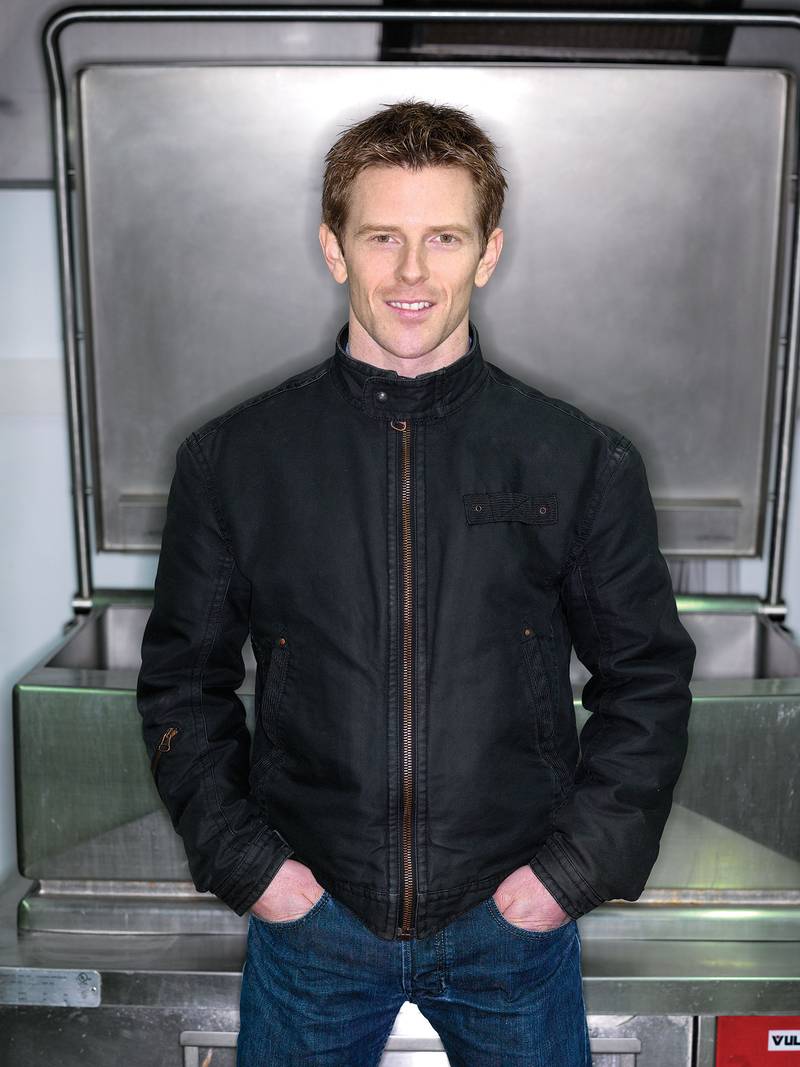 "Audi's hybrid is very different from ours, using a flywheel system to store braking energy. At the top end it's all about who has the most slippery car. Toyota is very good in that department: last year we had the highest speed at the end of the Mulsanne. But we didn't have quite the same degree of downforce as the Audis, so in the Porsche Curves they were a bit faster than us. But under acceleration we definitely had an advantage.
"Competitiveness in racing, the constant need to find another half-second, drives development. And then that development filters back into the road car industry." As they used to say, racing improves the breed. "Partly thanks to what Audi and Peugeot have done in racing, people no longer think of diesel cars as smelly, smoky, rattly things that go more slowly than petrol cars. Toyota want to change people's perceptions of hybrids as well, so a hybrid car isn't just seen as something slow, boring and cheap to run. Hybrid technology can save fuel, but can make you go faster as well.
"Le Mans used to be primarily a test of reliability, but now that the cars are so much more reliable every stint is flat out, really flat out, like a string of qualifying laps. A stint is usually about 50 minutes, but you'll doublestint, maybe triple-stint if the strategy calls for it. The rules only say you can't stay in the car for more than four hours on the trot. Because of the tyre situation in F1 now, I honestly think Le Mans drivers at the top level drive more flat out, for longer, than current F1 drivers. I'm not saying LMP1 is harder than F1, I'm saying that it allows you to drive to your own limit on every single lap, unlike F1 today.
"Motor racing should be about getting as close to perfection as it's possible to get, on every lap. If the rules reward you for driving below your potential, then the best drivers in the world can't demonstrate what makes them the best. You'll have an Alonso or a Hamilton taking Pouhon at Spa at the same speed as a pay-driver because the tyres are so fragile and he has to take care of them. And the teams have discovered another advantage: the slower you drive to save the tyres, the less fuel you use, so you can make the car lighter by carrying less fuel. That's not what the world's top class of motor racing should be about. It's like making a rule at Wimbledon, that the rackets have to be no stronger than a certain limit. So the top seed can't use all his strength to serve an ace in case he breaks the racket. The public won't know the difference. But the best player won't be able to show why he is the best.
"In endurance racing everybody is gearing up for the new regulations in 2014, which is when Porsche come back. If Audi stay it'll be a three-way fight at least, with maybe more joining in: I hear Nissan are looking at it. But this year's Audi-Toyota fight should be epic. I'm with Stephane Sarrazin and Seb Buemi. Stephane and I were at Peugeot together. He's a class act, I'd put him on the same level as Tom Kristensen or Allan McNish, the epitome of the professional sports car racer. In the other car are Alex Wurz, we're good mates, we've won together; Nicolas Lapierre, who's a hardened endurance pro now; and Kazuki Nakajima. Kazuki's very fast, a massive hero in Japan. He practically won Fuji single-handed for Toyota last year. Team boss is Pascal Vasselon, and he runs the sports cars from the same Cologne location where the F1 team was.
"You can't overestimate just how important Le Mans really is. I look at drivers like Kristensen and McNish — Tom has won it eight times, that's more than Schumacher has won World Championships — and I want to aim at achievements like theirs. But you can't overestimate how tough it is. Until you do the race you can't comprehend how long 24 hours is. So many things happen in one day and one night. Just getting through it unscathed is hard enough, and to win, you need everything to go your way. That's what Stephane, Seb and I are aiming for come 3pm on Sunday."
If they do accomplish it, on the terraces, around the campsites, and in the throng around the podium, the British flags will wave and the cheers will be loud for our 43rd Le Mans winner.
Career in brief
Born: 18/4/1979, Hemel Hempstead, Herts
Karting: 1987-1999.
Formula Ford: 1999-2000, won FF Festival and McLaren/Autosport Young Driver Award.
F3: 2001 Carlin Motorsport
F1: BAR test driver 2001-06, Minardi 2002, Super Aguri 2007-8
LMP1: Peugeot 2010-11, Toyota 2012-13