Lunch with... Mark Webber
Famously forthright, the Australian stood out among his Formula 1 peers because he was prepared to speak his mind. He still is...
Getting an audience with a Formula 1 driver these days usually involves a very brief time slot, an eaves-dropping PA to ensure that no comment can be remotely controversial, and responses that are bland, safe and lacking in substance. It has become almost impossible to get a straight answer to a straight question.
Mark Webber, throughout his 12 seasons in F1, was always the exception. He rose to join the Grand Prix elite: nine victories, 42 podiums, 13 pole positions and 19 fastest laps. Yet he remained the friendly, approachable racer who looked you in the eye and took the time to tell you what he reckoned was really going on. And now, leading a major world championship sports car team, he still does exactly that. Direct and good humoured, he abhors half-truths, evasions and slippery answers. Like a true Australian he dismisses all that as: "Bullshit, mate."
Having made the leap from a top F1 team to a top sports car team, his intelligent analysis of the differences between the two, and the alternative approach required in the quest for success, is extremely revealing. His down-to-earth criticism of today's F1 is revealing too.
He has raced sports cars before, for Mercedes 17 years ago as a 21-year-old, before returning to single-seaters and going on to drive for four different F1 teams. He laid his plans for moving on from F1 18 months before he actually did so; and, while he looks back on that period of his career with fondness, all his focus now is on his life with Porsche, and his ambition to bring Le Mans victory back to Zuffenhausen.
His career has inevitably brought him wealth, yet there is no obvious sign of it: no private jets, no sub-tropical holiday estates, no yachts, no personal jewellery – although he does ask to meet at a restaurant that has a helicopter pad, to allow him to arrive in his favourite means of transport, a Eurocopter AS350. So we gather at the glorious Lime Wood Hotel on the edge of the New Forest, where from the lush menu the visibly super-fit Mark chooses abstemiously: spring garlic soup, a small lobster linguine with rocket salad, and water.
Mark was born 38 years ago in Queanbeyan, in the Tablelands of New South Wales. His father was a motorcycle dealer who followed F1 and Indycar, so there was plenty of racing talk in the house. "As a small kid I'd be on my dad's shoulders watching the sprint cars at the local oval, and the bike racers at Eastern Creek like Wayne Gardner and Mick Doohan. I loved all that. The F1 drivers and the top bikers, they were the heroes on my bedroom wall. It never occurred to me that I could be up there too. Plus I was busy with other sports: swimming, cricket, tennis. I always loved to compete.
"But I was pretty wild as a youngster, and Dad could see there was a chance I'd get in with the wrong crowd and go off the rails. He reckoned karting would be a healthy distraction, so he got me into that. I was a late starter, taller and heavier than the other kids, but I won the New South Wales championship, and that led to a second-hand Formula Ford Van Diemen when I was 17. With just my dad helping, I was way out of my depth.
"Then I moved to Sydney and stayed with Spencer Martin, who'd been a serious racer in the Tasman Series in the '60s. It must have been a pain for him having a teenager about the house, but I'll always be grateful for the help and guidance he gave me. The racing started to go better, and in 1995 I won the FF support race at the Australian Grand Prix. That was when I met Ann, who knew how sponsorship worked, and helped me get a deal with Yellow Pages." Ann has been Mark's partner for most of his professional career.
"Of course I wanted to get myself to England, where it was all happening. I made it in the autumn of 1995, and went to see Ralph Firman at Van Diemen. I told him I wanted to do the Formula Ford Festival. He wasn't too impressed, and said he didn't have a car for me. But I pestered him into giving me a test at Snetterton, and after that he said, 'We'll put you in a car for the Festival'."
Having never seen Brands Hatch before, Mark came through all the heats and on the last lap of the final he came out of Clearways in third place, only to be pipped on the line by Mario Haberfeld. "But fourth place wasn't too bad. So Ralph said, 'Come back next year with £40,000 and you've got a works drive.' We got half out of Yellow Pages and half out of Duckhams and I had the drive. I was 19."
Mark won at Spa, was second in the British Championship and third in the EuroCup. Those results look pretty good, but Mark remembers it differently. "By the middle of that season I was struggling. I was living in a box-room in Hainault, on the outer reaches of the Central Line, and I was brutally homesick. I thought of everything I was missing in Australia, and I wondered whether I was really cut out for this. So I went home. Stayed for four days, realised that racing in Europe was what I wanted to do, came straight back." And this time he won the Formula Ford Festival outright.
Now Mark's eyes were set on F3. "Alan Docking offered me a drive for 1997: but to run a full season properly, car, engines, everything, he needed £230,000. In the end, between Yellow Pages and the little bit my dad could put in, we scraped together £100,000. My fourth race, a championship round at Brands, I won from pole. But by June there was no money left.
"Docko was great, but he said, 'We can't run this on thin air.' It looked like the end. Autosport ran a little piece saying I was all done and on my way home. Norbert Haug, the Mercedes team manager, saw that piece and called me: 'We're a driver short at the Nürburgring FIA GT Championship round, because Alex Wurz is busy with Benetton. We'll give you the seat for that one race.'
"Well, I said 'No'. It was a no-brainer. Eight months before I'd been a Formula Ford driver, and that CLK was a serious weapon. I said, 'I won't do the race, but I'd love to do a test.' So in July I tested the CLK at the Österriechring, and it went really, really well. On the back of that they offered me a ride for 1998 on a small retainer – £30,000 – and not only that: they paid for the rest of my Formula 3 season, and for the Zandvoort Masters and Macau as well. In all they shelled out £150,000: small change for them, I suppose, but it was the world to me.
"So at 21 I was a Mercedes works driver. I had a lot to learn. After FF and F3 the CLK's power was unbelievable: 7.2-litre V12, 750bhp. Suddenly all the tracks were smaller, the straights were shorter, everything was happening quicker.
"I was so lucky to be paired with Bernd Schneider. He was reigning FIA GT champion then, and I was all ears: I lived with him for a while in Cologne, which was great. In F3 I'd been pretty arrogant: I just wanted to get on and race, I wasn't into looking at the telemetry and learning from it. We didn't have any of that in Australia, and I thought that relying on it was a weakness. If somebody else was doing a corner better than me I felt I had to work it out for myself. I wasn't looking at the big picture. Bernd taught me how to give feedback to the engineers and use the data to get more from the car.
"But it took me a while to be quick in the CLK. In F3 you didn't really do much with the kerbs, but in that type of racing you had to make use of them, even to jumping across chicanes. That first season we won five of the 10 rounds and we very nearly won the championship. Unfortunately we posted one of Mercedes' only retirements: we were leading at Dijon and a rock got caught between a wheel and a brake caliper, and sliced the wheel in half. So our team-mates Ricardo Zonta and Klaus Ludwig took the title.
"In 1999, of course, it all went very wrong when we went flying at Le Mans. What really happened is that when we went to the pre-qualifying weekend we got smoked. Against the Toyotas and the BMWs we were off the pace. That pressed all the panic buttons. So they peeled some aero off to make the cars more slippery, and we did some straight-line testing at Hockenheim, then back to Le Mans. And in Thursday night qualifying I had the first flip.
"I was lining up to pass Frank Biela's Audi going towards Indianapolis. It's a good 180mph there. As I pulled out of his wake the car just went light and took off. Cartwheeled high into the air. It went very quiet, I saw the sky, and then the track again, and all I could think about were the three women in my life, Ann, my mum and my sister. I was paranoid about going into the trees, I knew how thin the screen was, and I thought: If anything comes in here I am secondhand for sure. Eventually I landed. The car was destroyed. I had a few cuts, nothing massive.
"During Friday they built up a new car, and on Saturday morning, on my out-lap in the morning warm-up, on the Mulsanne Straight it all happened again, just the same. Because it was an installation lap in a virtually all-new car, I wasn't completely on it. It was over that hump on the straight: it's been flattened out now.
"Since Thursday night I'd been a bit in denial. There were no photos or video of that one, and I told myself it can't have done what I thought it did, it can't really have gone as high as the tops of the trees. But it was a lot more public on Saturday morning, and it showed everyone that if you take off at 190mph, you really do go that high."
Once again the car was destroyed, once again Mark's injuries were cuts and bruises – "I was extremely lucky that weekend, mate" – but Norbert Haug took the controversial decision to start the race with the two remaining cars, having added small winglets to the front. "After all that effort, all that investment, he felt they had to run in front of the public. But me, even if there'd been a car left for me, I wasn't going to race. Mentally I was done. Before Thursday night I'd trusted that car more than I trusted my own mother. Now I was worried for my team-mates, for marshals, for spectators."
Three hours into the race Peter Dumbreck had an almost identical flip, and the remaining car was then withdrawn. After that disastrous Le Mans the CLRs were put away. "So I was unemployed. I was pushing hard to get an F1 test drive, trying various avenues, but Mercedes wanted me to do Indycar. Greg Moore was running for Forsythe, with Mercedes engines, but for 2000 he was moving to Penske. Then in October Greg was killed in his final race for Forsythe. I wasn't keen anyway: if I'd wanted to do Indycar I could have gone straight there from Australia. My sights were still set on F1.
"I was living in Aylesbury at the time, and I used to hang around Eddie Jordan's place, trying to get my face in there, using his gym. I didn't have a pot to piss in. Then Eddie said, 'You've got to meet this guy Paul Stoddart, he's got an F3000 team, he'll look after you.' The front half of the F3000 grid was pretty good then, and when I started to get some results Flavio Briatore came on the radar. He got me a Benetton test drive, and that went well, so for 2001 I had an F1 test contract, as well as pressing on with F3000 with Super Nova. And Flavio became my manager.
"People might think you couldn't find two people further apart than me and Flav. What he likes to get up to and what I like to get up to are very different things. But he managed me for the whole of my F1 career, taking a cut of my earnings, and that was the best percentage I ever gave up. We had just a four-page contract, and I never looked at it, because he never did anything he said he wouldn't do. He boxed my corner."
Mark finished second in the 2001 F3000 championship with three wins, including Monaco – his first at a circuit he would shine on later – and worked to a punishing F1 test schedule at the same time. Then Paul Stoddart bought the Minardi F1 team, and a door opened. "Stoddy offered me the first three races of the 2002 season. When we got to Melbourne we'd done precisely 17 laps of testing, because the thing was so unreliable. It had the old Asiatech/Peugeot engine that revved to 16,400 when the Ferraris were topping 18,400. I qualified 18th on a 22-car grid, but I worked hard and I finished fifth. After that Stoddy said I had the drive for the year. He didn't pay me, but more Benetton testing paid the rent."
Having made his mark, Mark accepted a two-year offer from Jaguar for 2003/4. "Bobby Rahal had gone, Niki Lauda was leaving as I arrived, and David Pitchforth and Tony Purnell were running things. With everything that had been happening at Jaguar there was no continuity, and when you're in that scenario you're always being reactive, you're never able to be proactive. Antonio Pizzonia was my team-mate, and his CV in the junior categories destroyed mine, but although he was quick in qualifying he was nowhere in the races."
It was in the 2003 British Grand Prix that a deranged priest ran onto the track, and Mark was closer to him than anyone else. "I'd just come onto the Hangar Straight, I was in sixth gear, and in the distance I saw what I thought was a bit of bodywork. A second later I realised the bit of bodywork had legs. And the legs weren't running across the track, they were running towards me, at me. I couldn't care about him, I was worried for us drivers – Tom Pryce was killed at Kyalami by a marshal crossing the track in front of him. I thought, if one of us hits him there's going to be a bloody mess. So selfish, so ridiculous. Fortunately, as I got to him, I zigged and he zagged, and I missed him."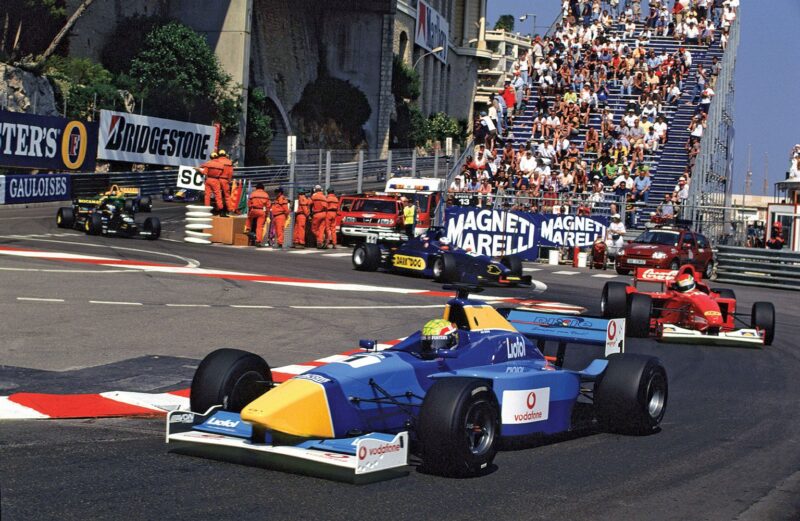 Mark had two frustrating seasons with Jaguar, although he did finish in the points 12 times. At the end of 2004 Ford sold the team to Red Bull. "Meanwhile I'd had an approach from Williams, and Flavio wanted me at Renault. In mid-2004 Ron Dennis talked to me about a place at McLaren: he wanted do a deal, but he said Flavio couldn't be in the picture, so I walked away from that. In the end I decided to go to Williams – the wrong decision, as it turned out. They didn't really have a winning car at that point. In F1, if you're three or four tenths a lap off, you're nowhere. It's a fine line between the White House and the shitehouse.
"I did score a podium at Monaco in 2005, and in 2006 I qualified second there and ran third until a broken exhaust burned out the electrics. I've always liked it there. The track's constantly changing, and there's no run-off, so the consequences are always there. At Monaco it's not you versus the other guys, it's you versus the track.
"Another disappointment was Australia in 2006. I led my home Grand Prix, but the gearbox failed. They hadn't done enough homework on part-throttle upshifts: it was fine when you were flat out, but the damage was done following the safety car at low revs. We weren't on for a win, but we were definitely on for a podium. Australia and Bahrain are the only F1 tracks where I never scored a podium.
"At the end of that season Frank said he'd keep me, but he'd have to pay me less. With the split from BMW the purse strings were tightening, and I don't think they were that bothered to keep me, to be honest. But at my last race with the team in Brazil Patrick Head said to me, 'Sorry we couldn't give you a car you could win with.'
"Then it was Red Bull. At that stage they were all grid girls and not much else, but Flavio reckoned they were going places. He was right. Adrian Newey had joined for 2006, and David Coulthard was my team-mate for 2007/8. I had a podium at the Nürburgring and a fourth at Monaco, but it wasn't until 2009, when Adrian got stuck into the new regulations, that we were finally there with a winning car.
"Adrian is the best guy I ever worked with, engineering-wise. In terms of what the driver wants he is very, very good at extrapolating what we are telling him about the car, and turning it into an advantage. He's had one or two cars he hasn't been proud of, he admits that, but when he gets everything right he really gets it right. His focus is a long way ahead: when he's asking you what's happening he's not thinking about this weekend. In testing in January you'll talk to him and you'll think, 'Where is he off to here?' And three or four months later something really clever will pop up, and you'll think, 'Ah, that's where he was going with that.' People think he is quiet and placid, but he's a dark horse. He is just so competitive. He hates to lose.
"For 2009 Sebastian Vettel replaced DC. I'd bust my leg the previous November in the Tasmanian Challenge: that's an event I organised to raise money to fight cancer. We got world-class athletes from around the world to do mountain biking, trail running, kayaking, plus a different mystery discipline each day, from abseiling to swimming. Over the years we raised a lot of money. That year I was biking down a mountain lane, met a car, couldn't get out of the way. I had steel rods in my leg for two years after that.
"That year Jenson won six of the first seven races with Ross Brawn's double diffuser. But after we got our double diffuser Jenson didn't win another race, although Rubens Barrichello won a couple. And at the Nürburgring I finally won a Grand Prix – and it was after I'd had a drive-through penalty. Rubens and I touched at the start and the officials said I'd been too aggressive, and that dropped me to eighth, but I came back. It was good to win on a day when most of the other top guys had a trouble-free run. Hearing the Australian national anthem ring out for the first time since it played for Alan Jones 28 years before, made it one of the special days of my life. And I won in Brazil too.
"In 2010 I had five more wins and five pole positions, and after I won Monaco I was leading the world championship. That was my best F1 year: I was enjoying the car, enjoying the tyres. Maybe it was the last real chance I had to express myself properly in F1, because that was the last year with Bridgestones. The Pirellis came in for 2011, and I never felt so comfortable in the car after that."
Much was made in the media of the rivalry and perceived conflict between Webber and Vettel, and the incident in the 2010 Turkish Grand Prix made headlines. The Red Bulls were running 1-2 but their fuel was marginal, and radio instructions to both told them to ease up. Webber, leading, did so. Vettel tried to pass and the two collided, handing a 1-2 to McLaren.
"If you're fighting for the championship and your own team-mate is your closest rival, it does put brutal pressure on the trust within the team. Seb's engineer, Rocky Rocquelin, and mine, Ciaron Pilbeam, didn't like each other. We didn't have separate debriefs, all the data was open, but the discussions were guarded. You have to wing your way through that, there's no manual for that stuff. Lewis and Nico [Rosberg] were all on their own last year, one of them was going to win the championship whatever happened. But we weren't. We had Lewis and Fernando in the game, so we had company. We had a job to do for the team.
"Going into the last race all four of us were still going for the title, and Seb got it. It took me a while to get over losing the championship, because I'd put so much into trying to win the bloody thing. Then in 2011 I was always recovering from bad qualifying, because I couldn't feel the Pirelli tyre. I was quicker in the races, and I set seven fastest race laps that year. In 2012 I won Monaco again, and Silverstone, but we had some failures. Then in 2013 there was the thing in Malaysia between Seb and me. By then there was so much history between us, that was just like another little tree on top of a big mountain."
That day Webber and Vettel were in a safe 1-2, and were told to hold position.
As Christian Horner said later, "We were in line to take maximum points for the team, but the tyres were very delicate and we didn't want them racing each other and maybe screwing the tyres. So we issued team instructions." Vettel ignored those instructions, even when Horner took over the radio from his engineer and said, "Come on, Seb, this is silly." Touching wheels at 180mph, Vettel forced past Webber in a blatant breach of team orders, and won the race. Webber followed angrily home, looking after his tyres as he'd been instructed to do.
"We'd spoken about it in the briefing beforehand, so it was all pretty clear. For me, it was a shame, after we'd come so far as a team, how fractured we were. Today Seb and I are very different, we're definitely better than we were. Time, and a glass of red, can do that. I haven't heard everything from him even now, but that day will come. Also, I think Seb today is not like he was. He was very close to Michael [Schumacher], and Michael's skiing accident knocked him a bit, preyed on his mind. And he has had a child. Maybe that has changed him.
"Anyway, F1 is different now. When they changed the rules and the Pirellis came in, the G-forces plummeted. Suddenly the drivers could get away with being 30 per cent less fit. The acceleration, braking and cornering forces in the mid-2000s made it the most physically demanding period. And the grandstands were pretty full, because the cars looked and sounded phenomenal, and they were hard to hang onto. The middle section in Malaysia, Turns 5 and 6, and Suzuka, you were measured there by your fitness and how big your balls were. It was hard to overtake, the braking was very deep, the cornering speeds were super-high. They need to go back to that.
"As for changing the rules to try to help the show: in tennis you don't put the net four inches lower to make Federer easier to beat. You don't move the goal posts wider for Messi. It's good to have more passing, but the quality is not there. It's not the drivers' fault, but it has worked through to the fans, and they're voting with their feet. Those super fifth-gear corners, like Turn 3 and Turn 9 at Barcelona, they were two of the places on that track where I thought I could earn an advantage. Now they have to lift there: the engineers are getting on the radio to say, 'Don't go too quick in the fast corners because you'll hurt the tyres.' Formula 1 should be about driving flat out for two hours, being strong physically and mentally, and being rewarded for bravery and a bit of risk.
"So when Porsche started to talk to me during 2012 I was ready to listen. They told me, in confidence, that they were going to start testing a new sports car in 2013. If it's Porsche you know they're going to do it right. I turned them down for 2013, said I'd come on board for 2014. It was all a big secret: we shook hands in the Stuttgart Airport car park.
"Brazil 2013 was my 215th Grand Prix, and my last. In the build-up to the race everything was pretty normal, but as I was being strapped in it hit me. This has been my life, since Formula Ford in New South Wales 20 years ago. Now this bit of my life is finished. I was fourth on the grid between Fernando and Lewis, and I said to myself, 'You're in this race, let's go for it.' I had a great battle with Fernando, got through to finish second. And I set fastest lap in my last race. It was my 19th Grand Prix fastest lap, which is the same number that Senna did, so I'm proud of that. Then I was on the podium with Seb and Fernando, had a normal debrief, thank you guys and went back to the hotel."
But if you think that allowed Mark to take some time off, recharge his batteries after 12 years of F1 slog, you're wrong. "The week after Brazil, I was in Portugal in the Porsche 919, testing. I could easily have taken a year off. I was pretty tired. But in this business things keep moving along and, no matter what you've achieved, you can end up under a rock pretty fast. So I came out of F1 and straight into Le Mans mode. It needed to happen, and I don't trivialise how jammy I was to have the Porsche deal ready and waiting for me."
For Porsche as well as for Mark, 2014 was a learning year. "I soaked up a huge amount in that first season. In Formula 1 you do one-hour practice sessions, you qualify, and then you have a 90-minute race. In sports car racing you do the practice sessions, qualifying, the warm-up – and there's still 1000 kilometres, or 12 hours, or even 24 hours to go. In a race that long the track temperatures vary so much. Driving the car at 6pm, or 2am, or 7am, in darkness, maybe in rain: those windows, and the opportunities they present, can all be totally different from one another, like you're in several different races inside one race. Then there's learning to work with your team-mates, and how to set up the car to suit all of you: even the basic things like your respective seating positions, how you deal with the seat belts.
"My team-mates are Timo [Bernhard] and Brendon [Hartley]. I have the basic seat, because I'm tallest, and in a pitstop as I get out they slip in another seat on top of mine. We can do our driver changes in 21 seconds, which is fine because the regulations restrict the number of mechanics working in a stop, and you can't refuel and change tyres at the same time."
So what is the car like to drive? "The four-wheel-drive component is unbelievable, with the combustion engine driving the back wheels and the electric motor driving the front. I came away from my last F1 race in Brazil, and a few days later testing the Porsche at Portimão I was driving something with more power. That got my attention. It's quite complex: not just the sensation of power but how you line the car up to the apex of a corner, the radius of the line, the way you fire the throttle. We've been working very hard with the engineers on the distribution of torque and power from the two power sources, bearing in mind that the torque delivery of an electric motor is very different from what happens with a turbocharged piston engine." Last year the pundits said the 919 was too heavy, and used its tyres too quickly. "The weight's been dealt with now, and we've been working on the tyre wear.
"In fact at Le Mans last year we did lead the race at one point, although we could never have held off the fastest of the Audis. But our car ran really well, and second place was ours until we had a terminal engine problem. We didn't expect to go that far, because we hadn't done so well in the build-up in terms of reliability. After the race Timo, Brendon and I went over to the Audi hospitality to congratulate them, and when we went in the Audi mechanics and drivers all stood up and clapped. That was special – you wouldn't get that spontaneous display of sportsmanship in F1.
"Porsche won the final round in Brazil, but I wasn't part of that because I had a big accident. We had a good 20-sec lead, and then after four hours we had a problem with the recovery system and started to lose power. When that was sorted we began to climb back through the field. I'd got it up to sixth when a GT Ferrari I was lapping touched my right rear and tipped me straight into the barriers. The car was pretty much destroyed, and there was some fire, and they stopped the race. Apparently I switched the car off, did all the procedures and got myself out, but I don't remember any of that. I woke up for a bit in the helicopter, then next thing I knew I was in the hospital being fussed over by a beautiful Brazilian nurse. Apart from the concussion I was lucky, couple of ribs and some damage to my left lung. Lying in hospital my pulse was so low the alarms kept going off, but I was fine: I'm pretty fit, so my resting pulse is very low. Next day a couple of local legends came in to see me, Emmo [Fittipaldi] and Rubens [Barrichello], which was nice.
"Now we're lining up for the big one. Le Mans has its own atmosphere, its own emotion. Plus that huge history: that's how it's been for more than 90 years, racing for a day and a night. In the past the reliability of the cars was more of a factor, so you always kept a margin. Now it's flat out, just flat out for the whole 24 hours. Last year I was in the car for three hours 40 minutes at a stretch: that's double a Grand Prix length. Four stints: pits every 55 minutes, stay in the car, refuel, out again. Hard on it every single lap.
"What matters is what we call the stint average. It's new terminology for me, but that's what we're all measured on. It's no big deal if you can do one quick lap, or two or even four, but what matters is your average lap time over the whole stint, keeping the pressure on consistently, all the time. Individual quickies don't count: you can pop in a quick one if you like, but you have to make sure all the others are really close to it.
"We wouldn't want every race to be like Le Mans. Over time the track has changed a bit, of course, but not much. This year the lap times will be the quickest we've ever seen, and it's still a very dangerous race. The drivers in every category know that, and respect it. It can bite.
"But that's the challenge of the place. It's always been utterly unpredictable. You can't look at Le Mans and say, 'This is what's going to happen.' You can never say, 'We're going to smoke it,' or 'They're going to smoke it.' Not with this race.
"Le Mans is something else, mate."
Mark Webber
Career in brief
Born: 27/08/76, Queanbeyan, Australia
1991 started karting
1993 NSW kart champion
1994 FF1600
1995 First races in Europe
1996 FF Festival winner
1997 British F3, 4th
1998-99 FIA GT, Mercedes
2000-01 FIA F3000, 4 wins. F1 testing with Arrows & Benetton
2002 F1 race debut, Minardi
2003-04 Jaguar
2005-06 Williams
2007-13 Red Bull, 9 GP wins
2014-15 WEC, Porsche