Racing Lives: Martin & Stefan Donnelly
The Donnelly name is a Northern Irish motor sport institution, having spanned 13 Formula 1 grands prix, sports car racing at the highest levels, the British Touring Car Championship (briefly) and graced many club racing paddocks. The family even has a prestigious annual Formula Ford 1600 event in its honour at Kirkistown. Defying death in a horrific accident at Jerez in 1990 cost Martin his F1 career, but he returned to club racing, is chief instructor for Lotus and helps out on the issue of driving standards at high-profile events, like the Goodwood Revival meet. His eldest son, Stefan, surprisingly only began racing in 2014. Not surprisingly, it was in a Lotus…
Martin: Dad was a hard-working man. His release was motor racing. When I was born, he arrived during visiting hours at the hospital with a bunch of flowers for my mother, and asked what sex I was. She said, 'Pick the child up and see for yourself.'
So he picked me up, holding me in a muslin; when he put me back he'd slipped a shark-nose Ferrari into my arms. So it was my destiny to go racing.
When things fell apart, after my big accident, [Donnelly came close to losing his life, at the 1990 Spanish Grand Prix while driving for Camel Lotus] it didn't just end my career in F1, it ended my earning potential. I missed out on millions. Which in turn meant that, once Stefan came along, I was never going to be in a position where I'd be able to afford to pay for him to race.
So the only way I could help him get into a racing car was through my friend Paul Golding. Paul organised the Lotus Cup UK, and offered me his car, with no test or entry fees. To begin with, Stefan was about two seconds off my pace. But towards the end of it, he was just a few tenths off and keeping me honest. Then came the crash. I was in another car that weekend, and when I came around, I could see the car pinned against the pit wall with its rear-left wheel up in the air, and it looked serious. My heart just sank and I thought, 'Oh God, Stefan!' and didn't know if I could stop or what to do. Then as I passed again, a guy from the pits gave me a big thumbs up, telling me he's okay.
The trouble was, his book work and studying was starting to suffer and we needed sponsorship to continue. Now that he's working in law, hopefully one day he'll have his own name above the door.
I'm also doing my bit for his younger brother, Owen. He's 14, and has been karting. We'll give him a go at Ginetta Juniors, but I've said to him, 'Get your education, earn your money, and then go racing'.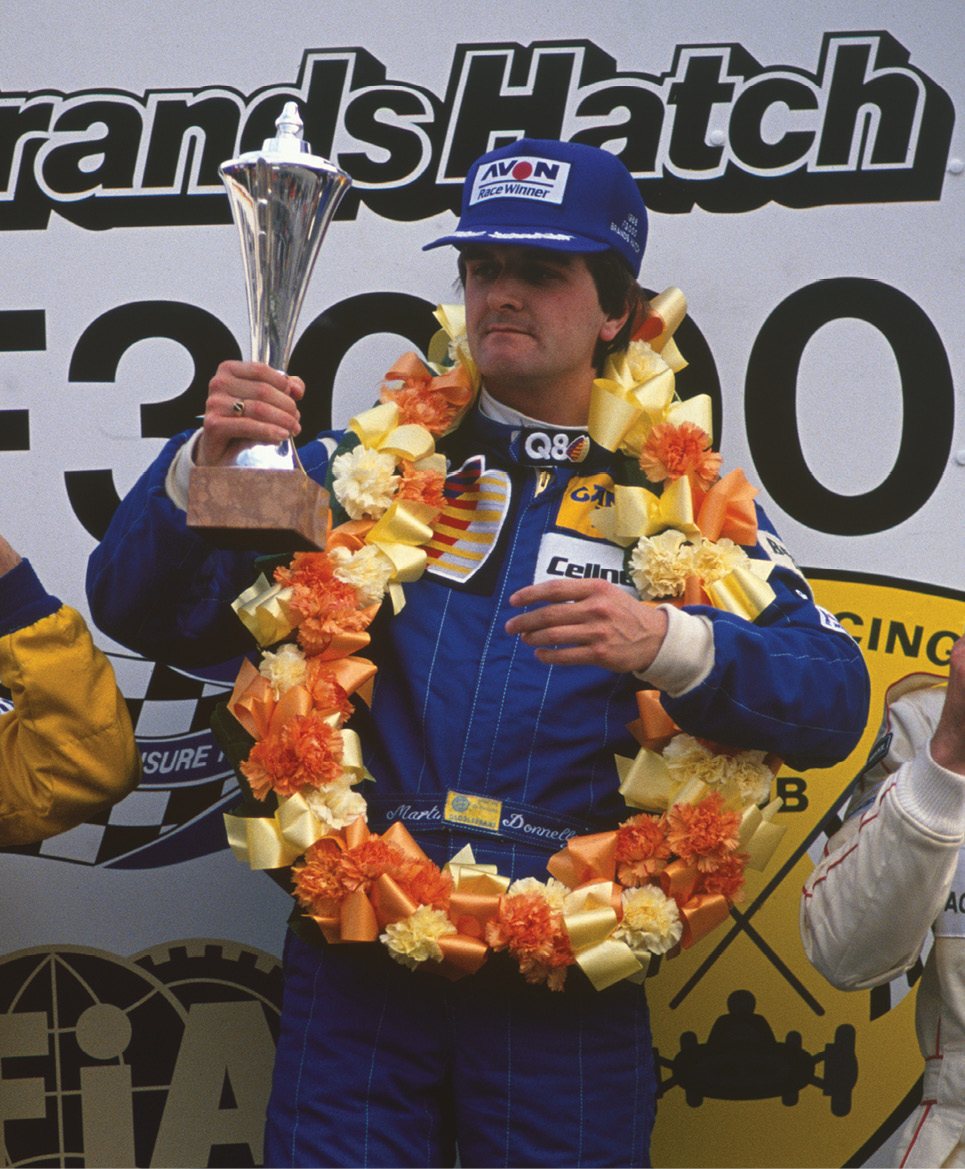 It was Stefan's former girlfriend who suggested he rethink his career path. She was studying in law, and told him that during a recession, you wouldn't need a sports physiotherapist or nutritionist to race cars but you'd always need a lawyer or solicitor.
After he had got his degree from Loughborough, we took him out for dinner, and he told us he wasn't going to use his degree. It was hard for me, personally, because he went through Wymondham College, and university, and came out with no student loan, all funded by me and his mum, and that was quite difficult. I suggested he give it a year or two, but he said no, I'm going to do a law conversion course. But it was the right decision.
Yet it's kind of ironic that he has ended up wanting to specialise in sports contract law. In my day, those things were informal.
My big break came down to playing things fast and loose. Eddie Jordan wanted me to leave F3 in the middle of a season and switch to his team in F3000, but he was charging £30,000 for five races.
My sponsor at the time, Frank Nolan, had died from a heart attack and nobody other than me and his family knew he hadn't made a will. The court froze the bank accounts. EJ didn't know that. So I signed a contract and just got my head down with the driving. EJ kept hassling me, 'Marty, Marty, where's me feckin money?' Luckily I had two wins, two seconds, a pole and a lap record, and then I was on the market, and within four months EJ was paying me, for the following season, £50,000. That gamble paid off massive.
These days, I see all the old 'Rat Pack' every December. We've got Dumfries, Brundle, Warwick, Soper, Bailey, Herbert, Blundell, and we'll drink, drink, drink, and tell great stories. We were all great mates back in the day, but even so, when you put your helmet on to race against those guys, you knew there were no favours.
Since 2005 I've been involved with the Lotus Academy. In a way, that gives me my motor sport fix. We teach guys how to drive quickly but safely. Through that, Stefan and I are off to America this summer. We're going to Boston, to the Lotus Drivers' Club, and I'm doing an after-dinner speech, then the following day we're coaching at a track. Stefan sorted it, and it will be great to spend time with him. Then again, he only lives three miles away and we meet for a beer and a burger most Mondays!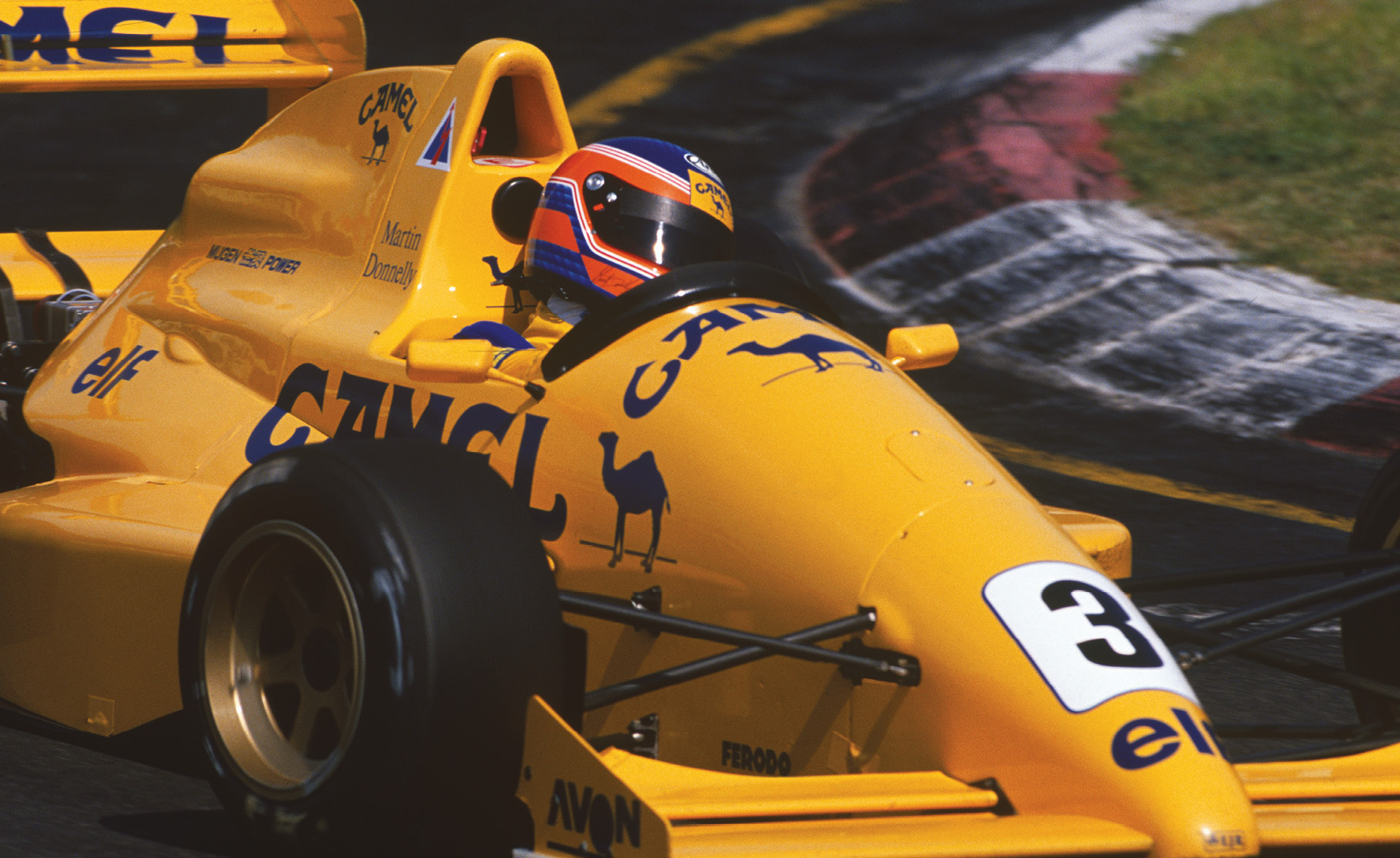 Dad is known as the fun guy in racing, someone who never takes himself too seriously. But mum [Diane Donnelly, now separated from Martin] always says he was horrendous to be around when he was racing.
The moment a race weekend started, he had all these superstitions. He could only get in the car from the right, and out on the left; the same with pulling on his gloves. And if one strap wasn't facing the right way, he'd have to undo them and start all over again. Some people would be bitter about what happened to him. But he knows it wasn't meant to be. Senna's death put things into perspective.
He tells me, 'I was never going to be the driver Senna was. He had all the money and championships he could want, but he's not here today and I'm still here and I have you, Charlotte and Owen.' I think that brought a bit of closure for him.
That's not to say he didn't still love motor racing. For my third birthday, my granddad made me a makeshift go-kart with a Honda engine, but mum was having none of it and wouldn't let me drive it until I was four.
"I was never going to be the driver Senna was, but he's not here today"
So for my fourth birthday, I got given a helmet. At the time, dad was running Martin Donnelly Racing (MDR), and they were based at Snetterton. About 100 yards from the workshop there was a little skid pan, and it was perfect for having a little bit of fun.
Dad laid out a crude circuit on it, and I used to go down there, after school. He'd get on the team's scooter, and we'd race around the circuit together.
Racing stopped when I went to boarding school. I wanted to attend Wymondham College for the sport, but we were outside the catchment area, so boarding was the only way I could get a place there.
When you're brought up around motor sport, that's all you want to do. At that point in my life, I wanted to be a racing driver. However, I was too young to appreciate what they'd been through or achieved, and couldn't quite grasp why Dad didn't want me to get involved in a serious capacity.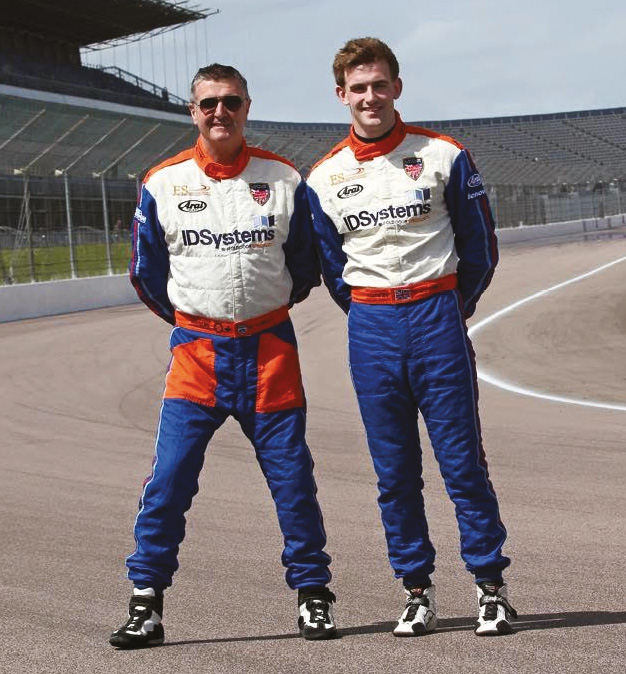 He always quotes this line: 'It's the wrong way to riches.' And my mother, for obvious reasons, was absolutely beside herself when I got into a racing car. She had extremely strong views about me and motor sport.
When I raced in the Lotus Cup UK and Elise Trophy [in 2014/15], I shared the car with Dad in the first year during all the one-hour races. Mum couldn't stand to be around. She had to take herself off, and would only emerge toward the end of the race if things had gone well.
There was one incident, at Brands Hatch, where the pole-man stalled and as I went left, the car to the left of me went right, and we pincered each other and went into the pole man, piling into the wall. It was a heavy shunt. My car was pinned against the wall, with one of the other cars against my left side, and I couldn't get out, but I was perfectly fine. Mum had been watching from the paddock grandstand, saw the whole thing unfold and went into complete panic, as the ambulance pulled up, doctors swarmed around me – and of course, all she could see was that I wasn't getting out. She didn't come to a race circuit after that.
I studied Sport and Exercise Science, and the objective was for me to get into top levels of motor racing, as a strength, recovery and nutritionist expert. But I soon began to have doubts. I loved driving, but I didn't want to work in the industry, especially giving drivers massages, preparing meals, doing their diet plans and working on training.
I'd always been interested in law, and found I could do a conversion. So I threw myself into it. It's important that aspiring sports people elevate things beyond a handshake and a gentleman's agreement. That may have worked in my dad's day, but it's a more professional environment now.
I will be racing in my grandfather's memorial race – the Martin Donnelly Trophy – at Kirkistown this September. Aside from being a Donnelly in the race, I'll also be driving a Crosslé 32F which is the first FF1600 Dad raced. The car will be liveried exactly like his original one. Dad's coming to watch. It'll be special. James Mills
---
Follow James on Twitter @squarejames