Letters
What a fine appreciation of 'Gentleman' Jim Russell in your June issue, accompanied by a great photo. I was a Jim Russell Racing Drivers' School pupil from 1967, and I am sitting in the fourth car back in the Ford Motor Company shot you used.
I remember this day well – it was wet, and all we wanted to do was get out there and drive, but the FoMoCo photographer seemed to take forever.
When I had my initial trial it was with Lotus 51 Formula 3 cars, but by the time I returned for my first lesson they had been fitted with 1600 Ford Cortina engines, and Formula Ford was born. Jim used the Lotus 51s for training – and for the inaugural FFord race at Brands Hatch in July 1967 – until Alan Taylor delivered the first of the Russell-Alexis chassis. Russell had his own cars built, rather than pay for a minimum of 50 that Lotus's Colin Chapman demanded, and Alexis used a Hewland gearbox rather than Lotus's unreliable Renault.
Also in the photo behind the first car are suited school manager Colin Campbell, next to Jim's brother-in-law mechanic Ralph Firman, who went on to found Van Diemen. Jim was a great tutor, and kick-started my racing career. My intake included Ian Ashley, Claude Bourgoignie and John Jordan and, as I graduated in 1969, a young Brazilian by the name of Emerson Fittipaldi was just joining…
Mark Cole, Buckingham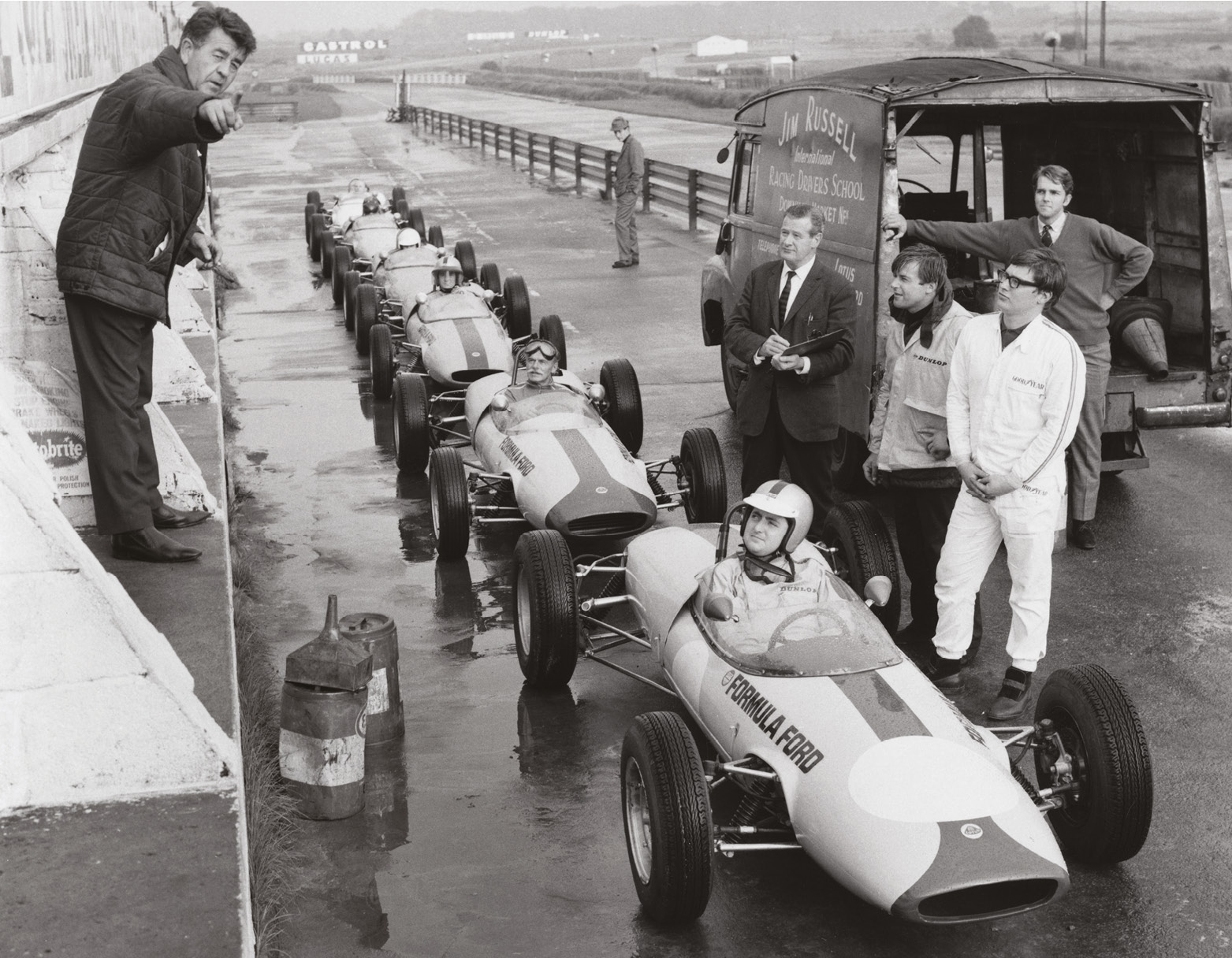 ---
I read with great interest and nostalgia the article on the Lotus 19 – chassis 953. Although only aged eight in 1961, memories of this model Lotus are still quite vivid to me. Your piece brought back many fond recollections of attending race meetings at Mosport Park with my dad.
In 1961, Mosport Park had just been constructed and the Player's 200 race held in June was the first major race to be held at Mosport and more significantly, the very first sports car race in Canada to receive international recognition. Stirling Moss was brought over to drive a light green Lotus 19 Monte Carlo no7 and in qualifying smashed the lap record by a full 5sec. He went on to win in a very convincing way the next day. So impressive was the performance of Moss that weekend that people started referring to Mosport (correctly referred to as the portmanteau of 'Motor' and 'Sport') as Moss-port, a reference still used by many people to this day! The wonderfully smooth driving style of Moss and his beautiful Lotus definitely left a lasting impression on me and cemented my interest in motor sport.
It is unclear to me if the car Moss drove in the Player's 200 that weekend at Mosport was chassis 953 [as we featured] but if it is, I wanted to let you know that both the Lotus and his performance played a very significant role in the history of Canadian motor sport.
Bill Wilcox, Ontario, Canada
---
Following the articles about the tragic events of Imola 1994 (Motor Sport, May 2019), I'd like to relay my experiences of that period.
By April 1994 I was still a young engineer working around my native East Anglia, but I had been offered an opportunity at TOM'S GB: a short-term trial updating the design of a spec-formula car. I was due to start on the first day after the bank holiday weekend.
I was therefore still 'on the outside, looking in' as I watched the sad events unfolding at Imola, but would be very much 'on the inside' thereafter.
Arriving at the office for my first day I was inevitably a little nervous. I remarked that it was perhaps an unfortunate week to begin my involvement in the industry, which was generally agreed. The mood was a little sober. I later discovered some of the people I was working with had been close to both Roland Ratzenberger and Ayrton Senna.
During development of the update package for the spec-formula car, added side cockpit protection was introduced, entirely due to the events that occurred just weeks before. What started as a brief programme of work experience became a significant part of my career, and I spent 14 years at the facility in Hingham, and enjoyed victory with the Bentley Speed 8 – but I will always remember when I began my career there, because of that fateful weekend.
Martin Cutting, via email
---
While I think that 112mph is more than sufficient, I have to agree with Andrew Frankel's comments in the May issue regarding Volvo's planned top speed limit. As Volvo says: "the goal is that no one is killed or seriously injured in a new Volvo by 2020". The minute they can guarantee and assume full responsibility that no one will be killed in a Volvo travelling at less than 112mph, I will be impressed. As long as they don't, I see it as a cheap publicity stunt.
Raimund Fein, via email
---
Your latest issue was, as ever, a bloody good read! And that includes the 'Heroes of Le Mans' feature. I was extremely pleased that your 50 greatest drivers list was not based on statistics alone, but that heroic endeavour was also part of the selection process.
However, I was surprised that Luigi Chinetti was not included. His record at Le Mans speaks for itself; 11 starts, 3 wins (1932,1934,1949). The 1949 win was Ferrari's first and he was at the wheel for 23 hours!
Martin Tomlinson, Duxford