It's easy to get complacent about the British Grand Prix as just being another fixture for the travelling Formula 1 circus. But Silverstone represents so much more than that when you recount the facts.
For instance, were you aware that the former airfield in Northamptonshire is the third-fastest circuit to host grand prix racing all year? Only the straight-dominated Monza and the legendary Spa-Francorchamps tracks outstrip the average lap speed of Silverstone's Grand Prix loop.
Lewis Hamilton set the current race lap record in 2017, with a 1min 30.621sec effort. That's an average speed of 145.4mph across the 3.66-mile lap. Take the cars in qualifying trim and you can lower that to 1min 25.892sec – also Hamilton, from last year. That's an average of 153.4mph. In other words, an average lap speed faster than most road cars can hope to attain in a straight line.
As technology in F1 has progressed, so has the challenge of Silverstone. Among the plethora of modern-day 'Tilkedrome' circuits that now populate the calendar, Silverstone is something of a dinosaur – but it's all the better for it. It's an old-school flat-out thrash, and still represents a true test of grand prix drivers' bravery and ability to become one with their car.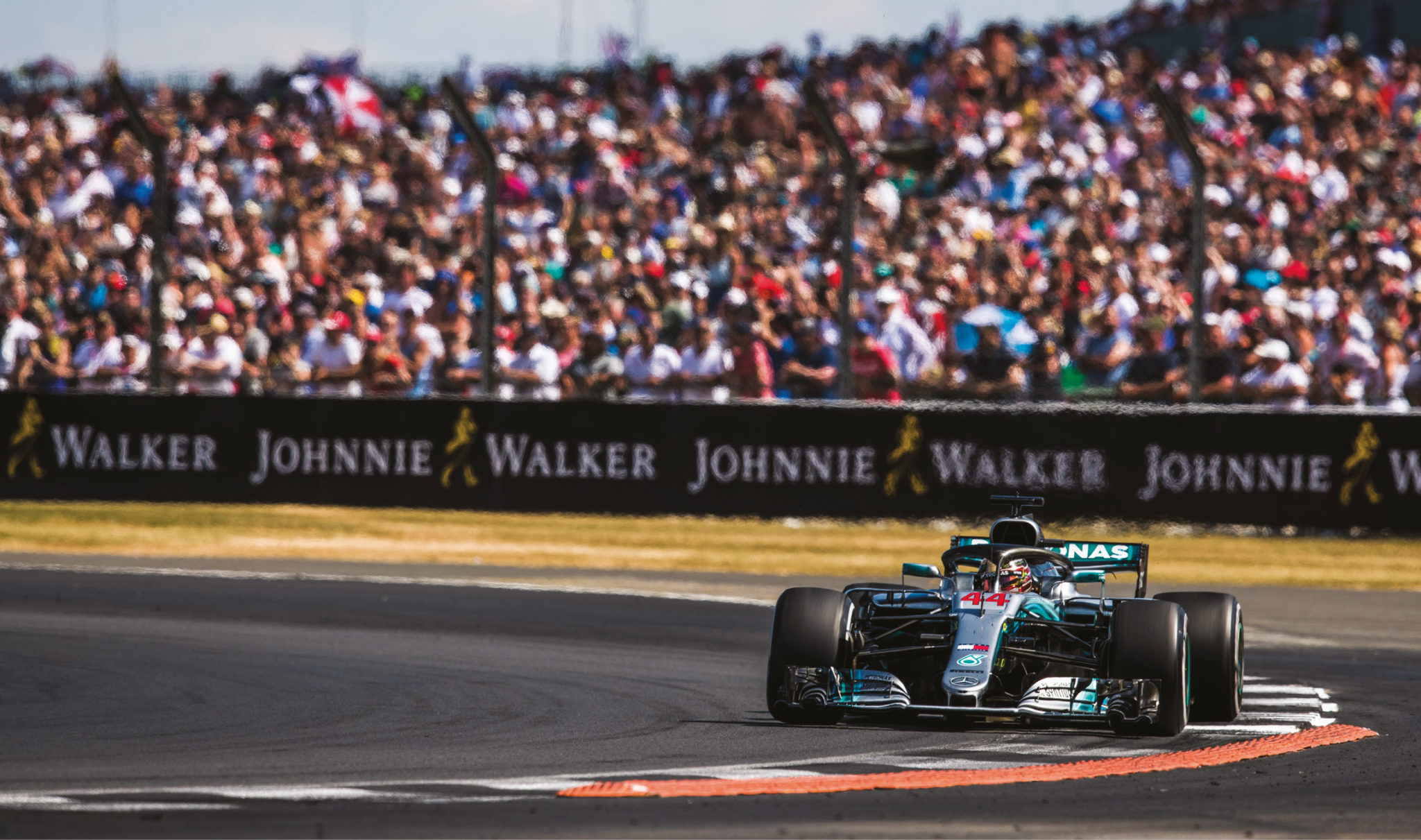 Silverstone today is actually not far from the challenge it was historically, and that's largely down to the development of the cars. In its second iteration using the RAF airfield's perimeter road from 1949, cars would commonly use the two highest gears for every corner bar one – the Bridge chicane – making the track an ultra-fast test. The venue's major redesign in 1991 aimed to make it more challenging and gave us the current Maggotts-Becketts-Chapel complex. The changes did slow cars down, before technical progress sped them up again.
The rise of aerodynamics, suspension and tyre technology had a profound effect on cornering speeds, and this current generation of F1 cars is the fastest ever when it comes to fast and flowing circuits. The V10 generation of 2004 still holds some lap records, but the current crop is unbeatable at venues like Catalunya, Spa, Interlagos, the Red Bull Ring and Silverstone.
The Silverstone layout changed to the current 'Arena GP' configuration from 2010, when the lap was increased by 759 metres and the old Bridge-Priory corner combination became obsolete. Cars have developed in a relatively short time, too. Take 2016, as an example. During the last year of skinny tyres and trimmed wings, Hamilton's pole lap for Mercedes measured an average of 147.6mph, nearly 6mph slower than he managed last year. To put that in context, if he'd done the same lap last year, he'd have started stone last, behind Sergey Sirotkin's Williams. Such is progress.
"The thing that stands out about Silverstone is its sheer high-speed nature," says Karun Chandhok, who has raced on the circuit in everything from Formula 3 to GP2, F1, LMP1 and 2, and even Caterham and Peugeot 306 school cars. "You have huge average and top speeds and there are a lot of forces going through the cars, drivers and tyres. With the level of downforce and the wider tyres the cars have gone to now, many of the turns are completely flat out. It's become a real power circuit again. The fact that drivers now can take Copse flat in top… that's amazing. And even for the technical sections like Maggotts and Becketts, they're flat on entry and for the middle part of the complex, then basically just lift before the final part because the cars have so much drag from the extra aero and they use that to slow them down. Many don't even touch the brakes. It's amazing to watch.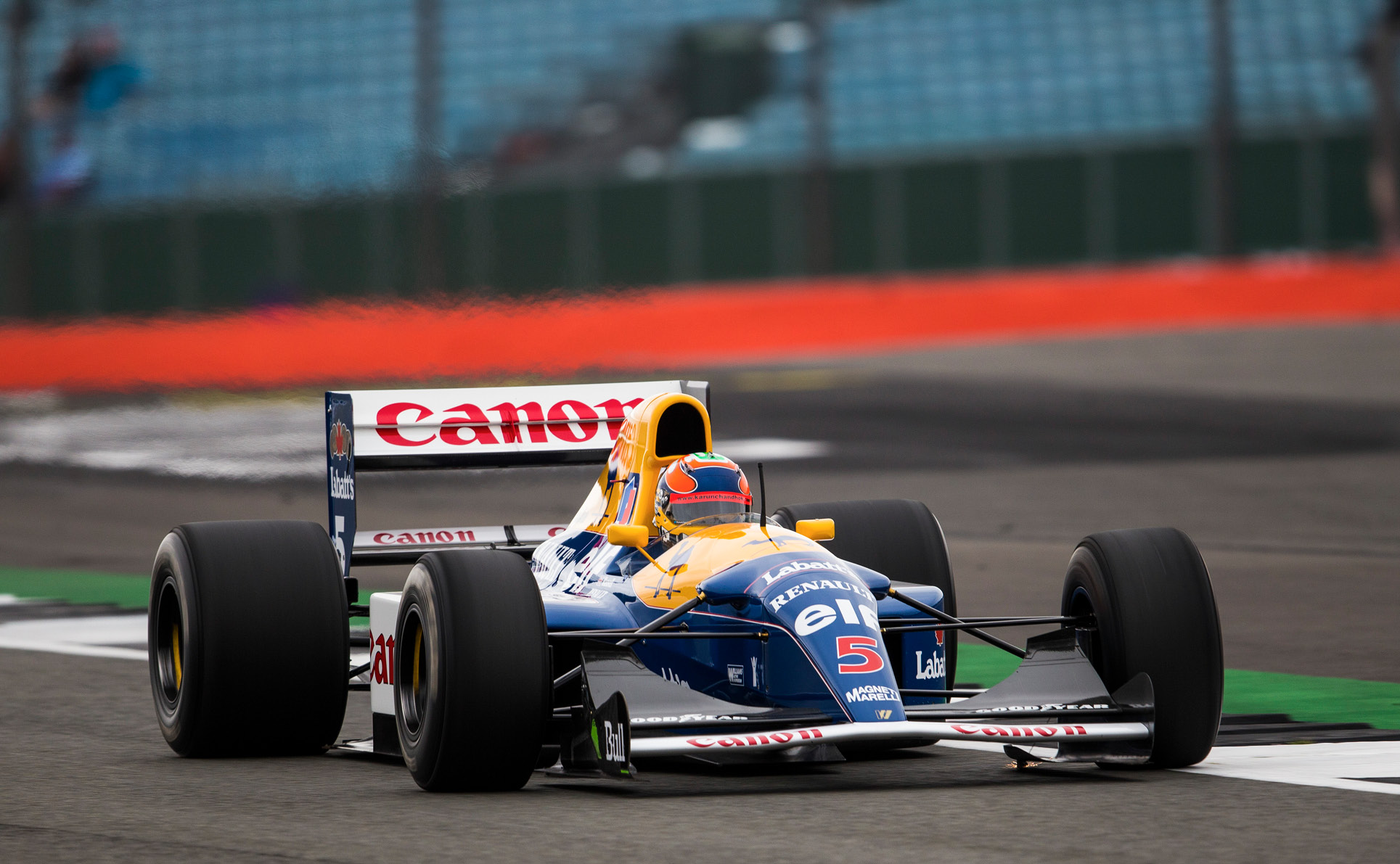 "For myself, that run from the old start-finish line, through Copse, Maggotts, Becketts and up to Stowe is one of the greatest high-speed challenges on the F1 calendar. You must have complete trust in the car and complete commitment. If you're not on top of the car as a driver, you'll struggle. Silverstone isn't a place where you can go and just expect to get a lap time, you really have to work hard for it."
Silverstone is the first race on the calendar that subjects the drivers and cars to such extended levels of cornering force. Your car might be quick in a straight line, but if it's lacking downforce or balance, or your driver is lacking feel and confidence, then Silverstone will expose those shortcomings.
"No matter what you're driving around Silverstone, you'll find its limit," says Anthony Davidson, who raced on the old Silverstone layout for Super Aguri in F1, and won on the modern track for both Peugeot and Toyota in LMP1. "Getting to feel a car on the limit is what this sport is all about, and Silverstone is one of the only tracks left that really stretches an F1 car's legs. It's like Spa, or Suzuka.
"You must have huge trust in the car, and complete commitment"
"Silverstone has actually kept up with the development of F1. At places like the Hungaroring you could argue that the cars have outgrown the track and the racing suffers because of that. Silverstone always highlights a good car and a good driver. You have to be so brave in the high-speed stuff and have a good feel for the intricacies of the car stepping out. You are always over the grip limit through the fast bits, whether you're in an F1 car or a Volkswagen Golf, and it's not changed much. I was there as a kid for the 1987 British GP with Nigel Mansell versus Nelson Piquet and their battle into Stowe and how they approached it, and it's still much the same.
"The cornering forces are hard to contemplate, even in LMP2 the g-forces are big. And you don't just get them in one direction as a driver, because there are multiple changes through places like Maggotts/Becketts and Abbey/Farm. I can't imagine what it feels like with today's cars… it was unbelievable in a 2005 Honda! But today's cars produce so much more downforce and the speeds they are carrying are far greater.
"In terms of preparation, I'd always up my neck training before Silverstone. There are certain tracks where you know your neck will take a pounding, so you wouldn't train for places like Monza or Budapest, but Silverstone is so physical. Today, if you did 20 qualifying laps, you'd see fatigue kicking in and see the athlete becoming the dominating factor of performance, not the car. It's one of the highest cornering-energy tracks on the calendar and the driver really does make the difference in the races."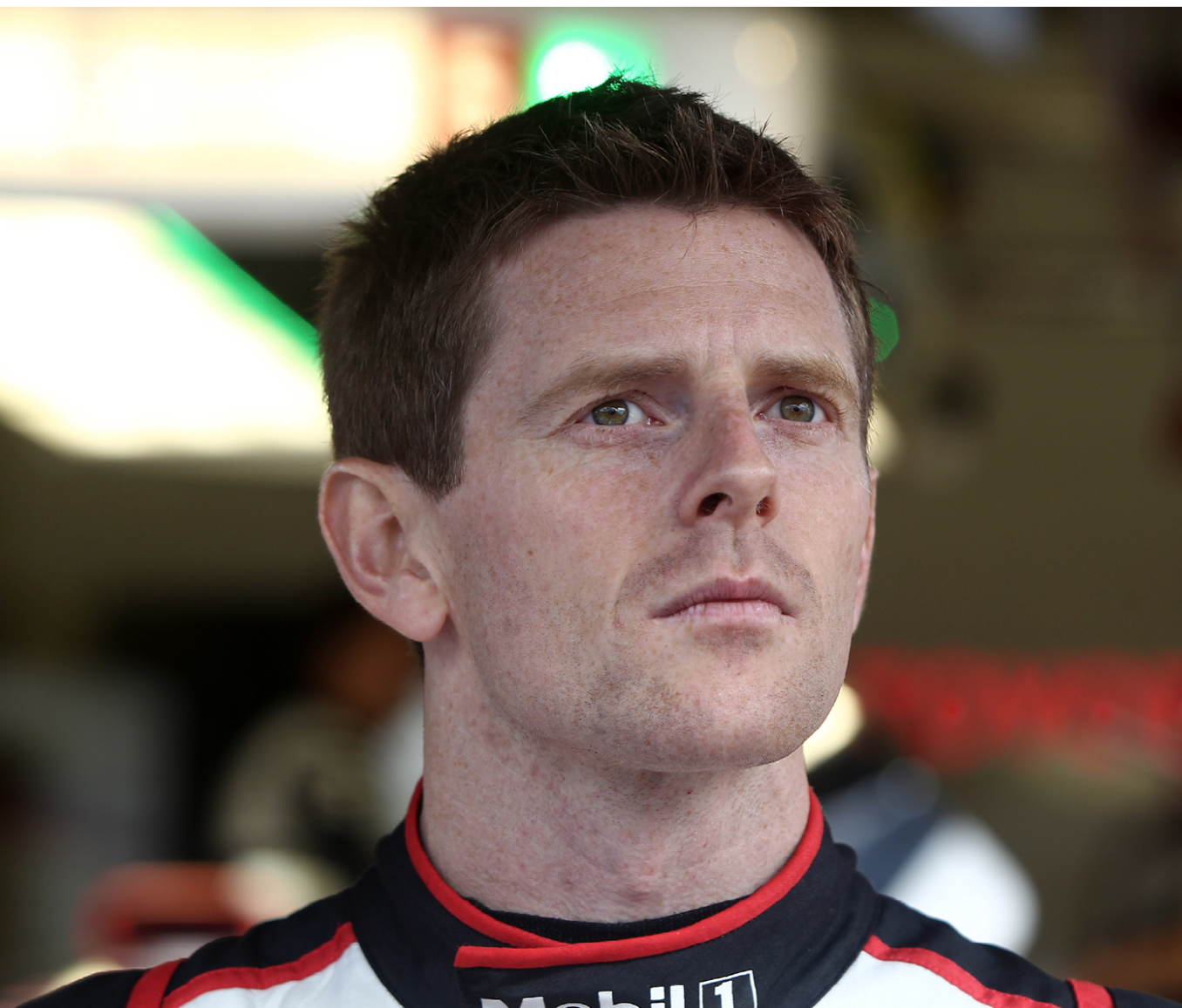 Since the dawn of the turbo-hybrid engine era, Mercedes has been the dominant force at Silverstone, with Hamilton winning four successive races from 2014-17 and only Sebastian Vettel's Ferrari interrupting the streak with his victory last year.
Andrew Shovlin is the chief race engineer for the Mercedes-AMG F1 Team. He says that Silverstone can present a tricky challenge when it comes to setting up a car to a driver's liking.
"One of the big challenges is that so many of Silverstone's corners are big change of direction combinations, such as Maggotts/Becketts, Abbey/Village or Brooklands/Luffield," Shovlin says. "If you have a car that's on the nose and oversteering, your driver will have to deal with a lot of sliding and will likely overheat the rear tyres and get poor corner exits. Whereas if your car is understeering then they just won't make it round the longer corners. You really need a stable car that you can load some front-end on without the rear suffering too much. It's those high-speed changes of direction that really test a car and highlight any weakness.
"Because so many turns are coupled together you also have the knock-on effect that any problem at the start of one sequence is multiplied by the end, so the time loss can be massive if the first apex is bad.
"The fact that many of the corners are now flat in these high-downforce, high-grip cars has changed the engineering challenge, and it's also made them very tricky for drivers. Take Copse, which is absolutely full throttle now, and the driver has to turn in at the exact right moment and get the car placed perfectly both mid-corner and on exit, all when travelling at huge speed. Drivers need to know that they can commit and give it everything and that the car underneath them will stick and behave consistently and predictably. If a team has less downforce, they'll need a very brave driver as they'll always be wondering in the back of their mind what the car will do when they turn it. Silverstone has a way of sorting the very good drivers from the good ones."