There has, it seems, always been a small gap in Stirling Moss's history. The result for the 1953 GP at Monza showed him finishing 13th. However, behind that modest position is a tale of a concerted attempt to ambush this Formula 2 event.
The car, a Cooper/Alta. The fuel, a nitromethane derivative, and the clue an SU 'petrol' injection system. To quote Mike Hawthorn, "What the… have you got in there?" Why then the lowly result? Tyres! We made pitstop after pitstop to change tyres that simply could not contain the power that the engine was developing. Try to stop Stirling going so fast? You must be joking. At one stop, the flailing tyre had broken the bungee holding on one of the two side saddle tanks. While Alf Francis and I worked to secure and reroute the fuel supply, someone threw one of the old wheels over the pit counter which exploded on landing. Alf called out to me, "Nick, I don't know how high we are but keep going." We did, to get Stirling home.
Nick Manley, by email
One of my outstanding memories of Stirling was at a Brands Hatch meeting on August 1, 1960, during the touring
car race won by Roy Salvadori in a Jaguar Mk2. However, an accident took place when Graham Hill's Mk2 came out of Bottom Bend and for some reason spun sharp left into the bank with some force. Graham was badly winded and still in the wreck.
Stirling, still recovering from his Spa accident and spectating from behind the pits, dropped his crutches and rushed across to Graham, who was still inside the car. Such was his sportsmanship and concern for his friend and fellow competitor.
And thank you Motor Sport for your superb June edition featuring so much of our late great British Treasure Sir Stirling.
Roger Bunting, Harrow, Middlesex
On the topic of the successes of the Ford Escort Twin Cam from your May 2020 [Speedshop Race Car] issue, the year before the Escort was announced, I acquired a racing Ford Anglia. I was cogitating what to do with it when I had a call from a Bert Avard, the chief engineer on Ford's AVO project: he and some colleagues had a Twin Cam engine and were keen to put it into a body shell. The Ford hierarchy had no wish to be involved; it was to be an amateur venture.
I passed the shell over to them, to be worked on in a lock-up garage in Dagenham. The car was entered for the all-Ford Ilford Trophy, with Alan Peer driving, and not only did it win the trophy, but it broke the class lap record at every circuit it raced on.
At the year's end, Peer won a special race at Brands Hatch, but on the lap of honour, he rolled the car. I never learned what happened to the wreck, but I never head of another Twin Cam Anglia. Soon after, Ford announced the Escort and the Twin Cam Escort.
I respectfully submit that Peer and the Anglia were, in fact, the first race winners in a Ford fitted with the Twin Cam motor.
Ian Grant, Sittingbourne, Kent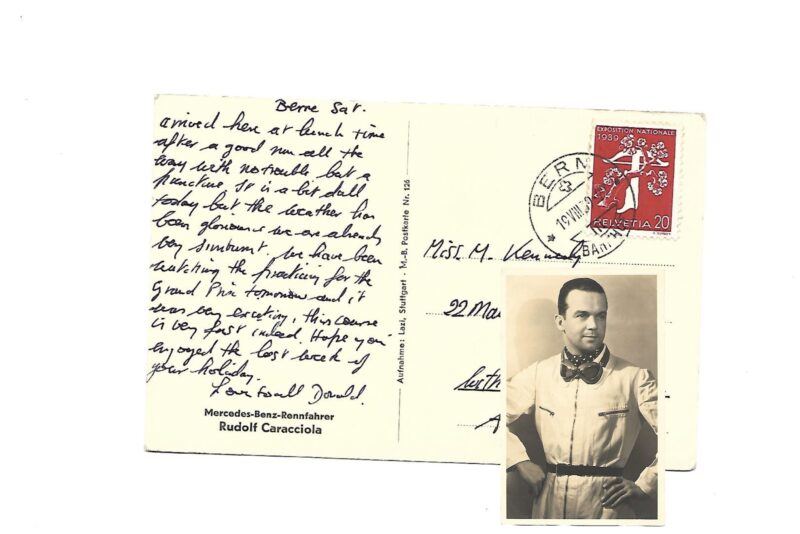 Thank you for an excellent April issue, particularly Richard Williams's article on Dick Seaman. I recently found an old postcard which reminded me all too vividly that the current grand prix season is not the first to be truncated by a global crisis. I am of course referring to the 1939 season which came to an abrupt halt following the Swiss Grand Prix at Bremgarten, Bern on August 20, 1939.
The postcard, an official Mercedes-Benz photo of one of its star drivers, Rudolf Caracciola, is postmarked August 19, 1939 and was posted at Bern railway station. The sender writes of watching practice for the grand prix, which he found "very exciting" as the course was "very fast indeed".
The fifth and final GP of the 1939 season was to have been the Italian but it did not take place as just two weeks after the Swiss GP Britain and France declared war on Germany.
The 1939 championship was never officially awarded, but Auto Union's Hermann Paul Müller headed the unofficial championship standings, by virtue of having finished fourth at Bremgarten. However, the German authorities declared Hermann Lang to be the champion, with his two wins (Spa and Bremgarten) to Müller's single victory at Reims-Gueux. Let us hope that the result of this year's championship is somewhat clearer.
Peter Cowley, Shipston-on-Stour, Warks
Like other schoolboys of the 1950s, Stirling Moss was my hero, and I can remember the thrill of watching him racing at Brands Hatch in 1959, '60 and '61. I was at Goodwood on that fateful day in '62, although unaware of the seriousness of his crash until later.
I suspect that had the Goodwood accident not happened then 1962 might have been, from an F1 perspective, a difficult year for my hero. For one thing, Jim Clark had shown in the final two F1 races of '61, both in South Africa, that he now appeared to be at least as quick as Moss. Secondly, the Ferrari that Moss was due to drive in '62 was to prove uncompetitive, and even with Moss's brilliance, it is hard to envisage it would have had the desired success. The logical fallback would have been to use a Lotus 24, which might well have been slightly quicker but probably less reliable than the Ferrari.
Either way, the BRM of Graham Hill, perhaps the fastest car of 1962, and the combination of Jim Clark and his Lotus- Climax would have presented very tough challenges for Moss.
Geoff Whyler, West Wittering, Sussex