Yuki Tsunoda: Talent to swear by
The youngest driver on the F1 grid, Yuki Tsunoda has been known to lose his cool on the team radio, yet the impulsive 21-year-old has the self-belief to finally break a Japanese driver into the winner's circle. Adam Cooper interviews the country's great hope – without an expletive to be heard...
Can Yuki Tsunoda become the first Japanese driver to score a grand prix victory? That's certainly the view of his main backers, and if he continues on his planned progression and eventually joins Red Bull Racing, the opportunity to win races will be there.
Tsunoda has already made a little bit of history by becoming the first driver born in the 2000s to make it to F1. It's been far from an easy transition with AlphaTauri – incidents and colourful radio messages have attracted as much attention as his pace – but those who know him well agree that he is a fast learner, and he will get there.
"He had a stupid mistake in Imola," says his number one supporter, Dr Helmut Marko. "Now he is a little bit more careful. We are fine with him. Progress is as planned."
"He coped with every situation we threw at him," says his 2020 F2 team boss Trevor Carlin. "He'll invariably lose a few front wings in the first few races, because you've got to adjust to the car, and he will be pushing. But once he's got through that phase, he'll be very hard to beat."
Tsunoda's interest in cars was inherited from his father, who worked in insurance. In 2007 the family went to the Japanese GP, where the top three qualifiers were his current F1 rivals Lewis Hamilton, Fernando Alonso and Kimi Räikkönen. "Before I was born my dad was doing motor sports in Japan," he says. "Just lap times with a normal car, or a tuned car. I started karting when I was four years old, and when I was seven years old I went the first time to Fuji to watch F1.
"To be honest at that point the karting world I was in and the world of F1 were too different. Of course I thought these cars are fast and cool, but for me it was too loud!
I always covered my ears to hear less. I don't have good memories about the sound. But now I like the sound of the old engines.
"I was not really following F1. After Fuji I think I went once to Suzuka, when Kamui Kobayashi got a podium [2012]. That was the last time I saw F1, so I went only twice. It was a similar feeling, I still felt it was too noisy! But actually I also felt one day in the future I want to compete in the category, but still it was too far away from what I was doing."
After success in karting Tsunoda was a few weeks shy of his 16th birthday when after passing through the Honda school at Suzuka he made his car racing debut in Japanese Formula 4 at the same venue in August 2016. Remarkably, in a field of 32 he finished second in his first race and followed up with a fourth. In 2017 he ran a full campaign, and finished third in the championship. By then Honda had got fully behind him, and he became part of the Dream Project for 2018.
"He basically self-learned from his mistakes. He is like an iPhone"
"Since karting my father was paying. He supported me in almost everything. But for formula cars it's a big step of money. I think my dad couldn't pay the whole thing. There were great junior programmes from Honda and Toyota in Japan, and if I became a formula driver, there was support there. So we decided to join Honda, because Honda was also doing Formula 1."
Tsunoda duly won the 2018 Formula 4 title, just beating fellow Honda protégé Teppei Natori. The manufacturer had already introduced him to Red Bull, and an intrigued Marko could see potential. Thus for 2019 Tsunoda was brought to Europe and given a busy double programme of FIA F3 with the Swiss Jenzer team, and Euroformula Open with Motopark.
The choice of the small Jenzer outfit rather than a front-running organisation was an intriguing one – success was not guaranteed, and he would have to fight. The 18-year-old also found himself living alone near Geneva, with only a physio for company.
"It was a big step, and also that was the first time I lived in another country. It didn't feel like a big issue when I moved to Europe – with the language and the food I struggled a little bit! But I didn't really feel I missed home and things like that. I was still focusing on my racing."
He faced a number of challenges, and juggling two programmes – with completely different tyres – was not easy.
"He basically self-learned from his mistakes," says avuncular F3 team owner Andreas Jenzer. "He is like an iPhone, selflearning. You don't have to tell him. When he does a mistake, the next lap, he doesn't do it again. When he didn't hit the apex, on the next lap, he hit the apex, basically. When he made a mistake, or when he did something wrong, you only really had to fine-polish a few things with him."
He soon began to log F3 points, and second place in the Spa feature race caught the attention. Next time out at Monza he was third in the feature, and then he won the sprint. A Jenzer driver was not supposed to challenge for podiums.
"One or two times I had quite a strong discussion with him," says his former boss. "Because obviously Jenzer Motorsport is not considered as a top team. I told him, 'Look Yuki, in qualifying drive a safe lap, qualify P8, or qualify P5, and then we can race from there.' After the briefing he took me to the side and said to me, 'Listen Andreas, never again tell me that I have to qualify P8 or P5. We are good enough to do better than this.'
"So I said, 'You are at the moment on this level.' And he really insisted. He said to me, 'You only have to tell me to do pole position, you only have to tell me to win, you only have to put pressure on me that I can win. I don't really want to qualify P8, I always try to qualify on pole.' Many times he fell off the road, but his own education was so much to just go flat out, to be in front."
"All he's focused on is driving. That's all he's interested in"
"I knew that it was going to be a difficult year for me as a rookie," Tsunoda recalls. "First time in Europe, and the tracks were going to be first time. I had to learn lots of things. For me it was a really good thing that I went to Jenzer, which is not a too strong team, so I could focus on my driving to perform well for them. If I joined a strong team, and had a strong first year, for me it's easy. At Jenzer we built it up together, the whole team."
By now Tsunoda was viewed by Red Bull as the real deal, and with Honda's support he was promoted to F2 with Carlin for 2020. He was quick from the off, taking a feature race second place in round two in Austria, and then a third and a sprint win at Silverstone. Victory in the Spa feature was further proof of his talents.
"He's a very natural racing driver, he's very determined," says Trevor Carlin. "He really, really wants to win and do well. The biggest quality, apart from his natural skill, is his ability to listen to advice from his engineers, and then implement it.
"The speed at which he learns is incredible. So I really think it won't take him long at all to get up to speed in F1. After the first third of the year, he will be on top of the car.
"You would think he's a school kid. He's tiny, small, very shy. But when you put him in the car and he puts the visor down, it unleashes the beast! He's a nice young man. He's very polite. But really all he's focused on is driving. That's all he's interested in."
There were a few ups and downs, but Tsunoda eventually finished third in the Formula 2 championship, signing off with a feature race win in Bahrain. He'd done more than enough to secure a super licence and to guarantee his progression into AlphaTauri for 2021.
"I was already 19, and I aimed to step up at 20." he says. "Also alongside me there are a lot of other Red Bull juniors, so I always put pressure on myself to step up. And Helmut Marko told me I had to be fourth to take a super licence. I wasn't thinking about a second year of F2."
F1 was a big step for just his third season in Europe. AlphaTauri helped with a busy winter testing programme at Imola and Misano using 2018 and 2019 Toro Rosso chassis, with a focus on experimenting with set-up, steering wheel controls, and so on. He also moved to Milton Keynes in order to have easy access to the RBR factory simulator that AlphaTauri uses.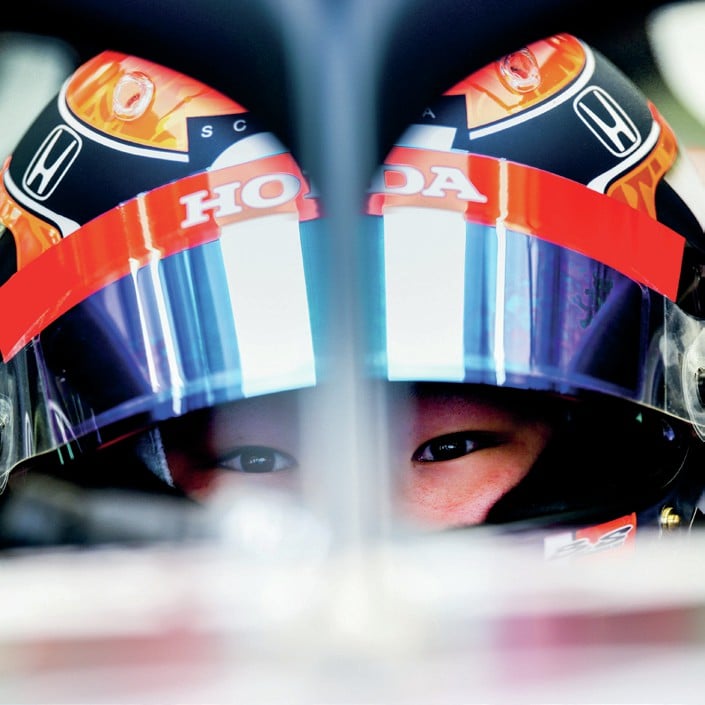 Tsunoda impressed with his pace in the new car at the official Bahrain test, and caught the eye by being second fastest in Q1 on the race weekend. After an overcautious first lap he recovered to log points with ninth on his debut. He passed Lance Stroll on the last lap, noting that he "wouldn't sleep tonight" had he not tried.
"Races when I don't shout on the radio tend to be good ones"
Things began to unravel with a huge shunt in Q1 at Imola and then a mistake in the race, followed by tough weekends in Portugal and Spain. Emotional radio messages have indicated just how much his quest for success means to him – at the latter event he took to Twitter to apologise to the team after appearing to criticise the car.
"Sometimes his temper seems to be a little bit South American-style," says Jenzer. "When you look also at his F2 season, he received penalties, he was at the stewards quite often.
And if there is something he needs to change, in this new clean F1 world, where you are not allowed to do this, where you're not allowed to do that, maybe he has to control his temper a little bit better…"
Tsunoda, who has worked on his mental approach with a sports psychologist, admits that he has to control his feistiness.
"That's my personality, which maybe turns sometimes in a positive way, and sometimes in a negative way," he says. "Most of the time I'm trying to improve that kind of stuff, especially in radio communications.
"After Imola I analysed it, and spoke with my psychologist trainer. Races when I don't shout on the radio and stay calm tend to be good ones. I know my weak points, but when I wear the helmet and go to the track, it's a bit different. For me it's not easy to stay calm."
The expected results might not have come yet, but keep an eye on Tsunoda as the season develops – his history in other categories suggests rapid progress.
"If I can take the first podium that would be great for Japan, and also for me," he says. "But at the moment I'm not thinking too much about those things, I'm just thinking about my driving, and also my learning curve. I have to get really focused on every lap to have experience. I'm just trying to get as many points as possible for the team, and to have more consistency."
And what of the longer term? The departure from F1 of key supporter Honda after this season won't help, but if Tsunoda is doing the job at AlphaTauri, there's still a clear path to the top.
"In the future it would be really good to join Red Bull Racing; they are a really strong team. And also make Helmut happy, because in Imola I took it a little bit the opposite way from him – he was a bit angry!
"I know his personality, he always goes up and down. But we're always serious about the racing, and I know how to make him happy. I'll just try my best."
Sergio Pérez has the RBR seat for now, but if Marko and Christian Horner believe that Tsunoda is ready, at some stage he will be promoted alongside Max Verstappen – and then it will be sink or swim.
"I think Yuki doesn't care about Max," says Jenzer. "He doesn't care about any other drivers, he looks only in his own world.
"Obviously I am coming from the old school, and we were talking about a lot of different drivers. Many, many times he said, 'Who?' Only the name Ayrton Senna is in his brain, but I never heard him talking about, 'I like this driver or I like that driver.'
"If you ask him, 'Who is your idol?', maybe he'll put a football player instead of a racing driver. Actually we did put this on paper, and his answers were on our website. 'Who is your favourite driver?' You know what he put? 'Yuki Tsunoda'!"