Formula 1 good month, bad month: July 2021
James Elson charts the ups and downs of the F1 circus
Good month
Team to FIA radio
Broadcasting Toto Wolff complaining to F1 race director Michael Masi about the 'Bolshoi on wheels' (see 'Mazespin') was a piece of TV genius. Soon we might get even more interesting interactions like Ferrari asking: "Can we turn our engine back up now?" or Christian Horner accidentally mouthing off about Crofty's commentary.
---
Rejuvenated 'Honey Badger'
Daniel Ricciardo's comeback drive in Portugal might not have been quite 'Wattie' at Detroit '82, but he still put on a show coming through from 16th to ninth. His Pirelli Preservation Prowess™) was on show both there and Spain, where he finished sixth. Monaco next, a Honey Badger speciality.
---
Mixed strategy races
What contributed so beautifully to an astoundingly not boring Spanish GP was a mix of strategies – to two-stop or not to two-stop, that was the question. Barcelona is a track which is trickier to pass on than the last Mini Roll in the packet – meaning the Brackley boys had to think out of the pit box to beat Verstappen. A second stop gave Hamilton the pace advantage he needed to close a 26sec gap in 16 laps. Virtuoso stuff – going all out for the win… In F1? Who woulda thought it?
---
Ferrari's new dream team
Leclerc and Sainz, above – shades of Villeneuve and Scheckter? Some might disagree, but it looks like it could be a long-term partnership – if the Maranello team can fix the car…
---
Mick Schumacher
Normally taking a season to play himself in before getting up to speed, the new 'MSC' has hit the ground running in F1. Leaving his team-mate floundering behind and also at times challenging cars ahead in the rather unwieldy Haas has been mightily impressive.
Bad month
Nikita "I spin therefore I am" Mazepin
'Mazespin' continued his 'Bolshoi-onwheels' tribute in Portugal and Spain as he twirled his way through the Mediterranean. If Daddy Dmitri does have so many roubles lying around, though, maybe he should invest in some stabilisers for the not-so-racy Russian? Mazepin also did a good job of getting in other cars' way in both races, too. Some more great compliments for the Mazepin scrapbook: "This guy will never learn," said Charles Leclerc after being blocked during practice – probably one of the nicer things we'll hear this year.
---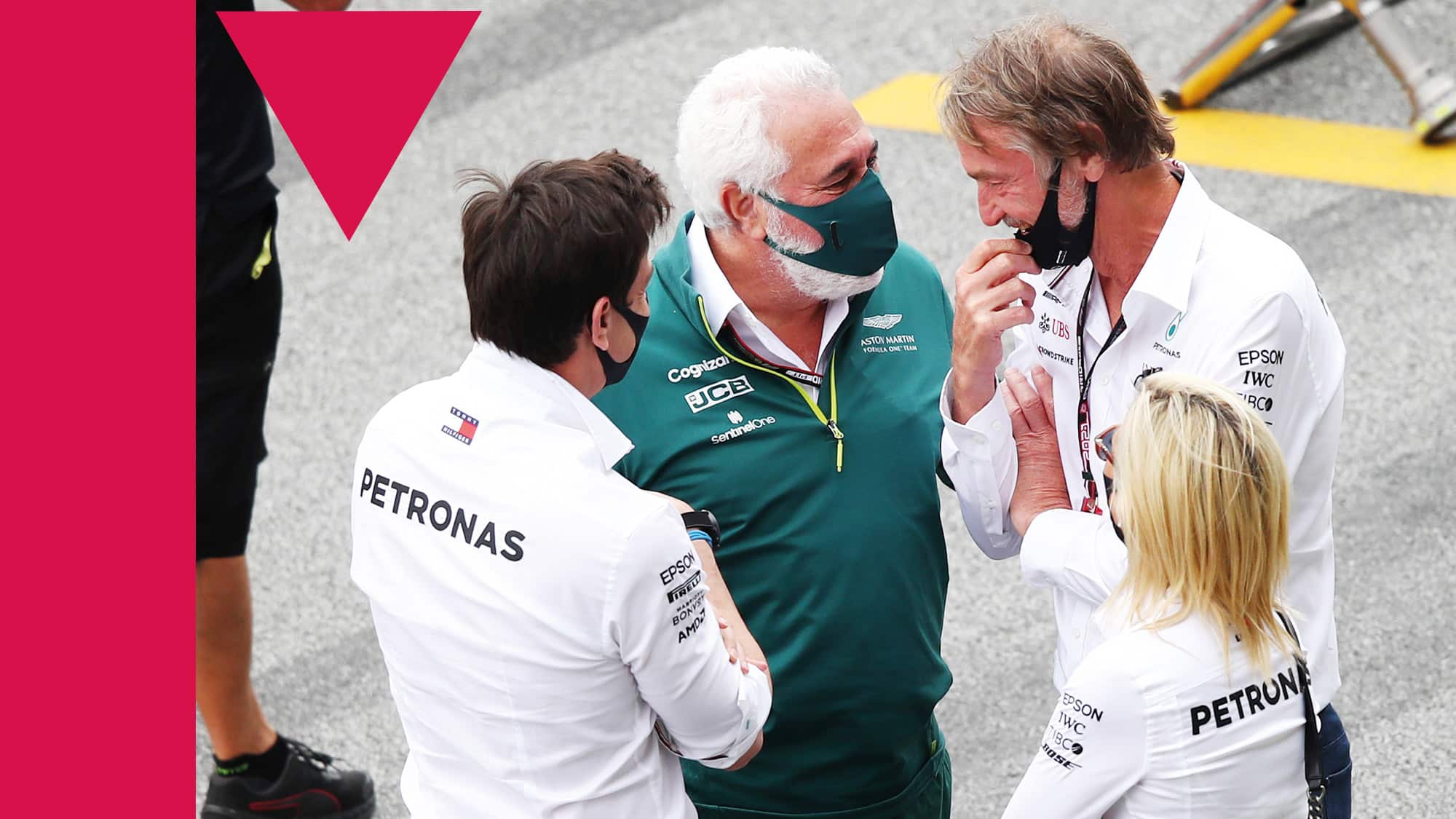 Jim Ratcliffe's face mask
Nothing says 'F1 isn't elitist' like a billionaire businessman, who owns part of arguably F1's best team, marching round the paddock – like he owns the rest of that as well – wearing his face mask wrongly. Wouldn't be as bad had he not become even more of a billionaire by supplying sanitisation products to the world. Nice.
---
Downhill slope
It all looked so promising for Alpine after Barcelona qualifying. An impressive fifth for Esteban Ocon, a slightly less impressive 10th for Fernando Alonso. Unfortunately, the former would fade to ninth in the race while the latter dropped like an indignant Oviedan pebble to 17th. It's back to the easel for the Viry et Enstone boys.
---
Barcelona's final chicane
If racing at Imola taught us anything, it's that removing the final chicane from your not-laden-with-overtaking-opportunities track is a good thing. Drivers could line up for a dive into Turn 1, rather than gasping for grip in the dirty air as they lose ground in that migraine-inducing final left-right.
---
Snarky Tsunoda
It's all going a bit south for F1's sweariest pocket rocket. Also didn't cover himself in glory by slating his team in Spain. Think about the honour, Yuki…