Jenson Button's great 2011 Canadian GP comeback: The Editor
Looking back at Jenson Button's magnificent win, a decade on from the 2011 Canadian Grand Prix
A decade ago, on June 12, 2011, one of the great, perhaps the greatest, comeback races unfolded on a lakelike Circuit Gilles Villeneuve. Jenson Button, who two years earlier had claimed a most unlikely World Championship title for Brawn GP, progressed from 21st after 40 laps to first after 70. But that is only half the story.
This was the grand prix that really did have it all: a 24-car grid featuring no fewer than six former and future world champions, red flags, a two-hour rain suspension, five safety cars, punctures, two collisions for the winner and six visits to the pits. In all the race lasted just over four hours. As Jenson remembered later, "It was one of those races that felt like everything was going wrong for the first three and a half hours, but showed that even when it is tough you have to stay positive."
He started on row four after the McLaren, running with a load of downforce, qualified seventh and almost immediately ran into trouble when team-mate Lewis Hamilton tried to pass on the left down the pit straight. Jenson squeezed him into the wall. "What is he doing?" shouted Button over the radio. Debris littered the track and Hamilton's grand prix was over.
Down in 15th after 14 laps, having served a penalty for speeding under the subsequent safety car, Button changed to intermediate tyres and was up to 11th by lap 17. Further heavy rain brought the safety car out again on lap 20 before the race was suspended on lap 25.
The drivers then had two hours to dwell upon the race from the pits before the restart, followed by nine laps under safety-car conditions before the track was deemed fit. Three laps after the restart, the safety car was deployed yet again when Button and Ferrari's Fernando Alonso collided on lap 37.
"On lap 40, Button began his assault in the race of the century"
So it was that Button was last when the race was restarted on lap 40. And now the then 31-year-old began his assault on the GP that has since been dubbed the race of the century. He carved his way through the field aided by astute tyre changes and by lap 55 was fourth – 15sec down on race leader Sebastian Vettel and soon to make his way through to second. During the final stages both drivers appeared on the ragged edge, until on the final lap the German appeared to crack (sound familiar?), sliding wide at Turn 5 and allowing Button through to take a decisive lead with half a lap to go.
"Everything went wrong up until I won the race," Jenson recalled afterwards. "I crashed with my team-mate, and you never want to do that. Then I crashed with Fernando. Puncture, drive through, almost got lapped, was last twice. And you don't think it's going your way.
"Suddenly you see your lap times compared to the others, the team's giving you positive vibes and you're coming through the field, thinking, 'This could happen!' I had six corners to enjoy it, but they were the most nerve-racking six corners of my life. Everything's gone wrong, suddenly it's all gone right, so you're very tense, and also very emotional as well."
I can still remember that race vividly. It happened also to be the year I first met Jenson and Lewis together – larking about during a publicity shoot for a sponsor – and in an era of Red Bull dominance it felt like a real and rare moment of alternative success. It also seems like yesterday, so it is sobering to realise that of the drivers who started the race only three are still in F1 today (Vettel, Alonso and Hamilton).
For a hit of nostalgia, I looked up our report at Motor Sport's archive (available via our website). I discovered with some delight that Nigel Roebuck had been our man in Canada.
"A tumultuous race in every conceivable respect," he summed up. "How often does a driver come through five safety car periods, six pit stops, including a drive through penalty, a puncture, contact with (at least) two other cars – and win a grand prix? I can remember nothing comparable. Button admitted that luck had been with him but perhaps the biggest slice of it came from Emerson Fittipaldi, this weekend the driver advising the stewards."
The Brazilian had found both of Button's collisions to be racing incidents. "Fittipaldi has always shown himself to be fundamentally 'on the side of the drivers'," continued Roebuck, "and not given to dishing out penalties. It would have been criminal to have robbed Jenson of victory. This was a wonderful drive."
The sentiment surely remains true today: let racers race and see what magic comes.
I should point out that if you want to hear what Jenson has to say about this race (and others), sign up for our Audience With event that takes place on June 17. You can buy tickets via the website and ask questions live online. I hope to see you there.

Joe Dunn, editor
Follow Joe on Twitter @joedunn90
---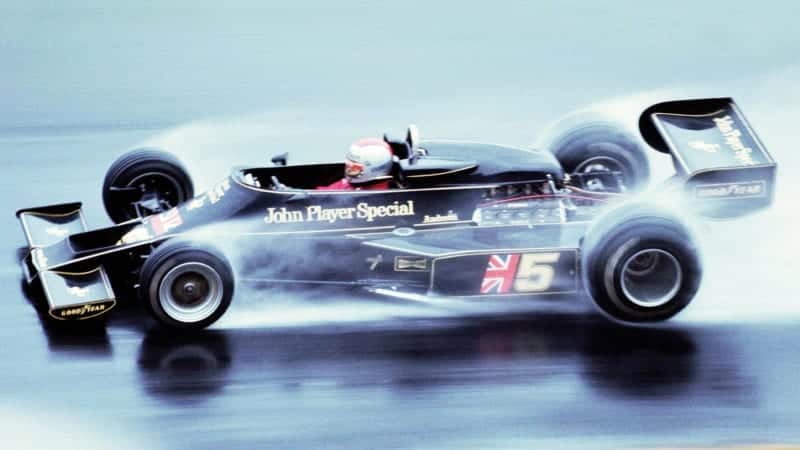 Next issue: Our August issue is on sale from June 23