As before, Vettel charged away again on the restart, and looked firmly set on another 25 points. Within a couple of laps he was three seconds clear, but then, as he admitted later, he took it perhaps a little too conservatively – and perhaps reckoned without the effect of DRS on some of those behind him.
By lap 63 it was operational, and its dramatic effect – whether you like it or not – was clearly seen, for Webber, having been unable to pass Schumacher without it, now went past as if the Mercedes were parked. Immediately, though, Mark went over the final chicane, and although he had already cleared Schumacher he was concerned that he might be penalised – considered to have gained by cutting the chicane – and therefore he handed the place back to Michael. On the following lap he might have hoped to take the position for good, but instead was passed by Button, who was clearly on a charge.
"I love conditions like we had towards the end of the race," Jenson said, "and the car was working beautifully…" On lap 65 he was 3.1 seconds behind Vettel; on lap 66 the gap was down to 1.6.
At this point we expected Sebastian simply to respond, to draw away again in the manner we have so often seen. He didn't, though – indeed Button continued, little by little, to close.
On lap 67, with three to go, Webber got past Schumacher again, and this time made it stick, putting and end to Michael's hopes of at last making a podium. No matter: this was consummately the best performance we have seen from him since his return, and fourth place was a good result.
Lap 68, and Vettel set the fastest lap of the race – which was instantly beaten by Button. Now the gap was an even second, so Jenson was bringing himself into DRS range of the World Championship leader. Next time round he was fractionally closer still, but not able to take a run at Seb: it would all come down to the last lap.
We expected that Button's move would come – DRS-assisted – on the long straight at the end of the lap, but in the event he had no need of any such thing, for Vettel, responding to the pressure, got slightly off the dry line, and although he held the consequent slide it was too late to prevent the McLaren from going by. Half a lap from the end of the Canadian Grand Prix Jenson was into the lead, and there he stayed.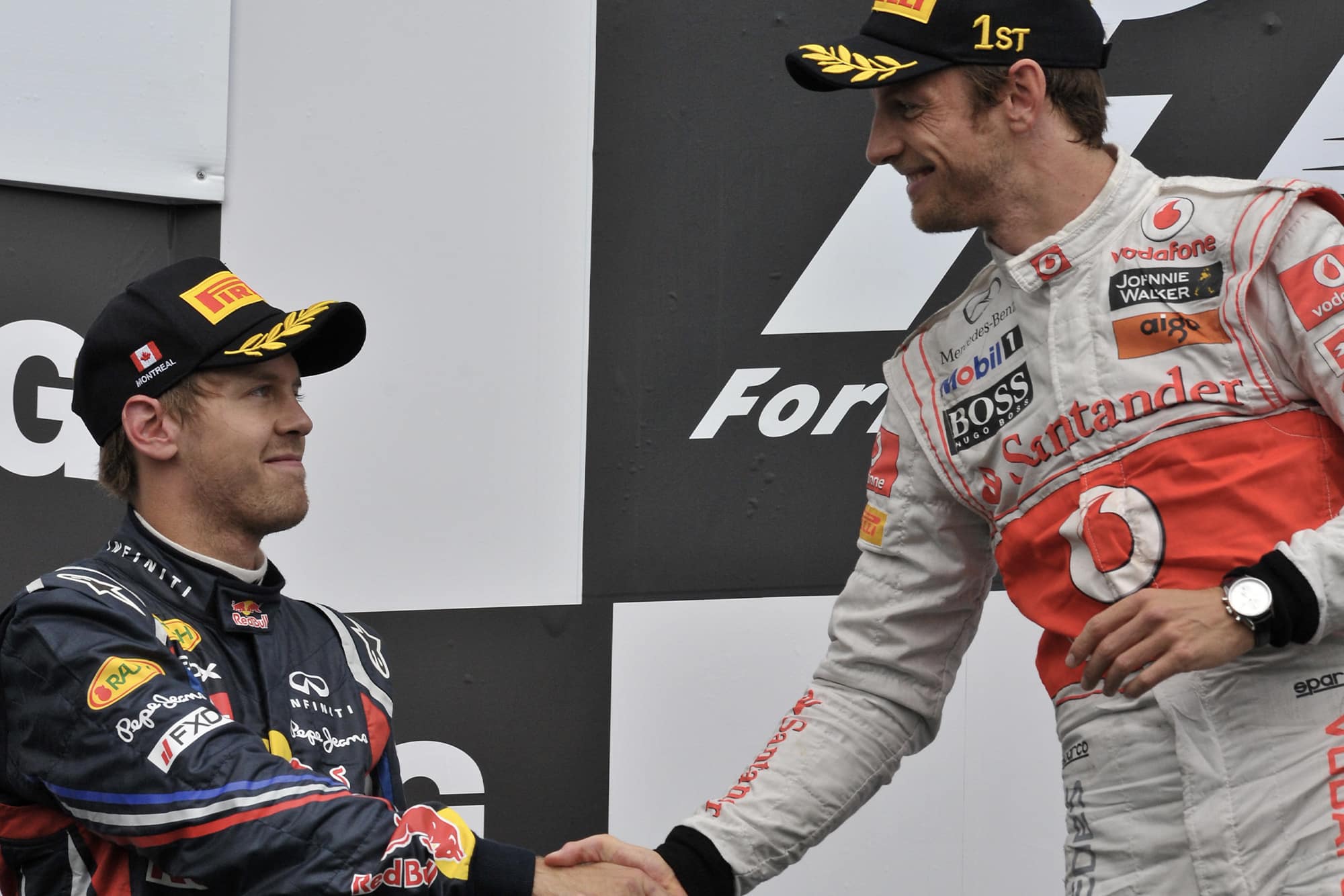 A tumultuous race, you might say, in every conceivable respect. How often does a driver come through five safety car periods, six pit stops, including a 'drive through' penalty, a puncture, contact with (at least) two other cars – and win a Grand Prix? I can remember nothing comparable. Button admitted that luck had been with him – "I couldn't have done it without DRS and all the safety car periods" – but perhaps the biggest slice of it came from Emerson Fittipaldi, this weekend the driver advising the stewards.
On these occasions Fittipaldi has always shown himself to be fundamentally 'on the side of the drivers', and not given to dishing out penalties in an era when every little incident is scrutinised. It would have been criminal to have robbed Jenson of what he referred to as 'his sweetest victory'. This was a wonderful drive.
Vettel, it must be said, was entirely magnanimous in defeat. After the last safety car period, he said, he probably should have gone harder, built up more of a lead, but who could blame him – in this season of endless victories – for being perhaps a touch complacent? No one's saying it, of course, but the 2011 World Championship is already effectively won.