Colin Chapman: The speed of light
Colin Chapman's obsession with cutting weight brought success, but at what cost? An extract from Karl Ludvigsen's new book on the Lotus innovator reveals the tensions that arose between the boss and his drivers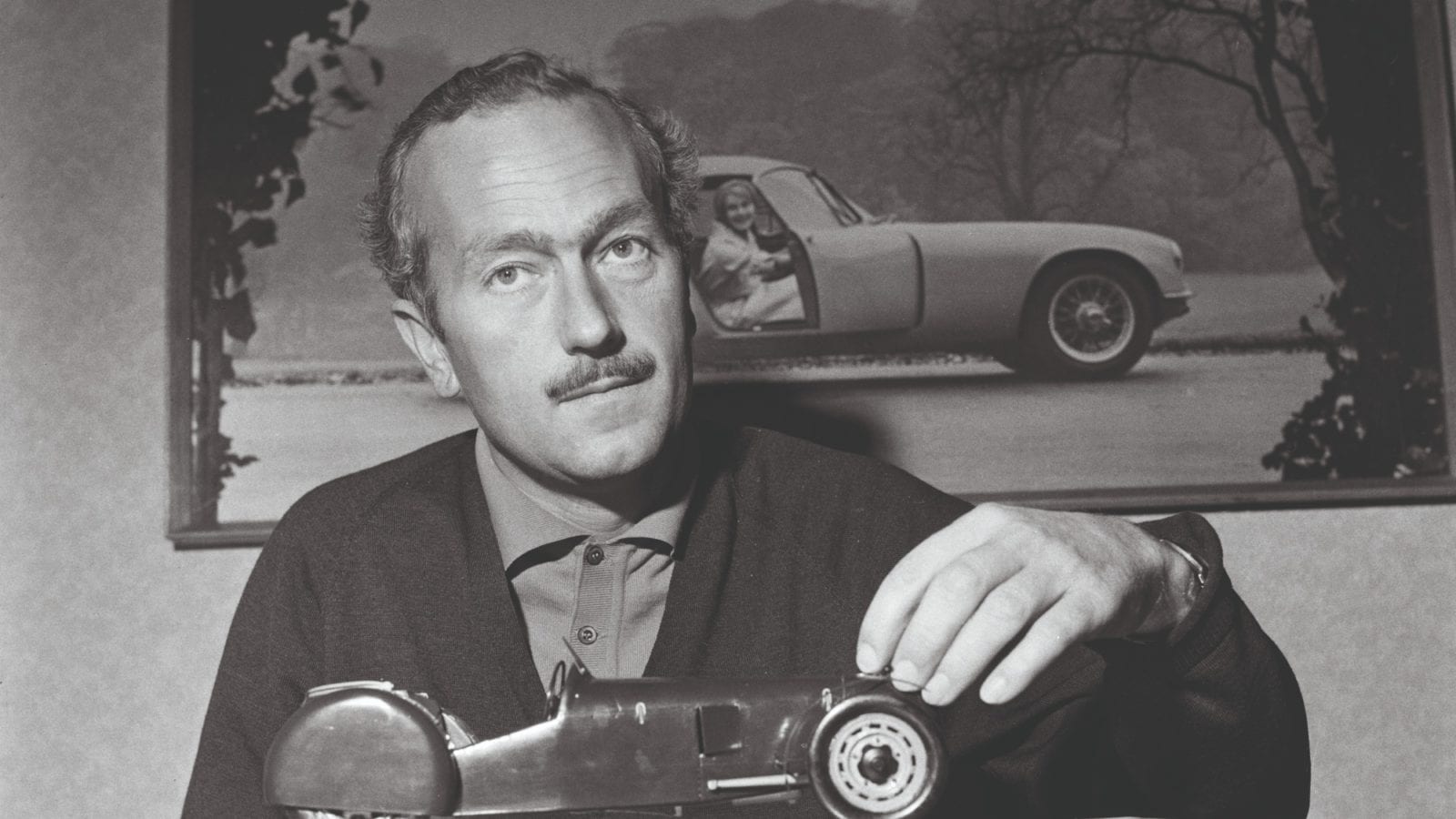 From the outset Colin Chapman had no option but to be obsessive about the weight of his cars. He had no access to the exotic twincam engines used by such sportscar-racing rivals as OSCA, Porsche and Maserati. Not until 1957, thanks then to Coventry Climax, could he obtain power units that could match those of his rivals. So to achieve a competitive power-to-weight ratio with hopped-up Ford and MG engines lightness had to be a passion. It remained so throughout Chapman's career – though not always successfully.
Lightness was already high on the agenda in 1951 when Bill Boddy, editor of Motor Sport, visited Chapman to see his "astonishing" Lotus special that was causing such a furore in club-racing circles.
"The principle on which Chapman worked," he reported, "was to put nothing into the Lotus which had not been carefully weighed first. 'Simplicate and add lightness' was his motto, rather than drill everything full of holes afterwards.
"Throughout," Boddy continued, "the builders of the Lotus have carried a tiny 25lb spring balance, and any component that brings this to its full reading is regarded with very deep distaste indeed! So we find a front wing, complete with rigid 24-gauge struts and sidelamps, weighing a mere 10oz, and the beautiful little polished aluminium bodyshell only 65lb complete with hoops."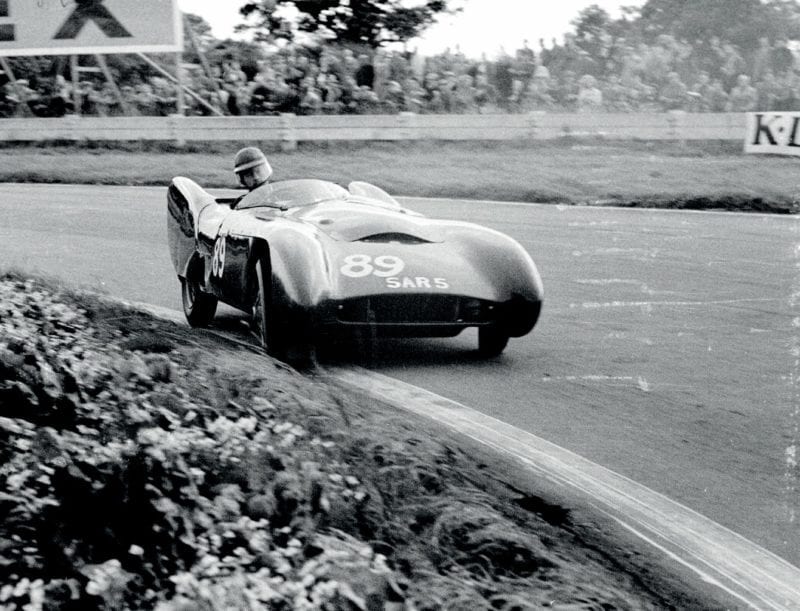 During a visit to Lotus's Tottenham Lane workshops early in 1955 author and bookseller John Lello had direct evidence of the weight-reduction craving of the Chapman team. While watching work under way on the new Mark IX he overheard a technical discussion: "The two-man conference which I had broken in on earlier adjourned from the office and concentrated on the car where various constructional details were proposed and discussed and it was apparent that a great deal of thought was going into the final detail. Weight being a dominant factor, the elimination of unnecessary panels and outriggers appeared to be the immediate problem."
With Williams & Pritchard the supplier of Lotus bodywork, inevitably they were drawn into debates about weight-reducing measures. When the Lotus 11 was being created, a key issue was the spacing of rivets attaching the undertray to the frame. While Len Pritchard recommended 1in intervals, Colin Chapman argued for 2in. The next day he bustled into the workshop with both trouser pockets bulging with rivets. "Look at the extra weight you're costing me!" he shouted at Pritchard as he gestured at their useless mass.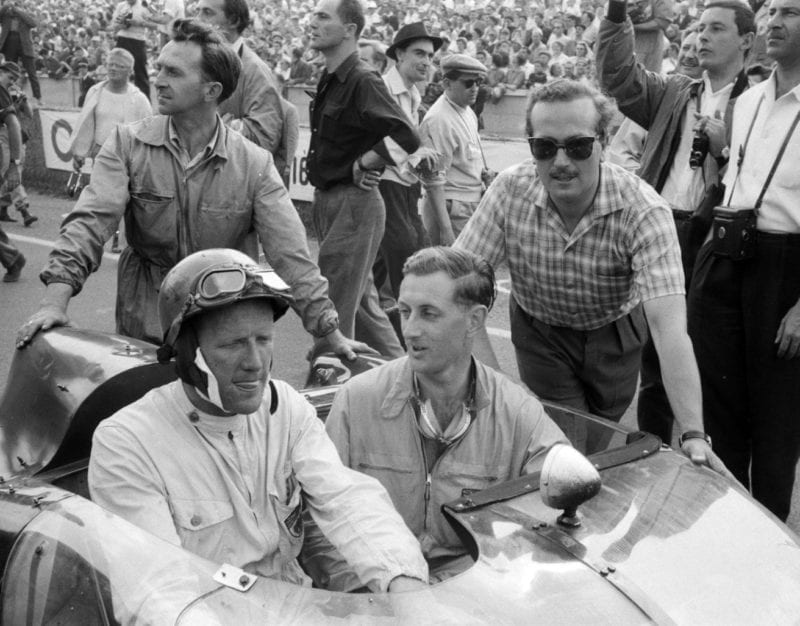 "We were at the forefront of doing it lighter than anybody else," said Mike Costin. "He wanted everything light, didn't he?" This was especially the case in bodywork, Costin added, in which the works cars were higher-tech than those sold to customers. "Bodies for sale were made in 18-gauge aluminium but our works ones were always made in 20-gauge. And our works Mark IXs were different from the production Mark IXs. One was in 20-gauge aluminium, the other was in 20-gauge magnesium. Nobody had made a body in magnesium before."
What were the benefits of this obsession with lightness? Cars could of course be stripped to the bone for short sprint races at Goodwood or Snetterton. Weights for long-distance races, however, indicate the level of preparation that a Lotus would require to do battle with the world's best. An apples-for-apples comparison is given by the weights of cars at scrutineering for the 24 Hours of Le Mans, a demanding race by any standards.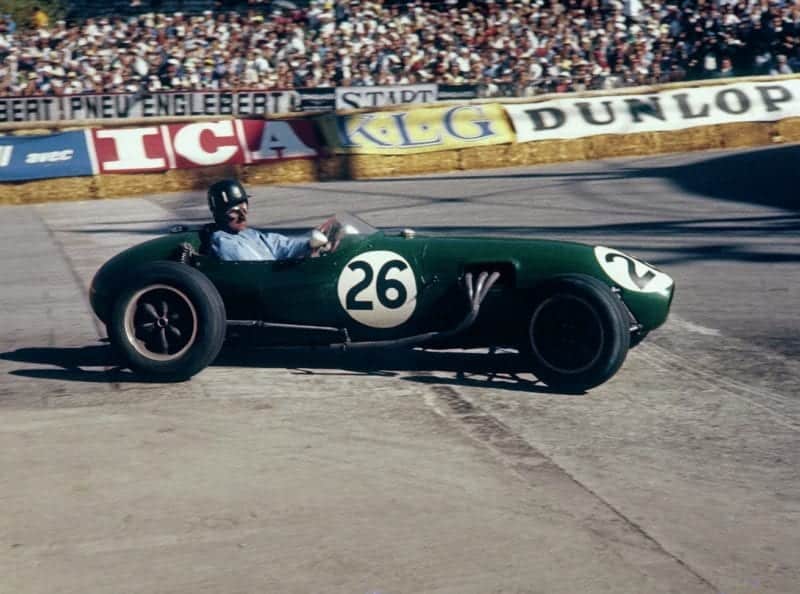 In 1956 at Le Mans a Lotus 11 with a 1460cc single-cam Climax engine weighed in at 1022lb. This was 22% less than a works Porsche Spyder of 1498cc, which weighed 1310lb. With the Climax developing 108bhp and the Porsche four-cam 127bhp, this gave the Lotus the advantage with 9.5lb per horsepower against 10.3 for the German car. On the Sarthe circuit only one of the Porsches turned a significantly faster lap than the Lotus.
Private Spyders were heavier than the works car at close to 1400lb. Surprisingly a 1.5-litre entry from Gordini, the French maker renowned to be obsessive about weight, weighed in at a hefty 1560lb. Two 1.5-litre Maseratis scaled 1562 and 1595lb. Only three cars starting the race were lighter than the 1.5-litre Lotus; all of them had half its displacement.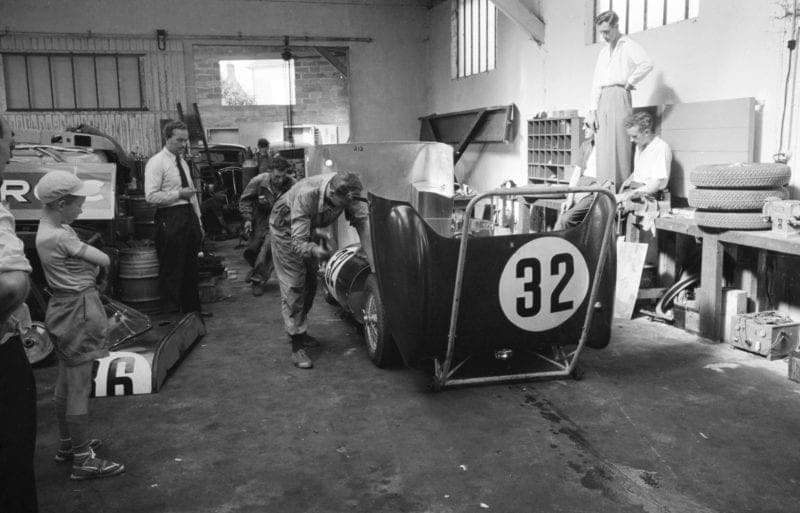 The special attention given to the works 1.5-litre 11 in 1956, co-driven by Chapman himself, was shown by the higher weights of the 1098cc Lotuses at Le Mans in 1956, which scaled 1075 and 1080lb – significantly more than the boss's car in spite of the changes needed to cope with the latter's greater power. A sign of the future, however, was the weight of the Cooper Bobtail with the same 1.1-litre Climax engine – only 1024lb, seemingly obtained with little effort.
The 1.1-litre Cooper entered at Le Mans in 1957 was heavier at 1142lb, while the three Lotuses similarly powered were around a hundredweight lighter at 1046, 1058 and 1060lb. The lightest car in the race was a Lotus 11 with a new 744cc Climax four. At 946lb it was the only car at Le Mans weighing less than 1000lb.
"Nobody had made a body in magnesium before"
For the 1959 season Lotus introduced its new 17, on 11 lines but smaller all around and wearing its controversial strut-type front suspension. That it was lighter as well was shown by the Le Mans scales, which credited the two 742cc entries with a svelte 860 and 851lb. With a 981lb Panhard these were the only three cars to break the 1000lb barrier in 1959. Three Elites entered weighed 1371, 1375 and 1430lb in a field that offered no direct comparisons.
The ruthless methods that Chapman used to shed weight were often ugly. Bungeecord salesmen flocked to Lotus. "The big difference between our cars and, say, a BRM was the quality of the design and manufacture of the components," said Mike Costin. "BRMs were beautiful to behold while ours looked a bit scrappy. Ours were perfectly all right, other things being equal, which now and again they were." Where they could and did fall down, however, creating what Costin called "disasters and failures", were often the consequence of the "not very good bits we had. The company grew so quickly that we never did anything in the way of quality control."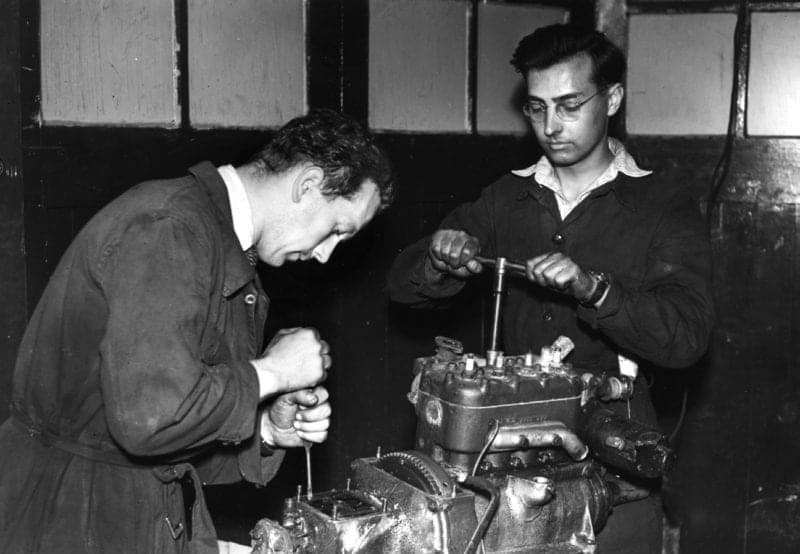 "The mechanics found that the chassis was cracked in 11 places"
Controlling the quality of the early Lotus cars was a challenge in its own right for very good reasons, explained Keith Duckworth, who was in at the beginning of the Chapman legend: "Nobody had a lot of money in racing in those days. Therefore you were also trying to manufacture pieces by cheap manufacturing methods. You didn't whittle everything from solid in those days. There were fairly simple welded-up structures. Quality control on those was very difficult." Inspection of welds was a painstaking process well beyond the demands of time and cost of the early racing days at Lotus.
"With your mechanics and your system of looking at your cars and preparing them," Duckworth told author Michael Oliver, "you should be able to catch most things at the stage that either some stretch in the material – it's collapsed a bit – has occurred, or there is a crack forming and you can catch the crack before it is a disastrous failure. The only real way is to design light and then to have loads and loads of inspections and certainly lots of crack detection."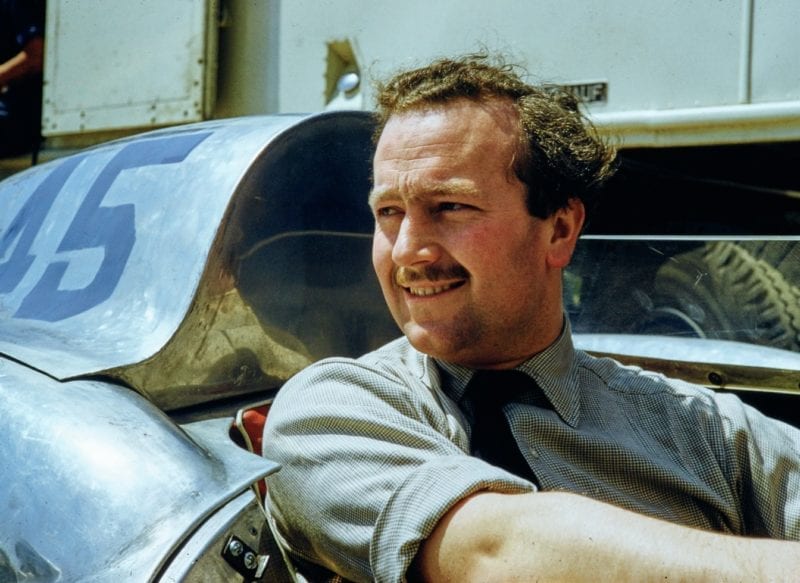 Designing light and looking for failures to see what needed to be done about them was part and parcel of the Chapman philosophy. "If you start off by designing everything conservatively and nothing fails," explained Keith Duckworth, "there is no way that you are ever going to lighten your car. You can never lighten things under those conditions and therefore you don't learn quickly enough. If you start off light and it breaks, then you will in fact strengthen the pieces that break. An awful lot of bits that you might have thought would have broken, won't break. And that is the only way of getting a light car."
At times, Chapman had ready access to the skills of engineers who were well able to calculate the likely stresses on a frame or suspension. The difficulty was that they seldom had access to all the information that they needed to create a worst-case scenario. "The problem is that you don't know how hard your driver is going to hit kerbs," said Duckworth, "or you can't work out what the loads from hitting a kerb on any occasion are going to be. If you design it such that it will hit brick walls in all directions all the time, you will never win a race. Therefore you actually have to hang it out if you want to make a race winner."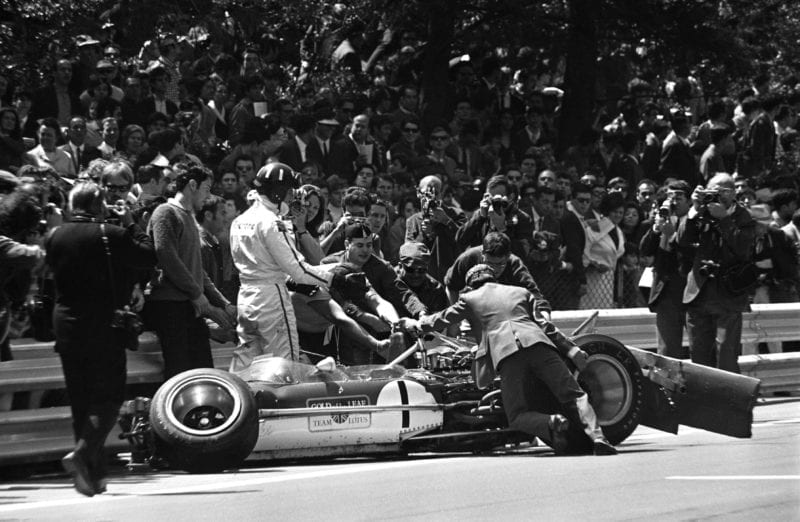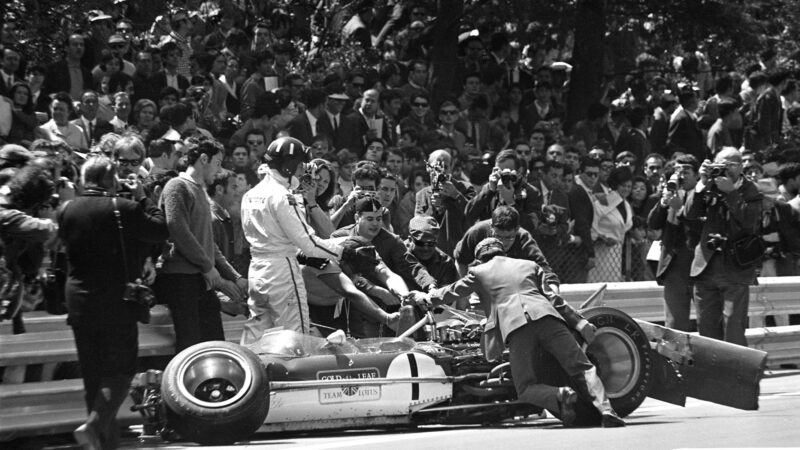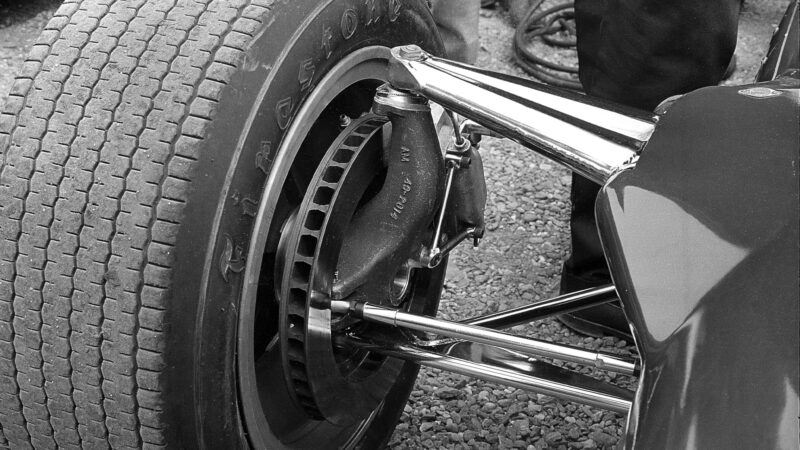 That it might have been hung out too far was the impression of Cliff Allison, who drove for Lotus from 1955 to 1958. Towards the end of the latter year, he told Graham Gauld, "I was becoming unhappy about the reliability of the car. Vital bits kept falling off – like the steering wheel! He cut a lot of corners, did Colin, and made things lighter than they probably should have been. There was a saying at the time that if you get Colin to design the car and John Cooper to build it, it would be a world-beater and I think there was some truth in that. John tended to make things a bit too strong and Colin made them a bit too light."
Allison left to drive for Ferrari and become that rarity for the era, an old, bold racing driver. He had persevered with Lotus, he said, being "absolutely convinced that Colin would build a world-beater because I had so much confidence in his ability as a designer. My theory was proved right because obviously he did make a worldbeater and won Indianapolis, the world championships and won everything. I was quite convinced he would do that. The only snag was I thought he might kill me first! It was just as simple as that."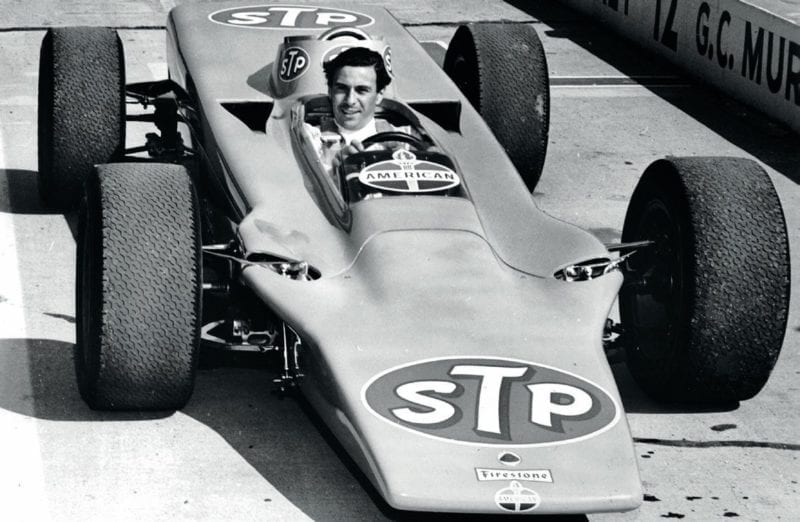 In 1958 Allison had been racing the 12, Chapman's first single-seater which was born the previous year as a Formula 2 car and upgraded to Formula 1. Even in Formula 2 form it had its problems, as driver Keith Hall discovered. In 1957's Gold Cup Race at Oulton Park, he related, "I put up some quite good times in practice, but the car kept changing gear on its own. There was no way to stop it revving if it suddenly changed gear. The mechanics had a look at the car and found that the chassis was cracked in 11 places. What was happening was that the front and back of the car were moving apart. As the chassis moved, so did the rod controlling the gear-change."
Following Allison into the Lotus works team was Innes Ireland. He had his own tales to tell from 1958 and '59 when he soldiered bravely on with the front-engined 16 grand prix car. He walked out to take the start of the 1959 Portuguese GP, only to find that his car didn't look quite right: "When I had a closer look at the front suspension I found a complete break in the main chassis tube – the big one that held the front suspension on! I could not believe my eyes!" Only minutes before the start he was equally astonished to see Lotus mechanics on the grid, welding his car's frame together.
Innes Ireland's experience with the 16 was nightmarish. "In one car," he recalled, "at Monza in 1959, the mechanics found 14 major breaks in the chassis. I had breaks in the steering, wheels fell off, wishbones breaking – anything that could happen to a car." In those days failures usually happened in races because the Lotus budget didn't run to testing.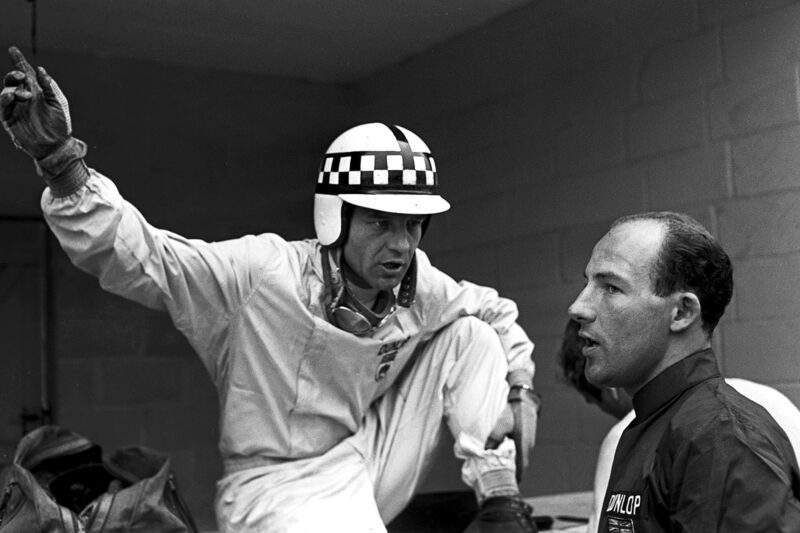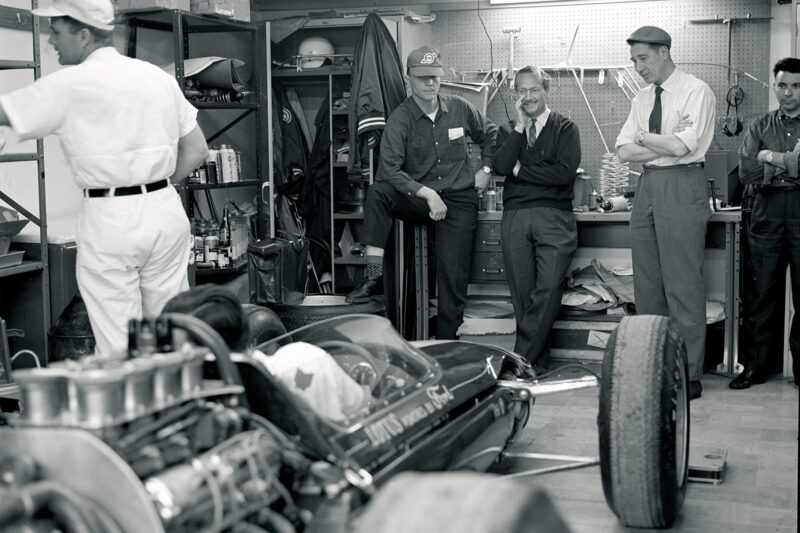 Things didn't get all that much better for Ireland and others with the mid-engined 18. At the 1960 Belgian Grand Prix at the daunting Spa circuit, Stirling Moss, Jim Clark, Alan Stacey, Michael Taylor and Ireland himself were driving 18s with 2.5-litre Climax engines. During practice Taylor's car sheared its steering column and Moss crashed when his Walker-stable car broke its rear hub and crashed heavily at some 130mph.
"When I was travelling at speed the rear window blew out"
"The Lotuses of Stacey, Clark and myself were wheeled off to the circuit garage," wrote Ireland, "to have their hubs examined for any fault similar to the one which had developed in Stirling's car. The results were just terrifying. Clark's was uncracked, Stacey's was cracked half-way round the hub and mine was all but sheared off! I suppose it was a gauge of how hard the cars were being driven at the time. Moss obviously drove his car harder than any of the rest of us and his hub went first.
"Chapman explained that a fault had been found in one of the machine processes at the works. He had new hubs flown out from England and they were fitted on to our three cars. I can't say, however, that I was filled with confidence when I got to the starting line."
Looking back on his time with Lotus cars, as prepared for him by Rob Walker's stable or by his British Racing Partnership, Stirling Moss had little praise for Chapman's passion for reducing to the max. "He was brilliant in what he could achieve," Moss reflected, "but the way that he did it was not very usable by most people. The cars were built too light –I don't know how many wheels I had come off but it was quite a lot.
"His strength was in innovation, new ideas," Moss continued, "his skilful way of getting what he wanted mechanically; but his weaknesses were first that frankly he didn't seem to have the ability to make it easy to utilise his skills – his cars were too difficult to drive – and secondly that he was prepared to pare things down to the bone without leaving either sufficient safety margin or doing enough research to cut out problems.
"I think he took short cuts. He was perhaps a bit lax on fine detail. A man of his knowledge had no right not to be right on the dangerous things," summed up Moss.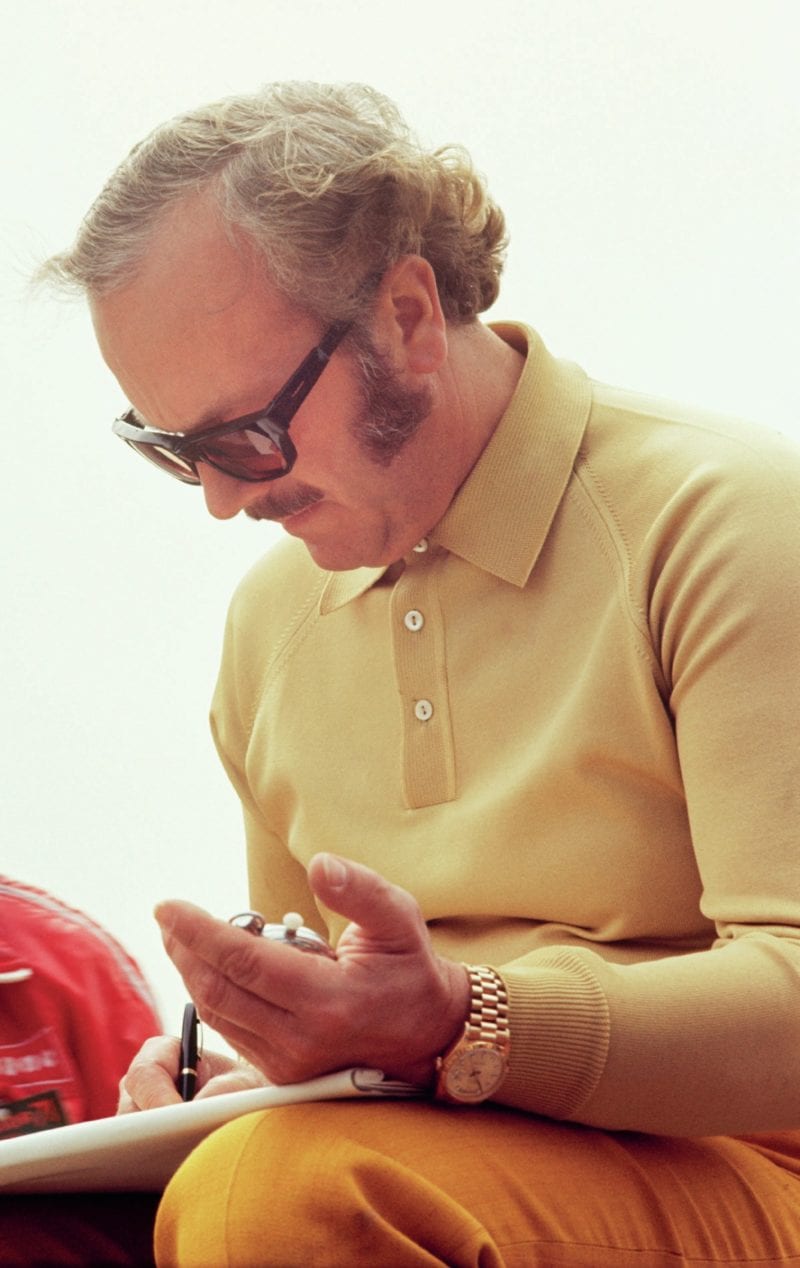 These were the years in which, not without good reason, Colin Chapman gained a reputation as a designer who would sacrifice both strength and safety in search of lightness. When concerns were raised after the 1958 season that several Formula 1 fatalities might be the result of cars that were built too lightly, Chapman stepped in to argue to the contrary, pointing out that drivers died in crashes of cars that were among the heaviest.
The pressure on the Lotus chief's designers to reduce weight was unrelenting. One was Martin Ogilvie, who said, "There's a lot of sayings I go back to Colin Chapman for, such as, 'a quarter-inch bolt will lift a double-decker bus'." Designer Jo Marquardt recalled assisting Maurice Phillippe on the Type 56 turbine car for Indianapolis. It had a four-wheel-drive system made by Ferguson. "Ferguson schemed it at one size," said Marquardt, and Chapman said, 'Make it half that size.' Eventually they compromised."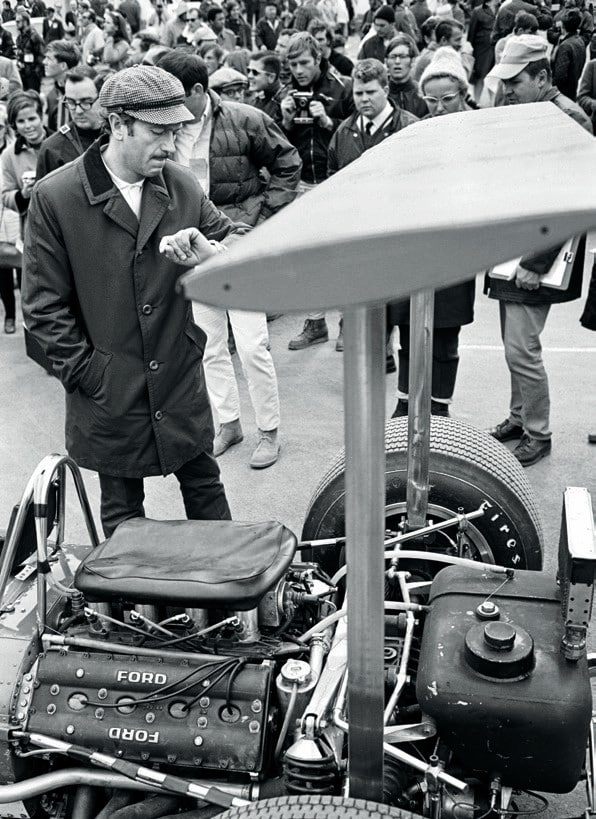 These strictures applied to road cars as well as racers, as Tony Rudd recalled. He led development of the 1975 Eclat 2+2, which was based on the Elite. "The body was lighter," Rudd related, "and when I was travelling at a very illegal speed the rear window blew out! You do not put weight on a car in this company, so I had to trace to the heart of the problem, rather than just try and strengthen the rear-window surround or something like that. We discovered it was an exhaust-resonance effect on that lighter body."
Looking at the Lotus offerings of the mid 1970s, the Eclat 2+2 was a model that bore comparison with several rivals. It scaled 2160lb, which was 9% less than the Porsche 924 and 11% less than the MGB GT coupé – two sports cars of similar size and carrying capacity. The 165bhp from its 2-litre four-cylinder engine gave a decisive performance advantage over both.
The Elite asks for comparison with the Porsche 911, both having comparable horsepower. While the German car weighed 2470lb the Lotus rival scaled 2335lb, 5% less. A less decisive difference, this suggests that the Lotus technology of glassfibre body on steel backbone frame was progressively less advantageous, compared to conventional construction, the larger and more complex the car.

Most impressive was the two-seater Esprit, which at 1985lb was the only sports car of 2 litres and above to scale less than a ton. A contemporary rival was the Lancia Beta Montecarlo coupé, known as the Scorpion in America. The Lotus Esprit weighed 14% less than the 2295lb Lancia. While the latter was more luxuriously equipped the difference was still impressive, to the credit of relentless pressure on weight reduction.
Like team-mate Graham Hill, Jackie Oliver was lucky to survive the high-wing era with the Lotus 49 when heavy crashes followed wing failures with disastrous regularity. When a Lotus broke under Oliver, said the driver, "Colin was never sympathetic. He used to have cars fail all the time; that was part of his stock in trade. He used to push things right to the limit and, as a result, he had very competitive cars.
"The analysis was done with the driver in the car to see whether it would break," Oliver continued. "When things went wrong, being the type of person he was, he would normally be suspicious of the driver and he'd also be suspicious that the mechanics might not have bolted it together properly. Then, if those possibilities could be eliminated, he would consider if it could have been a design failure."
"The frailties were in the area of the 49's rear suspension mounts"
"The frailties were in the area of the 49's rear-suspension mounts," said fellow Lotus driver John Miles, "which were tubular frames bolted to the bellhousing/gearbox. These were redesigned a number of times but kept on breaking for much of the first 15 months or so of the car's life. The ZF gearbox also protested at the cornering stresses being fed though its housing and was ultimately replaced."
Weight saving was evident in every aspect of the Ford DFV-powered Formula 1 Lotus 72 which made its bow in 1970. Immaculately detailed by Maurice Phillippe, it was an object lesson in design for purpose. "Saving weight, of course, is part of every racing car designer's philosophy," wrote Anthony Curtis, "but with Colin Chapman it amounts to a monomania accentuated in this instance by a desire to get ahead of three competitors using the same engine. It is to be seen in every part of the car, especially the suspension components which are fabricated from various exotic materials all of a high strength, which is said to compensate for their unusual slenderness."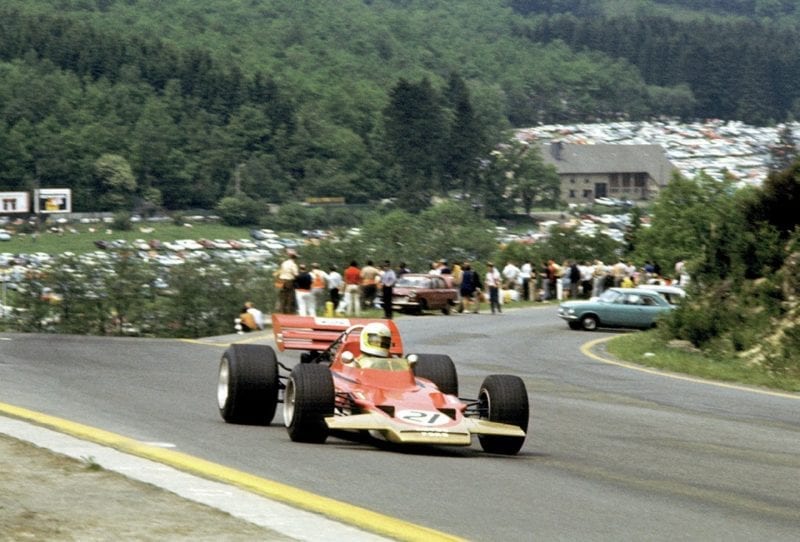 "But boy," said John Miles, "was it fragile. We seemed to be forever stitching things back together or making stronger bits. Nearly every time I got into 72/1 the engine blew or something fell off."
Over time, as stronger bits were added, the 72 put on weight, so for 1974 the new 76 was designed to rectify that. "It was meant to be a lighter 72," recalled team manager Peter Warr, "keeping the good bits and leaving out the bad bits. But it was a disaster; it was actually heavier."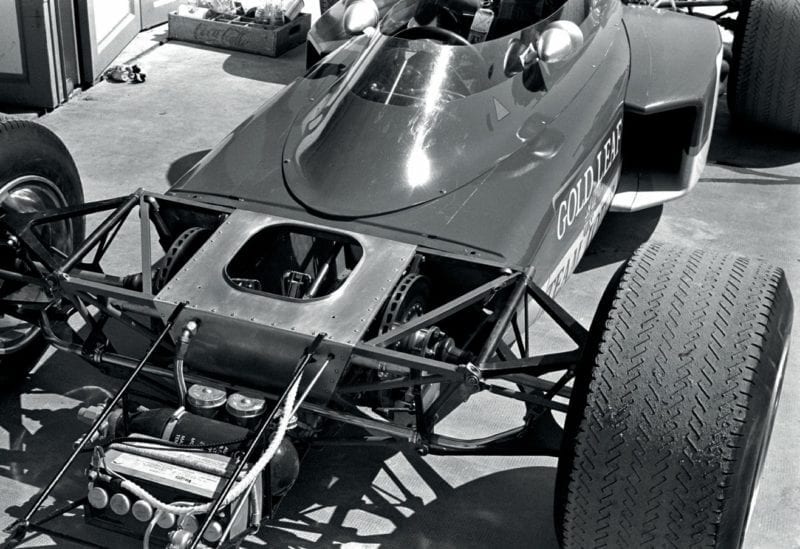 This was addressed in the design of the 77 for 1976. When all the cars were weighed before the Brazilian Grand Prix, the team's two 77s scaled 1281 and 1283lb, a small safety margin over the minimum weight of 1268lb (575 kg).
In the Brazilian weighing only one car was lighter, the 1272lb March-Ford 761. Ferrari was pretty good with the 1301lb of its 312T; this was an impressive result for a 12-cylinder car. The Tyrrell 007 was hefty at 1380lb, as was Emerson Fittipaldi's Copersucar-Ford at 1411lb. Its sister was the heaviest car weighed at 1484lb. Not quite so bad at 1475lb – albeit massively overweight – was the Brabham BT45 with its 12-cylinder Alfa Romeo engine. These figures put into perspective the benefit achieved by Lotus with its concentration on lightness.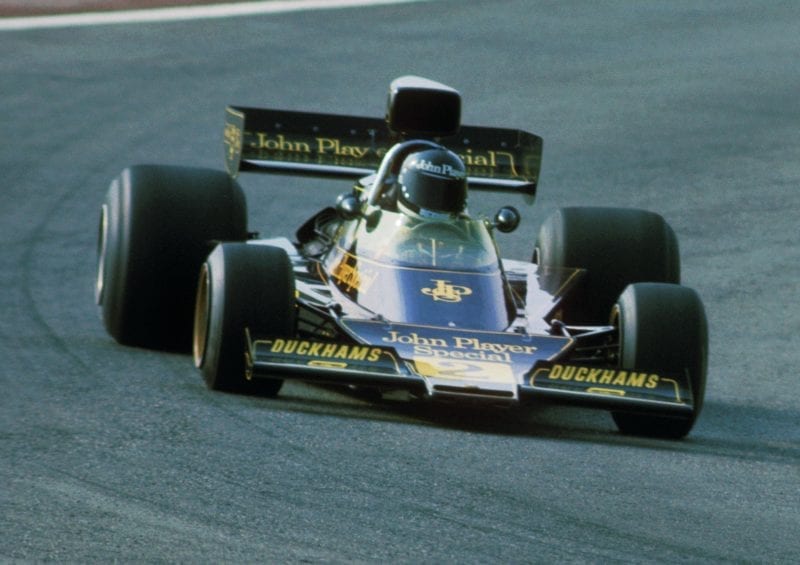 That this philosophy made no allowance for the unexpected concerned Colin Chapman not a whit. Each designer brings to motor sports a set of criteria that they consider paramount. For Colin Chapman sheer speed was all-important. He ranked leading races rather than finishing them as a hallmark of success. Creating a car that was as light as possible, both dry and fuelled, was a major ingredient in his recipe for speed.
In achieving this Chapman was, if possible, more ruthless than in any other aspect of his design activities.
---
Colin Chapman: Inside the Innovator
Karl Ludvigsen
Evro Publishing, £50
Motor Sport readers can buy this new edition via our online shop
Buy now