1980 Belgian Grand Prix race report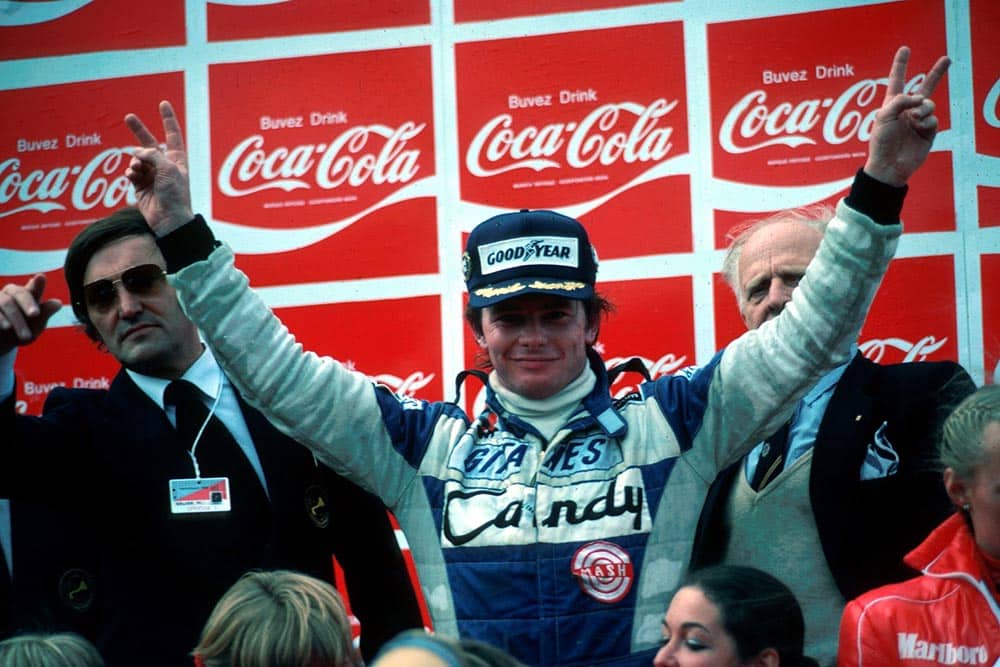 Grote Prijs van Belgie
Straightforward and simple Zolder-Terlamen, May 4th THE EUROPEAN Grand Prix season began at Zolder with the Belgian race and the major improvement to the circuit was the enlargement of the paddock to give adequate space for everyone. The pits at still lamentably small and narrow and totally inadequate fora full Formula One field when it is static, let alone when it is in action. There vvere some rumblings about "pre-qualifying for qualifying", but in fact the entry was full and not over-full so everyone started t an equal footing on Friday morning with one and a half hours of untimed testing. To be more precise, they would have started at the scheduled 10 a.m. hour had there not been a unanimous resolve to put the organisation to rights.
Qualifying
'The race organisers had promised to have a medical helicopter on stand-by throughout official practice, to transport any injured driver to hospital in Bruxelles or Antwerp. The Zolder circuit is a bit out in the wilds and direct transport to a major hospital by helicopter seemed a good idea. By 11am there was no sign of the helicopter so everyone agreed to wait until it arrived. and this proved to be well after 11 a.m. and it was 11.15 a.m. before the first car went out on the track, so that the whole day's proceedings ran late, but it didn't seem to cause any problems. There were some changes on the driver front, but not among thc front runners; Alain Prost was fit again and took his place in the McLaren team, and Timothy Needell at last got the chance he was waiting for, when he got the offer to drive for Ensign. The offer had been made to young Mika Thackwell, vvith the proviso that he signed for 1981 as Well, but he turned it down, not wanting to commit himself so early in his career. Brian Hem. was also made an offer, but he too turned it down.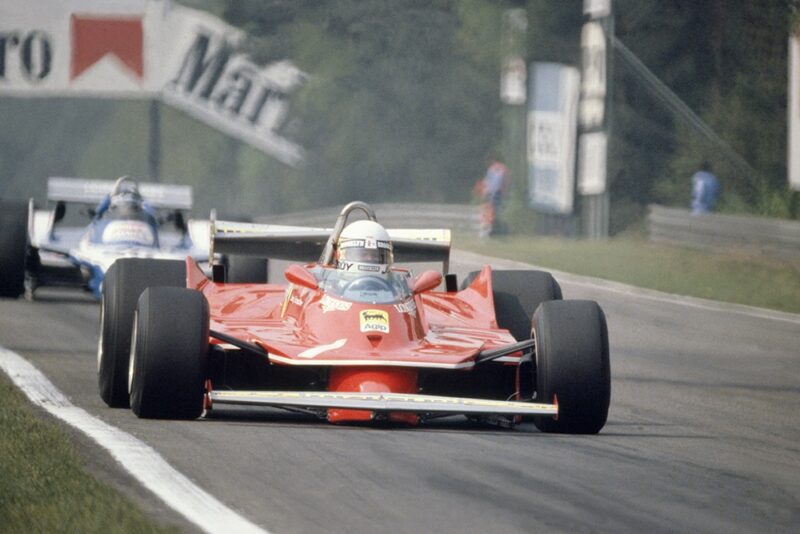 Elio de Angelis was fit enough after hurting his foot at Long Beach and everyone else was in good form. Geoff LeCS was driving the nevv Shadow 0N12 for the newly re-organised team, the cars now painted white, and Alfa Romeo were letting Giacomelli do some test running on the experimental Alfa Romeo with the new and smaller V12 engine. As always, brakes were of great importance on this circuit, not so much from hard usage, but consistent on-off, giving little enough time for pads and discs to cool dovvn between applications. Renault were using bigger
p…..
. .,
ri,,,N T'irri. i's; it: ilk a ," kk ("ver cgiiikg, ,,,,evo.,,,,,3 IF',k," a gig, P,Elii a,,,,i,,,,,
girt.. flj'?"'" 1:11:103 ;1:11 "11Fr 311; 1.48.09 1:113 ;El "igre rnndT:0 E. de Angeiis T. NeedeN J•P. Jabotnlie R. Arnoux G. Lees g:to2 8. Gutcometh O. P?ron. J. latfite A. Jones C. Reutemann R. Nitres° ni::ver PRACTICE TIMES
No. Drivor FrKim Saturday
discs on the front of their cars, with single four-pot Girling calipers instead of the Lockheed twin-caliper set up and were using 15 inch diameter wheels to accommodate them. Some of the Goodyear supported teams were trying new 15″ diameter front tyres, the aim being to achieve a better and more stable wear raw compared to the 13" tyres. In the paddock a brand new ATS was lxing finished off and also a brand new Ensign. The Brabham team had a ncw car standing by in reserve, and Zunino's car was using the Weismann gearbox and revised rear suspension.
A number of drivers gave their spare cars a run during this untimed session, either to try some modification or because of trouble with their number one car. Among these were Jones (Williams), Dcpailler (Alfa Romco), Watson (McLaren), Laffite (Ligier) and Mass (Arrows). just before practice ended Checver crashed the Osella, escaping unhurt but damaging the suspension pretty severely. It had been warm and dry, but very windy, all morning and it stayed that way for the afternoon timed session. Watson was still in the spare McLaren as his own car had run very hot during the morning and was undergoing an engine change. Mass was still in the spare Arrows and Zunino was using the new Brabham, BT49/7 as the Weismann gearbox was being looked at. The new FISA rules about tyres, banning soft qualifying tyres, and restricting choice to two
types, involved lots of extra marshals as tyre-scrutineers and the marking of all tyres, according to the driver's choice and then a check on the markings before each car left the pit lane. A jolly little comedy that will probably &tic out before the end of the season.
From testing form it looked as though 1 tnin. 20 sec. was going to be the lap time to aim for in order to be somewhere near the front of the grid, and the Ligicrs, the Williams, the Renaults and the Brabhams, were soon getting down near this mark, while others were five seconds and more off the pace. The first driver to break 1 min. 20 sec. was Didier Pisani and hardly had he done it than Arnoux was also under the bogey time with his Renault. Reutemann came in with ominous smoke issuing from thc engine breather, settee sign that the Cosworth V8 was about to blow-up. so his car was wheeled away and he took the spare Williams. While he was getting into the rhythm again Jones was in trouble, for his engine stopped as if running short of fuel, though there were still three gallons in the tank. He zig-zagged about as the car slowed, hoping to get the fuel system to pick-up again, but nothing happened and the use came to rest. It later transpired that the fault lay in the ignition distributor where the rotor arm was breaking up, but this was not discovered midi after the whole fuel system had been taken apart, inspected and found to be in perfect condition! He walked back to the pits only to find that Reutemann was out in the spare car! In fact the Argentinian had just set off with everything rcady for some good laps and Frank Williams enquired of the engineer in charge of Reutemann "Is he going for a good hard run?". When he got the reply "Yes" he replied "OK, five laps, and I want the car back." Meanwhile Jones was kicking his heels at the pit wall and time was ticking awaY.
The pace was getting quite furious up at the front, for Laffite was up with his Ligier team-mate, out ahead of Arnoux. and Jabouille had joined the select "under 1 min. 20 se." group, with an identical time to Arnoux. Reutemann's "good hard run" in the spare Williams resulted in a best lap of 1 min. 19.79 see., neatly splitting the two Ligicrs from the two Renaults and then he came in. Time was running out fast as Jones was strapped in the car, tyres an!,1 numbers were changed and hc was away. There is nothing likes little bit of unintentional "needle" to bring the best out sits good hard driver. and STARTING GRID D. Pironi ,Wdliarz%Vinod', V8) ILigief,Cicriw5,0117 V81 26 28 ojrj-sql.o:41arp V 8 f iLtu-="07; V 8′ FW078,5 5711i";:,i.ni.U.988sescac.1 5411;7,..1.1.411M, 16
J.P. (FtenaAr /R:irtKirt 1 1(1=1,087:C.1 5:31,177111.inrsec ,abh:41.Pfl:::Fonh V8) aotEusti?viterig Vt, 3111i4nritiesctc.) 88117:;;;ZInricec , ,Tyrrejli-Peol4.th V8) 681 711? n1.11i1S;esc,;c I 311, rg?in2. 1211 11 'Lc .1 ryrrolPisll'orth V81 58' liti.:2.121.6;7ec.)481(it n2.12r8r:ec.) J. Scheckter (Arro;-.5j,;;Wao% V8) 'IM15%.8721 11,1″t1,23:V:c.)321(inZliinrL, (ATS-Eien-t7) V8) V.81 s,'(7,1;111.11r:ec llon;C:C/Fv:v7rt'h V81 179,02 33′(nrl'isn!222.70rSeci 5 Ilnintliin1;12.?6'si;c., VlaareliFionn (McLartaTonn V8) 271,TI.11,?SleLc.) fFatipla(1:47:s::Orth V8) iBreat:rEIZT",Znho V81 (int.Z.734Tec.) 21,1″:0i1.214tC I T laden iEnsignijzzorth V8) (FinipLIFIth V8) • Time recorded In Williams FW071,6 1.7) 7,me recorded in FVV076 6_11-1 '79
?7aGu'LZslaadow — 6,112.011 1 min 24.37 sr, (E).. itet=rYlgshetrA-1-11)11111/240."06″st2;c1..' PilIlligfTindbernacc'reLTractrZZIa" in race,nth leo ntnnber
Jonesey-boy responded with a lap in 1 min. 19.12 sec., to snatch pole-position from the Ligiers right in the last minutes of practice. There was only one thing the French could say, and they said it, "Merdc, alors."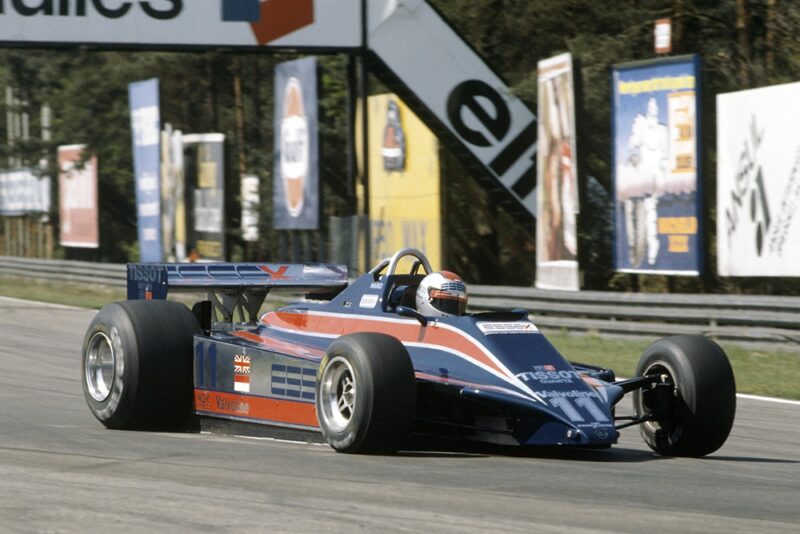 Piquet didn't quite make the 1 min. 20 sec. barrier and behind him the gaps were spread fairly widely. Elio de Angelis was a lot quicker than Andrerii, and really trying hard, and Rosberg was much quicker than Fittipaldi. The Shadows, new and old, were pretty hopeless, the Ferraris wcre nowhere, Ncedell just scraped into the select twenty-four and Cheever did not practice at all as the Osella was still being repaired and there was no spare car. On Saturday morning everyone was ready on time except the weather man, for it was pouring with rain at 10 a.m. The Zolder circuit in glorious warm sunshine is just about tolerable, but in the rain and gloom it was awful. For a while all the cars remained under waterproof covers and the drivers sat around in their motor-homes. The first one to brave the elements was Jan Lammers in the yellow ATS and he thrashed round on his own in a big ball of spray. After a while Piquet joined him and then Reutemann, followed by Jones and Prost and eventually nearly everyone went out.
There were two incentives, one being the weather forecasters who were predicting continual rain for the next two days, and the other the introduction of new Goodyear wet-weather tyres, which everyone was interested to try.
The normal wet-weather tyre has a deep tread pattern to squeeze the water out, which means a large volume of rubber across the width and while the track is flooded everything is all right, but as the track dries the shoulder of thc tyres heat up and there is a limit to how long you can run a treaded tyre at high speed on a drying track. The new Goodyear rain tyres have a tread formation that is deep in the middle of the tyre width and gets progressively shallower towards the outer edges, thus reducing the volume of rubber on the shoulders and reducing the heat build-up. They seemed to work well and everyone was pretty happy with them. Goodyear's Leo Mehl said I'm delighted. Gee, I thought we were going to car, this non design about all season without ever getting a chance to try it." The rain continued on into the afternoon to that practice as far as the grid positions were concerned was pointless, Friday's times were the ones that counted. This meant that Cheever had no hope of qualifying with the repaired Osella and the Shadovv team withdrevv as they hadn't qualified on Friday afternoon. Zunino, Mass and Reutemann didn't practice, Arnoux tried the spare Renault with the power-assisted brakes.
Daly and Watson pressed on regardless in the wet, and Daly spun off. Jones was out in the spare Williams and the Brabham wam packed up early as the times being recorded were of no consequence. The whole scene was running ten seconds slower than the day before and the only
thing gained was knowledge of what the track was like in the rain, in case the weather forecasters were right about Sunday's weather. Before the timed hour ended the rain had stopped and there were signs of the track drying, but not sufficiently to affect anyone's grid position, to the whole thing was decided on Friday's practice.
Race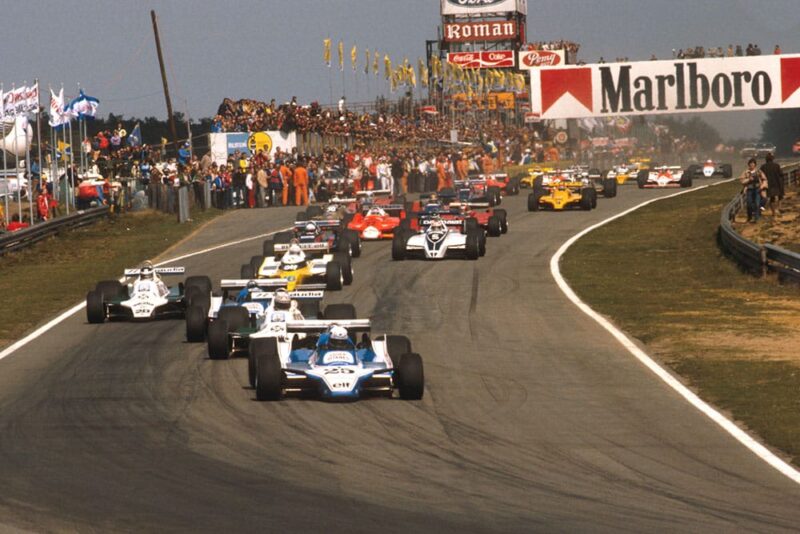 Fortunately the weather man Was wrong and Sunday was fine and dry though a cold wind was blowing all the time.
The half-hour warm-up period before lunch was well used by everyone, Piquet trying his own car and the spare Brabham in quick succession, the spare car having different suspension settings to his own car. He decided to race his own car, 8149/6. Andretti was sticking with the spare Lotus, which was 81)1 in long-wheelbase form like that of de Angelis.
TheAmerican had started practice on Friday with 81/2 in short-wheelbase form, but soon decided he didn't like it, but was not much happier with the spare car. Depailler's Alfa Romeo developed a persistent misfire which could not be traced so the spare car was made ready for him. The engine in Laffite's Ligier blevv-up and there was a mad panic to change it, which was done in 1 hour 20 mint. He didn't take the spare car as the side-pods and skirts were different and he didn't like the handling as much as his own car.
Removal of nose fins was the order of the day for most teams and Brabham, Lotus, Williams, Ligier, Fittipaldi, Tyrrell and ATS had all removed them. Zunino was all set to give the new Weismann gearbox its first race and Needell teas ready to make his Grand Prix debut. When the cars began to line up to leave the pi, to be driven round to the start the spare Alfa Rococo was still being worked on, but Depailler was at the head of the queue in 179/03. He shot off on the warm-up lap and returned down the pa lane, hopped out and into the now-ready T-car 179/01, and quickly most round the circuit again to join the starting grid. The start was due at 3 p.m. and shortly before this Jones led the field away on a parade lap, all 24 cars being ready for the 72-lap race. Back on the grid they all stopped, the red light was switched on, revs rose, clutches began to bite and as the green light glowed l'ironi made a super start and beat Jones away, leading the Williams comfortably down to the first left-hand corner. Laffite was right behind Jones, with Reutemann following.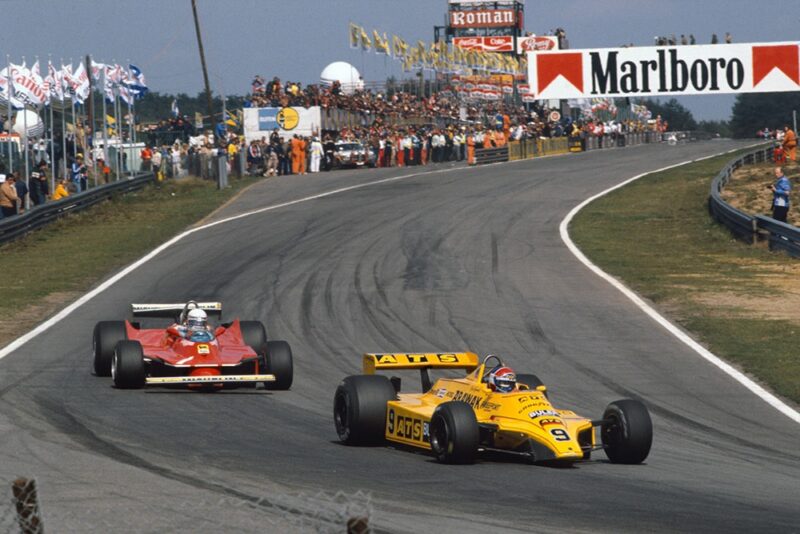 The middle of the grid had to indulge in some pretty desperate dodging about for Jabouille's Renault clutch had failed and he was creeping along with an arm raised. In the melee on the rather narrow track Andretti had to swerve to the right and this forced Giacomelli over into the pit wall, but everyone go, away. At she end of the opening lap Jones was the meat in a Ligier sandwich, with Pironi firtnlY the lead. As the pack braked heavily for the left-hander to start lap 2, the golden Arrows of Mass suddenly spun off into the catch-fences without collecting anyone, and meanwhile Po. Jabouille crept into the pits to retire. One lap gone and two cars out was not a good start.
During the next lap theme Ligiers and the leading Williams pulled out small lead over Reutemann, who had Arno. (Renault), Piquet (Brabham), Jarier ("Tyrrell), de Angelis (Lotus) and Villeneuve (Ferrari, hard on his heels. Zunino, NeedeII and Fittipaldi vvere bringing up the rear, with Giacomelli falling back among them, convinced that his Alfa wa.s be after its contact with the pit-wall. By lap 5 a pattern had developed, with Pironi, Jones and Laffite pulling away steadily and the leader actually getting away from the other two. Then Calls Reutemann. Arnow:, Piquet. Tarter, de Angelis and Villeneuve. with a gap to the use bunch led by Lammers in the ATS, ahead of Scheckter, Daly, Depailler, Andretti, Patrese and Watson, with Prost, Rosberg, Giacomelli, Needell and Fittipaldi bringing up the rear, the total now being twenty-one cars, as Zunino had retired the experimental Brabham. Already the race had settled into a high-speed procession, the only changes at all likely being those occasioned by pit stops or trouble. Pironi was pulling steadily away, looking extremely confident, though Jones was driving as hard as he knew how.
At Its laps the Frenchman had 4 seconds lead over the Australian, and it was increasing all the time. while Laffite was just hanging on to the Williams. Reutemann, Arnoux, Piquet and Jarier were still tight together, the Tyrrell driver excelling himself and these four were pulling away from de Angelis and Villeneuve, while Jan Lammers was covering himself with glory by staying ahead of World Champion Scheckter and not giving way to some pretty heavy pressure from the 'Ferrari driver. Andretti was about to be passed by Patrese and
John Watson had gone into the pits to have his brakes looked at. Prost was also lacking brakes on his McLaren, but was keeping going. During the next ten laps we lost Giacomelli, who retired his Alfa Romeo when he spun off the track, blaming damaged suspension sustained in the start-line melee, Needell when the Ensign engine failed and Fittipaldi, whose yellow car lust died on him out on the circuit with what seemed to be electrical failure. On lap 17 Arnoux had a big spin at the Bianchi-corner, but gathered it all up and kept going, and dropped frorn fifth place to tenth place, just behind Lammers and ahead of Andretti. This damaged the left-hand side-skirt, which affected the handling a bit, but it did not stop Arnoux getting on with his race. Lammers was now having trouble changing gear and he ended up finding only second and fifth gears and had to cane the engine to keep going with only two speeds.
Arnoux and Andretti soon passed the ATS and it rapidly dropped back, but was still well ahead of the Arrows of Patrese which was leacling the also-rans, having clambered past one or IWO of the slower cars, while the brake-less Prost had dropped to the back of the field, and eventually retired when his transmission broke. For a brief moment it looked as though Pironi may have used up his tyres or brakes, for Jones gained on him for a lap or two, but it didn't last and there was obviously nothing wrong with the leading Ligier or the driver. However, there w. something wrong with his team-mate's car as Laffite was finding his brakes becoming less effective and was losing ground on Jones. Around
this tune Villeneuve got past de Angelis but the Ferrari was not doing justice to the French-C,anadian's driving ability. Dcpailler in the remaining Alfa Romeo was not having a very good race and was forced into the pits with a puncture on lap 22. Pironi was now bcginning to lap the tail-enders, one of whom was a very miserabk Andretti.
The other Lotus was still hanging on to Villeneuve's Ferrari, basso lap 27 de Angelis got very sideways and very nearly spun. In mid-field Reutemann, Piquet and Jarier were still keeping station on each other but the Brabham was wearing out its front tyres and to try and ease the strain Piquet altered the fore-and-aft braking ratio with his cockpit manual control. On lap 33 this caught him out as he braked for she first corn., the rear wheels locked. the can went sideways, and slid into thc catch-fences not far from the derelict Arrows which had crashed them on the second lap. The Brazilian walked back to the pits furious with himself for his own stupidity. This left Reutemann with no pressure on him, for Wee was not close enough to worry about, but third place for the Argentinian Ms almost a certainty for Laffite's Ligicr was slowing visibly and inevitably beheaded for the pits after 40 laps.
The brake were bled and he came storming out again, but he had lost nearly two laps. Pironi was steadily lapping everyone. driving very consistently and not being troubled by back-markers. Jones was still pressing on as hard as he could and losing no time as he lapped slower cars, driving down the inside of Andretti at one ' point and shaking his fist at him for not getting out of she way properly. Dcpailler and Andrctti disappeared almost unnoticed but Arnoux now began to go really hard and moved up ahead of dc Angelis and closed up on Villeneuve and they had o llood battle fern few laps, but eventually the Renault got by and pulled away, the Frenchman setting Isis sights on Jariees blue Tyrrell now. Scheckter had run out of brak. and was dropping back to be lapped yes again by Pironi and Lammers had his engine blow-up as hc passed the pits staning lap 65 while Patresc had spun off in a cloud of dust. In the dosing laps there was a flurry of excitement for Arnoux was right up behind Prier and de Angelis was trying to pass Villeneuve.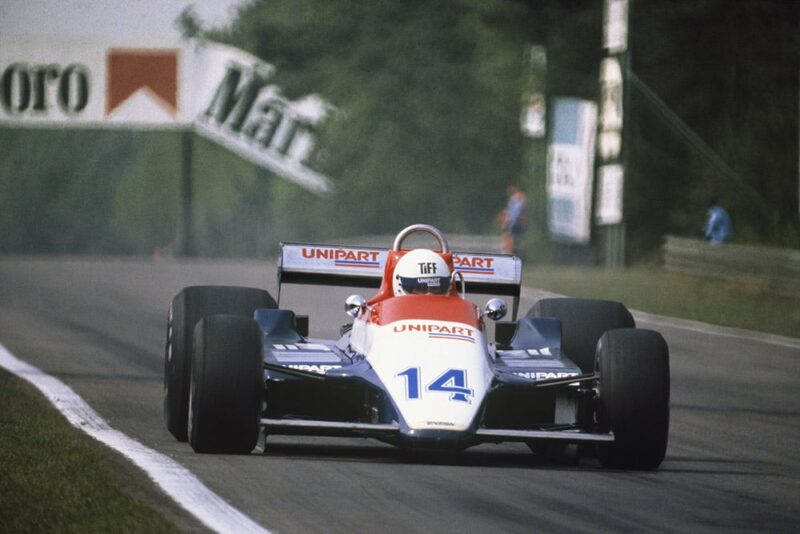 With two laps to go the Lotus driver got his front just too close to thc Ferrari as they braked for the chicane before the pits and ran up over a rear wheel, got all sideways and went off the road. Pironi had lapped everyone except Jones and Reutemann and as ho completed his final lap Arnoux was outbraking Jarier as they went into the chicane on the back straight, to snatch fourth place as they finished one lap behind the winner. Pironi had driven a hard, faultless race, leading from start to finish and never putting a wheel wrong, while Jones had never given up, pressing as hard as ho could all the way, but tons avail, though it was a worthy second place. Reutemann trailed home in third place, almost a lap behind the winncr, the rest were in a different race. —
D. S. J. Notes on the Cars and Reflections hettnt on paae 881 .
and 10osJoosUW0s 06:77.
c. Fah ;VI Olird idicS etri 1472, r, Zits ulansnsiinflgod"
Fastest le, Jacques (Able ((Agin( J511.15 031 on lap 57 in 1 min. 20.Et8 soc — 189.703 k.p.h. szf, — 186.402 k.p.h 13th : John NIT:On (McLaren M29021 Reisrements: Joan.Pierre Jehovah, (Renault 11E231 clutch failure on lap I; Jochen Mass !Arrows A3:41 spun off. on la Ricardo Zunino (Brabhom_kr:48i21 gearbox Poubte. on top 8; Bruno Glacomelli (AB Romeo 17902/ spun off, on ThrIncL).:gnrq:12d9ttrtgrsiXs"s?cellefrunree,ftlitil:P°30″:11';IL:11rcretn=glictirin'iniP'l sPit;:1):117.cOft!tcfl. giirt7riclecd
rAtiok%°"/133111:tNOtrot'el:9797.Zi'l.:rfrinlia:is7APSVO'r:nplein?litaluusZn%1/ '5'941; IL01.3111)°, on lap 70. 24 starters — 13 finishers