1994 Pacific Grand Prix report: Benetton at the double
Schumacher wins again and extends his unexpeded championship lead
Had such a scenario been suggested at the beginning of the year it would have seemed laughable: Ayrton Senna 20 points down on arch-rival Michael Schumacher with two races gone. But there was nothing laughable for Senna about the 1l circus's first visit to Hajime Tanaka's TI Circuit Aida.
The Brazilian worked very hard indeed for the 64th pole position of his career, in a Williams-Renault that had no qualms about demonstrating its continuing distaste for slow-speed corners. Indeed, though Ayrton finally scraped to the premier position by two tenths of a second, one always had the suspicion that we never really saw Schumacher extract the best from the nimble Benetton.
They traded times during Friday's free practice and qualifying, but after Schumacher had taken fastest time away from the Brazilian, only to have the compliment returned, Michael changed the set-up of his car and lost its crisp edge. When the ambient temperature increased on Saturday (firmly giving the lie to pessimistic forecasts of snow!) the anti-climax was complete. The times could not be improved.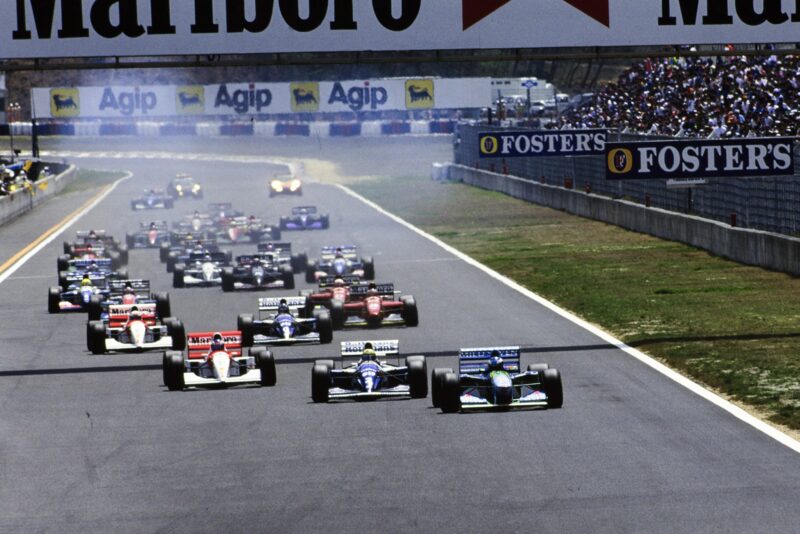 As anticipated, the Senna/ Schumacher battle has already electrified this year's World Championship, in the way that Senna v Prost used to in their McLaren days. On the one hand we have the massively experienced Brazilian star, with his lightning speed and aggression and emotional baggage; on the other the cool, equally fast German who has nothing to lose. At the start of the 83-lap encounter it seemed for 10s as if the race had the markings of a great encounter, when Schumacher boiled off the line on the Inside track and grabbed the lead as Senna got too much wheelspin.
Going down to the first right-hander (imaginatively called First Corner) the Benetton was on the inside and Senna, having realised that the outer line was taking him nowhere, dived back even tighter to the inside in the hope of finding a gap. When he realised that there wasn't one he had to back off a little more than he might otherwise have done, and suddenly there was the nose of Mika Hakkinen's McLaren rubbing against his diffusor.
Maybe the Williams was already a little light on its back end; maybe Hakkinen really was taken my surprise. The result was that the red and white car gently pitched the blue and white one into a spin into the gravel bed on the outside, where moments later it was clobbered hard enough by an unsighted Nicola Larini (standing in for the injured Jean Alesi at Ferrari) to whip off the Williams' front right wheel.
Senna was out on the spot, Larini too. Later, when Hakkinen went to proffer the hand of apology, Senna refused to shake it and instead offered a mouthful of profanity that left his former McLaren team-mate in little doubt that he had just mentally been crossed off Senna's Christmas card list. How fragile are F1 alliances.
At the time Hakkinen had dodged round the rotating Williams, and though Schumacher was by then already four seconds up the road in a lead that he would never surrender, the spectacle of a McLaren running in second place in a Grand Prix indicated that things are returning to normality in Woking after the Brazilian GP debacle.
In fact, things looked quite promising for McLaren for some time, for after qualifying sixth to Hakkinen's fourth team-mate Martin Brundle was steaming along quite nicely in sixth place. The throttle problems of Interlagos were well behind them, and after a few dizzy days following his assault by Verstappen's Benetton. Brundle was feeling right back on form.
Hakkinen never challenged Schumacher, but Damon Hill certainly challenged the Finn. Until they went into the Revolver Corner on lap four. This is a left-hander which immediately follows the Hair Pin Corner where most of the overtaking gets done at Ti, and whose camber drops away alarmingly on the exit. In qualifying on Saturday afternoon it had, surprisingly, caught out both Williams pilots, albeit without damage to their mounts. Now, after sitting round the outside of Hakkinen through Hair Pin, Hill tried to go down the inside at Revolver. Hakkinen artfully lust kept closing his line, forcing Damon further up the kerb until, inevitably, he spun.
'The trouble with Mika is that he'll shake your hand on the grid, but as soon as he's got his helmet on he becomes a demon," said Hill, but there was less heat in his voice than there had been in Senna's. If that incident gave Hakkinen a breather as Hill slumped temporarily to ninth, McLaren's pleasure was to be short-lived. When he made his first pit stop on lap 18 Hakkinen felt the hydraulic system's pressure dropping, and a lap later he headed straight back in to retire after a promising run.
Meanwhile, Gerhard Berger was into something equally promising with the Ferrari 412T1 as he assumed second place. BY this point it was perfectly obvious that only driver error or mechanical problem was going to prevent a Benetton triumph, but there was plenty going on further down the field. Behind Berger, Rubens Barrichello was again demonstrating how artful Brian Hart has been in developing his VI engine on a shoestring budget, and embarrassingly the Jordan was quite clearly more fleet of foot down what pass for straights at the circuit than was Brundle's Peugeot powered McLaren.
In the corners Martin would push as hard as he could (the Briton had been optimistic that there might be as many as three potential overtaking sites), only to be left for dead in a straight line. Indeed, at one stage he had trouble getting by Roland Ratzenberger in his first GP for Simtek) and Pedro Lamy's multi-lapped Lotus Mugen-Honda, Eventually Martin would resort to what is fast becoming the best passing place in F1: the pits, a superior second stop taking him ahead of the lordan at last on lap 62.
A little further back, Christian Fittipaldi was into a strong drive for Footwork that would eradicate memories of transmission unreliability in Brazil and reap the team's first points of the year, chased by the impressive newcomer Heinz-Harald Frentzen in the Sauber-Mercedes, los Verstappen in the second Benetton, and Fittipaldi's team-mate Gianni Morbidelli when he rejoined after his spun Hill rudely elbowed by Morbidelli, and within xx laps had carved his way back to third place ahead of this batch. He was, he had the grace to admit, relieved to have had the Renault VIO's power advantage on the straights.
Damon's efforts to pass Berger entertained for a while, until he too resorted to pit lane strategy to regain second place by lap 31, but he was then staggered to find himself making next to no impression on Schumacher. Still, six points are better than none, and just as he was reasoning this the six he had turned into none when his FW16 rolled suddenly to a halt on lap 50 with transmission failure. This put Berger back into second place until his last fuel stop, whereupon Barrichello had a glorious six laps in that position until he, too, stopped.
The young Brazilian really has his act together now in F1 as indeed does the Sasol Jordan team which is clearly back on target after its hiatus years since 1991. But it all nearly got away from them in that stop when the engine stalled, "I wanted to cry when I realised I wasn't going to the podium after all," confessed Barrichello, but whatever prayers he offered were answered on lap 68 when Brundle's tenancy of third place ended in the McLaren garage. A paper bag had lodged in the left-hand sidepod and overheated the Peugeot VI 0, and a bold drive was over. Throughout the event Michele Alboreto and Karl Wendlinger had fought tooth and nail for Minardi and Sauber respectively. the Italian losing out in his stops with an awkward right rear wheel fixing. As Schumacher led Berger, Barrichello, Fittipaldi, Morbidelli and Frentzen on lap 69, Wendlinger and Alboreto were still hard at it for seventh place.
Out of Revolver on lap 70 Michele got a mite closer to Karl. At Piper, the next left-hander named after Historic racer David, the Minardi driver tried a late dive down the inside of the Sauber. As Wendlinger closed the door late the inevitable happened and they touched, both spinning into the gravel bed and retirement. That same lap Morbidelli's engine blew up and he spun off on his own oil, so as Frentzen moved up to fifth place in Fittipaidi's wake. Erik Comas came up to sixth. The Frenchman had got involved in the first corner melee, spinning Mark Blundell's innocent Tyrrell out of the race when he struck it, but four pit stops later he was to take the last championship point. The overweight Lotus 107Cs, which had struggled throughout qualifying, were at least reliable for seventh and eighth places, and after delays associated with the first corner drama the Ligiers wound up ninth and 10th.
This time there were pickings again only for Simtek of the new teams. This time Nick Wirth qualified both his cars, but after David Brabham ended the opening lap in 18th place from 25th on the grid, a blown engine sidelined him after only one more lap. Thus Roland Ratzenberger was left to fly the flag, bringing his S941 home as the final finisher. For Pacific T1 Circuit Aida was but a nightmare, with damaged engines preventing wither Bertrand Gachot or Paul Belmondo from qualifying. Nor was it a good race for Tyrrell after its Brazilian promise; with Blundell suffering from Comas' error, it had to rely on Katayama alone.
The Japanese driver pushed hard against Alboreto and the latter's Minardi team-mate Pierluigi Martini for a long time, in and around 12th place, until his Yamaha engine broke. Martini retired when a brake problem sent him off the road, while Eddie Irvine's stand-in at Jordan, Aguri Suzuki. had a lacklustre meeting that ended with steering failure. Where Interlagos had, apparently, seen all teams behaving themselves on the technical front, all hell broke loose in the paddock on Sunday morning when Ferrari was accused of cheating by running a form of traction control in Saturday's free practice session.
The team vehemently denied that it had been told by FIA Technical Delegate Charlie Whiting not to run an 'engine modulation system' that effectively acted as a variable rev limiter for each gear but the FIR was equally adamant that the team had been advised that it did not meet with the regulations. Other teams were incensed, one owner pointing out that the technical regulations had been modified to suit Ferrari in the first place!
In the days that followed, the FIA clarified the Situation: engine modulation systems were banned. but no action was taken against Ferrari. None of this bothered Schumacher. After the race the Benetton mechanics grabbed hold of his unfortunate teammate Verstappen, tied him up with tank tape and daubed him for spinning out of fifth place which would have been fourth) when he pushed too hard on a brand new set of tyres on lap 55, and Michael watched with his familiar smile. With Senna gone he had never had to extend himself, but even without any spur he had never put a wheel wrong as he scooped up his fourth GP success. indeed, he'd spent the final 20 laps sitting a little distance behind Berger's Ferrari, which he could have lapped with ease had it really mattered.
Such was his superiority, however, that he could dictate his own pace on an afternoon when Ford's Zetec-R engine eclipsed even the legendary DFV by winning not lust its first race, but its second too. Small wonder that Ayrion Senna, 20 points down, was not a happy man. – D J T