Untouchable... unforgettable... Mike Hailwood
He was a living legend on two wheels and an ever-improving racer on four when an accident ended his Grand Prix career. Colin Goodwin remembers one of the sport's most popular and charismatic figures on and off the track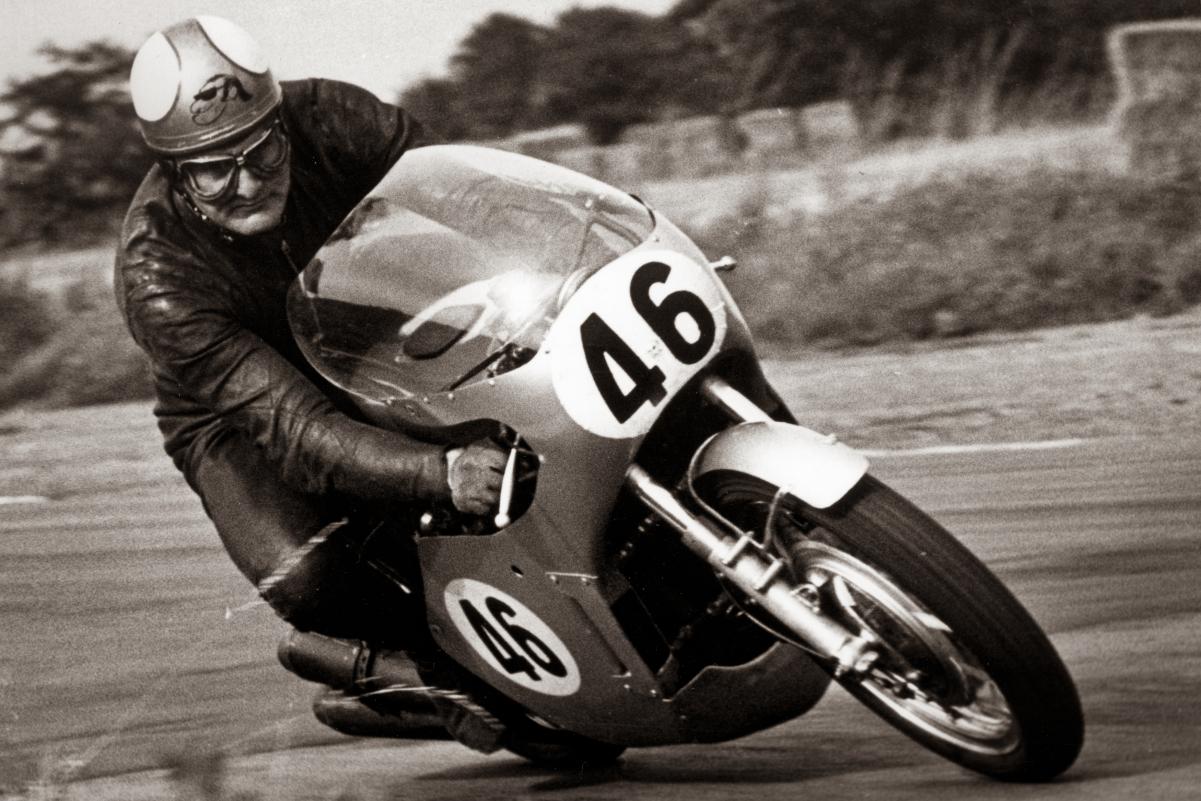 I've always held Mike Hailwood partly responsible for my incredibly poor tally of O levels. It was an unfortunate piece of timing that while Goodwin was meant to be spending late May 1978 thinking hard about Keynesian economic theories and such-like trivia, Hailwood was returning to the Isle of Man TT after an eleven year break.
Back then my interest in motorcycle racing was on a level with my enthusiasm for breathing and eating. I never saw Hailwood race bikes in his heyday because he retired from Grand Prix motorcycle racing in 1967 when he was 27 years old and I was only five, but you didn't need to have seen him back then to be swept up in the wave of excitement as the TT approached. Eleven years. A long time away from racing. Modern bikes, modern brakes, modern tyres. A lot of changes. Only the TT circuit remained unchanged and Hailwood was the proven master of that. Twelve TT victories, including a hat-trick of wins in 1961. Twelve was the racing number on the front of the Ducati that Hailwood lined up on the grid for practice for the Formula One race.
On that June day practice was also taking place for a Formula One race of the four-wheeled kind, at Jarama, just outside Madrid. We'll come to Hailwood's car racing career shortly, but here it's enough to say that the man made an impact; not just because of his ability in a racing car, but because he was one of the nicest and most modest men to ever sit in a Formula One car. Engine guru Brian Hart, who had raced against Hailwood in Formula Junior in the early 1960s, was in the Jarama pit lane and like most others was extremely interested in how his old friend was doing in the Isle of Man.
"We were all waiting for the newspapers to arrive so we could see how he'd done in practice. I was hovering around the radio listening to the BBC World Service to see if I could find out anything', says Hart. "That's the sort of bloke he was. You didn't forget him."
On the Island the dream came true. Hailwood won the Formula One TT race. He did more than win it, he finished first by a staggering two minutes, At Jarama Mario Andretti took pole for the Spanish Grand Prix, but the big news along the pitlane was of Hailwood's victory. Outside a hotel in Douglas a large poster read "Hailwood chooses Castrol" at least it did until someone changed it to "God chooses Castrol'.
That poster would have embarrassed Hailwood. As did the hero worship that followed his TT win. A more modest man in racing has not been seen. Like Jim Clark in cars, Hailwood's talent on a motorcycle was so natural that he didn't really understand what the fuss was all about. He could just do it, that was all. And on any machine that he was placed upon, for that matter.
At the beginning of his career those machines were the very best money could buy. And Hailwood's father Stan had a lot of buying power. Hailwood Sr made his fortune selling motorcycles. The family lived in a large house in Oxfordshire and Mike went to Pangbourne Naval school. Not many of the bike racers that shared paddock space with Hailwood came from a similarly privileged background; that they accepted him as friend and equal without any inverted snobbery says more than anything else about Hailwood's character.
Stan Hailwood was the epitome of the father who re-lives his own life through his son's. Not only would Stan buy the best bikes for Mike, but he was also a serious publicity man. Newspaper men would be harangued for not mentioning at sufficient length Mike's achievements, especially those in the motorcycle press who could be threatened with withdrawal of advertising. There were no limits to Stan's determination.
"Stan Hailwood was a driven man," says John Surtees. "Driven by the desire to see his son succeed. He used to borrow bikes from us for Mike to ride. Sometimes we never got them back."
"Stan Hailwood was driven by the desire to see his son succeed" John Surtees
Before long it became obvious that Hailwood would get the bikes that his talent demanded, and not the machines that his father's cheque book could provide. The world sat up in 1961 when Hailwood won three TTs in one week.
"Mike was brilliant. To survive and win on that course in three events is quite remarkable," says Phil Read, another of Britain's great bike racers whose career paralleled Hailwood's, including racing against him at the TT in 1978. "I just felt that he had no fear of dying or getting seriously hurt, so that he raced to the limit and always finished the race. Yes, I feared dying or getting hurt. I was good, but Mike was better. If he hadn't been around I'd have won a few more world championships."
At the end of 1961 Hailwood signed to ride for MV Agusta, which is the two-wheeled equivalent of a call to Maranello. Count Agusta, who owned MV, was not a dissimilar character to Enzo Ferrari, for that matter. Surtees had been the star at MV in the '50s, but by this time was making the change to cars. Some change. Surtees drove a Cooper Formula Junior at Goodwood in 1960 and won. First time in a racing car, first car race. Perhaps it was this success that made Hailwood have a go in a car at Silverstone that same year in a Lotus-Climax. His baptism was as dramatic as Surtees's, but for different reasons. It was wet and Hailwood spun into a barrier. He had another go in 1963, this time buying his own Brabham Formula Junior.
"I first met him at Snetterton," recalls Brian Hart. "It was cold and windy and here was this larger than life character obviously out to enjoy himself. He was quite good – although this was really a club race – but didn't seem to be taking things very seriously. He had a sense of balance that was entirely natural on a bike and he was able to transfer some of that into driving cars. The problem back then was that he didn't have a clue about cars technically. Bikes were simple, he just got on and rode them quick. Cars had to be set up with lots of variables. Mike didn't understand them."
Hailwood's mechanical ineptitude became legendary in racing. That said, Surtees, for whom Hailwood drove in Formula 5000 and Formulas One and Two, didn't think that this was as big as handicap as it might have been.
"Fortunately," says Surtees, "Mike was completely honest. If he was having trouble with the car, or going slower than he should have been, he would be totally honest about it. He'd tell us what the car felt like and we would sort it out. There was never any blaming any poor lap times on the car."
Recently, Italian bike star Max Biaggi had a try out in Michael Schumacher's Ferrari F1 car. He did quite well and the event generated dozens of column inches around the world. On July 20, 1963 Hailwood put a Lotus-Climax that he'd rented from Reg Parnell on the fifth row of the British Grand Prix at Silverstone.
The occasion won half a sentence right at the back of Autosport's preview of the race. In the race Hailwood finished eighth, having run in company with Jo Siffert for much of the race.
The next year he did a full season with Parnell, managing to score a point at Monaco. Not bad going when you remember that he was competing on bikes at the same time. Hailwood found the car racing crowd stuffy and elitist; very far removed from the friendly and laid-back atmosphere of the bike world. This is 1964. What on earth would he have made of the current Formula One paddock? Anyway, apart from a couple of outings for Parnell in 1965, Hailwood left Formula One, not to return until 1971.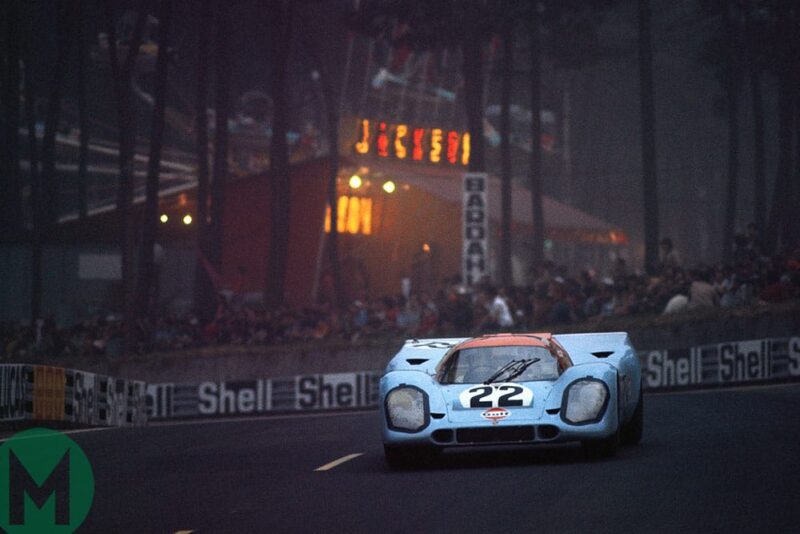 After his stint at MV Agusta Hailwood joined Honda, whom he was to stay with until the end of 1967, when the company as it did in the 1980s in F1 reckoned that it had met the goals it had set out to achieve and withdrew from racing. Honda paid Hailwood £50,000 not to race for any other manufacturer, even though Honda itself wasn't taking part, which says something about Hailwood's reputation on bikes.
Back to cars. Sportscars in South Africa for the Springbok series, the Tasman series, a Lola in the newborn F5000 championship and a third at Le Mans in 1969 with David Hobbs in a Gulf GT40. Hailwood raced a multitude of different cars all around the world. That third at Le Mans was nearly a win, but unfortunately when Hobbs came into the pits complaining of brake trouble the team insisted it was only pads. It wasn't. A pipe had fractured and the car had to be limped around for another lap.
Some of the greatest Hailwood anecdotes come from this era. And Hailwood anecdotes are as good, if not better than anyone else's. It is almost impossible to speak to anyone from that time in racing who has not got a cracking story involving Mike Hailwood. Stories of his 'on road' driving exploits are legion. Peter Gethin has one of the hairiest.
"There was ox everywhere, including, to my horror, a horn embedded in the back of my seat."
"We were in South Africa, can't remember quite when, but we were in Mike's Iso Grifo driving from Bulawayo to Cape Town. Now, I'd been on the back of a bike with Mike and it felt safer than sitting in your favourite armchair. He was so smooth and confidence inspiring. It wasn't quite the same in a car. We were absolutely steaming along in the lso, well over 100mph. In the distance I saw an ox begin to wander towards the road. Mike didn't see it. Anyway, we hit this bloody animal with a colossal impact. I had ducked under the dashboard but Mike was knocked out by the windscreen. There was ox everywhere, including, to my horror, a horn embedded in the back of my seat. The car went up in flames. Some Afrikaans turned up but refused to speak English. We ended up in some dreadful out of the way hospital," recalls Gethin.
Journalist Nigel Roebuck remembers turning up in the paddock at Rouen in France on the morning of a Formula Two race in which Hailwood was racing. It was 1972, the year in which Hailwood won the championship for Team Surtees. "I saw Mike's Citroen Maserati parked under a tree in the paddock. Steamed up windows and a pair of feet pressed against the windscreen. Hailwood was in it alone and just waking up. Turns out that he'd sneaked into town to meet some girls and had got back very late and the worse for wear. He didn't dare go to the hotel for fear of waking Surtees. I brought him a black coffee to sober him up and he came second in the race."
Mind you, Surtees wasn't exactly blind to Hailwood's antics. "Mike used to get terribly wound up before a race so there wasn't much point in sending him to bed early. He'd never have slept anyway."
If Hailwood was wound up it certainly wasn't with fear. Fear of not doing well, but not scared. The true extent of Hailwood's bravery was displayed at the 1973 South African Grand Prix. In the race local driver Dave Charlton lost his Lotus and was hit by Hailwood's Surtees. Then Clay Regazzoni arrived and ploughed into Hailwood's stationary car. Interlocked, the two cars burst into flames with Regazzoni trapped. Hailwood got out of his car and undid the Swiss driver's harness. Then he himself caught fire and had to abandon the burning cars to put his own flames out by rolling on the grass. Meanwhile, marshals had put out the fire. However, the whole lot went up again and Hailwood returned to the inferno and hauled Regazzoni out of his car. Pauline Hailwood was watching from the pits that day.
"Mike came into the pits stony faced. We were staying with an old bike racing pal called Paddy Driver. Mike just took me to the bike we were using and we went back to Paddy's. He said nothing about the fire or saving Regazzoni's life. It was only when I read about it in the papers the next day that I found out what he'd done."
"Mike came into the pits stony faced. It was only when I read about it that I found out what he'd done."
Hailwood received the George Medal for his bravery. A year later his own driving career was over. A crash in his Yardley McLaren at the German Grand Prix at the Nurburgring shattered his ankle so badly that he could never race a car again. Both John Surtees and Peter Gethin agree that Mike had not yet got to his peak in a Formula One car.
"It wasn't so much that he was getting quicker," says Surtees, "but his understanding of the whole business of car racing was so much greater than it had been when he started out. He coped a lot better with all the pressures and that made him more competitive on the track."
In the four years between ending his career as a Formula One driver and returning to the Isle of Man the Hailwoods, complete with son David and daughter Michelle, moved to New Zealand where Hailwood started up a boat business. Friends were surprised at the move as he'd always hated the place. Anyway, pretty soon he was bored stiff. Which brings us back to the beginning and that TT comeback. Mike Hailwood followed that 1978 victory a year later with a win on a Suzuki in the 500cc race and a second on the same bike in the Classic. That put paid to Goodwin's chances of successfully retaking the levels failed the year before.
Almost two years after that final victory, on 21 March 1981, Hailwood, along with his two children, left the family home in Tanworth-in-Arden in the Midlands to go to the local fish and chip shop for the evening meal. They never got there. A lorry made an illegal U-turn and Hailwood's Rover hit it broadside. His daughter Michelle was killed instantly; Mike sustained terrible injuries but young David received relatively minor injuries. Two days later the man who conquered the Isle of Man so many times, who raced in Formula One through its most dangerous era, was dead. The victim of a senseless road accident.
That lad who failed his exams now has a job that has brought him into contact with some of the greatest men from our favourite sport. He has met Moss and Fangio and listened to the two men swap tales; he has been driven by Surtees with great skill and at great speed in a gullwing Mercedes. But he never had the chance to meet one of the best loved characters ever to have driven or ridden around a race track. Lucky are those who did.
If you are interested in reading more on Mike Hailwood, then we strongly recommend Christopher Hilton's biography A Man Called Mike.