1966: Ford's first Le Mans win
Ford was desperate to win Le Mans in 1966, but had to overcome political in-fighting as well as Ferrari. This is how the Blue Oval scored a famous first victory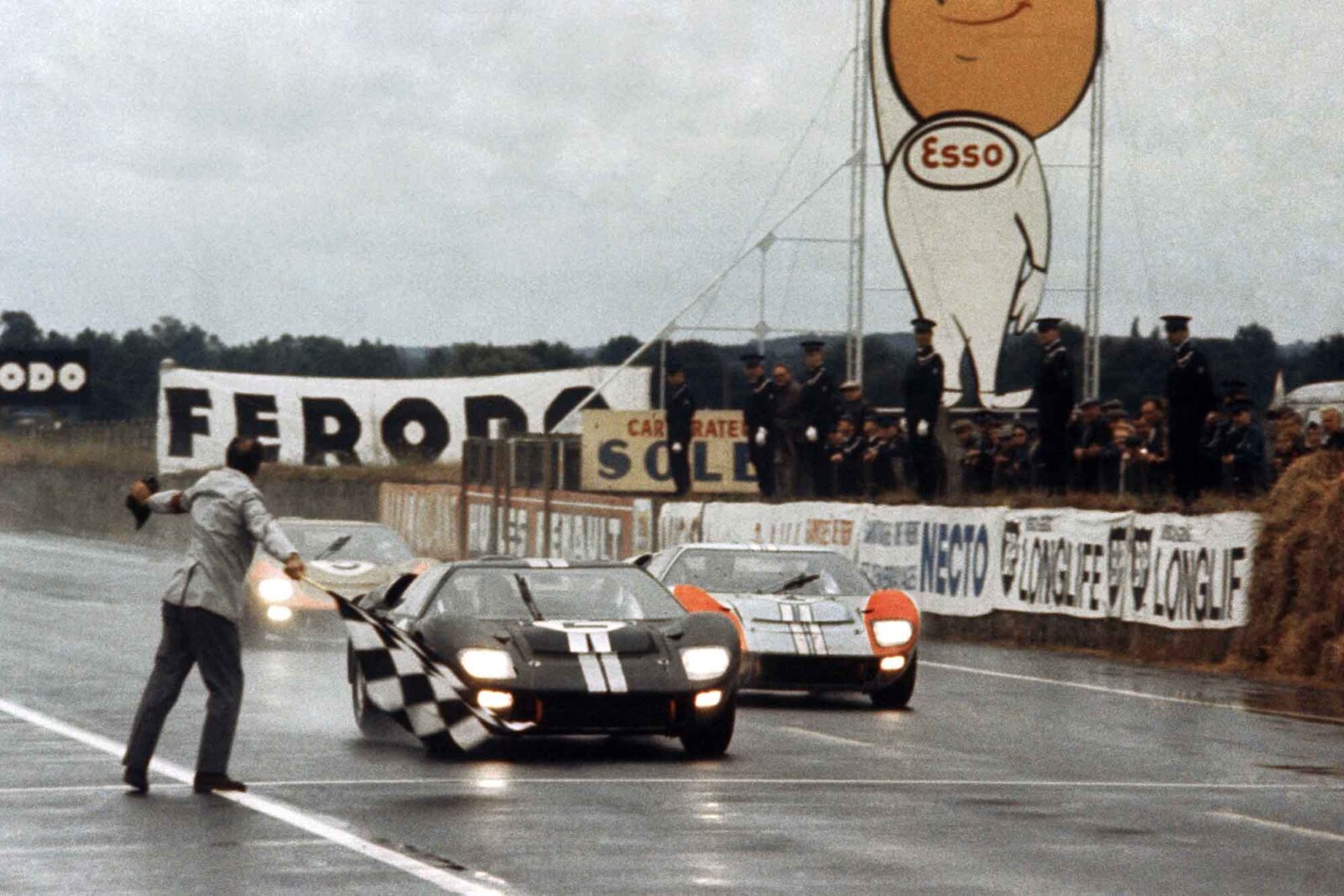 "This is a victory meeting." It wasn't – far from it – and querying glances were exchanged. But Leo Beebe didn't blink: "Next year, we're going to come back and win, and we might as well start right now."
FoMoCo to the core, this former sports coach – baseball, basketball, football, track – and US Navy Phys Ed instructor didn't mind dirty jobs. He'd locked the doors behind him on Ford's Edsel embarrassment, for example. Yet motor sport had turned his stomach. Charged in April 1964 with winning the Daytona 500, Indianapolis 500 and Le Mans 24 Hours – no pressure! – his witnessing the grisly accidents of NASCAR ace Glenn 'Fireball' Roberts at Charlotte and Dave MacDonald and Eddie Sachs at Indy on consecutive May weekends caused him to question his role. He hadn't anticipated its human cost and perhaps should have stayed in Brussels, selling cars and trucks.
Nobody had died at Le Mans 1965 – but Ford was mourning six retirements from six and having to suck up a sixth consecutive Ferrari victory. Relocating the programme's powerbase from UK to US had led to a hurried introduction of a fast but unreliable car. Having created this 7-litre monster – almost 3000lb (ready to rumble) – Beebe was wondering if he should have let experienced John Wyer's Ford Advanced Vehicles, created in Slough in autumn 1963, just get on with it.
"Beebe went all in for Le Mans in '66. They would prep and run no fewer than eight of those 'monsters'"
But Beebe had worked wonders elsewhere.
In 1964 Hemi-powered Plymouths finished 1-2-3 at Daytona; Team Lotus Powered by Ford collapsed at Indy; and the Ford GT, designed, built and based in England – but lumbered with a fragile Italian gearbox – instilled little optimism. So he cleared his desk of PR flimflam and created programme heads – Ray Geddes, a law graduate colleague of Carroll Shelby's, got sports cars – and locked horns with the sport's biggest names, with immediate effect: a Daytona 500 shortened by rain was won by Fred Lorenzen's Holman & Moody-run Galaxie and a refocused Lotus scored a dominant victory at Indy.
So Beebe slept on it.
He went all in for Le Mans 1966. H&M and Alan Mann Racing of Byfleet were drafted to support incumbent Shelby American and between them they would prep, test and run no fewer than eight of those 'monsters'.
"We were included to give the car longevity," says Lee Holman, son of co-founder John. "We had 450 employees – far bigger than Shelby's – and one customer: Ford Motor Company. We could produce an entire car in our building and we applied that to what the [Le Mans] car needed."
This was racing gone corporate. Le Mans had never seen its like: 20 tons of spares and equipment, individual transporters, a 40ft mobile machine shop shipped from New York to Le Havre, and considerably more than 100 crew. Ford was ready at last to kick Enzo Ferrari where it would hurt most: due Sarthe.
Revenge was its trigger. When chief negotiator Donald Frey returned from Maranello in May 1963 with a flea in his ear and a signed autobiography in his suitcase, the combustible Henry Ford II lit up. Enzo had initiated takeover talks yet filibustered for days – interminable nights, actually – before walking. Jilted, Ford outlined its Plan B one week later: a Special Vehicles Department to conceptualise a high-performance sports-racer and liaise with outside agencies to oversee its build.
Having watched Ferraris fill the top six places at Le Mans, Ford representatives crossed to England to meet Colin Chapman, John Cooper and a shy former quantity surveyor. Lola's Eric Broadley got the gig. Ford approved of his lack of ego and Mk6 GT: a low-line mid-engine coupé, powered by a Ford V8, that showed promise at Le Mans until its Colotti gearbox caused David Hobbs to crash after 13 hours. A one-year deal was signed on August 1 and Bruce McLaren was testing an updated 'Ford' by the month's end.
***
Ten months later Richie Ginther took his courage in both hands and blew by three Ferraris along the Mulsanne Straight on the second lap. This fairy tale beginning had a sad end: two GTs retired because of gearbox problems and a third caught fire. Three more retirements followed a fortnight later at the Reims 12 Hours – Ford was too impatient to beat Ferrari – and another questionable scheduling decision, to contest November's Nassau Speed Week against more agile rivals on a bumpy, stop-go circuit, led to a clutch of DNFs. Whereupon Beebe handed the cars to Shelby American in LA, having empowered Special Vehicles to build its second iteration at Kar Kraft's 'skunk works' in Dearborn.
Shelby nursed a deep dislike of Enzo. Though looking and sounding diametrically different, they were uncomfortably similar beneath that Stetson and behind those shades: ambitious, imbued with a whiff of snake oil, and capable of gathering, motivating and orchestrating talented colleagues to create mythic brands greater than the sum of their parts.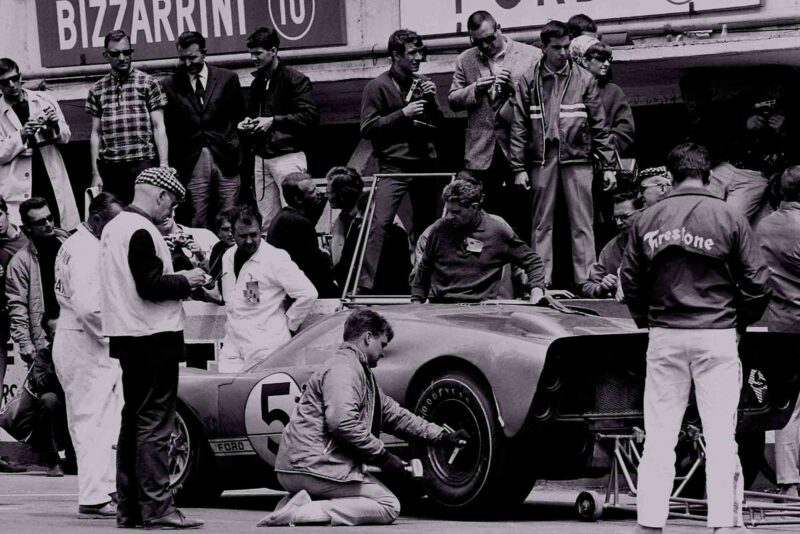 Ford 'folding' allowed the Texan chicken farmer to move from his cramped Venice speedshop to a pair of vast hangars adjoining LAX. His roster included legendary designer/draughtsman/engineer/fabricator Phil Remington and English expat Ken Miles, 46, an astute and fetishistically fit tester/racer whose big chance this was. But the team was reliant on relegated Wyer for spares and (less so) advice. These long lines of communication, divided by a common language, did not promote Beebe's common purpose.
Time was running short as the American arm mused how best to flex its muscle. The earliest GTs used the aluminium 4.2-litre Fairlane V8 developed for Lotus's 1963 Indy campaign. With a plan to switch to its quad-cam update scuppered by delays and resultant shortage, Cobra's cast-iron 4.7-litre was fitted instead. A tailor-made V12 was considered next, but once again Ford had to cut its cloth, albeit much wider this time: a 650lb 7-litre pushrod suited to NASCAR, but which, to European eyes, was at odds with a cutting-edge competition car.
Ray Lunn, another expat, formerly of AC, Aston Martin, Jowett and Ford of Britain, oversaw this MkII conversion as tech boss of Special Vehicles. Integral from the off, he'd fallen out with Broadley, who jumped ship, and exchanged barbs with Wyer before returning to America in November 1964. A skilled engineer and wily politician, he was a crucial FoMoCo cog.
The prototype wasn't completed until mid-May and yet Miles – though he and Lloyd Ruby had won February's 2000km Daytona Continental in Shelby's revised MkI – insisted on it for Le Mans. Though buzzing after lapping the Romeo test oval at 201mph, he didn't take such decisions lightly. He knew MkI better than any racing driver had known any racing car because of his pioneering onboard data-logging work with Ford's aerospace outfit, Aeronutronic: pressures and temps measured inside ducts and rpm recorded by an oscillograph. He and Remington had busted guts on its aerodynamics, brakes, suspension, tyres and wheels, too. His endorsement, therefore, carried weight.
Two of the unsorted 460bhp four-speed machines were sent to France for Shelby American, and Phil Hill's grabbed a dramatic pole position, five seconds faster than John Surtees' works Ferrari. Ford's race, however, was a disorganised disaster. Though MkII ran one-two initially, and set fastest lap, all six cars retired before the seventh hour.
Lunn reckoned the mistaken refitting of a scrapped gear in the rush to be ready had cost it victory, while an official report blamed a misaligned oil hole and incorrectly adjusted clutch. But the devil lay in the big picture: the admin hell of five teams running two models in two types – five coupés and a roadster – fitted with three sizes of V8. Stretched head bolts, a recurrent problem that might have been cured had not Ford become sidetracked, sidelined three MkIs.
The pace told on Ferrari, too – all its works cars were retired by 2am – but privateers in reliable machinery gave Enzo a 1-2-3.
Beebe had plenty to chew on over breakfast.
With Indy won, he could concentrate on the French enduro that had made Ferrari's name in America. In a bid to reduce red tape and instil a tight-knit atmosphere atop a giant industrial pyramid, his Le Mans Committee allowed departmental heads – John Cowley from NASCAR had replaced Geddes – to join hands, or step on each others' toes, every fortnight. Spurred by defeat, this distant race was suddenly up close and personal even to the guys on the assembly line.
***
Testing recommenced in August and Miles and Hill managed just nine hours of running in four days at Daytona. A 24-hour test in December was interrupted by engine and brake failures. And only 18 hours could be completed at Sebring in mid-January before the gearbox quit. So the inaugural Daytona 24 Hours would be a plunge into the February dark, physically and metaphorically.
Ferrari stayed away and MkIIs finished 1-2-3-5. Yet not everyone was convinced by this sledgehammer. Wyer and Mann favoured the small-block route: better mpg and easier on tyres and brakes. Thus Sebring in March was billed as a showdown between Ford strategies, as well as against Ferrari. Mann built the lightest GT40s yet (2025lb) and put Graham Hill and Jackie Stewart in one; it qualified third and led the opening lap. But Ford of America won the (half) day. Though its victor – the lightweight X-1 roadster, one of two aluminium chassis built by Abbey Panels – was unsuitable for Le Mans because of draggy aerodynamics, bigger was now officially better.
"Engines let down our cars," says Alan Mann Racing fabricator Jim Rose. "They were bloody awful. We only found out after the Le Mans test [in April] that we'd be running 7-litres. The next thing, six of us – plus my wife, who had friends up in the Valley – were on a plane to LA. All the teams worked together at Shelby's for about six-seven weeks. You had the right tool in your hand and so you went down the line doing the same job, getting faster each time. We didn't know which car was going where, so there was no favouritism. Of course, when we got ours home we rebuilt them the way we wanted to."
And that ought to have been that. But Lunn, craving self-sufficiency, pushed hard for his J-Car to be considered. X-1 had been gathering data for this radical aluminium-honeycomb design, the programme's first all-American, so that it might tackle the Test. Thus Ford arrived with two GT40s and two MkIIs, plus its latest interloper, and endured a terrible weekend. Pushing unadvisedly hard in the rain, 46-year-old Walt Hansgen crashed his MkII at 150mph. The following day, J-Car, crammed with recording instrumentation, lapped a second slower than Hill's 1965 pole but two seconds faster than Miles, who slid his MkII into a sandbank.
Was it all turning Blue Oval-shaped again?
Tests at the Kingman oval and Riverside – 24 hours in three blocks of eight – proved MkII marginally faster in terms of top speed and considerably more prepared than J-Car. It had been an unnecessary distraction. Meanwhile, an engine-with-gearbox was completing simulated laps of Le Mans in a Dearborn test cell. It hit its 48-hour target in the last week of May and 12 of them – lighter by 40lb due to magnesium oil pan and aluminium heads and front cover – were assembled, tested and crated to LA.
"We weren't allowed to touch them," says Rose. "We couldn't even take the rocker covers off. They'd detuned them, too. The NASCAR version had 515bhp, but they ran 480 at Le Mans. They tried twin carbs but it just used more fuel."
Holman: "The compression ratio was dropped and they were only turning about 6400rpm; at Daytona we were turning 7500-8000rpm."
European observers noted how more organised and cogent this attack was. For instance, Remington and H&M had developed respectively a quick-change caliper and rotor to enable crucial brake swaps in just 2-3 minutes. But that's not to say there weren't internal rivalries – drivers, managers, teams and tyres – in need of massaging. They weren't nasty but they were potentially divisive.
"I thought the atmosphere was good," says Rose. "We got on well with Shelby's, which had remarkably few American mechanics: Charlie Agapiou and Bill Eaton were English, plus there were Canadians, New Zealanders and Japanese. Both American teams worked very hard and wondered why we never stopped messing about (yet won everything). We put a Mercedes sticker on the silver car and that caused no end of aggravation.
"Maybe there was more animosity between Shelby and Holman & Moody. The only real problem we had was with the parts guy. He wouldn't give the Brits anything and pretended not to understand us."
Holman: "It was tense, in that Ford expected to win and there were three teams each trying to do the best they could. Shelby had got so far in debt to Ford over the Mustang and Cobra projects that he'd become a division of Ford, albeit a fairly independent one. So his was the factory team. Both Alan Mann's and our drivers were told not to pass a Shelby American car unless a Ferrari was passing it, too.
"My father's attitude was, 'We're here at Ford's pleasure. If they want us to do something, we'll do it. It owns the cars and can do whatever the hell it wants with them.' He was a team player.
"But there was rivalry within Ford: Shelby was backed by Lee Iacocca, who was trying to sell Mustangs and Cobras; Bill Innes of Engine and Foundry and Henry Ford II backed us. There was more infighting over who controlled the budget than there was between us and Shelby American."
Some others didn't see eye-to-eye either.
Holman: "When my father realised that we were going to race in Europe in 1966, he sent me to work with Alan in 1965. I was 20, had a Ford credit card in my pocket and travelled around Europe helping run Cobra Coupés. That's when I found out how mad Alan was with Shelby. With Alan's help, we had developed racing Mustangs that basically were a '64 Falcon rally package on a Mustang body. These won the Tour de France and Shelby asked for one. Ford sent him the winning car and he copied it to make the GT350. Alan was so pissed about it that his 1965 contract with Ford of America included a clause stating that he had the right to withdraw from an event if Shelby ever showed up."
Ford's driver line-up was unsettled, too. Sadly, Hansgen had succumbed five days after his crash. Thankfully Ruby, AJ Foyt and Stewart survived theirs – at Indianapolis (airport!), Milwaukee and Spa – but they were ruled out by injury. The excellent Denny Hulme replaced Ruby. Though he was as laid back as Lloyd, who often dozed between stints, insomniac Miles worried that the New Zealander did not have enough invested.
Another unsettling rejig was required when Dick Thompson, in for Stewart at Alan Mann Racing, was disqualified for unsportsmanlike conduct after colliding with a slower Ford during practice. The car was threatened with disqualification initially and Beebe put his neck on the block by bluffing a total withdrawal. The eventual compromise involved only Thompson falling on his sword.
***
The big Fords dominated practice in the absence of Ferrari's fastest – Surtees had dashed to Maranello for a me-or-him meeting with Enzo about manipulative team manager Eugenio Dragoni – and Dan Gurney took pole, ahead of Miles, John Whitmore and McLaren; Hill was sixth and Ronnie Bucknum ninth in the fastest H&M car. Rain 30 minutes before the start caused flutters but Honorary Race President Henry Ford II had more than eight reasons to feel confident as he waved the flag.
Whereupon Miles clipped a hesitant Whitmore and both pitted at the end of the first lap, as did Paul Hawkins' MkII: the latter had a broken driveshaft; a clutch adjustment cost Whitmore's Alan Mann car 10 minutes; but Miles was stationary for mere seconds as a door ajar was slammed shut.
The pace was fierce and three MkIIs retired before midnight: diff, clutch, head gasket. Then Hill's suffered front suspension failure. But Ferrari's trio of works 330 P3s, outnumbered and outgunned, despite a fuel-injected DOHC 4-litre V12, also faltered and Fords held the first six places as dawn broke. Team-mates Gurney and Miles were reprising their Sebring battle – and were again admonished for it. McLaren, now on Goodyear inters – Bruce to co-driver Chris Amon: "Go like hell!" – were recovering from delays caused by chunking Firestone wets in the changeable conditions. Shelby American had the race in its pocket but Ford worried that its drivers might burn a hole.
Gurney was asleep when Grant burst into the trailer at 9am to tell him that the lead car's water temperature was off the clock; its engine cooked in less than an hour. The 'EZ' sign was hung and Miles took the 'opportunity' to close on McLaren. The potential for calamity loomed still and Ford's top brass had a big decision to make. It plumped for a dead heat. There'd never been one before and the organisers, excited at the prospect, were amenable. McLaren and Miles were informed prior to their final stints and neither was excited at the prospect. The latter was on the cusp of a historic Triple Crown – Daytona, Sebring and Le Mans – and felt that his extensive, exhaustive input deserved reward; a tie would be a defeat in his view. McLaren, normally swan-like compared to the hawkish Englishman, was fizzing, too.
Holman: "There was rivalry within Shelby American, because it wanted Miles to win, but McLaren was quicker so his car was sabotaged. The other two Shelby cars listed heavier springs – 1100-1200lb instead of 900lb – and shock settings in their reports so that the McLaren car would copy them; I don't know if its crew realised it was bad information, but I do know that Bruce did not like the way the car handled. He complained to my father, and to Alan Mann and Henry Ford II, and a group of mechanics – some of Alan's crew and two of our workers – stayed over the night before the race to change the suspension. To my knowledge, [Carroll] Shelby wasn't aware. That's one of the reasons why Bruce wasn't receptive to trying to make a correct photo finish."
Another was the unnecessary tyre change – in McLaren's view, ordered by Goodyear to banjax Firestone-contracted drivers – that cost him the lead at the last scheduled fuel stop.
Holman: "Shelby always wanted to run Goodyears because of his tyre store in California."
The crowd was unaware of the undercurrents as the stage-managed MkIIs drew level in streaming rain, the third-placed car of Ronnie Bucknum/Dick Hutcherson riding shotgun, 12 laps in arrears. Nor did the main protagonists know that their dead heat was a dead duck. The organisers had backtracked: McLaren had started 20 metres behind Miles and that figure could not be ignored in the final calculation.
"The most important thing was for Ford to win," says Rose. "When our cars retired we stayed on in case our help was needed. I don't remember worrying about any controversy. I was just glad we'd beaten Ferrari."
Miles appeared to back off in protest approaching the chequer. Holman, on pit road at the time, insists McLaren accelerated. According to Amon, Hulme, as his co-driver feared, wasn't overly bothered by events but Miles was teary and bitter. Ford's sweet revenge ended on a sour note, and because the 'injured party' was killed testing the J-car at Riverside that August, the echo of its human cost can still be heard, 50 years later.