Lunch With... Brian Henton
He won at every level on his way to F1, but failed to score so much as a point when he got there. The real story, though, is that he chanced upon racing at all
Some youngsters discover motor racing through family influence, others stumble upon it by chance. Growing up in post-war Britain, Brian Henton barely knew such a thing existed – until his own wilful disobedience sparked an improbable chain of events. The key ingredients? Some fireworks, a flooded home and a bus trip to Derby. To join the dots, the 71-year-old – still a highly active businessman – suggests we meet in The Garden Room Restaurant at The George in Stamford, Lincolnshire, where he opts for a seafood double: salmon and gravlax in dill & mustard sauce, with lobster benedict to follow and a pint of Diet Coke by way of accompaniment. "A nice glass of Chablis would go well with this," he says, though he never goes as far as ordering one.
Henton was only 11 when he lost his father. "It's ironic that he came through the war, but then died in a factory explosion while working for British Celanese, a chemical company in Spondon," he says. "I was a single child, often left to my own devices while my mother worked at a Derby mill. She was quite strict and forbade me from buying fireworks, but if ever I was told not to do anything… After she'd gone to work one day I popped to the local newsagent and bought a couple of bangers. When I got home I realised I had no way of lighting them, but there was a bar heater on the kitchen wall so I used that. As soon as they started fizzing I panicked, chucked them in the downstairs loo and flushed it, thinking that would get rid of the problem – but it actually blew out the bottom of the pan. Water started cascading everywhere and I didn't know how to turn it off. My mum walked into the middle of all this and went ballistic. One of my big loves at the time – still is, by the way – was Derby County. She decided the only fitting punishment would be to bar me from going to matches and throw away my fan gear – hat, rattle, scarf, the lot. I told her I was leaving home, cleared out my money box – which probably contained about 10 shillings – jumped on a bus and went into Derby.
"When I reached the terminus, I saw another service about to leave with 'Mallory Park' on the destination board. I didn't know what Mallory was, so jumped on out of curiosity. There was no one on the gate when I arrived, so I walked in and got all the way into the paddock. I heard the noise, saw all this stuff going on, smelled the addictive scent of Castrol R for the first time… It was probably only a club meeting, but I decided this was for me. I was going to be a racing driver. I swiftly changed my mind about leaving home and returned to tell my mum where I'd been, what I'd seen and what I wanted to do. She seemed a bit sceptical…
"I got a similar reaction at school. I remember the careers advisor asking what I wanted to do. Most kids were off to work with local businesses – Rolls-Royce or British Rail. When I replied that I wanted to be a racing driver, he said, 'Fine, Henton, but in the meantime what are you really going to do?'"
Stepping away from education at 15, the short-term answer was a five-year apprenticeship at British Celanese. "I hated it," he says. "I really did, but in retrospect it was the best thing that ever happened because it gave me a totally solid engineering education. I could get on with a hacksaw, a milling machine, a lathe and I was going to college at night learning about stresses, electrics – it was a very useful in terms of what I wanted to do. I had a Raleigh Rudge Pathfinder bicycle and used to ride from home to Spondon. As soon as I was 17 I started wheeling and dealing – anything I could get my hands on. I bought surplus wallpaper and paint stock and sold it on a stall at Belper market, I used to repair cars… This enabled me to buy a motorbike, an Excelsior Talisman Twin, but really everything was geared towards saving enough money for a racing car. Business and motor racing would always be interlinked for me, because I saw one as a means of paying for the other."
After leaving British Celanese at 21, he set up an agency supplying contracted labour to local firms – including his own former employer – and later expanded into the manufacture of road signs and plastic cones for the construction industry. The businesses began to do well and his overheads were low – "I didn't leave my mum's council house until I was about 32!" – but his first competition car set him back only a tenner. "It was an Austin Healey 100/4, which a chap claimed to have 'written off'. I took it off his hands, but it wasn't badly damaged and didn't take long to fix."
HE MADE HIS debut at Castle Combe, spending much of his time spinning – and causing rivals to do likewise as his excursions coated the track with mud – and the Healey was swiftly replaced with a Marcos GT. "That cost me £800 and taught me a couple of things about motor racing. One, when it was delivered it looked the same as the car I'd agreed to buy, but the engine, gearbox and wheels were all different. Two, if you are going to buy a racing car, make sure it's not made of plywood. It was fantastically aerodynamic, but if you should crash…
"I entered a Nottingham Sports Car Club meeting at Silverstone and befriended a guy called Bob Rose, who ran Aston Martins. I told him that the tail kept stepping out at Copse and he replied, 'Same on the Aston. Increase the rear tyre pressures…' So I did as he suggested and spun like a top when I turned in to the first corner. The car hit the sleepers and disintegrated. I was wearing jeans, a short-sleeved shirt and an open-face helmet. It had seat-belts, but they were flimsy and as the car broke up I was thrown out, cleared the crowd and fortunately had a soft landing. I could feel all this wetness and was sure it must be blood, but it was only muddy water. We'd gone down in a Thames van with the car on a trailer, but for the return we were able to put the remains in the van."
That set him back for a season or two, but also refocused his mind. "I really wanted to race single-seaters, not sports cars," he says. "Most young hopefuls were racing in Formula Ford – that seemed to be the way to get to the top, but there was no way I could afford to buy a car, let alone run one – even if I did all the mechanical stuff myself. Then I saw Formula Vee, which was cheaper, had smaller fields and paid much better prize money. I thought I might be able to race profitably if I found a couple of sponsors."
He duly acquired Fred Saunders' 1969 UK title-winning Austro, damaging it first time out at Cadwell Park before going on to take second in the championship – and then going one better in 1971. "In Europe some of the best young drivers – Lauda, Rosberg and so on – were racing in Vee, but in Britain very few people paid it any attention. A mate of mine, [former Motor Sportassistant editor] Andrew Marriott, told me I should start being controversial, to get myself noticed. So I began telling people that I was going to be in F1 by 1975. If it had been now it might have gone viral – there were people writing to Motoring News, wondering who the hell I thought I was, and there was a real split between people who wanted me to succeed and those who wanted me to fail, but the publicity was good because it got my name into the press. Luckily I managed to win the championship and that was my career's foundation stone. It was Marriott's fault."
The following year he stepped up to Super Vee, with a chassis loaned by Crosslé.
"By that stage I'd acquired a Leyland Tiger Cub coach and kitted it out to take two cars, with a living area in the middle. I had two mates as mechanics and did quite a few races in Europe. We'd fuel the bus in the UK – and as soon as we were on the continent we'd be on the lookout for construction sites where diggers would be left unattended overnight. We'd siphon diesel from their tanks to keep ourselves on the move – I guess it was a form of sponsorship. We must have had the most economical coach in motor racing. I used to do about 2000 miles and return to the UK with as much fuel as we'd had to begin with, without ever visiting a filling station. We never did get caught.
"On the racing side I was learning more and more about driving, being a mechanic, everything. I could strip a gearbox, strip diffs. I could do anything on the cars and understand it all."
Having finished second in the British championship he graduated to F3, initially with a GRD that proved relatively uncompetitive against the Marches and Ensigns. Late in the campaign, though, he persuaded Ensign boss Mo Nunn to lend him a chassis – and promptly finished third at Mallory Park, ahead of such as Alan Jones and Jacques Laffite. His form didn't go unnoticed and for 1974 he received the offer of a works March – the right deal at what turned out to be the wrong time. There was an oil crisis, a recession and the F3 rules were changing, with a switch from 1.6- to 2.0-litre engines. Towards the end of '73 races were attracting 70-odd entries that required two heats and a final; when the new era began at Oulton Park in 1974, seven of the 12 entries materialised, two failed to start, three finished and the field was padded out with FF1600 cars that hadn't qualified for their main race. Henton won after recovering from a spin and would dominate the season, taking both UK titles.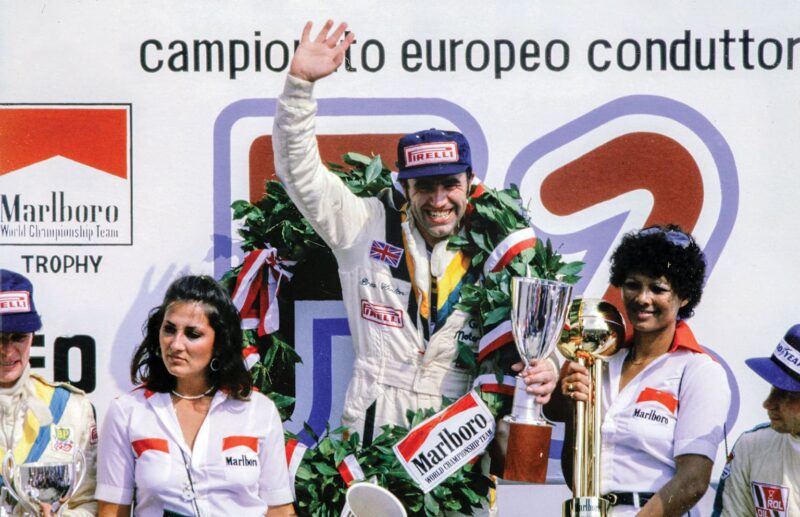 "It didn't help that some of the races weren't hotly contested," he says. "Maybe I'd still have won if the field had been bigger, but there were more hotshoes in Formula Atlantic that season so nobody could be sure whether I was competing against Manchester United or Accrington Stanley. I had a good run in the Monaco GP support race, where there was a fantastic entry. Tom Pryce won one heat and I won the other, but then I crashed at the swimming pool in the final – my fault for being unprofessional. I hadn't been drinking the previous evening, but I had been up rather late… I didn't get the recognition I'd have received if I'd taken the F3 title a year earlier, but I developed a very strong relationship with March designer Robin Herd and the factory agreed to loan me a car for F2 in 1975, though I'd have to run it myself.
"WE WERE ALWAYS skint, skint, skint – it was me, Pete Hemmings the chief mechanic, Lou the truck driver-cum-gofer-cum-everything and Barry, another mechanic. They became very good because they had to do so many different things. It was a real David vs Goliath situation but that kept driving us on."
He led at Thruxton early that year, before a puncture dropped him back, and also received a phone call from Lotus F1 team manager Peter Warr. "He asked whether I'd be free to test at Silverstone. When I arrived I found a queue of drivers waiting to get in, but eventually I took my turn – and the car felt horrible. Hardly surprising, as the design was by now a few years old. Colin Chapman asked what I thought. I told him it was a heap of shit, which I think he knew but I was the only one who'd told him as much. He hired me for a test programme and a couple of races – so my prediction that I'd be in F1 by 1975 came true!
"By then I had something of a reputation for chassis development and I think that helped, too. Team leader Ronnie Peterson was an amazing driver, but would turn the same lap times whatever you gave him. If you'd removed one of the wheels I'm not sure it would have made much difference. They saw me as someone who could help them sort the technical side."
It didn't all go smoothly, however.
"At one Silverstone test we ran in the morning, then decamped to The Green Man for sandwiches at lunchtime. When we came back, I was strapped in the car and set off, then got to Woodcote and found the road covered in cones, most of which I flattened. When I returned to the pits to explain what had happened, they said, 'Sorry, we forgot to tell you – they're trialling a new chicane that they might put in…'"
Lotus entered him for three races – Silverstone, the Österreichring and Watkins Glen. On his debut he qualified 21st, eight tenths and five places behind Peterson (but ahead of Jim Crawford's third works Lotus), though his day ended in the catch-fencing – one of the majority caught out by a deluge that precipitated a red flag. In Austria he and Peterson both crashed during practice – and the Swede, as team leader, procured Lotus's only spare chassis for the race. In the States he was running at the end, but too far back to be classified after a couple of lengthy pit stops.
"After my accident in Austria," he says, "Geoffrey Kent from [sponsor] John Player came to check I was OK. We got chatting, I asked what his future plans might be and he told me JPS might be realigning its priorities, which I took to mean they'd be quitting F1. The car wasn't working, now I was being told the sponsorship might be pulled and, even if they'd wanted me, I really didn't think Lotus would be a good place to be in '76. At the same time, Tom Wheatcroft had approached me about a new project – he was building an F2 car and had longer-term plans to enter F1, so that seemed like the way to go. Mike Pilbeam did the chassis and it was fantastic – I finished third at Silverstone in '75, with Hart power, but Tom had lined up an Abarth engine deal for the following year. It sounded fantastic but leaked oil like the Torrey Canyon and never actually started a race. If the F2 programme had been successful, I think it would have generated sufficient sponsorship to enable Tom to take the next big step, but I think he lost interest."
SIDELINED FOR MUCH of that summer, he began 1977 with Brian Lewis's Boxer team – another F2 underdog – and caused a stir by winning at Thruxton, defeating the might of the works March-BMW and Martini-Renault teams, plus Ron Dennis's Project 4 Ralts. "Beating the crème de la crèmeis something that will always stick with me," Henton says, "but then I always went well at Thruxton. I told the others that I took the bump at Church flat – which you could, quite easily, but it would cause you to scrub off far too much speed up the next straight. They all thought taking Church flat must be key to a quick lap…"
The Boxer had speed, but the team lacked a fundamental resource – cash – and couldn't afford to enter every race. Henton, though, had an alternative scheme. "I took the insane option. I still had good connections with March and Robin Herd told me I could have the prototype 761 F1 chassis, so playwright Don Shaw and I got together to create our own team. We had very little money, but we had two DFVs and kitted out an old British Gas truck to take the F1 car. I was living in a new house on an estate in Castle Donington and the March was based in my double garage, which I'd fitted with lathes and stuff. Whenever we turned on a lathe, all the street lights dimmed… Every time we fired up the engine everybody on the estate would come out to look at the car. They were quite into the whole thing and it created good camaraderie.
"It was clear, though, that Bernie Ecclestone didn't want teams like ours in the paddock. He wanted the pristine set of cars he eventually got – and he was completely right. By the end of 1977 we hadn't qualified our own car for any races, though I'd had a one-off in the works March at Long Beach and did a couple of Grands Prix with Boro, and I was at an all-time low. My saviour was the March 782 – the best car the firm ever produced, in my opinion. I was able to get hold of a chassis and as a private team we were right on the F2 pace the following year – getting some good results and setting the occasional fastest lap, but not actually winning anything. But that put me in the frame for a drive with Toleman in 1979.
"I then won the first heat at the Hockenheim finale but, just when I thought things couldn't get any better, I made a poor start in the second and Eddie Cheever was neck and neck with me into the first chicane. He braked early and I got flipped over, the biggest accident of my career – I was doing 150-160mph when the whole thing started. Time seemed to stop and I was sliding along upside down, thinking that the rear radius rods were going to punch through the tub into my ribs. After scrambling clear, I saw Cheever 100 yards up the road, ran over, grabbed him by the helmet and started hitting him. The marshals had been poised to start summoning doctors, but here I was trying to throttle Eddie Cheever. They quickly calmed me down, took a look at me – and ordered an air ambulance, because my eyes had tried to come out of their sockets and blood was seeping out, so I guess I looked a bit like Dracula. I was checked over and they wanted to keep me in hospital, but I discharged myself, returned to the circuit and suggested we should throw a party. I felt far worse as a result of the hangover than I did after the accident…"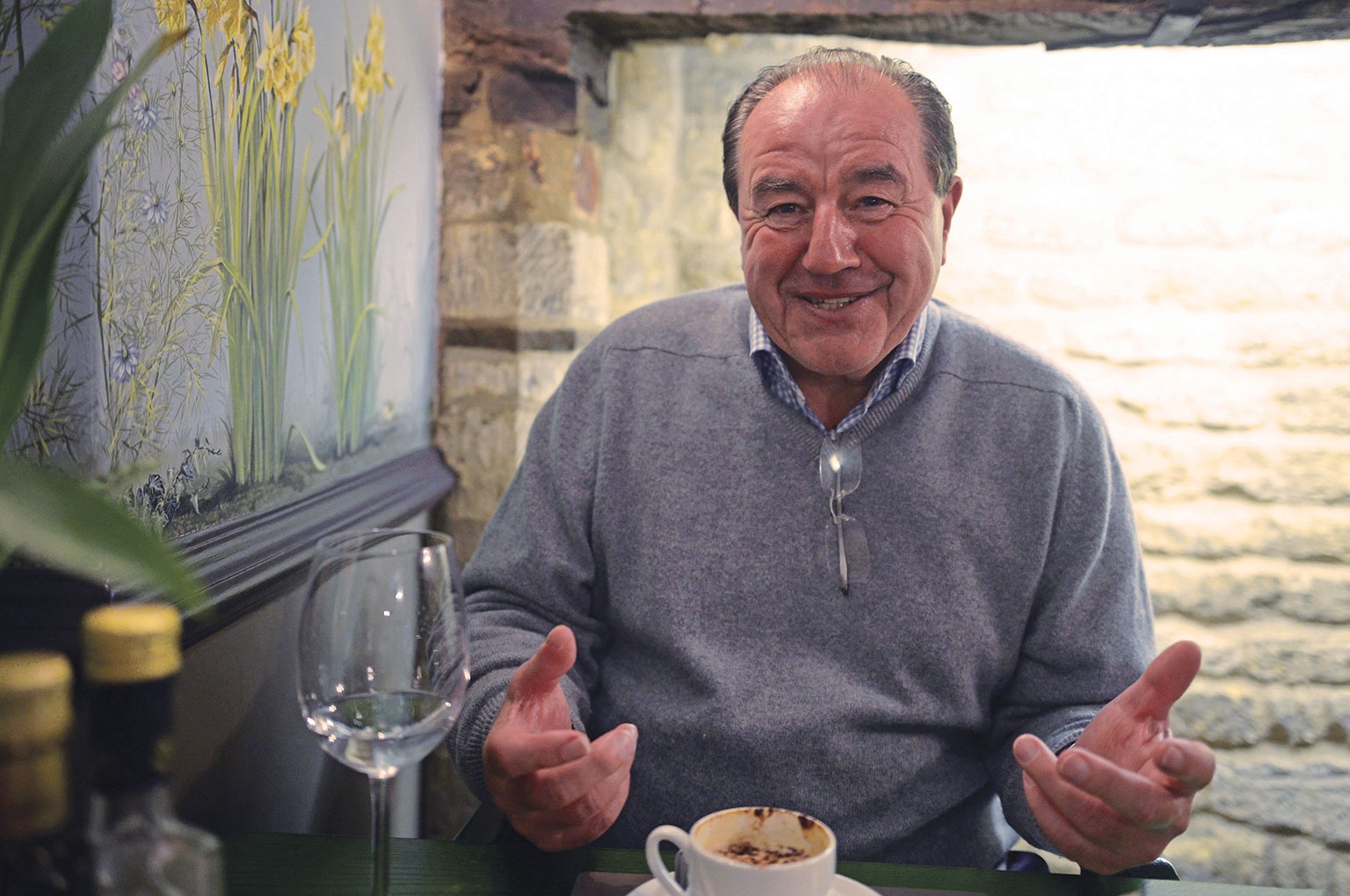 He had a strong season with Toleman's Ralt in 1979, winning at Mugello and Misano as he duelled for the F2 title with lead March driver Marc Surer. He also won on the road at Enna, only to be disqualified for using a chicane escape road to avoid an accident on the opening lap. An appeal later failed, but the title could in any case have been settled in Henton's favour in the finale, in his own backyard at Donington Park. "Unfortunately my chief mechanic, Alan Pimlott, was killed in a road accident during the build-up, which derailed us completely. The big thing at Donington was brake wear – and because of the circumstances we just didn't go through all our usual preparations."
"We'd siphon diesel to keep ourselves on the move. We must have had the most economical coach in racing"
While Derek Daly controlled the race, Henton ran second until a couple of laps from the end when his rear brakes failed and sent him off the road at The Old Hairpin. He recovered to finish fourth, but Surer swept through to second and clinched the title by two points.
With BP stepping in to sponsor Toleman the following season, and focusing its campaign on young British talent, 33-year-old Henton found himself out of a drive as Derek Warwick and Stephen South landed the Toleman seats.
"That took me into what I always called the 'winter of discontent'," he says, "because I'd be on the phone to Ken Tyrrell, March, anybody to see whether there was any work available, but nothing was happening. I then received an offer from America to race in Can-Am with Newman-Haas. I'd always been focused on F1, F1, F1, but although I thought Can-Am was probably a backward step I had nothing else on the horizon. The money was fantastic, too, so I agreed. Then, on the day that I was supposed to fly to LA to sign the deal, I received a phone call at probably six in the morning – and it's rarely good news when that happens. It was a lady from Newman-Haas: there had been a slight hitch, so I was to put everything on hold and they'd be in touch, which in fact they never were. I got back into bed, thinking my world had collapsed, and two hours later the phone rang again: Alex Hawkridge from Toleman, asking how quickly I could get to the factory. He didn't tell me what was going on, but there was clearly something afoot.
"As is well known, Stephen had gone off to test for McLaren without telling the team – and they'd decided not to continue with him [ironically South ended up taking the Newman-Haas Can-Am drive, but suffered career-ending injuries in an accident at Trois-Rivières]. Alex said he'd like me to come back but knew I'd drive a hard bargain. I was probably the best-paid F2 driver there has ever been."
He also won the championship.
"It was a great year and Derek was brilliant. Rory Byrne was my engineer and John Gentry worked with Derek, plus we had Roger Silman, Pat Symonds and others – some really good people. Because Derek and I were fighting over the title, things were quite tense. It was before automated timing, so everything was done by hand, and sometimes – towards the end of practice – we'd put a lap time on the pit board that was a second faster than I'd actually managed. Derek's side of the garage would start looking at my car and copying the set-up to find the missing second that wasn't actually there.
"At Mugello, he was on my tail the whole time and I was struggling to look after my tyres. I was sure he was going to get ahead in the closing stages, but he stayed behind me. After the race, he said, 'I knew you had so much in your pocket that I didn't try anything.' I didn't tell him the truth at the time, but he knows now: that's why he'll often say that he learned so much 'from that Henton'. We get on to this day. He was a hard driver with great ability – I could not have wished for a better team-mate."
WHEN TOLEMAN GRADUATED to F1 the following year, it kept both of them.
"We tested the F2 car at Goodwood with our new Hart F1 engine and I have never driven a faster projectile," Henton says. "The power was on or off, 1000bhp or nothing. If we could control it I thought we'd have a fantastic car. There were all sorts of exciting plans, but by the time the F1 car was finished, instead of the light, nimble F2 car, we had this huge thing – the 'Belgrano' – to accommodate all the cooling they needed. The throttle response was dire, we had new turbo engines, new tyres – we brought Pirelli back in after a long absence – and Rory had never previously designed an F1 car, so everything was a complete step into the unknown."
The TG181 chassis qualified for only two races, Henton scraping in at Monza and Warwick doing likewise in Las Vegas. There was also a sizeable accident at Silverstone. "We were off the pace, but mentally I thought that if I could qualify anywhere it ought to be Silverstone, because I must have done a zillion laps there. I recall turning into the chicane thinking I could take it almost flat – and ended up flat against the wall. I just clipped the kerb going in and it shot me across the road. It's amazing that I didn't break anything. I felt this scalding on my arm and ejected myself pronto thinking the car must be on fire, but it was actually hot water from the radiator…
"When I got back to the pits after making the cut at Monza, you'd think I'd won. Sponsor Candy had taken a grandstand and was simply relieved that one of its cars would be racing. It dropped into three cylinders at the start, but I burbled around to finish 10th, three laps down. It was obviously a difficult year – and also slightly surreal. One of our major sponsors was SAIMA, an Italian company whose matriarch was an 85-year-old lady. We'd sit down for dinner and she'd be next to me, saying things like, 'Don't you think it would be better if you fitted a DFV?'"
At the year's end Candy insisted on bringing in an Italian driver, so Henton made way once more – this time for Teo Fabi. He started the 1982 season with Arrows, then switched to Tyrrell for the balance of the campaign. He netted fastest lap in the British GP at Brands Hatch, but his best finish was a seventh place at Hockenheim, not a points-scoring position at that time.
"Ken Tyrrell was a great guy, utterly straight," he says. "It was unfortunate for me that I was at Tyrrell towards the end of my career rather than at the start. Michele Alboreto was the number one, but there weren't enough resources to turn out two identical cars – and Michele rightly got first call on new parts and so forth. The car wasn't special, but it was nicely packaged."
WITHOUT THE SPONSORSHIP to extend his stay, he found himself without a seat at the start of 1983 – though he negotiated a drive with Theodore for the Race of Champions at Brands Hatch, the last time F1 cars lined up for a non-championship event. "It was a great car and could have been very successful if ever they'd had money to invest in development, but a bolt dropped out and the clutch pedal fell off…"
He still nursed it to fourth place, but there were to be no more offers. Gradually, he had to come to terms with the fact he had effectively retired. "What I found disappointing was that I'd acquired all this knowledge but couldn't do anything with it," he says. "It was only a few years since I'd run my own F1 car, but things had moved on so much that it was no longer really feasible to do that kind of thing. I'd gone from being an 11-year-old in a single parent family to having a fruitful racing career, so decided it was time to move on to other spheres."
He subsequently developed diverse business interests and tried his hand at others sports – including horse riding and village cricket. "I'd never broken a bone in all my years of racing," he says, "but some farmer came hurtling in when I opening the batting for Ticknall Second XI and smashed one of my fingers. But I do still go to the British GP from time to time. As a former driver I can usually get hold of a paddock pass, but nowadays that only allows you to look at the transporters – I'd prefer to go to a historic event, or a bike meeting, where you can get close to the machinery.
"Any regrets? Not really. Today, somebody from my background would have very little hope of getting as far as I did. I suppose it might have been wise to keep some trophies – they didn't mean much at the time and I gave most of them away, but I now rather wish I'd kept a few to show the family. So if anybody out there has one…"