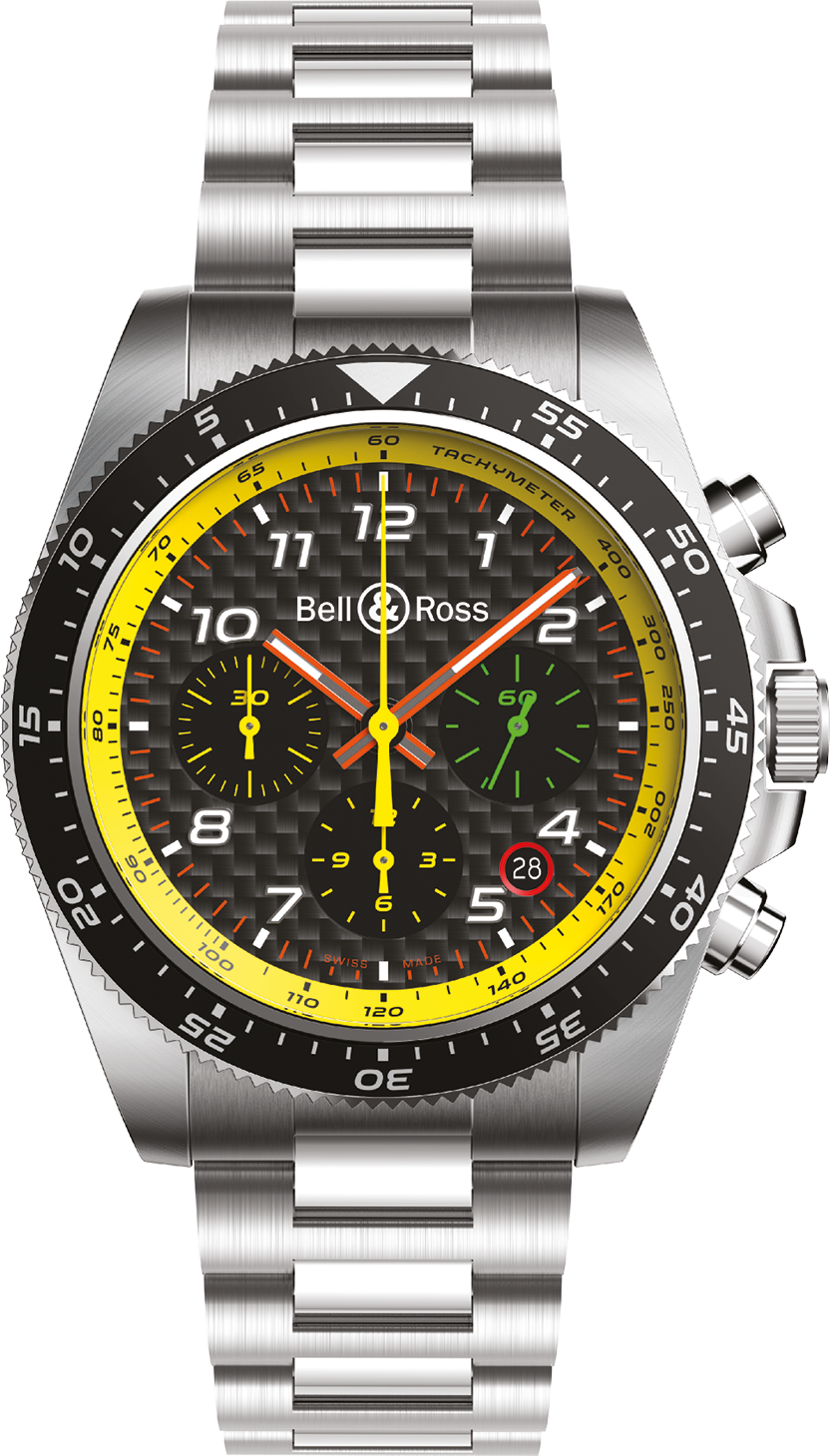 Paris-based firm Bell & Ross became known mainly as a producer of aviation-inspired watches with the introduction of its BR-01 Instrument back in 2005, which was a 46mm square horological behemoth intended to look as though it had been ripped from the cockpit of a military aircraft.
Numerous variations on the BR theme have emerged, from chronographs in the original 'tool watch' aesthetic to tourbillon versions, slim dress models and scaled-down, gem-set women's pieces.
Among the more interesting takes on the BR theme, however, are the automotive-inspired pieces that have flowed from the pen of the brand's designer Bruno Belamich, who launched Bell & Ross in 1992 with entrepreneur Carlos Rosillo.
The first of these appeared in 2011, through a collaboration with the Speed and Custom division of UK motorcycle dealer Shaw Harley-Davidson, a unique machine commissioned as a promotion. Belamich contributed by integrating a watch into the bike's fuel tank and, in 2014, designed a pair of limited-edition timepieces to complement a second one-off bike called the B-Rocket.
Next he moved to four wheels by working with automotive designers on the Aero GT car concept which, while not intended for production, had a plausible specification. It would (theoretically) be powered by a twin-turbo V8 of 610bhp for a top speed of 195mph.
After completing the designs, Belamich produced two associated watches, 500 of each being produced.
In the same year Bell & Ross became the official watch of Renault F1, initially producing a skeletonised chronograph called the BR-X1 RS16 that was made in 250 examples and could only be bought at grand prix locations.
The Renault partnership continues, and has this year resulted in a new quartet of Bell & Ross RS19 models, inspired by the livery and design aesthetics of the cars. Three are based on square-cased watches, with the highlight being the 20-piece BR-X1 tourbillon featuring a skeleton dial, a hand-wound movement – and a price tag of €152,000. Next comes an automatic chronograph version of the BR-X1 priced at €16,900 and limited to just 250 examples, followed by a 999-piece carbon-dial automatic chronograph costing €4900.
But it's the least expensive RS19 model that most appeals to us – the BRV3-94 is a traditional round-cased watch with an automatic chronograph movement and a steel bracelet or rubber strap. Based on B&R's vintage model range, it combines a classic aesthetic with the racy twist of Renault livery; 999 will be available. Quite simply, c'est bon.
Bell & Ross BRV 03-94 RS19, €3500 (rubber strap), €3650 (bracelet), bellross.com
---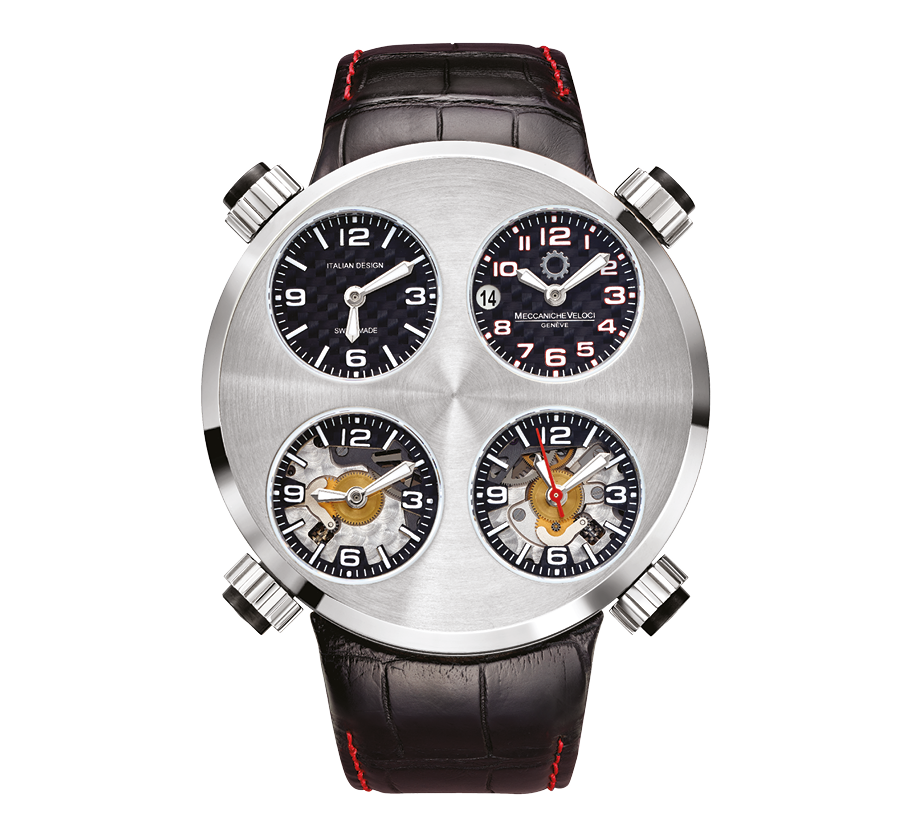 Automotive-inspired watch brand Meccaniche Veloci was founded in Milan in 2006, its first product being the radical-looking Quattro Valvole featuring four individual sub-dials, reflecting the pattern of the inlet and exhaust valves of an engine's combustion chamber. MV watches have attracted a cult following in many places, especially in Japan. The new Icon Mud's sub-dials can show different time zones, with the watch being named after the brown DLC finish of its 49mm titanium case.
Meccaniche Veloci Icon Mud, €9900, meccanicheveloci.com
---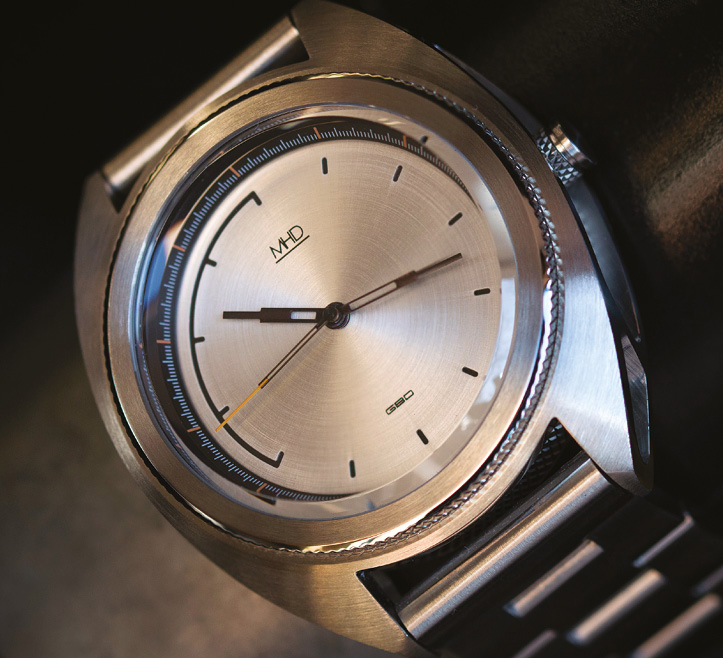 If you wondered what happened to former Morgan designer Matthew Humphries, the answer is he has been running his own watch brand, MHD, for the past five years, while turning his automotive experience to the electric car world as the pen behind the Alcraft GT project. He combines both jobs in this good-looking Alcraft-inspired watch featuring a 316L stainless steel case and Japanese Miyota self-winding movement. Just 100 examples of the AGT Steel will be made. Pre-ordering now saves £59.
MHD AGT Steel, £590. matthewhumphriesdesign.com
---
Motor Sport's monthly watch review Precision is written by renowned luxury goods specialist Simon de Burton