Racing Lives: Petter and Oliver Solberg
Petter Solberg climbed the ladder of rallying to his one and only World Rally Championship crown in 2003 with Subaru, before a move into rallycross in which he would go on to win back-to-back WRX championships in 2014-15 driving for his own PSRX Volkswagen squad. He would retire (mostly) in 2019 to turn his focus toward son Oliver's career. Oliver broke through with a RallyX Nordic title in 2017, and at 17, in 2019, became the youngest-ever European Rally Championship event winner. He then made his WRC debut at Wales Rally GB alongside Petter and now has a 2020 Škoda WRC3 campaign.
Petter Solberg
"We lived on a farm among the cows, horses and chickens and, by 1982, my parents got into autocross, but didn't achieve any results. One day there was a fire in the garage, where Dad worked on the cars. After that, my brother and I decided to take over, we built the engines and prepared cars.
I was about 10, and my brother Henning was 12, and I think Dad was relieved we'd taken over. Dad had a full-time job, driving a truck and looking after the farm. To have us involved both helped him and made it a family hobby. After we started to build the engines in the cars, Mum and Dad won everything. That led us to build engines and chassis for other people – more than 100 engines and 50 chassis – and when we were very young, we'd take payment in Coca-Cola and chocolate!
We'd travel around in a truck and sleep in a tent. After a couple of years, the truck became a bus. My parents worked very hard, so we could all do it. They had helped us try football and stuff like that, but we weren't so good. We'd do about 25 races in the summer and work through the nights to prepare the cars. We would then be away at the weekend, so we were rarely at home.
There was also dancing. We were in the workshop all the time, and my mother thought it was healthy for me to do something else other than cars. I thought it was a good way to meet girls! I also raced radio-controlled cars and became a national champion in Norway. That taught me a hell of a lot about the details of how things work, and what it takes to make a car go faster, from aerodynamics to friction. I'd even take my cars into the shower with a toothbrush to clean them. During that time, I had to pay my way and earn the money to buy and race the model cars. It made me realise that if you want something, you have to push for it. I think that influenced my career.
I met my wife Pernilla at Wales Rally GB. She was competing, but she didn't have a hotel room on the recce. I said: 'Okay, you can stay with me, no problem' and the rest is history. I forgot the engagement ring when I planned to ask her to marry me, during Rally Australia, and a friend had to fly it over from Norway. Pernilla and I married in 2003, the same year that I won the World Rally Championship. Was it a busy year? My focus was on rallying; Pernilla fixed everything. I just turned up at the wedding, did the job, and everything was okay!
Oliver was around motor sport from a young age. He went to almost every rally, pretty much as soon as he was born. We did try to get him into tennis, football or dancing, but ice hockey and cars were his passion.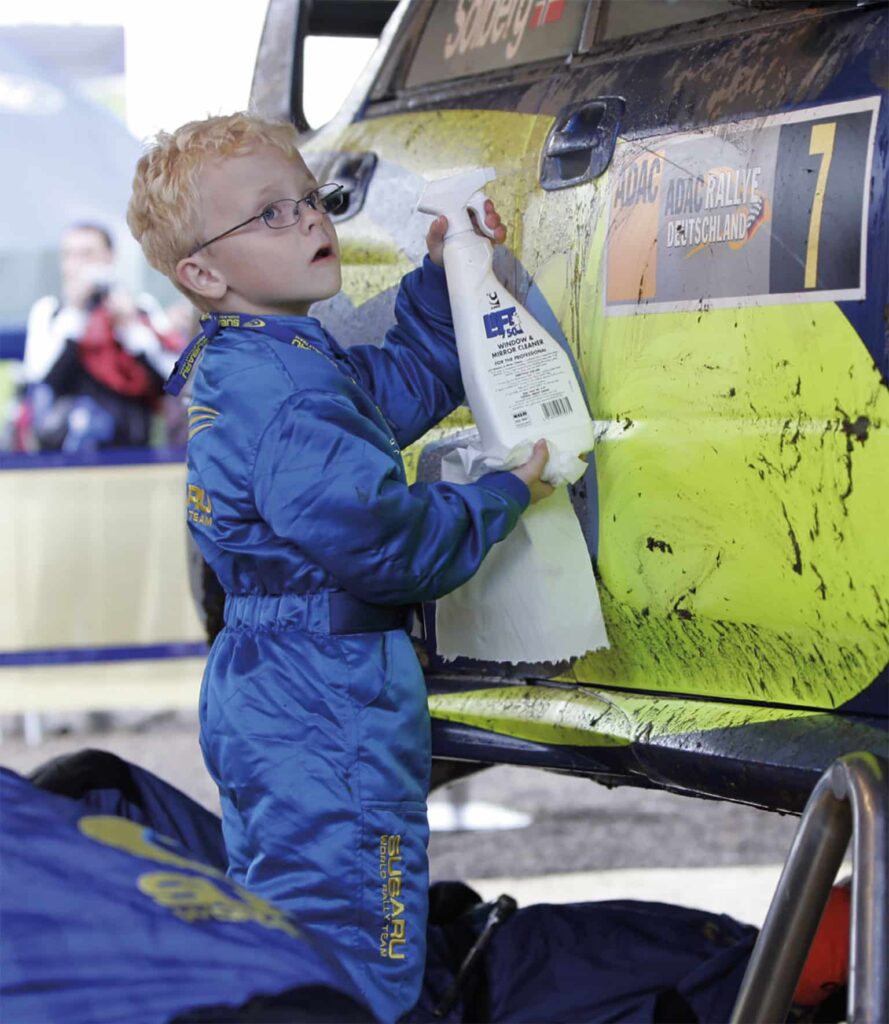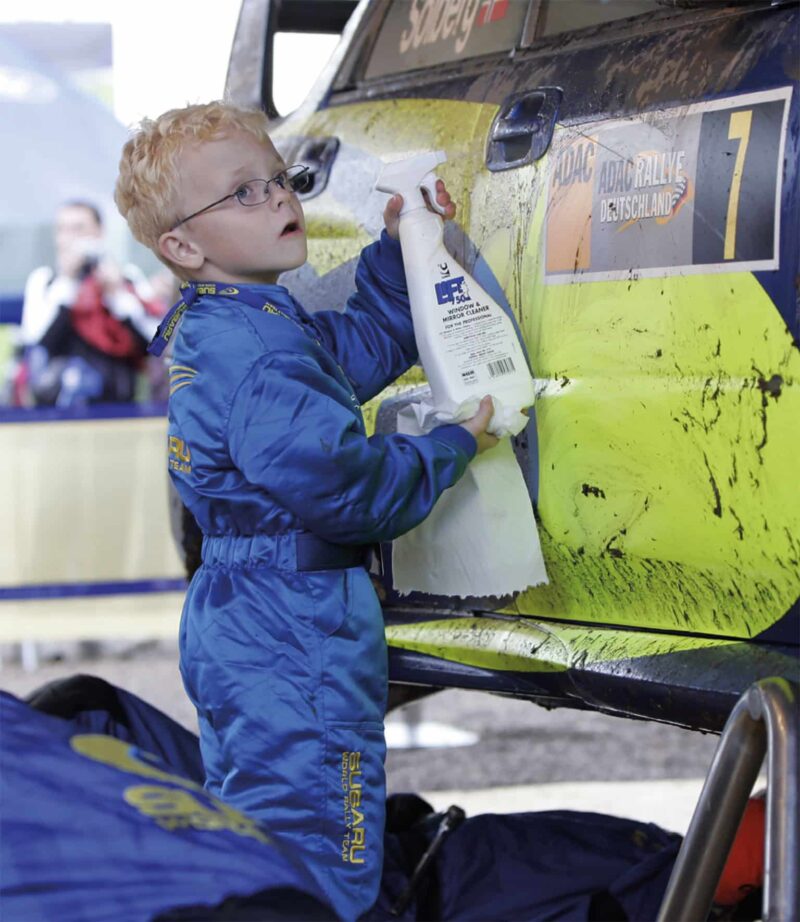 He had a hard start to life, though. He was born three months premature, and very small, but thankfully we have good doctors in Norway. He was born about half an hour before I was due to take off from New Zealand. That was a tough flight home, not knowing what had happened to them both. Pernilla is an amazing woman; she didn't leave the hospital once in the three months that Oliver had to be kept under observation.
When I made it into WRC, my team-mates got fed up with me. I went to every test they did and pushed like hell to get in the car with them. I did all the tyre tests too, and would not stop asking questions. Colin McRae turned around and said: 'Petter, please, shut up! I'm fed up with you asking questions.' But within one hour, I went back to asking questions.
You have to be curious. I was a young Norwegian guy with no experience, and those guys were so good. But I was fast and wanted to learn, and I pushed myself to the limit. We all ended up best friends.
I was close to Colin. He helped me so much, and we had a lot of fun together, and Tommi Mäkinen was also helpful. But Colin was just so approachable. I remember the first time I rode with him, after asking for two days. When he drove, I almost s**t myself because he was crazy. It was a good lesson; he was from a family that wanted to give something back.
"After being ill, I knew it was time for the journey to be about Oliver"
After successes in both rallying and rallycross, my first love is rallying. It's extreme for the drivers, co-drivers, the cars, the teams and mechanics. It's hard work for everybody and, when you mix in all the different conditions, it's an incredible challenge.
Oliver is more competitive than I am. He has learned a lot, through asking and pushing, and we have been on this journey since he was eight years old. He understands the technical side, so he can appreciate how geometry and weight and so on affect the car's performance.
It's not easy for Oliver to follow after a father who's a World Champion. He has to build experience. He is really quick, but in WRC, there is always more to learn, and there's a long way to go.
After being ill [with a lung disease] for the past two years, I knew it was time for the journey to be about Oliver."
---
Oliver Solberg
"I still live at the family home near Torsby, about 500 metres down the road from the service stage of Rally Sweden. Some say because I was born three months premature, I was always going to have a flat-out personality. I'm very energetic, I can't sit still, I'd rather be out making things happen.
There was not much chance of being anything other than a rally driver. My parents tried to get me into tennis, soccer and dancing. But let's face it, I was never going to be as good as Dad was at dancing – he's a national champion, so he's the guy with all the moves!
When we're together, it's difficult to avoid talking about rallying and motor sport. We like to watch good TV shows and movies, for me anything with action and Sylvester Stallone.
Dad has always been very supportive of me. We do everything together in motor sport – with mum, too. I'd say we're the world's biggest motor sport family, as inevitably when we get everyone together at Christmas time, the talk will be about motor sport.
Motor sport is Dad's passion and his life. Even when he's on vacation, he doesn't have time off. He's always on the phone, making things happen, dealing with his team, handling sponsors and talking with the media.
I started in crosskarts. Young drivers can start in anything – karts, crosskarts or bikes – and learn a lot from it. Crosskarts are reactive, and we'd drive them on Tarmac, gravel and snow. You learn good reactions, think quickly, and build an understanding of car control.
School was difficult. You're allowed a maximum of 10 days away outside of holidays in Sweden. Once I moved into rallying I needed more than that, so I moved schools to the Fédération Française du Sport Automobile.
Sadly, Dad has retired, but it also helps me. He can focus on my driving, and we can work closer together and plan the set-up on my car. He has so much experience that it would be crazy for me not to seek his advice.
He taught me the basics of pace notes. Before I passed my driving test, he had to do my pace notes for me during the recce for a rally, which wasn't always so good because I would see a corner differently to him. Pace notes are everything in rallying, and you have to have a very solid starting point, and he helped me put all the basics in place. He also compared the pace notes to my driving, by sitting down together and reviewing video from onboards, which we continue to do. He's got small tricks and advice that can help.
My pace notes are read in English by Aaron Johnston. He's Irish, and I thought it would take longer to get into a groove with him after my Norwegian co-driver, but we got into it quickly. We're roughly the same age and have fun, which is very important. We're getting results, like the win at Rally Alūksne in Latvia.<
The build-up to last year's Wales Rally GB didn't go so smoothly. I failed the theory test, which I needed to pass for a UK driver's licence, and the pressure was suddenly immense. I was worried about not being able to take part and thought about not being able to race with Dad. Happily, I passed the second time, but it was stressful.
Mum is very realistic and calm – which is partly why she did my coaching for my driving test, teaching me about being defensive and sensible at all times. Whereas Dad and I are dreamers, so sometimes she has to bring us back down to earth. My dream is to win the World Rally Championship more than once. It's a long way off, but I'm competitive with Dad, and that's the dream!
Other than Dad, Colin McRae is a hero of mine. I watch the videos of his rallies, and if there's one car I could drive, it would be a Subaru Impreza 22B, ideally on Rally Sweden. That would be a dream come true.
I saw dad as a superhero in the sense that he worked so hard, but not a superhero in the sense that he was invincible. None of us knew anything about the illness he had [the lung disease sarcoidosis], and once we looked into it the whole family was afraid he might die, so we were lucky that everything was caught in time."