Stirling Moss: His defining races
The 1955 Mille Miglia and 1961 Monaco GP are perhaps his best-known victories but Stirling Moss's desire to race any car, anywhere, led to a formidable record. Selecting the Boy Wonder's most pivotal races is not easy, as Paul Fearnley finds out...
The counts vary, but by any estimation Sir Stirling Moss was an incredibly successful racer. Let's settle on more than 200 victories from almost 600 starts in his career. Yet how he won – and increasingly so as he and his amazing career matured – was as important to him as what he won.
Losses inevitably shaped him, too, as the subsequent list will hopefully attest; so, too, did following in leading Mercedes-Benz team-mate Juan Manuel Fangio's wheel tracks.
The end result was a national treasure – from every schoolboy's hero via sporting ambassador of global repute.
The winning of the 1955 Mille Miglia was Stirling's greatest adventure and makes for the stuff of legend – but there were many other significant milestones, signposts and crossroads, both before and after, in the making and shaping of 'Mr Motor Racing' and his incomparable career.
The new Nuvolari?
Circuit of Garda, July 10 1949
Point-and-squirt sprints and hillclimbs and three-lappers on the featureless airfield circuits of Austerity Britain were never going to contain this rolling stone.
Moss was thinking big and faraway when he doubled his Cooper's engine – to a 1-litre V-twin – and pointed his Bedford van towards Italy.
It took two days – and the draw of £50 start money – to get there. Fortunately, 'the world's most beautiful circuit' was everything Moss had hoped for. Within its 10 miles were narrow cobbled streets, blind sweeping bends, undulating straights, six downhill hairpins, sheer drops and a lakefront. A real eye-opener.
Except this teen's eyes were open already. Having qualified 'The Jukebox' – a friendly crowd's nickname for this bike- engined buzz bomb – third, ahead of works Ferraris, Moss remained sufficiently composed to give the wilder locals a wide berth in the races: Felice 'Il Pirata' Bonetto's Ferrari came to rest in the bowling alley of a bar and Count Bruno Sterzi's sliced through a post carrying a tramline's power, before tumbling from Moss's by now somewhat wide-eyed view.
Finishing third in the heat and final, each time behind the 2-litre Ferraris of establishment men Luigi Villoresi and Mario Tadini, were sensational achievements – reassuringly well recompensed (£200) – for one so inexperienced. The locals had not seen the like since Tazio Nuvolari's debut on four wheels in 1921.
The 'Flying Mantuan' was ailing quite badly by now, lungs choked with his sport's unpleasant odour, but he broke a recuperative break (with race attached, natch) to seek out Moss. They met, shook hands, these men divided by age and language but united in speed, and Nuvolari knew. He just knew.
Coming of age
RAC Tourist Trophy, September 16 1950
Arch patriot Moss felt accepted in Italy and France. Amateur Britain, not yet convinced of the value of honing his craft in Formula 3's scrum and insulated from Moss's encouraging continental exploits with shoestring HWM, was a tougher nut. Hence his humble request for a loan of a sports car for the revival of this prestigious race was dead-batted by every British manufacturer, for fear of 'Boy Killed in Man's Car' headlines.
Luckily, influential journalist-cum-racer, and family friend, Tommy Wisdom was up to speed and offered Moss his competition- spec XK120, one of only six built. He also persuaded Browns Lane to provide 'The Boy' with a standard car for familiarisation. Jaguar was not entirely against the idea.
Again, Moss showed patience and restraint. Steady and no more on the first day of practice, he was fastest on the second, defeating his handicap time by five per cent. The high speeds and tight confines of Dundrod were drawing the best (to date) from him: accurate commitment. Ulster blew up a storm that blew down the press tent, but Moss, on the eve of his 21st birthday, controlled proceedings, once he'd taken the lead on the second lap of a three-hour race, and won on distance and handicap. By the day's end, he was a contracted works driver. Jaguar boss Bill Lyons, who'd flown over, and his racing manager Lofty England now knew what they had already suspected.
Moss celebrated with an exotic dancer called Yvonne and moved into the West End basement flat that she shared with three other girls. From 'Oh boy!' to 'Man, oh man!'
Them's the breaks
Reims GP, June 29 1952
Three weeks after telling BRM 'Thanks, but no thanks' – Moss knew enough at 22 to know that its V16 was too much, too late; a fortnight after a disastrous Le Mans caused by Jaguar's rushed response to his panicky 'Must have more speed!' telegram from the Mille Miglia; and one week on from a heavy crash caused by engine failure at Spa's Belgian Grand Prix in ERA's too-clever-by- half G-Type, a warier Moss was still seeking a technical – preferably British – edge.
Again Wisdom loaned him a car, a Jag C-type, and Moss this time persuaded the works to fit Dunlop's disc brakes, a nascent system that provided greater longevity and consistency, rather than outright stopping power, albeit interspersed by temporary but terrifyingly sudden failures. Moss had used it on the Mille Miglia – brave fella! – and had the rest of the car collapse around them. He reckoned rightly that the long straights at Reims would allow for useful cooling between its two big stops per lap.
A ferocious sun didn't help and not until Robert Manzon's nimbler, faster Gordini had shed a wheel and spun from the lead was Moss's ground-breaking win assured. Standing somewhat unsteadily in the cockpit in response to the National Anthem, he could reflect on his first outright victory for 12 races. From these frustrating times – overnight sensation Mike Hawthorn was upstaging him in GPs in Cooper's cheap- and-cheerful Formula 2 car – Moss would emerge stronger and always seeking that edge, more often than not through risky trial and error.
An Englishman abroad
Italian GP, September 5 1954
It was British Racing Green, to begin with. By August's German GP, it was Italian red, bar its identifying noseband. Moss's privateer performances in the early part of the season helped him be drawn inevitably, if a little reluctantly initially, tighter to Maserati's embrace until by September's Italian GP he was its de facto number one.
Moss discovered what he'd been missing when he first drove a 250F: the black art of balancing a front-engined GP car with a flexible chassis on skinny tyres that had eluded – and would eventually be skirted by – Britain's arrivistes.
Starting from the outside of the front row at Monza, and alongside the Mercedes- Benz of Juan Manuel Fangio and Ferrari of Alberto Ascari, on loan from Lancia, he let these greats battle it out before making his move at the midway point, passing both in a fell swoop and pressing so hard that Ascari's engine promptly failed. Moss pulled away from Fangio thereafter despite responding to pit signals urging restraint. What had all the fuss been about? This was easy – until oil drained from a cracked pipe and the Maserati ground to a halt with nine laps remaining. Oh, for some German organisation and reliability.
Pirelli paid Moss the compliment of paying him a winner's bonus, and Fangi commended him to Mercedes-Benz team manager Alfred Neubauer, whose suggestion it had been for Moss to learn the Formula 1 ropes in a Maserati. It had come full circle. Everybody was convinced now – including Moss himself.
The train arriving
Dutch GP, June 19 1955
Understandably twitchy one week on from the Le Mans disaster, the board of Daimler-Benz suggested a moratorium. This was anathema to "movement is tranquility" Moss, who had considered its withdrawal from the 24 Hours "an empty theatrical gesture"; he and team-mate Fangio had been leading comfortably.
Much of the watching world didn't see it that way: France, the sport's cradle, cancelled its GP; so, too, did Germany and Spain. Switzerland banned all motor racing. But Moss reckoned he knew the risks, how good he was, how much he had to learn and his place. So he assumed the position – pinned to his team-mate's tail – at Zandvoort. Employer on eggshells as a result, Moss was stylishly relaxed despite the sandblasting that he and his engine were receiving on this deceptive circuit through North Sea dunes.
Fangio, too, was insouciant. He knew how good Moss was, blah, blah, blah, and seemed to be coaching him. Moss had no doubt that his guide could have pulled away if required – Luigi Musso's Maserati was just about keeping them honest – and on that basis, and in a different specification of W196, he followed keenly, "concentrating like hell" in a car he found heavy in most respects, and learned voraciously.
Some considered it the most boring GP for years. Maybe, but this was one for the future. The gap between them – the best and next best since Ascari's fatal accident in May – had been closing.
As of now it could be measured in tenths and inches.
National treasure
GP of Europe, July 20 1957
Injured team-mate Tony Brooks hopped out. Literally. Moss, lissom and fearsome, leapt in, his car having sputtered from the lead after 22 laps that had sent home hearts soaring. Vanwall had been knocking on the GP door since Moss's domination of the 1956 International Trophy at Silverstone. That had been a non-championship one-off away from his Maserati day job. Now he was full- time in Britain's best bet yet. Even so, his revised odds on this day at Aintree were long.
Resuming in ninth place, he passed Fangio's Maserati, car and driver off-colour, for sixth on lap 34 (of 90). Fourth by lap 46, having overtaken the Ferraris of Musso and Peter Collins, he was catching new team- mate Stuart Lewis-Evans and Hawthorn in another Ferrari.
Suddenly Britain had found itself with an embarrassment of riches, those barking F3s and barking-mad specials having bred and raised a new breed of drivers on those repurposed airfields. But could a British car win at the highest level? Even Moss was beginning to wonder. Then, moments after Moss had passed Lewis-Evans on lap 69, the Maserati of Jean Behra, which was leading by almost a half-minute, detonated and Hawthorn punctured on the shrapnel. Moss had suffered sufficient misfortune and made enough of his luck – good and bad – to deserve this dividend, and his popularity now transcended motor racing. Britain's most famous – 'Who do you think you are…?' – and most important sportsman became a byword for and the embodiment of a country having to reinvent itself. A global ambassadorial role he played to perfection.
Overachieving underdog
Argentine GP, January 19 1958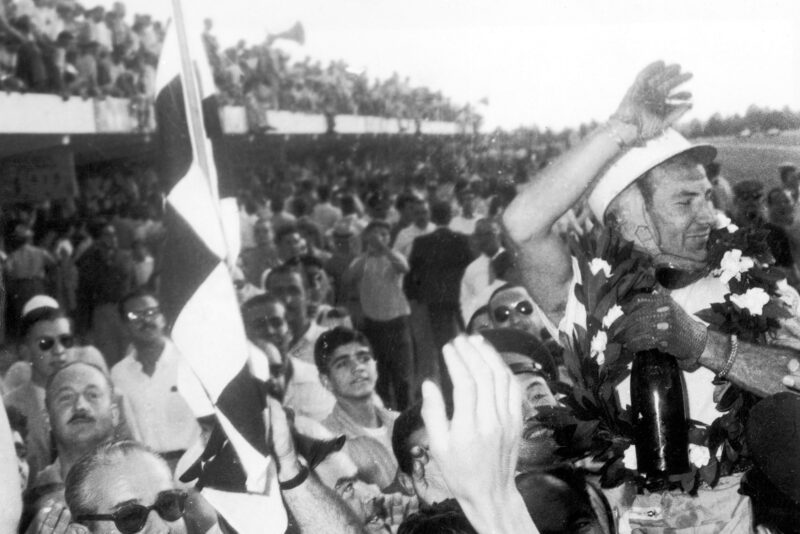 With Fangio to all intents and purposes now retired – though he would start this his home race from pole and set fastest lap! – Moss was widely predicted to take the next step.
The odds-on title favourite, however, seemed even more effective and compelling as an outside bet – a state not easy to achieve when you are so obviously the best. Thus he began to engineer 'difficulties'. Not insuperable ones but those with sufficient gravity to swirl the grey matter, stoke the heart and spark the twitch muscle.
When Vanwall then demonstrated its unpreparedness for the new mandatory use of AvGas, Moss didn't think twice before asking privateer entrant Rob Walker, with whom he'd already struck an F2 deal, if he could take his wee Cooper to Argentina. Walker replied airily in the affirmative – he would not attend the race – and thought little more about it. For a car with its engine behind the driver had yet to win a GP and the Cooper's engine, based on a fire pump, was 500cc shy of every other car on the grid. Not even Moss thought he could win. But win he did – with a patch over an eye, accidentally injured by his wife Katie, and patches of carcass showing through his tortured treads; he had gained a march by running non-stop.
Though Moss was adapting quickly and successfully to changes in motor sport and its cars, he had a hankering to be on the outside looking in at the revolution he had triggered.
For his delight in this eager machine and its uncluttered team had reminded him of his beloved F3 and its converted horsebox trailer pulled by the 1929 family Rolls, a 'Woodie' estate.
He wanted his cake and to eat it. Only he had the spare capacity and special something to make that scenario work.
Running rings
Nürburgring 1000km, June 1 1958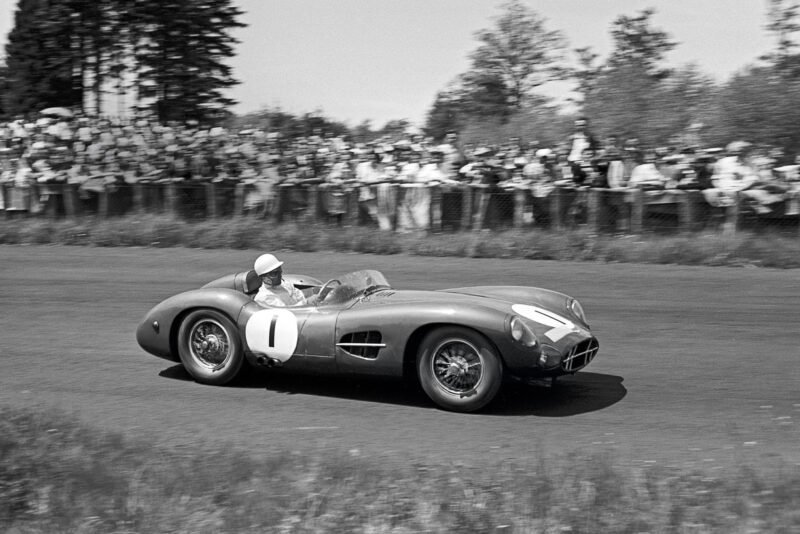 The prowess that had enabled him to 'run-off ' taunts of 'Yid!' at school, on pitch and track, stood Moss in good stead during his career. There were occasional wobbles in the heat of Argentina and Reims – he lacked the protective 'padding' of the likes of Fangio and Ascari – but generally, he seemed able to push harder for longer than his rivals, with or without the mystery pill 'dealt' by Fangio before the 1955 Mille Miglia.
A muscular 5ft 7in and capable of showy poolside gymnastics in the manner of Sébastien Loeb, this prototype professional did no specific training other than to drive. But he drank little, and rarely, and smoked in a style befitting promotion rather than inhalation. A rubber ball of a man – bar that one time at Goodwood – he loved an old- fashioned tear-up.
On this occasion, he drove 36 of 44 laps to compensate for the relative shortfall of co-driver Jack Brabham, who was new to Aston Martin and its DBR1/300 – a beautiful car with a horrible gearbox – and not au fait with the circuit. Inspired at the thought of again sticking it to Enzo Ferrari, whose Testa Rossas finished 2-3-4, Moss won by almost four minutes.
But it had been no stroll. There would be no long drive home through the night as there had been after the buzz of the Mille Miglia. (When Moss returned via Stuttgart to partake in a power lunch with his bosses!) No, he was jiggered and reckoned it took a week to recover fully, during which time he made a mental note: be kinder to yourself.
Sporting gestures
Portuguese GP, August 24 1958
There was a hint of cheek in that trademark wave of thanks to so-so backmarkers and not-so-backmarkers, but fundamentally, it was also a function of Moss's famously good manners.
Moss had a chivalric sense of right and wrong, as Enzo discovered when he stiffed the young Englishman at Bari in 1951. Not until the 'most powerful man in the sport' came on bended knee 10 years later – by which time Ferrari was long convinced Moss was the new Nuvolari – would his mortal enemy finally relent.
Moss was a professional, as well as a sportsman; how he won was as important as what he won. He lived a Boy's Own existence – bar a racy love life – and although that arguably cost him the 1958 title, it paid him back many times over.
His advising and defending of Hawthorn at Oporto, when his main title rival was threatened with disqualification from second place for push-starting his Ferrari against the direction of the circuit, Moss pedantically but persuasively argued that Mike was on the pavement as he did so. It verged on a monastic purge. No doubt he was backing himself to make up the lost points; two rounds were remaining, and Hawthorn was factoring dropped scores already. That he did only caused Moss to boil over briefly, before settling to a simmer.
The realisation that he didn't need to be champion to be deemed the best was a catalyst for self-assessment, and he would increasingly race to please himself. This rare selfish act, based only on good intentions, ensured that the remainder of his career would be serious fun: the perfect combination for Moss.
Street art
Monaco GP, May 14 1961
The science behind Colin Chapman's Lotus 18 had (theoretically) overthrown the chuckable Cooper, and Moss was the first to explore the avenues it opened: shallower lines on entry and perfectly timed and balanced rotations allowing him to be later on the brakes, earlier on the power. 'Why,' he wondered, 'were the rest not doing the same?' Because the many could not, and the few who could, lacked his efficacy.
Mechanical fragility was the flipside to this agility. Moss prevailed in Monaco 1960 – his first grand prix in a Lotus resulting in the marque's maiden win – unaware that his engine was hanging by a water pipe.
Then his crash at Spa-Francorchamps three weeks later, caused by the loss of a rear wheel, cost him six weeks' recuperation and a title shot aboard the season's fastest car.
The latter was not the case in 1961. Not only was Moss denied the more streamlined Lotus 21 due to clashing fuel commitments – he was BP whereas Team Lotus was Esso – but his engine for the new 1.5-litre formula was 30bhp shy of Ferrari's V6. Moss considered this "a nice challenge".
He qualified fastest at Monaco and took the lead on lap 13. The remaining 87 provided the best sequence of his career, fastest lap after fastest lap leaving it 2.8sec below his pole mark – and with no time for those cheery waves. Ferrari had to be 'content' with a 2-3-4 result.
That Moss had had a broken chassis tube welded on the grid while brimful of fuel and had chosen to run without side panels to aid ventilation will forever remain windows on the attitude and aptitude of this daredevil full of grace.
Adventurer, boy genius, innovator (and gambler), star pupil, icon, adept adapter, strongman, sportsman and artist, Moss had it all except time – even though he'd yet to turn 32.