Brands Hatch brilliance & more Murray memories: Letters, June 2021
Regarding my drive at the 1971 Race of Champions [Letters, May], here are the facts. Firstly, Emerson and myself were down to drive Lotus 72s but mine was not ready in time for most of practice so I started from the back of the grid with Ronnie Peterson, who also had problems. I asked Colin Chapman for advice regarding the start and he simply put his arm round me and said, "You're driving it, boy, not me…"
I made one of the best starts ever from the inside of the rear row and while everyone else moved to the left for the approach to Paddock Bend, I stayed right and by the time I got to Druids I was in fifth place ahead of a lot of the big names. As I opened the throttle out of Druids the engine cut dead and I had to wave through all those I had passed. I quickly turned back on the electric fuel pump and fired up the engine but it would only rev to 6000, so I pitted. I tried a lap or two more but it would only run with the electric pump and again would only rev to 6000 so I retired. Afterwards the mechanic said that the drive belt for the mechanical fuel pump had broken and that the engine had to be removed to get at it.
So that was my short and bittersweet story of that race, and of course Emerson went on to win [the following year] in a similar car. Grrrrrrr…
Tony Trimmer, by email
---
In your interview with Jacky Ickx [May] he mentions passing Niki Lauda on the outside of Paddock in the wet 1974 Race of Champions at Brands Hatch. I happened to be on the inside of the corner, probably trudging from one camera position to another, and was lucky to snatch this jaw-dropping move on camera, even though it was only on slow colour film. It defied all the understanding I had about how a race car stayed on the slippery track. Ickx was on the most negative-cambered bit of Tarmac, it was soaking wet and he was off the racing line – why he didn't end up in the gravel trap is beyond me. Clearly, a consummate car-control artist.
Ian Dawson, South Norwood, London
---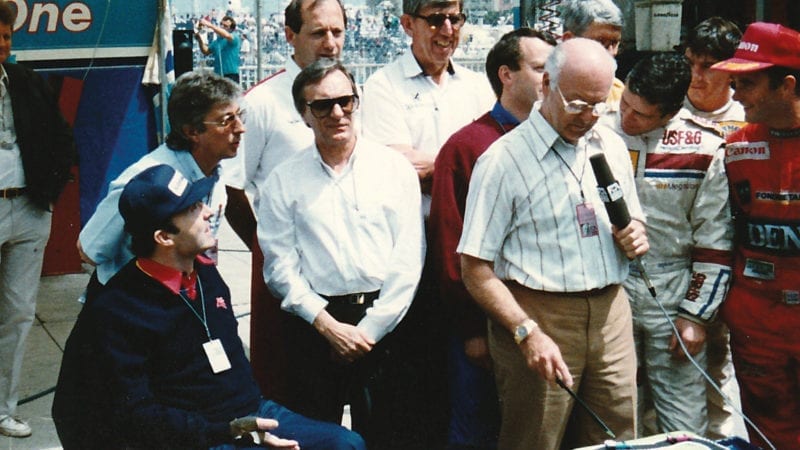 I'm sure you will be overwhelmed with wonderful material about Murray Walker but I thought this photo showing British F1 leading lights turning out to see him cutting a cake at Monaco 1988 might be of interest. From left: Frank Williams, next to him Herbie Blash, then Ron Dennis, Bernie Ecclestone, Ken Tyrrell, Jackie Oliver, Peter Warr (partially obscured), Derek Warwick, Julian Bailey and Nigel Mansell.
We were there, hosted and generously shown round the paddock by Maurice Hamilton for the Independent, as my wife had won a competition in that newspaper, the prize being a trip for two to Monaco for her to present Ken Tyrrell with an Independent award.
Nigel Urwin, London
---
We all remember Murray Walker as the frenetic voice of grand prix racing and his passing is a sad reminder of what comes to us all.
I had the surprise pleasure of meeting Murray in the early 1980s. We were at Thruxton competing in a round of the ASCAR championship (US V8s versus UK V8s), and on returning to the paddock before practice, my team told me, "Murray Walker is looking for you." I thought this had to be a wind up – Murray is our grand prix commentator; surely he is not working at a Thruxton club meeting! Shortly after that, to my shock, Murray arrived hugging sheaths of paperwork and introduced himself, informing me that he was commentating for the meeting. He wanted to know about me and the car (a race-prepared Aston Martin V8).
The few minutes of conversation extended to about 15 minutes as he extracted all the information he required and more, and throughout our brief meeting he displayed personal friendliness and an understanding of all things motor sport. He was a true professional.
Unfortunately our car destroyed its engine on the third lap of practice ending our day, with Murray issuing a single announcement that we were a non-starter. Happy to have met an icon – it made my day! RIP Murray.
Don Prater, Bromham, Wiltshire
---
Asa long-time subscriber to Motor Sport I am aware that there is a huge amount of knowledge out there in its readership, so I wonder if any of your readers can help to identify this car? The photo appeared on the Lost Edinburgh Facebook page a few months ago. The location is the Maybury Road in Edinburgh, with Cammo Tower visible in the background, but the photographer, the date and the car are all a mystery!
The car looks as if it could be an aero-engined beast typical of the Brooklands era, and the fishtail exhaust may also suggest a possible Brooklands link; however it also appears to be road registered and fitted with lights, which is surely unusual for such a vehicle.
Maybury Road is a long, straight open road close to Edinburgh Airport. Nowadays it is interrupted by traffic lights and a roundabout, but in the era when this photo appears to have been taken it would have been an ideal road for testing such a large and presumably powerful car.
Can any of your readers perhaps offer some more information?
Iain Nicolson, East Calder, West Lothian
---
I was very sorry to hear of the death of Chris Craft, who was always one of my favourite drivers. It was at Brands Hatch in 1962 that I first saw him race his famous 'Orange Peel' Ford Anglia and immediately I was struck by his meteoric driving style. Although the car looked well-used it went like the clappers and was obviously very well prepared.
Of course Chris later went on to greater things, winning the European Sportscar Championship in 1973 in a Lola, coming third at Le Mans in 1976 in a de Cadenet-Lola and driving a Brabham BT33 for de Cadenet in the 1971 United States Grand Prix at Watkins Glen.
I met him once at Brands Hatch and found him to be a friendly, approachable person. He was without a drive for most of that year and when I asked him if he had retired from racing he replied, "It's more a case of racing having retired from me!" Fortunately, the next season saw him racing one of the Hammonds Chop Saucesponsored Capris in the British Saloon Car Championship.
At an HSCC Super Prix event at Brands Hatch a few years ago, when they were celebrating the 50th anniversary of the one-litre Formula 3 'screamers', the late Brian Jones asked him if he had ever considered racing in historics and he replied, "No, just riding a motor cycle scares the sh*t out of me nowadays!"
He will be sadly missed.
Mike Stark, Bearsted, Kent
---
I choked upon reading the May 2021 issue, and feel compelled to write to tell you why. Normally I love the magazine and go from cover to cover, and have done so since my teenage years.
It was regarding the omission of four-time winner Alain Prost from the Monaco Masters article. An unbelievable occurrence, given that his record could so easily have been six Monaco wins but for the late crash in 1982, and the stall at the start in 1993 (a race in which he subsequently clawed a fourth place).
He had also dominated there in Euro Formula 3 in 1979.
Coincidentally, I happened to watch his victory in the 1986 race last week on YouTube, and it reminded me that it was one of the most dominant performances I'd ever seen, before or since, at the track. Incredible, therefore, that he wasn't given his own article.
Jon Elson, Highfields, Cambridgeshire
---
Contact us
Write to Motor Sport, 18-20 Rosemont Road, London, NW3 6NE or e-mail, [email protected]