Why pioneering Indy 500 is putting F1 to shame: The Editor
"2020 was the first year since 2000 there were no women at Indy"
The month of May is upon us and despite the excitement of the new Formula 1 season, much talk in the Motor Sport office (yes, we are back, in rotas) is now focused on what will happen at the Brickyard this year. It will spark the traditional conversations and debates about the relative merits of the two premier open-wheel global racing categories. There will be the usual talk about drivers getting dizzy only turning left and pointed comments about how F1 is predictable, that it's "all about the car" and only two drivers ever win.
But those debates are tame compared to the ongoing discussions I have with my three daughters about the role of women in motor sport, and my view that racing is not just a man's sport and that they (especially the 16-year-old, with a passion for STEM subjects) should consider it as a world they can become involved in.
And it is around this discussion that the Indianapolis 500 has come into its own. As I have said to them, this year's race features a new team headed by motor sport executive Beth Paretta with Swiss racer Simona De Silvestro fulfilling driving duties. The team will be a Chevrolet outfit, with technical support from Team Penske.
And there's more, I tell my girls. Female mechanics will make up the crew, in line with Paretta's aim to provide positions for women in the sport across all divisions, whether competition, operational or administrative. And no, I add to the oldest one, Simona De Silvestro is not a 'token woman', she has pedigree: she's a five-times Indy 500 starter, and claimed Rookie of the Year in 2010 though she last raced at the Brickyard in 2015. Between now and then she has spent her time since driving in a number of series from Australian Supercars to Formula E.
Pressing home my advantage, I continue, telling them they should Google Paretta. She has previously worked at Fiat Chrysler as director of marketing and operations as well as overseeing successful racing programmes in NASCAR and Le Mans as a director at Dodge SRT, most recently with its IMSA WeatherTech effort.
And nor is this a one off: Indy has a history of including women. From Maude Yagle in 1929 to Danica Patrick more recently, women have had a presence at the Brickyard. There were four women sprinkled through the 33-car starting grids in 2010, 2011 and 2013.
True, last year there were no women on the Indy grid, but this was the first time since 2000 that there was not at least one woman in the field of contenders.
IndyCar is not alone on embracing female participation. Extreme E, the new eco-friendly racing series which last month ran its inaugural race, features a male/ female driver line-up in every team. It's not perfect – Damien Smith who attended the launch and reported on the race for us told me wryly that while the teams were mixed the hospitality 'girls' remained straight out of the 1970s – but it is certainly a start.
Meanwhile in endurance racing, last year a new team comprising Katherine Legge, Tatiana Calderón and Sophia Flörsch became the first-ever all-female line-up in the LMP2 category of the European Le Mans Series. The team lined up at Le Mans in September – an event with a proud history of women competitors including Odette Siko's fourth place in 1932.
It is at this point that one of my girls might ask what Formula 1 is doing. They have heard before about pioneers such as Giovanna Amati, Desiré Wilson (only woman to win an F1 race) and Divina Galica as well as Lella Lombardi – still the only woman driver to race in more than a handful of races – and frankly it doesn't wash any more. (I've learnt not to mention the uproar that accompanied the banning of grid girls in 2018.)
This year the best I can come up with is to point to the fact that F1 has chosen the W Series all female championship as a support race for eight of its rounds this year. It's a good move that will do much to raise the fledgling profile – but it is not enough to convince my daughters.
So, on May 30, I will be watching the Indy 500 with my family and enjoying the Greatest Spectacle in Racing, while quietly raising a glass of milk to a series which is taking gender equality seriously. I will also be wondering why F1 remains in the slow lane.
Joe Dunn, editor
Follow Joe on Twitter @joedunn90
---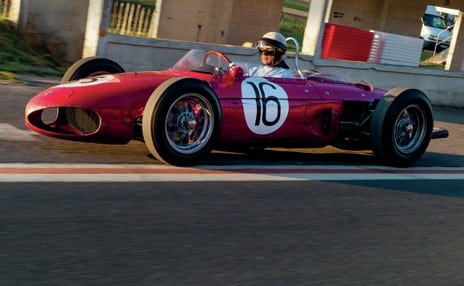 Next issue: Our July issue is on sale from June 23