1978 Brazilian Grand Prix race report
Rio de Janeiro, January 29th
The second of the two early-season Championship Grand Prix races took place in Brazil fourteen days after Andretti's runaway win in Buenos Aires. This time the Brazilian Grand Prix took place, not at Sao Paulo's impressive five-mile Interlagos circuit, but at the brand new Circuit Internacional do Rio de Janeiro, a twisting autodromo complex situated some 20 miles or so south of Rio near the town of Jacarepagua. Conditions were insufferably hot for most pale-skinned Europeans for the venue is the only Formula One circuit currently situated in the Tropic proper (Rio is slightly north of the Tropic of Capricorn!).
As far as the cars were concerned, the field was pretty well the same as that which raced in Argentina although the new Arrows organisation fielded a single car for Patrese, their number one ace Nilsson still not fully recovered from a recent operation. The Arrows FA1 came to Brazil completely untested although they did manage to arrange a brief burst along a local airport runway just to make certain that all its systems were working properly prior to official "testing for practice" on the Thursday before the race.
Wolf Racing had rebuilt their Buenos Aires spare WR1 to full 1977 specification following their disastrously uncompetitive showing in the Argentinian event when Scheckter could only finish ninth in WR4. The team's spare was thus rebuilt with the "old" bodywork, wings, short wheelbase and rollover hoop in the hope that they might be able to get some indication as to where their performance had gone since the end of last season. Lotus once again installed their Getrag-developed five speed gearbox in Peterson's 78/2, this now beefed up with revised components following the selector trouble at Buenos Aires, both Ensigns now had nose mounted oil coolers fitted with piping running outside the cockpit, and Pironi's Tyrrell had been updated to the latest suspension specification which now left it the same as Depailler's sister car.
It would be fair to say that the moment the Formula One teams set eyes on the new Rio circuit the mumbles went round "another Lotus circuit, Andretti should be able to walk this one". On the face of it, there was very little wrong with this line of thought because the circuit had plenty of tight, sinuous corners, one following closely on the other, rather like a flat version of Jarama in more ways than one!
However, Andretti voiced only a subdued degree of interest in the track, pointing out that it hardly got his adrenalin pumping terribly hard and emphasising that so many corners followed too closely in succession, making it impossible to take the ideal approach into one for fear of messing up the approach to the next. He also pointed out that there was no time for a quick rest between gear changes because, even on the long back straight, by the time one had changed into sixth gear it was time to start braking again for the fast left hander at the end.
Qualifying
Practice took place on Friday and Saturday, both days turning out to be wonderfully sunny, although the gruelling heat posed a problem to drivers and teams. Up and down the pits there were cars sprouting cooling ducts to their brakes, shock absorbers, fuel pumps and drivers the McLaren "twins" had crushed ice and cold water carried in little rubber tanks on top of their M26's gearbox with pipes running forward into the cockpit and under the top layer of their overalls.
Aside from the problems involved in running under such sweltering heat, the most interesting aspect of the race was to prove to be the continuing tyre war between Michelin (who equipped Ferrari) and Goodyear (who equipped everybody else!). On Friday it looked as though predictions of Lotus 78 supremacy would turn out to be well-founded for Andretti topped the practice lists with a 1 min. 41.14 sec. best using the development Cosworth DFV which he had used to win in Argentina. But juggling tyre compounds and constructions about proved just as crucial as getting a clear run round the tight little circuit and it was Peterson who got all the variables working finally in his favour on Saturday to snatch pole position in 1 min. 40.45 sec.
Andretti didn't quite get the balance of his Lotus sorted out as well as his Swedish team-mate but he nevertheless slipped in a competitive 1 min. 40.62 sec. best to grab a starting position on the inside of the second row which meant that both of Colin Chapman's cars were well placed for the early laps. Splitting the two Lotus 78s was the hard-trying James Hunt in his McLaren M26, although practice wasn't without its problems for the determined Englishman. Hunt pounded round in a best of 1 min. 40.53 sec., although he stopped practising shortly before the end of the final session, absolutely convinced that there was nothing more he could give in the sweltering conditions. A slight lapse of concentration saw his McLaren slide off into the catch fencing at the end of the start/finish straight during Saturday's practice, but the car suffered only slight damage to its nose fins and James drove it back to the pits without assistance. In fact there was more "hubbub" surrounding the fact that Hunt returned to the pits without his crash helmet on than the fact he'd gone off the road in the first place!
On the face of it Goodyear seemed to be well in control during practice, but on reflection it was to become obvious that most people hadn't studied the results of the Argentine Grand Prix too carefully. The fact that Reutemann started on a very conservative choice of Michelin in Buenos Aires far too hard a cover did not really give a true indication of the French tyre company's Formula One potential. We should have watched more carefully after Reutemann's pit stop at Buenos Aires when he came climbing back through the field again to finish seventh. It was easy to dismiss his progress as "just what one would expect"; he seemed simply to be pulling past a bunch of mid-field runners which a self-respecting Ferrari should have made short work of in any case. But that wasn't quite the case; in Brazil, Michelin became a little more daring in their use of tyres and their decisions were to pay off admirably.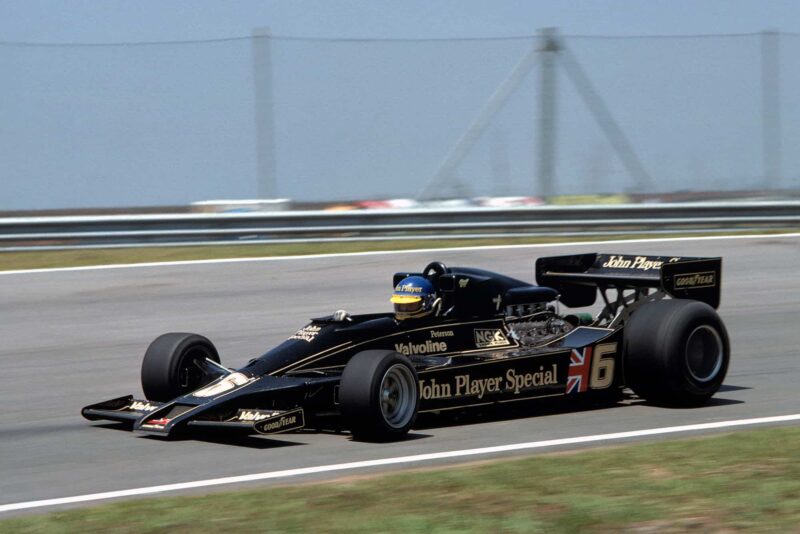 Reutemann finally qualified fourth on 1 min. 40.73 sec., despite a quick spin, while the McLaren and Ferrari number one drivers were backed up admirably by their team-mates Tambay and Villeneuve respectively. These two comparative newcomers to the Grand Prix scene both did a superb job, the Frenchman qualifying his M26 with a 1 min. 40.94 sec. best after a very confident performance while Villeneuve was a mere fraction behind on 1 min. 40.97 sec.
The fourth row provided something of a major surprise with Emerson Fittipaldi doing a grand job on the "best" Goodyear tyres available with a 1 min. 41.50 sec. best which might have been even faster if his Fittipaldi 125/2A had not broken a driveshaft constant velocity joint during the final hour's practice. E.F. was thus forced to switch briefly to his spare F5/1A while his mechanics changed the offending shaft, resuming in his race car shortly before the end of the session. Alan Jones sat quietly alongside the Brazilian car at the wheel of Frank Williams' neat Head-designed FW06 which managed a best time of 1 min. 41.87 sec. despite being troubled with a broken stub axle on Friday and gear selection difficulties on Saturday.
But where was World Champion Niki Lauda and Bernie Ecclestone's Brabhams in all this excitement? The unfortunate answer was that the flat-12 Alfa Romeo engined cars were well out of the running during practice, Lauda coming in early on Friday to complain that the balance of the car was so awful round the tight little circuit that it was virtually undriveable. Deep discussions between Gordon Murray and the two drivers followed, after which it was decided to fit Lauda's car with one of the original BT45B nose sections in place of the full-width unit which had been fitted at the start of the year. Thus armed, Lauda went out and improved his time by over a second. But it still only put him on the fifth row of the grid on 1 min. 42.08 see., fractionally slower than Hans Stuck in the faster of the two Shadow DN8s.
For Watson, the picture was even more depressing. Not only was the Ulsterman suffering from a miserable head cold, but there was only one of the "Old" nose sections available in Rio. Thus Lauda "generously" loaned his car to his team-mate ten minutes from the end of the final session, enabling Watson to set his fastest lap, a lowly 1 min. 43.75 sec., almost as the chequered flag came out to mark the end of practice. A replacement nose section was flown out from Britain for Watson's car, but it didn't arrive until a couple of hours before the race (even after the race morning "warm up") so there was nothing for the team to do but fit the nose to Watson's car, adjust it to the same settings as on Lauda's machine and simply hope for the best!
Others to disappoint somewhat included Depailler in the faster of the two Tyrrells on 1 min. 42.10 sec. and Scheckter in Wolf WR1 (1 min. 42.11 sec.), the South African's fortunes failing to improve unduly with adoption of last year's chassis configuration. Eventually Scheckter "homed in" on what he thought was the correct choice of tyres and managed his grid time, but he voiced some doubt as to whether he would be able to last the whole distance in the tropical heat "driving it the way I'm going to have to …".
Lunger did a really excellent job in his private McLaren, exuding a confidence that we've seldom seen before from this serious-minded American, and his 1 min. 42.65 sec. best beat the rather confused Laffite who tried both his Ligier-Matra JS7s before managing a 1 min. 42.71 sec. lap. Then came Regazzoni's Shadow DN8 (1 min. 42.80 sec.) ahead of Jarier (again fastest ATS runner) and Leoni who'd got quite brave in his Ensign MN08. Patrese's brief trip along a local airport hadn't cured the Arrows' fuel system problems, so the team struggled against them all through Friday, but the Italian driver eventually qualified respectably on 1 min. 43.19 sec. after a bunch of other problems, including a spin and some "chassis problems" that needed the fabricating attentions of Lunger's team operator Bob Sparshott!
Pironi got his hands on some "decent" Goodyears to manage 1 min. 43.55 sec., ahead of Mass, troubled by his uncomfortably handling ATS, the miserable Watson and Rebaque's Lotus 78, which would have been much farther up the grid but for a major engine failure on Saturday. Right at the back were Ongais in the Ensign and Keegan's lone Surtees, Brambilla having amazingly failed to qualify after being somewhat "detuned" after all those accidents in Buenos Aires! Others who did not qualify for a start included Merzario, unfortunately, plus Cheever and Galica, both of whom tried very hard.
Race
There were more problems lurking for several people on race morning. For a start Lunger had to race his spare M23/11 after M23/14 suffered major problems in its DFV metering unit; secondly, Fittipaldi took over F5/1A less than a quarter or an hour before the race began owing to air starter difficulties on F5/2A, and Mass took over Jarier's car (he is number one!) when his own developed a fuel leak. But the disappointed Frenchman was not the only one to non-start; Leoni's Ensign broke a driveshaft on the warming-up lap, so he was relegated to the sidelines as well!
As the starting signal was given, Peterson piled on too much power and his pole-position Lotus 78 sat for a split second with its rear wheels spinning. Hunt was marginally quicker off the mark, but Reutemann made an absolutely stupendous getaway from the outside of the second row, the Argentinian's Ferrari being alongside the front row cars before they got to the end of the pit wall. Into the first corner it was Reutemann just ahead with Peterson forcing round the inside into second place and Hunt hard on his heels.
By the time the field strung out onto the long back straight, Reutemann was already visibly pulling away from Peterson's Lotus. Into the long left-hander off that straight and the Ferrari pulled out a couple more lengths with consummate ease, Hunt almost tripping over Peterson in his efforts to get through to second place. On the second lap Hunt tore past the Swede's Lotus at the end of the straight, but the race was all over even by this early stage. Driving as if he was on rails, Reutemann finished his second lap just over six seconds ahead of the McLaren!
Down at the back of the field there was plenty of drama as Patrese tangled with Watson as the Brabham/Alfa Romeo tried to slip past the Arrows on lap three, both cars spinning and dropping to the tail of the field. Watson immediately stopped at the pits to change a deflated front tyre, a trip onto the dust as he entered the pit lane showering car and driver with dirt that had to be washed off before the unfortunate driver could continue. Already the retirements were coming, Keegan crashing his Surtees without injury on lap five and Depailler spinning off onto the dust three laps later. The Tyrrell driver drove quietly back to the pits where close examination revealed the brake master cylinder to be damaged, so Depailler was out.
Within a few laps Peterson dropped back behind Andretti, his front right tyre badly blistered, while Hunt only lasted seven laps in second place before he was obliged to stop for fresh front tyres, resuming back in 10th position. Villeneuve by this time was steadily moving into the running, but Fittipaldi was going ever faster and the Brazilian quickly moved from fifth to third place, passing not only the French Canadian's Ferrari but also Peterson's slowing Lotus. As E.F. moved away to consolidate a strong third place behind Andretti, it was left for Peterson to fend off increasingly persistent challenges from Villeneuve. This came to a spectacular head half way round lap 15 when Villeneuve poked his Ferrari's nose inside the Lotus as they came off the back straight, but there wasn't quite enough room for him to get past and both cars collided, spinning onto the grass. The two divers quickly gathered themselves up and limped back to the pits for a general inspection and tyre change, Villeneuve successfully rejoining the race. A few seconds after the Ferrari, Peterson dashed back into the fray, only to slide to a halt two corners later when the left rear suspension broke, the result of his driving the car back to the pits on a flat tyre.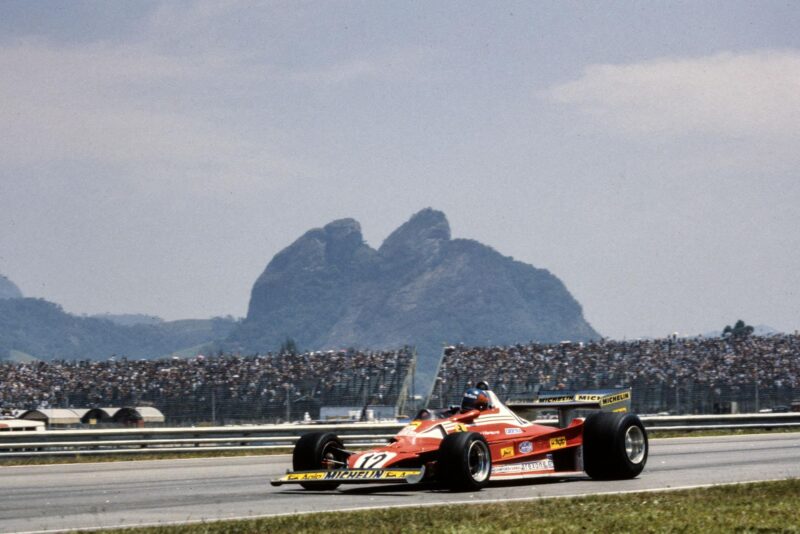 As Reutemann consolidated his lead and Andretti kept ahead of Fittipaldi, Stuck moved his Shadow into fourth place ahead of Lauda. Scheckter banged into Tambay's rear wheel, dislodging a valve from one of the Wolf's front tyres which forced him first to stop and then to retire with a bent steering arm, while Lauda had a nasty moment when a wheel balance weight from Stuck's Shadow flew past his head and embedded itself into the rear wing of the Brabham-Alfa Romeo. A dangerous business this motor racing!
With 25 laps completed the order was Reutemann, Andretti, Fittipaldi, Lauda, Tambay, Regazzoni, Pironi, Laffite, Patrese and Hunt. Stuck's good run had come to an end with fuel pump failure and Hunt was now attacking Patrese in his efforts to climb back through the field. Unfortunately the Arrows driver was no more helpful towards Hunt than he had been to Watson, with the result that the McLaren driver became frustrated and spun off into retirement on his 26th lap.
Soon after this incident Patrese stopped to change the Arrows' now badly worn front tyres, dropping back to the tail of the field. That wasn't the end of the Italian driver's incident-packed race because, half a dozen laps from the finish, the fuel pick-up problem recurred and he was forced to stop for his car's tanks to be replenished, eventually finishing tenth.
Under pressure from Regazzoni, Tambay spun off, exhausted in the fierce Brazilian heat, on lap 35. The Frenchman briefly resumed before spinning again and this time retired from the fray for good. Lap 36 and it was Villeneuve's turn to go, his Ferrari spinning into the catch-fencing on the same corner as he had hit Peterson's Lotus. All these dramas left Reutemann blissfully unaffected. His Ferrari was not missing a single beat and he calmly drove on towards victory never looking in the least flustered by either the heat nor the treacherously slippery track surface which had been aggravated by the wind blowing a line sandy blanket onto its surface during the course of the day.
When the chequered flag came out, Reutemann was fractionally under 50 sec. ahead of his nearest challenger. But it was not Andretti who took second place but Emerson Fittipaldi, the Brazilian driver taking his "home brewed" car past the Lotus 78 five laps from the finish when Andretti found that he was in dire gear-selection difficulties. Before the finish he had dropped back behind Lauda into fourth place as well, so the canny Brabham-Alfa driver was rewarded for pacing himself quite gently in the opening stages of the race. Fifth place fell to Regazzoni ahead of young Pironi's Tyrrell, the French novice performing quite well despite suffering from a cracked exhaust and taking time off for a spin which bent a steering arm. Mass finished seventh in the lone ATS, its engine popping and burbling after the mixture control jammed on full rich, Watson was eighth, Laffite ninth (after a change of tyres on his Ligier) and Patrese tenth. Finally Jones was still running at the finish, very slowly owing to the fact that a wheel bearing had overheated and played havoc with the front brakes as a result. Nevertheless, the fastest "Goodyear lap" of the race was established by the Australian before he made his first of two pits stops.
But Reutemann's victory was totally uncompromising and a very effective indication of how much work has been done by Michelin's tyre development department. There were some very worried-looking faces in the paddock after the race that Sunday' afternoon in Brazil because, as one shrewd observer remarked, "Not only are they fast, but you can't exactly sit back and rely on a Ferrari to break down". That person, for one, certainly had not missed the point! — A.H.
Rio Rumblings
Rumours currently abound that the new Alfa Romeo Formula One car is nearing completion and will be tested with Pirelli radials. No driver has been mentioned, but it is likely to be Vittorio Brambilla, the 40 year old Italian who failed to qualify his Surtees TS09 in Brazil.
Seen spectating at Rio was Brazilian Driver Ingo Hoffman who drove a handful of races in the old "Copersucar" in 1976/77. Hoffman hopes to be in a position to have some more Formula One outings later this season now that the Fittipaldi team seems to be getting more competitive.
Jean-Pierre Jarier was feeling rather indignant after Mass snatched his car from him just before the start, this being the prerogative of the ATS team's "number one" driver. Jarier had practised faster than Mass in both Argentina and Brazil!
New cars expected in South Africa for the Kyalami race on March 4 include the long-awaited Shadow DN9, the Lotus 78, a second Arrows FA1 and the surface cooling Brabham BT46.
The Elf Tyrrell team were feeling very happy with young Pironi's performance after the race, feeling that he had used his head and handled the 008 very sensibly indeed to finish sixth. Not bad for a youngster who hadn't driven that car prior to his arrival in Buenos Aires!
Once again Divina Galica failed to qualify her Hesketh, adding a badly blown-up engine to the chassis damage she inflicted to 308E/4 in Buenos Aires.
Although there were some concerned faces in the Goodyear camp, the American tyre firm are confident they will be able to match Michelin at Kyalami in the South African Grand Prix. In that race we should see the turbocharged Renault V6 back in action again with Jabouille at the wheel.
Villeneuve and Peterson seem inexorably drawn towards each other on the race track. They last collided in Japan when the French-Canadian driver drove over the back of the Swede's six-wheeler. "I don't think he has very good judgement" said the reflective Peterson after their latest tangle.