1980 Brazilian Grand Prix race report
Arnoux's first victory 
Sao Paulo, January 27th
Few of those who were critical of the decision to hold this year's Brazilian Grand Prix there would deny that Sao Paulo's superb 4.946 mile Interlagos circuit is one of the very best in the world. It winds its way through some fairly mundane surroundings in the Sao Paulo suburbs, but it is a most exacting facility which challenges driving skill with a large number of dauntingly quick corners and tricky sections of circuit. Originally it had been intended to hold the 1980 Brazilian Grand Prix at the "Mickey Mouse" Jacarepagua Autodrome just south of Rio de Janeiro, the unprepossessing venue at which Reutemann drove a Michelin-shod Ferrari to victory two years ago, but financial problems allied to physical decay at that circuit made this impossible.
Thus, a return to Interlagos was instigated a year earlier than originally scheduled even though the FISA had clearly stated, early in 1979, that the circuit should be subjected to a major programme of resurfacing prior to the expected return of Grand Prix cars in 1981. The newly re-constituted Grand Prix Drivers' Association, under the energetic presidency of Jody Scheckter, firmly hazarded the opinion that Interlagos, without a fresh track surface, was unacceptably dangerous and not a legitimate risk that its members should be subjected to. A vocal meeting and press conference, held in Buenos Aires a fortnight earlier, revealed the GPDA to be evenly split down the middle "for" and "against" Interlagos and of course everybody eventually turned out and performed as they almost inevitably always do under these sorts of circumstances. In fairness, however, nobody actually explained just how FISA actually sanctioned the Interlagos event given that they had expressed reservations over the state of the circuit surface not twelve months earlier.
Qualifying
Last year's Interlagos race was dominated by the Ligier JS11 cars and this year the French blue machines continued to represent the Goodyear-shod contingent at the front of the field. Although there is absolutely no doubt that Interlagos puts a tremendous strain on car and driver, pummelling the competitors over its many bumps as the chassis' ground effect characteristics compress springs virtually solid, it has to be said that sheer brio and lack of inhibition was manifestly obvious amongst some of the younger drivers — and it was a factor which contributed to several notable practice performances.
On the tyre-front, Michelin were still providing soft qualifying rubber for their four "customers" and the combination of this and the powerful 1980 1½ Renault turbocharged cars was quite unbeatable. Under untypically cloudy skies on Friday afternoon, Jean-Pierre Jabouille took only five flying laps to establish a pole position time of 2 min. 21.40 sec., more than seven seconds faster over almost five miles than Laffite's 1979 pole position time!
To allay suspicions that these were merely "fluke" times, Jabouille managed a 1 min. 23 sec. lap on "race" rubber and when Arnoux recorded a 1 min. 22.31 sec. lap on Friday, it seemed likely that the front "row" of the staggered grid would be dominated by turbo-cars on Sunday. However, Arnoux was to miss most of Saturday's timed practice session after an engine failure spoilt his chances of improvement. Arnoux's chassis RE21 had suffered quite badly in Buenos Aires when the right hand front suspension broke, losing a wheel and damaging the monocoque quite badly as the rocker arm and lower wishbone were wrenched away. The chassis was stripped down, flown back to France for repair, returned to Brazil and then rebuilt into a complete racing car in time for the start of practice at Interlagos. That, allied to the fact that the two French cars had to have their monocoques repaired locally after bottoming badly on Friday it's not only the drivers who have hard work to do in Formula One!
Arnoux's misfortune on the second day of practice allowed Pironi's sheer flair and car control to reap the reward of second place on the starting grid. The fast left hand corner after the Interlagos pits has been slightly reprofiled, giving it a more pronounced apex, but leaving it still flat out in fifth gear if one is extremely brave and driving a good car which is working properly. Pironi was one such fortunate driver, equipped with an excellent car in the Ligier JS11-15, and he was intent on making the best possible use of it. To watch the blue Ligier bobbing over the bumps at top speed into that corner and its confident driver hurling it through the turn with unshakeable confidence was truly exhilarating. Pironi managed a fine 2 min. 21.65 sec. which was the fastest time of the day in Saturday's timed session while Jacques Laffite wasn't to be left behind and was well in contention wnh 1 min. 22.30 sec. which was good enough for fifth place on the grid although his final session was abruptly interrupted when the oil pressure warning light flashed on and he abandoned his car out on the circuit. Subsequent examination revealed the Cosworth DFV to have survived intact, the problem being that the small pipe to the oil pressure gauge had become disconnected.
Generally speaking, although Goodyear's racing staff remained insistent that Michelin should hurry up and get rid of their special qualifying tyres, Akron fortunes looked pretty promising because there were several strong Goodyear runners near the front of the grid who looked in "good shape". Although the Ferrari 312T5 isn't proving the most startlingly competitive Formula One machine of the season, the sheer determination of little Gilles Villeneuve worked wonders as usual during practice.
After his high speed accident whilst holding second place in the Argentine Grand Prix, Villeneuve's 312-043 was written off and the salvageable parts were used to build another car round a new monocoque flown out from Maranello and completed in time for the start of Interlagos practice. Villeneuve had suffered an engine failure during the untimed session on Thursday and that was repeated during Friday's timed session, the T5s showing an appetite for flat-12s that runs against Ferrari's trend of recent years. The French-Canadian driver briefly tried the team's spare car, complaining that the steering was diabolically heavy, but he was back in his regular machine for Friday's timed stint and recorded a 2 min. 22.17 sec. which was second quickest behind Pironi in that session and third on the grid. If Villeneuve had any inhibitions about Interlagos they weren't evident watching him out on the circuit. Although he was by no means delighted with the handling of the T5, he emerged from the final session quietly confident, saying "I think we'll do better in the race".
Jody Scheckter's attitude to the circuit well-publicised prior to his arrival at Interlagos, but the fact that he ended up eighth on the grid with a 2 min. 23.02 sec. best could not be attributed to the fact that he wasn't trying. He might well have made two mistakes, spinning on what he felt would have been his fastest lap on Friday and then getting badly baulked on what he hoped would be his best on Saturday. On one spectacular occasion the World Champion found himself badly baulked by Lammers's tardy ATS and indulged in some automotive histrionics as he endeavoured to vent his annoyance on the bewildered and uncomprehending Dutch driver!
In the Saudia Williams garage, the customary air of optimism wasn't quite as buoyant as usual, both of the team's drivers encountering problems on Friday. The two latest chassis were kept in 1979, FW07 trim following the hurried re-conversion from "B" specification in Buenos Aires and while Reutemann remained with his usual FW07B/5, team leader Alan Jones forsook his Argentine Grand Prix winning spare car car FW07B/6. On Friday Reutemann's progress was interrupted by a major, spectacular engine blow up and Jones's car had problems with its skirts failing to fall down cleanly over the bumps which naturally did not enhance its handling. On Saturday Reutemann stormed into contention with a 2 min. 22.26 sec. lap to earn fourth place on the grid, between Villeneuve and Laffite, but although Jones's car was handling much better than on the previous day, the Australian complained that the engine was very badly down on revs. He couldn't improve on his tenth quickest time of 2 min. 23.38 sec., but Alan Jones is a "no nonsense" racing driver and when he says the something isn't quite right with the car, the likelihood is that something isn't quite right. He doesn't "whinge on" like some of his contemporaries and, after the Williams mechanics changed his engine on Saturday night, Jones proved his worth with fastest time in the race morning untimed warm up.
In the Lotus camp a great deal of work had been done on the rear suspension of the two 81s, involving strengthened lower pick-up points for the inboard coil spring-damper units following the breakage on de Angelis's car in Buenos Aires. The team still had their Lotus 79 development chassis on hand in case either of their drivers needed a spare, but both drivers got through practice using their new cars although there was a certain amount of juggling gearboxes at one point during the weekend. De Angelis was brimful of confidence, lapping in 2 min. 22.40 sec. despite a handling imbalance that was subsequently traced to worn out shock absorbers down one side of his car. The young Italian driver was delighted with his car's performance and team leader Andretti, despite being handicapped with a misfiring engine, echoed the sentiments of his young team mate from 11th place on the grid with 2 min. 23.46 sec.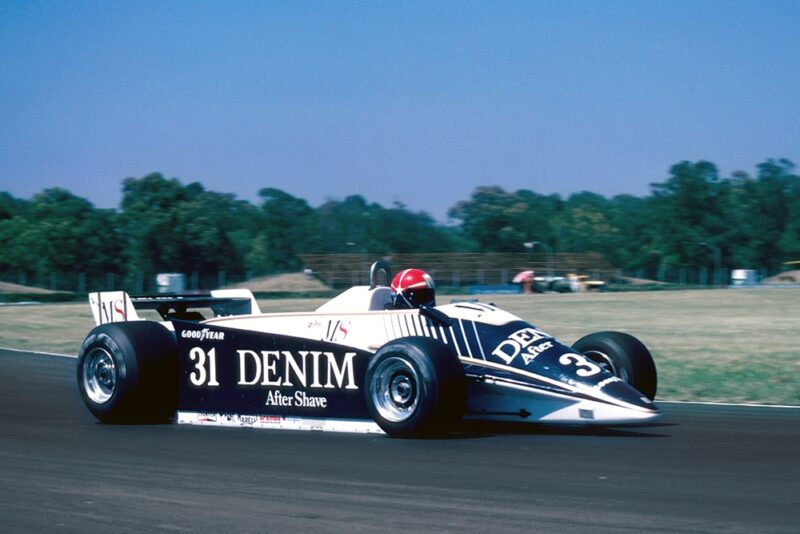 There was a degree of disappointment in the Brabham camp for although Nelson Piquet started off in fine style during Thursday's testing, a whole host of minor problems bugged the Brazilian's progress in official practice with the smart Brabham-Cosworth BT49. On Friday Piquet damaged the skirts on his car when he lost control and slid down a length of catch fencing. Later he had problems with an ill-fitting seat, his harness kept working loose and the steering was too heavy for his taste. Eventually some confusion over tyres during the final session thwarted his progress, for although he managed to get the correct combination together right at the end of practice, his fastest lap was set under yellow flags which indicated a spin into the barriers for Daly's Tyrrell 009. His best time was 2 min. 23.16 sec. His team mate Zunino was well out of contention on this occasion, with a 2 min. 26.53 sec. best and a consequent starting place near the back of the grid.
Regazzoni did a commendable job with the patriotic liveried Unipart Ensign, qualifying on 2 min. 24.85 sec. despite a fuel system that seemed reluctant to work properly with less than seveneteen gallons in the tank. Young Alain Prost managed to get his McLaren M29B working very effectively over the bumps and ripples of Interlagos to record a 2 min. 24.95 sec., a time which eclipsed team leader Watson by two and a half seconds. In fairness, the Ulsterman, who had started practice with his originally intended spare car, was forced to change back to his "race" machine after engine problems intervened and had to make do with a different rear suspension set-up on that car. The fact, however, remains: Prost did a very good job finding a race "set up" on his M29B.
Both Arrows suffered badly from their skirts riding up — and sticking up — over the bumps, Patrese recording a disappointing 2 min. 25.06 sec., half a second better than the genial Jochen Mass. All manner of minor problems bugged the Fittipaldi F7s of Rosberg and E.F., the Finn qualifying faster than his team leader although the local hero started his home Grand Prix weekend on a bad note when he crashed quite heavily following a tyre deflation on Thursday. Although the car was repaired in time for official practice, the incident seemed to set the Brazilian back somewhat and his chances were not helped when he suffered a water leak which cut short his timed session on Saturday.
Towards the back of the grid Surer did a commendable job with his ATS, the yellow car having its suspension attended to on Friday night after a rear rocker arm collapsed on him during that day's timed session. Both Alfa Romeos were very definitely also-rans, Depailler in particular proving most frustrated with his car's acute understeer problems. The two Tyrrell 009s were simply outclassed and outdated, but Jarier and Daly persevered gamely throughout the weekend and both got into the race, the Irishman after one slight collision with Prost and a spin into a tyre-faced guard rail, both in the final session.
Non-qualifiers included Lammers in the second ATS, hard-trying Shadow DN11 drivers Kennedy and Johansson and the overweight Osella driven by the rather disillusioned Cheever.
Race
A staggered "one-by-one" start line up was employed at Interlagos, just as it had been in Argentina, so Jabouille's Renault had a slight advantage before the starting signal was given. But the French turbo car was tardy getting off the line and Pironi was alongside it as they drew alongside the pit wall. But both Frenchmen's efforts were eclipsed by the never-say-die Villeneuve who is quickly gaining a reputation for the best starts in the Grand Prix business. His Ferrari came rocketing up between the Renault and the Ligier, diving into the left hander after the pits well in the lead. Jabouille initially dropped back to fourth behind the two Ligiers. The McLaren mechanics wonder whether a new driving position might improve the performance of their tame Irishman, but he powered back into second place as they hurtled down the first long straight and was right with Villeneuve as they came up through the infield loops and out onto the start/finish stiaight to complete the opening lap. Third was Pironi with Laffite right on his tail and the remainder of the field already spacing out after that hectic five mile opening lap. Already there was one casualty, Reutemann's Williams having broken a driveshaft as the Argentinian snatched second gear accelerating off the grid. He limped round a single slow lap before pulling in to retire, just in tine to meet a rather flustered Mario Andretti walking back to the pits after spinning his Lotus 81 off through the catch fencing at the first corner at the start of the second lap. The Lotus tipped onto two wheels during its crazy excursion and the American feared briefly that it would tip over — fortunately it landed on its wheels, but very much the worse for wear.
Jabouille closed up on Villeneuve as they went into lap two, passing the Ferrari at the end of the long straight and streaking away as the French Canadian eased up suddenly, dropping back quickly as he sensed something was wrong with his car's handling. On lap five Pironi, who had dropped back behind his team mate, came into the pits to investigate a violent understeer problem which made him suspect that one of his Ligier's skirts had stuck up. By the time he stopped the skirt had fallen down again, so his team softened up his front rollbar and sent him back into the race for a game chase back through the field. Further back in the field Regazzoni's Ensign was fading after a promising start, dropping away with acute understeer and a misfiring engine, while Villeneuve was soon back to sixth place in close company with team mate Scheckter. Arnoux was up to third ahead of de Angelis and then came Jones's ill-handling Williams in fifth position, the Australian racing as best he could despite his problems.
On laps seven and eight respectively the two Ferraris dived into the pits for fresh tyres, emerging at the tail of the field although Scheckter didn't have to worry for much longer as his flat-12 lost its oil pressure mid-way round lap eleven and he rolled to a silent standstill out on the circuit. The Ferraris' problems heIped promote Piquet's Brabham BT49 into sixth place behind Jones while the Arrows of Patrese and Mass were next, followed by the two McLaren M29Bs (Watson briefly ahead of Prost after a superb start) and the Fittipaldi F7s of E.F. and Rosberg. Both Arrows were understeering very badly and soon dropped away to be passed by their immediate pursuers, while Watson was soon dealt with by his young team mate. Prost's car showing a peculiar tendency to misfire at low revs when the fuel tank was full, this problem apparently curing itself after ten laps or so. Once Prost was through and away, Watson fell back to be challenged by the two Fittipaldi drivers who were running in close formation with Rosberg pressing his team leader hard. It didn't take long for the determined Finn to have a go at Fittipaldi, diving inside him on the left hander at the end of the long straight with a forcefulness which sent Fittipaldi wide over a kerb, resulting in damaged skirts and a resultant pit stop for the Brazilian. After the race there was an air of tension between the two Fittipaldi team drivers when they returned to the pits, both uncompromisingly differing in their interpretation of the "whys and wherefores' of the incident!
Laffite's challenge for the lead ended on lap 14 when a high tension lead came adrift from his Ligier's distributor, stranding him out on the circuit and leaving Jabouille to consolidate a commanding and very comfortable advantage. Arnoux was now second with de Angelis pressuring him determinedly, the young Lotus driver gradually realising that if he pressed too hard with the understeer he was suftering with then his front tyres would not last the race distance. After working himself almost into Arnoux's slipstream, a couple of lurid moments convinced de Angelis that it was more important to be in the race at the finish, so he eased off very slightly and Arnoux pulled away.
Further back Pironi and Villeneuve were showing real spirit as they carved their way up through the midfield runners, Riccardo Patrese proving particularly difficult to pass. Pironi took four laps before he found a way past the hard-driving Arrows pilot and Villeneuve's determined efforts to get past Rosberg resulted in the Fittipaldi surviving a high speed spin at the fifth gear Curva de Sol which badly flat spotted its tyres and took its driver aback somewhat!
Jabouille's confident run towards victory came to an abrupt end mid-way round lap 26 when one of the 1½-litre engine's turbochargers failed and he was left to limp into a disappointed retirement. But for Regie Renault there was the consolation that Arnoux, running strongly in second place, could now take over at the head of the field. The Grenoble driver kept control and, with de Angelis falling away over the remaining fifteen laps, Arnoux scored his first Grand Prix victory by a convincing margin of more than twenty seconds.
Third place was earned doggedly by Alan Jones while Pironi, still hampered by acute understeer, finished fourth. Prost, driving with great maturity, refused to be ruffled by Patrese as he raced the Arrows for fifth place, eventually picking his moment and passing the Italian in an extremely confident fashion after he had watched and learned where the Arrows had handling problems. Surer did an excellent lob to finish seventh while Zunino was eighth ahead of Rosberg, Mass and the disappointed Watson. With characteristic determination, Villeneuve scrambled back to seventh place and was closing on Patrese when his Ferrari's throttle stuck on a fast left hander and he spun wildly. Nursing his T5 back to the pits, Villeneuve was out of the race when it was found that the front anti-roll bar linkage had become deranged and was fouling the throttle pedal. That was the fourth retirement from four starts in two races for the Italian team, underlining in dramatic fashion just how unpredictable and changing are the fortunes of Grand Prix motor racing. — A.H.