Prost on Senna
Smith and Wesson. Harley and Davidson. Prost and Senna. Inseparable pairings in everyone's mind. Alain Prost talks about their years of battle and how his retirement affected his old rival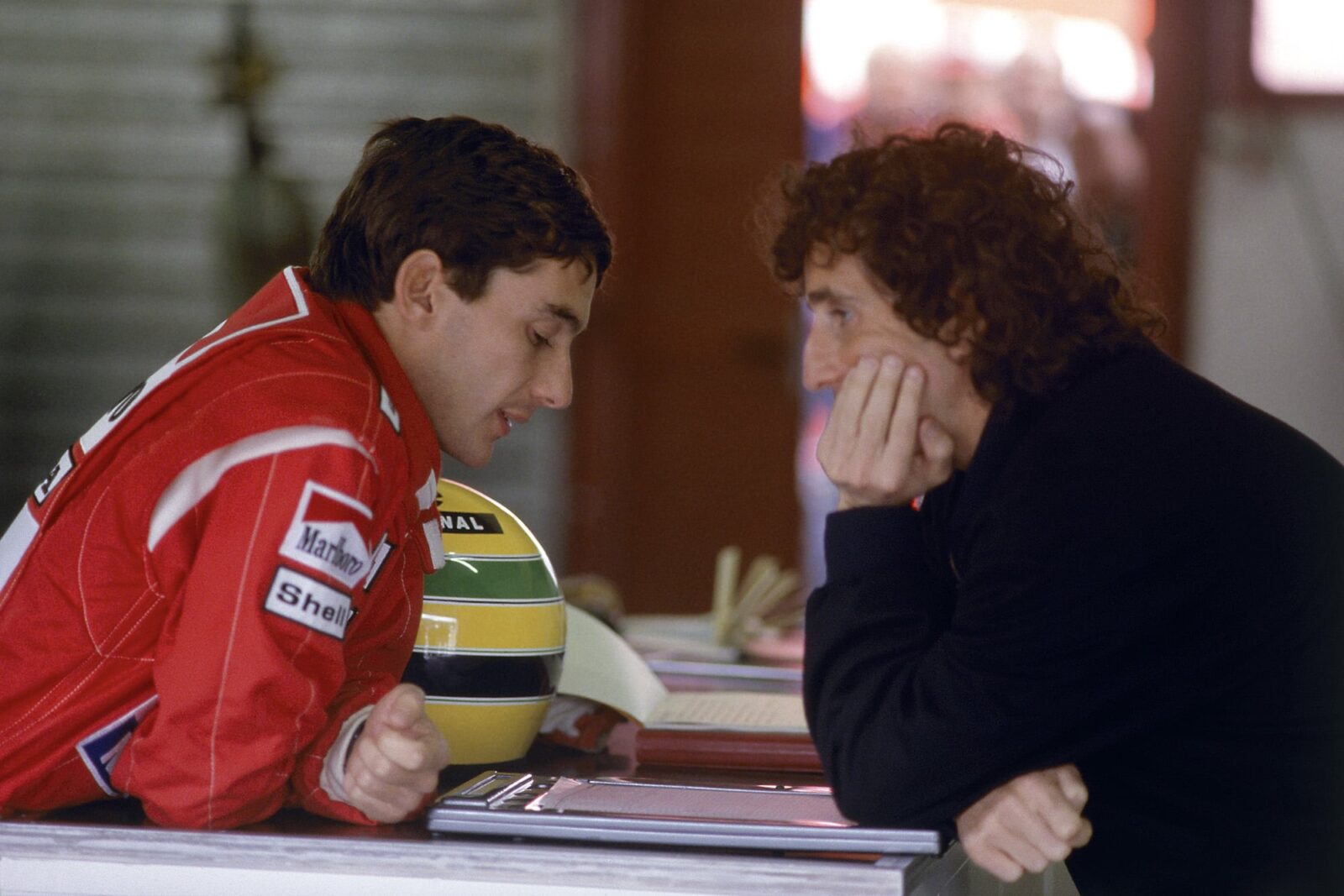 May 1982. Monaco Grand Prix. Six drivers swap the lead in less than two laps. Alain Prost is heading for victory when his Renault goes off before the swimming pool. He hurts his face and injures his feet. It is only the second accident of his whole career.
October 2007. Prost welcomes us to his house, still suffering from that foot injury which has recently been operated on yet again. He is going to help us see through the myth to the personality of Ayrton Senna. And it proves to be an exceptional first-hand testimony.
Pascal Dro: Do you remember your first meeting with Senna?
Alain Prost: Yes, very well. I can't remember the year exactly [1984], but I remember the meeting clearly. Mercedes had organised a race for Formula 1 drivers, both current names and well-known veterans, at the Nürburgring when it was launching the new 190. Ayrton was arriving half an hour after me, and they asked if I would wait and take him to the hotel. Which I did. He soon found that I drive pretty fast! [laughs]. He said, 'Prost's completely mad. He drove much too fast!'. It was the first time he had really met any of us; he didn't know many people in this new world, and he stuck with me a bit. There were people like Jody Scheckter, people from my generation and older drivers too. I remember Denny Hulme being there, for example.
PD: This was before his F1 debut?
AP: I'm not sure about that. This was a race without really being one, but you knew what was going to happen. You put 15 or 20 drivers on the track at the same time… [laughs]. It was some trick, because the drivers' competitiveness is bound to result in some ruffled feathers. So I was on pole, and Senna was second. But on the grid he took off before the flag. Well, it wasn't a real race, but at that moment I was annoyed.
PD: You were annoyed?
AP: Yes, yes. I thought it was a bit off. It was our first meeting, and already there was some constraint.
PD: He was an unusual personality, wasn't he?
AP: Special, different, yes. He had a theatrical side, with his elaborate speech. His moments of lengthy reflection, at the end of which he'd come out with three well-matured phrases.
And he orchestrated his arrival in racing, with his own press releases, even when he was still in Formula 3! Nobody was doing that at the time. I've never known if his air of mystery was natural, or if it was all part of the game. But you have to admit that it pleased the journalists!
For me, that press conference at Monaco when he said that while he was setting pole he seemed to leave the cockpit and watch himself driving – well, if a normal guy said that today, you'd put a straitjacket on him and make sure he never drove in F1 again! But that was all part of his personality.
PD: When you two were team-mates at McLaren, I imagine you could learn from each other. What do you think you learned from him?
AP: It sounds a bit pretentious to say this, but if I'm honest – nothing. I learned a lot from Niki Lauda – well, I was much younger then. Ayrton was in the same position with me as I was with Niki, and I think he learned a lot from me.
PD: A lot?
AP: Yes. His strength was in optimising the car for a quick lap. Above all the use of qualifying rubber, which for me was a small concern. I recall that at Ferrari I often qualified on race rubber, particularly in Mexico where I went on to win.
PD: Why would that be?
AP: It's not something you can learn. You just have it, that's all. A mystery. But as far as racing skills go, I didn't learn anything from him. For him it was all about qualifying. He'd watch what I was doing, then throw himself into the whole business of qualifying.
PD: Is that where his domination came from?
AP: Absolutely. That was his strong point. If he had one, that was it. I'll be honest: several times what he managed in qualifying surprised me. Astonished me, sometimes. In the race, he never impressed me. But in qualifying, yes.
PD: Your son Nicolas said "he became almost a part of the family". The Senna myth is partly built on your joint history, and some of your own legend depends on the opposition he gave you.
AP: Yes, that's true. There was a time in my career when only he mattered. I just forgot about the others. We dominated F1 so completely that the other teams were just an abstraction. And despite everything, we always talked.
PD: Even at the worst moments?
AP: Oh, yes. We might not speak between technical briefings, but we did talk clearly and honestly. Certainly on my side. And if I did have any doubts about it from his side, they were faint. I can't say the same about Honda at that time. But as regards chassis set-up, I didn't feel any suspicions.
PD: That reminds me of something today…
AP: It happens. It's not about what you have on your car that's better or not so good, it's about knowing whether you're being treated differently. Psychologically that can destroy you.
PD: And Honda?
AP: It's absolutely definite – they weren't playing the same game with Senna and me. Don't forget that at the time the chassis and motor were much more separate entities than today. Now McLaren and Mercedes are almost the same outfit.
PD: But you were the World Champion!
AP: Yes, but for Honda it was entirely about who could win. No doubt at all.
PD: The day of his accident, moments before the start in his Williams, he had a haggard air, not calm at all. You can see it on the video. Professor Sid Watkins even asked him if he wanted to stop. How did you feel at this time?
AP: We had never talked so much as in those weeks… Before, he didn't often call me, but now he was worried. First, he was a bit deceived by what he found at Williams.
When you're the undisputed number one, as he was at McLaren, you feel great. With Frank there was a very English atmosphere, very hard. Second, he was wrong-footed by the car. I had foreseen that and warned him. The car wasn't as easy to drive as they said. And the layout was odd. I told him that too. The driving position was still the way Mansell liked it two years before. I drove with his seat, you know! The steering wheel was very, very low and the position was extremely complicated.
PD: Did the driving position worry him as well?
AP: I told him to insist, to demand. Don't forget that in Brazil he spun because his upper body was so tense. He was very worried about safety – he asked me several times to raise it with the Grand Prix Drivers Association – and he was convinced that Benetton were cheating. On top of that he had some personal problems. He felt alone, and just not motivated to challenge other drivers.
PD: Was his crash the result of this combination? A gradual desire to stop racing?
AP: He never said that to me. But he spoke about his lack of motivation several times.
PD: Did you see him that day?
AP: Yes, and it was disconcerting. He wasn't the same. I was having lunch in the Renault motorhome, opposite the Williams one. Ayrton came out of Williams and came to join me, among all these people. I was amazed. I know how much is going through your head at a GP. I don't remember exactly what we talked about, only how unlikely it was that he should have come to speak to me in the middle of all those people.
PD: Did you see him after that?
AP: I went to the Williams pit before the start and we talked about Benetton again. I asked him how he felt, and he said 'I'm not optimistic at all about this race'. It was the last time we saw each other.
PD: Did you see him on the grid?
AP: He usually kept his helmet on, but this time he took it off. He kept looking around, and seemed nervous. You could imagine all sorts of things. People have even mentioned suicide; I don't believe that.
PD: He seemed lost and frightened, like a child who's been told "you have to do it" and who doesn't want to…
AP: I want to make this absolutely clear – people do not know just what it meant to him to reach Formula 1, to try to beat me and to succeed. I was his reference point. When I retired he lost that, on top of a lot of little problems, and he wasn't sure what he was still doing in F1. As if he'd been used up all of a sudden. As if he had lost his goal. He used his supposed dislike of me as motivation, although deep down it wasn't true.
PD: The war was over, for him?
AP: That's right. The war was over after our last GP in Australia. There were a lot of phone calls that winter. I don't know… It was another generation, another way of seeing things. But what was in his head no one really knew.
PD: Today, the Senna myth continues to grow.
AP: There's an irrational element to that. The understandable part is that F1 continues to evolve – with greater safety, above all – but for the spectator, it hasn't all been good.
Even though for me the Häkkinen/Schumacher or Hamilton/Alonso rivalries are even more intense, they're not perceived that way. People are always saying to me 'it's not the same since the Senna/Prost days'.
PD: And Senna's disappearance?
AP: That had a huge impact on how people think of the past. That's how myths grow. It wouldn't happen to a living person. It hasn't happened to Michael, even though he's a seven-time champion. He'd have had to win seven titles and died in his last race for it to happen to him! Funny, but that's the way it is…