Start your season at Race Retro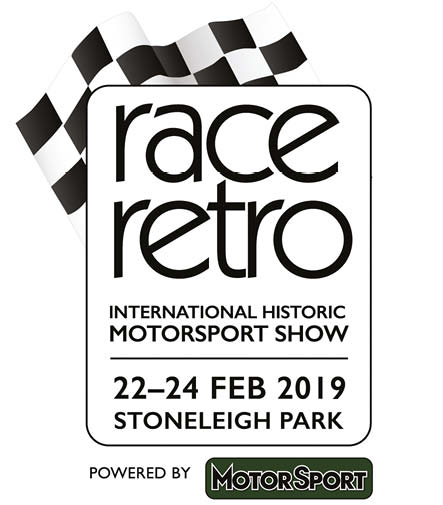 The historic motor sport season will roar into life at Stoneleigh Park on February 22-24 as the annual Race Retro Show, powered by Motor Sport, opens to showcase the great and the good of our sport.
Race Retro has grown to become Europe's biggest and best historic motor sport event, and this year will again feature a plethora of automotive exotica and star personalities sharing many behind-the-scenes stories of their career live on the Motor Sport Stage.
This year we're delighted to welcome Finnish 'Rally Professor' Rauno Aaltonen. To coincide with the 60th anniversary of the Mini, Aaltonen will speak of his adventures with the marque, including winning the 1967 Monte Carlo Rally. Also present will be sports car star John Fitzpatrick – famed for his success across touring car and GT racing, especially with the Porsche marque.
Whether your passion focuses on the 24 Hours of Le Mans, Formula 1, the World Rally Championship, vintage racing or club race and rally action, there is something for everybody at Race Retro.
---
WIN A RIDE IN A GROUP B RALLY CAR
Motor Sport readers can enter an exclusive prize draw to win a high-speed rally ride in a Group B machine during the weekend of Race Retro, thanks to Rallying with Group B.
To enter, simply book Saturday or Sunday advance tickets by Sunday 17 Feb using the code RALLY via raceretro.com
The ride will happen as part of Rallying with Group B's Live Rally Stage, which runs over the weekend of the show.
All entrants must be aged 14 or over and must be a minimum height of 135cm. For full terms and conditions see raceretro.com
---
The Hawthorn Collection
Taking centre stage during Motor Sport Hall of Fame Live will be a world-first gathering of many of the cars, trophies and artefacts celebrating the life of Britain's first Formula 1 world champion, Mike Hawthorn.
The legacy of Hawthorn was explored within the February edition of Motor Sport, as we lifted the lid on a driver who is often, unjustly, overlooked in the history of grand prix racing.
The story and career of the 'Farnham Flyer' may be relatively brief, but it was filled with drama, glory, tragedy and intrigue before his life was cut short by a road accident just weeks after landing the 1958 world championship with Ferrari.
The display will feature many of the cars that made Hawthorn the driver he was – from the ex-works 1100cc Riley Ulster Imp in which he took his maiden racing successes to a Lotus 11 he raced exactly 11 times.
The display will also feature many items from the unique collection of Nigel Webb, whose work collecting and curating everything Hawthorn has helped keep the legacy of such an intriguing racing character alive.
On display will be Webb's Jaguar D-type – built from parts of the original 1955 Le Mans-winning chassis – as well as a collection of Hawthorn's famous four-spoke steering wheels, what remains of his 1958 World Championship trophy as well as various personal memorabilia giving a unique insight into the life of Mike Hawthorn.
Endurance appeal
Twenty years ago, Audi first rocked up to Le Mans to kick-start what would become one of the most successful manufacturer programmes at La Sarthe. A total of 13 wins from the Ingolstadt firm's 17-year stint in prototype racing catapulted the Audi to become the second-most successful brand in the history of the race.
It all began with the 1999 R8C, which featured the 3.6-litre V8 that pre-dated the all-conquering – if controversial – diesels.
The mighty Group C regulations dominated the early 1990s, and one of the most recognisable of these machines, the Sauber-Mercedes C11, will also be on display. As well as winning Le Mans in 1990, the car can count the great Michael Schumacher among its elite list of drivers.
Turbo fever
Remember the days of grand prix cars that made the ground shake? This year's Race Retro will pay homage to arguably the sport's most monstrous era – the turbocharged 1980s.
With engine manufacturers favouring reduced capacity but high compression, the sheer statistics that went along with the rise in success of turbocharging in F1 were staggering. Headlining the display will be Williams' FW11/B from 1987: famously taken to the drivers' title by Nelson Piquet,this design also took the team to the constructors' glory too, with Nigel Mansell in the sister chassis. Between them, Piquet and Mansell won nine of the year's 16 races in a dominant campaign. With its 1.5-litre Honda engine pushing out over 1200bhp in full-bore qualifying mode, the FW11/B was truly a monster of its day.
Other attractions include a Ross Brawn-designed Arrows A10 – as raced by Derek Warwick and Eddie Cheever in 1987 – and a Toleman TG185, as handled by Teo Fabi and Piercarlo Ghinzani in 1985.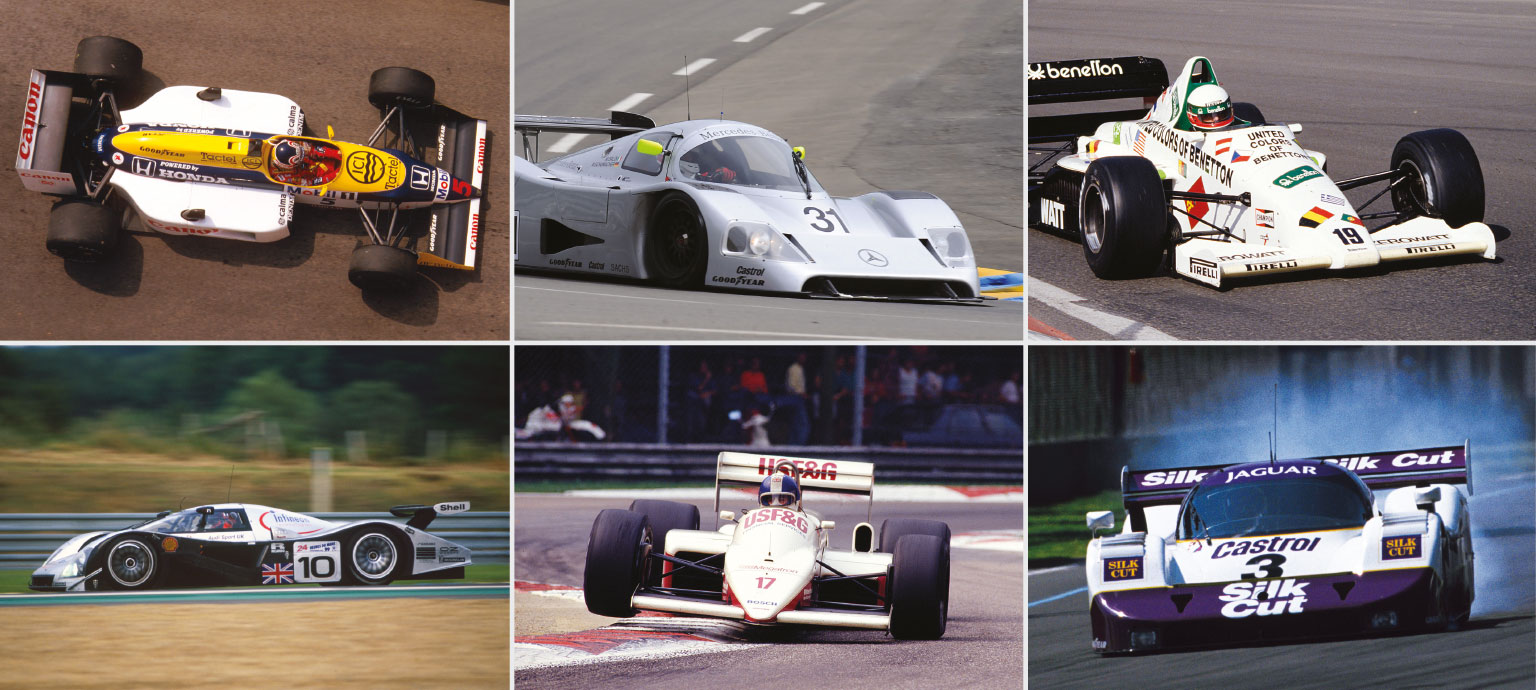 Rally heaven
Rally fans will be well catered for thanks to a bevy of displays – including the Rallying Hall of Fame, which will house cars handled by greats such as Russell Brookes, Malcolm Wilson and Carlos Sainz. There will also be a celebration of British Rally champions, honouring names such as Brookes, Mark and David Higgins and Jonny Milner.
Also, don't forget about the Live Rally Stage, which is traditionally one of the highlights. Run by Rallying with Group B and with over 125 drivers already signed up to make the high-speed run on the stage, it's the perfect place to take in the sights, sounds and smells of some great machinery. From rumbling Group B cars from the likes of Lancia, Peugeot, Ford and Audi, to more modern examples like the current generation of R5 cars, the weekend-only attraction is sure to be a big draw. It's not just for spectators either, as visitors can book themselves in for a passenger ride too.
National stars
It's not all about world championship-level competition either, and those looking for a fix of national and club-level content won't be disappointed with virtually every discipline in the sport being showcased across the three days.
The Pride of the Paddock will highlight great cars with storied pasts from every brand of the sport, from an ex-John Watson MG B that contested the London-Sydney Marathon to a Le Mans-spec Lola T212.
There are also over 250 specialist exhibitors, including racing clubs such as the 750 Motor Club, Classic Sports Car Club, HSCC and VSCC . Plus there'll be plenty of retailers giving you the chance to pick up those competition essentials.
Auction lots
Don't forget to drop by the annual Silverstone Auctions event at Race Retro, which will feature classic and competition cars, bikes and automobilia. The Classic Car sale on Saturday is usually the highlight with some lovely lots. Don't forget your wallet…
---
Event Information
Opening Hours
Friday, 22 February 9.30am to 5.30pm
Saturday, 23 February 9.30am to 5.30pm
Sunday, 24 February 9.30am to 4.30pm
Advance Tickets
Adult/Senior (16+) £22
Child (5-15) £7
Child (0-5) FREE
Groups (10+ ) £20.20 each
Two-day pass £40
Three-day pass £60
Adult/Senior (16+) plus 12 month Motor Sport subscription £61.99
Book now at raceretro.com