"Bill France Sr was looking way ahead. He was one of the greatest guys I ever met, and I learned a lot from him. He never said anything to you that wasn't important; he didn't beat around the bush – he just said it like it was and I appreciated all the time that I was able to spend with him, which, in those days, was more time than I spent with anybody else because of our connection that year when I helped him promote his races."
With a young family, McGriff took a break from the world of NASCAR racing for over a decade, hanging up his helmet in 1954 and not returning until 1967. Racing was a financial burden for him.
In the meanwhile, France had built NASCAR's third speedway after Darlington and Raleigh (now closed) for the sum of $2.9 million. The first race was run at the new Daytona Speedway on February 20, 1959, for open-roof cars.
More than 40,000 paying spectators attended the Daytona 500 two days later, which came down to Petty and Johnny Beauchamp and ended in a photo finish that required analysis of newsreel footage and stills over three days after the event had finished. Petty was the eventual winner.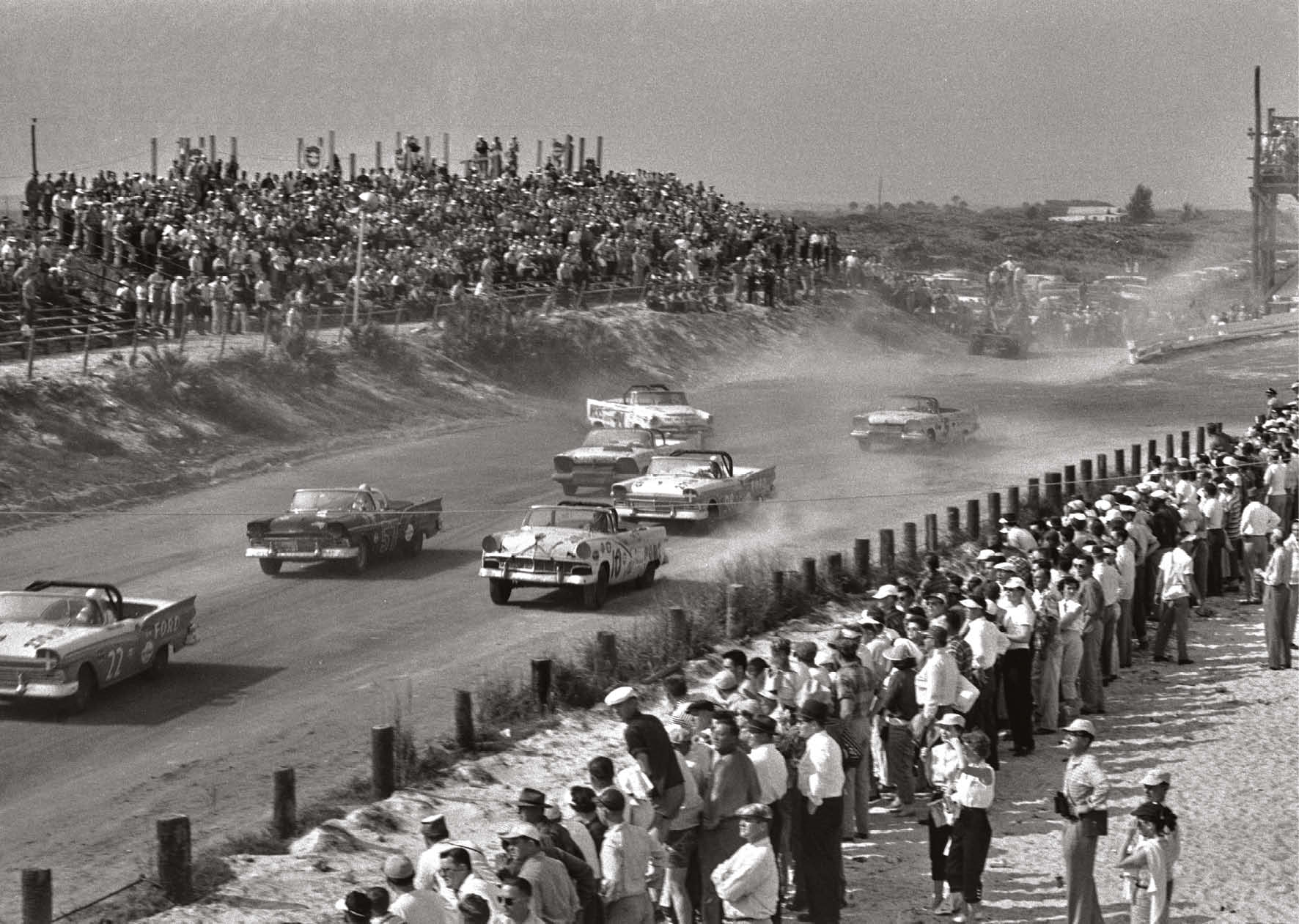 McGriff returned to racing in 1967 at Riverside, and he first got a taste of NASCAR's concrete jungle in 1973.
"When I first ran Daytona, it was so smooth. I qualified sixth at 185mph, which was really good in those days. That's the biggest track I've ever driven, and it was full of spectators. But you're definitely glued into the preparation, the rules and I had to focus so hard on the racing – you didn't notice all of that," he says.
"Petty knew how to drive good because of his booze hauling"
Yes, the beach was dangerous, but the speeds at Daytona broke fresh ground for many American racing drivers. That became clear even before the first race at the Speedway, when France invited drivers to break the world speed record on a closed racing circuit. The first driver to reach 180mph on Daytona would win $10,000, and bragging rights.
But when double NASCAR national champion Marshall Teague, nicknamed "King of the Beach" for his two wins at Daytona in 1951 and '52, attempted the record, he was not prepared for this new challenge at all.
The high banks of the oval got the best of his Sumar Special Indycar, which flipped over at 140mph. Teague was ejected – still in his seat – from the car nearly 500 metres from the spot where he had his accident as Daytona claimed its first casualty before a race had even started.
"There's no comparison between the beach and the speedway," reiterates McGriff.
Keen not to travel the length of the country to compete, Daytona veteran McGriff raced in the NASCAR K&N Pro Series West – a regional division that was formed in 1954 – until finally retiring in 2012.
But NASCAR had one final surprise for him: last year for his 90th birthday present Bill McAnally Racing gave him the chance to return, to complete a 100-lap K&N Pro race at Tucson.
"I didn't do very good – I tagged along at the tail end – but it was a great weekend for me, a fantastic weekend and a big celebration with lots of friends from all over the country coming over to watch," he says.
With that, he became the oldest driver ever to start a NASCAR-sanctioned race. McGriff finished 16th, but it was one hell of a party nonetheless.
Just like the old days, indeed, flat out on Daytona Beach.