Max McRae's third-generation rally ambition: 'Destiny is calling me'
Almost 13 years after world rallying lost an icon, a new member of the McRae family got a chance to step into his famous uncle's boots. James Mills watched on
It's 1995, and Colin McRae has just become Britain's first World Rally champion and the youngest driver ever to clinch the title. Fast forward nearly 25 years, and here comes his nephew, Max, a third-generation driver from the McRae stable, with his sights set on following uncle Colin, father Alister and 'Gramps' Jimmy into the sport their family name is synonymous with.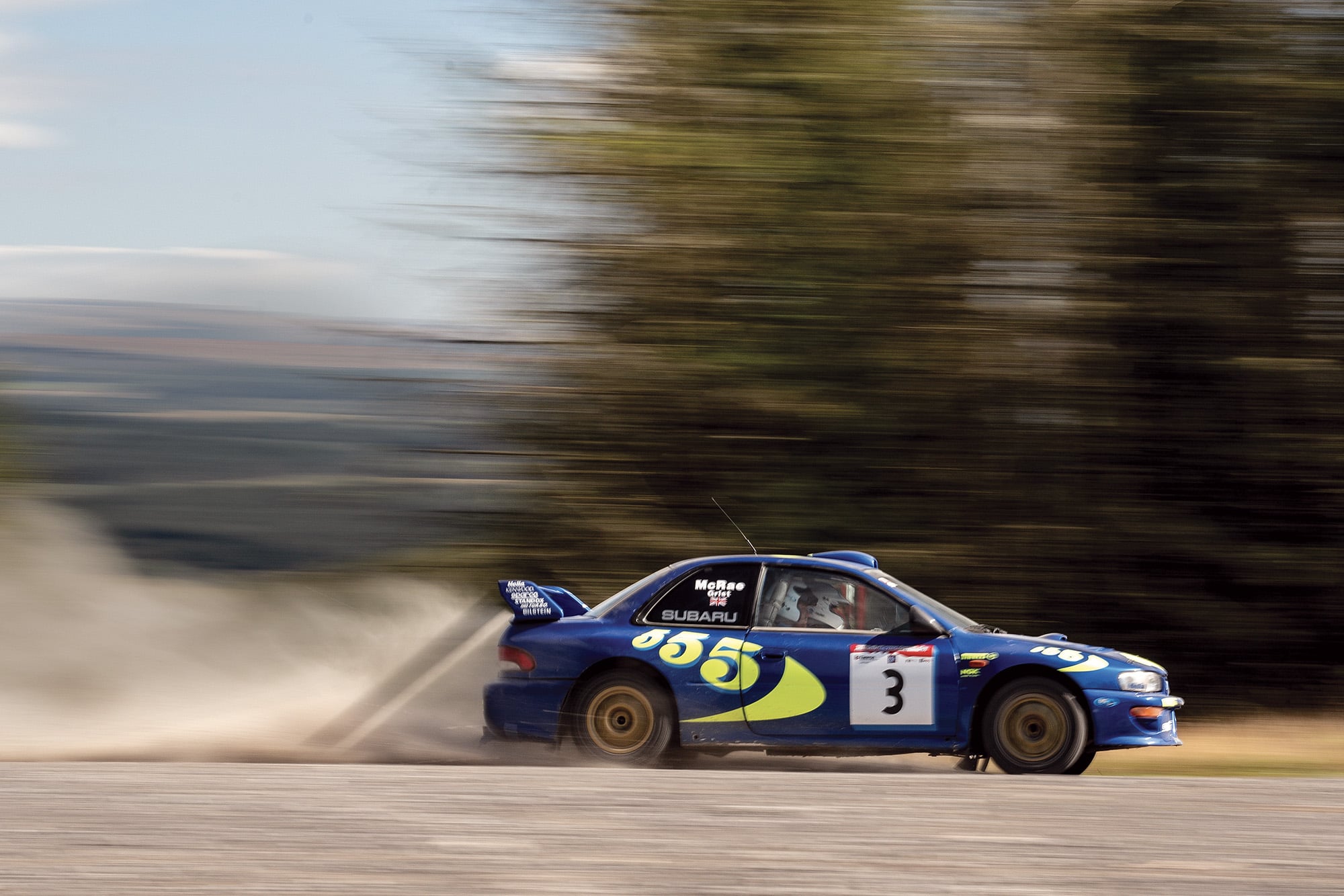 Max is powersliding his way through a gravel stage at Walters Arena, the rally stage and test venue, just half an hour north east of Swansea. The 15-year-old hopes to follow in his uncle's tyre tracks and is spending time driving some of Colin's old cars.
Not any old cars, like the clapped-out Ford Capri 1300L, in brown paint with a vinyl roof, that was Colin's first car after passing his driving test. The three machines represent the three most significant stages of Colin's career: a Subaru Legacy RS, and Impreza and Focus World Rally Cars.
"Rallying is what I really want to do with my life… I'd do anything"
This year, Max will undertake a season of racing in the Western Australia Formula 1000 series. But he says his heart is set on rallying, and he'll be driving at the McRae Rally Challenge, in October at Knockhill. "I hope destiny is calling me for rallying. That's really what I want do with my life. For rallying, I'd be willing to do anything, even leave Australia and come back to Britain. It's a really special day, especially to be driving that car with the McRae
name on it."
At home he has a collection of scale models of all the cars Alister, Jimmy and Colin have competed in. And with mentors such as Alister and Jimmy on hand, the teenager says he has a strong work ethic. "Dad's always telling me to put the extra effort in to anything I do. He says, 'If you put the effort in, you get what you want, and hopefully, get your dreams.'"
One of those dreams is coming true today, as he gets to drive the selection of McRae machinery. First is a Subaru Legacy RS, the car that put McRae firmly on the map of the British and, later, international scene. Or rather, the car maker that McRae put on the map.
Then there's a 1997 Subaru Impreza S3, the first WRC-spec Impreza that Colin used to win five rallies. It's perhaps the model most associated with McRae having been the cover star of the original Colin McRae Rally video game series. And finally, the one that's caught the attention of Max, a Ford Focus RS World Rally Car from 2001, the year he won three rounds and finished runner-up in the championship. The younger generation tend to connect with this one, having been used in the subsequent Dirt game franchise, one Max knows well.
The elder statesman, Jimmy, is in a mischievous mood. He half-jokes about how pleased he is that Alister now has the responsibility of paying for a son to go rallying. Having been through it, twice, he doesn't miss the financial commitment.
Because of his age Max has almost no recollection of being with Colin, but he says there are one or two memories of playing with his cousin Johnny. He looks up to Jimmy, his father and Colin and says he will try to live up to their performance.
Another driver Max looks up to is Daniel Ricciardo. "His local karting track was my local karting track. He's from my home town and he grew up with his parents not having a heap of money, unlike some other drivers." To date, Max's competition has been in karts, with a 2017 state championship to his name.
"Jimmy would get home to find one of his vans had vanished"
The family live in Perth, Australia. Max was taken to Perth airport by Tara, his mother, and travelled to the UK before being collected at the other end to come straight to the test. It's his first taste of the life of an international rally driver, and he's still a year away from sitting his ATAR exams – broadly equivalent to A-levels.
"I got a text from the school, saying 'Unexplained absence'!" says Alister. "Tara explained what was happening and they said, 'We can't give you permission to take your child out of school – but safe travels…'"
It all sounds rather familiar. Describing what it was like for him and Colin to grow up with a father who counted five British Rally Championships to his name, Alister tells of how it was always easy to convince dad to have a day off school, if there was a test day going on in Scotland.
After motocross bikes, by the time they were 12 or 13 Colin and Alister would drive old cars or vans around fields with friends. Occasionally Jimmy would get home to find one his company's vans had vanished.
Alister explains why motocross riding gives a good grounding for rallying. "It's good for finding the grip, looking and reading the roads and even balancing
the throttle, controlling the brakes and everything you learn to keep it balanced."
And what of Max jumping into a WRC rally car, like the Impreza? How does Gramps think his grandson will cope?
"Although that car is 22 years old it's still very competitive; very good grip, very good engine. As far as handling the car it's not a problem. But it's left-hand drive, it's a very difficult gearbox with a dogleg and across the gate is at an angle. It's something that Colin developed and it's quite difficult to use it. But once you get used to it it's a far quicker change because of the angle.
"It's nice that it's one of Colin's winning cars as well," adds Jimmy, before getting onto the subject of the struggle that young drivers face to get a foothold in rallying.
As he puts it, the sport can do wonders for young people. But getting beyond club level is challenging: "I've been involved in the Scottish scene. You see these young drivers come in at 14, and they're shy and their mother is worried about them, and then they get into a car and just come out of their shell, mix with other people and learn how to be competitive."
Colin was one of those shy kids. Jimmy tells of how, whenever he got the chance, he would travel around with the service crew during the Scottish Rally. There are photographs of him when he was younger than Max, dressed in overalls – a part of it.
"At a certain age, you've got rich drivers with loads of money but no talent, and lots of young guys with loads of talent and no money. Take [new European Rally champion] Chris Ingram, and the struggles he faces to get through an ERC season. There are some teams that will charge you up to £150,000 per event before you've even paid for your own travel!"
"To see another McRae compete at the forefront of rallying would be very special"
The Subaru that Max gets to drive won the 1997 Safari Rally. Jimmy drove the recce car for Prodrive, another Impreza, and would relay stage notes back to Colin and Nicky Grist before they set off. At one point, Jimmy ended up checking on the conditions of a river, unsure whether it would be possible to cross it, when his car floated off downstream. "We were stuck for about two hours. In the end, Colin and Nicky and the team came out in the helicopter to get us out of there – and have a good laugh at us."
Colin earned the name Colin McCrash, but as Tommi Mäkinen, his greatest rival, once told Jimmy there were seasons where he'd have more accidents than Colin.
The Impreza that Max is driving is owned by Max Girardo. It sounds fantastic, looks spectacular off the line and seems calm and composed through the hairpins and assorted open corners of Walter Arena. Max is clearly enjoying himself.
By the end of the day, the third-generation driver is faster than Gramps but still some way behind Dad. That matters not one bit. What matters is that it has reinforced his desire to follow in the family footsteps and become a rally driver.
It's a long and winding road ahead. And millions of eyes around the world will be watching him. But to see another McRae compete at the forefront of rallying would be something very special indeed.
---
Life after Colin
Back in 2007, the rallying world was rocked by the loss of its leading light. But the public response gave the McRae family strength
Four days after the funeral for Colin McRae and Johnny, his five-year old son, was held in Daldowie Crematorium near Glasgow, there was a celebration of life service for them, Graeme Duncan – an old friend of Colin's – and Ben Porcelli, one of Johnny's friends. It was held in Lanark, a small town of about 9000 people, south of Glasgow and home to the McRae family. The streets were overrun by well wishers, who had travelled from far and wide. As many as 15,0000 people gathered to face the doors of St Nicholas Church, stretching back along the high street as far as the eye could see.
It was a moving spectacle. But then few had done as much as McRae to capture the public's attention and bring new followers to the sport.
"It was overwhelming," remembers Jimmy McRae. There are tears in his eyes. He and Margaret, his wife, have lived through every parent's worst fear. But that day's show of support meant more than any of us could imagine. "I don't think Colin would have believed that," adds Jimmy.
The loss was unimaginable, says Alister, Colin's brother: "It's obviously very tough. You can't really say how you come together as a family. It's just something that's happening to you; life can be terrible and you've just got to get on with it. But you don't ever get over it."
Three months after the fatal helicopter accident that claimed the lives of all four on board, Alister stood in for Colin, at the 2007 Race of Champions, alongside David Coulthard. He drove Colin's Subaru Impreza, and after stepping out the crowd delivered a standing ovation.
"That was probably one of the most difficult things I had to do. The support just showed what he meant to people," says Alister. He tails off, before stopping to compose himself. Almost 13 years may have passed, but the emotions will never be far from the surface.
---
The state of play for 2020
The World Rally Championship is back with some headline changes. Robert Ladbrook looks at why this could be another golden year for the sport
Rallying is a sport better not viewed through rose-tinted glasses. While you may yearn for the days of heroes like McRae, Burns, Toivonen, Kankkunen and co., what we have now is arguably even better.
Group B is remembered as rallying's most dramatic era, but the current-generation WRC cars are faster, safer and just as spectacular. Don't believe me? Check out the videos from last year's Rally Sweden and see Ogier, Meeke and others taking flight off Colin's Crest…
But it's not just the jumps, crashes, bangs and wallops that are rejuvenating rallying, it's the diminishing winning margins and the tight competition the new cars have created. After years of domination by drivers called Sébastien – in either Citroëns or Volkswagens – rallying's new age is bringing back the unpredictability. Last year every rally was won by less than a minute, and only four of the 14 were over half that. In fact, the average winning margin across the entire year was just 23.9 seconds.
"I think the sport now is closer than it has ever been," says M-Sport Ford team boss Richard Millener. "I know we're always looking for the next McRae and the next golden era, but we're enjoying one now.
"The way I look at it, if you compare the times at the finish of a WRC event to something like F1, rallying is often closer… and if you think of what we're doing – running events over 300km – compared to circuit races, that's incredible and shows how tough winning a world rally actually is."
It's even tougher when we have three truly stand-out drivers – Séb Ogier, Ott Tänak and Thierry Neuville – all fighting it out in cars that are technically incredibly similar. Citroën may have been and gone (again…), but Ogier is now mounted in a Toyota, with Neuville in his usual Hyundai, and reigning champion Tänak now trying out the sister i20 for size. M-Sport will field a new Finnish line-up of Esapekka Lappi and Teemu Suninen.
"The drivers are also so close at the moment," adds Millener. "You could argue there's a distinct top three of Ogier, Neuville and Tänak, but they're so evenly matched, and there's a host of others always catching them up, with our guys at the forefront of that. Even drivers with limited experience can post the odd great time, but the skill is learning to do it over three days. Previously a driver could have been 3min behind on day one, and still win. That's impossible now, as we're looking at 2-3sec between the top three."
"What we have now is good for the WRC. Audiences have increased, as have on-event spectator numbers, and we're seeing the knowledge of rallying generally grow. WRC All Live [the WRC's streaming service] has been a great tool to boost that."
M-Sport will fly the flag for British teams, but the driver situation has changed. With Kris Meeke out, Elfyn Evans is the big home hope, and now he's in a Toyota… opposite Ogier.
"It's the biggest test of Elfyn's career," adds Millener, who has overseen each of Evans' 86 WRC starts with M-Sport Fiestas. "He's with a factory team at the top level, and he knows he'll have to perform. The danger is, if you don't succeed in the first year or two, it can be career over. But we all know Elfyn can do it, and we want to see him do it. He'll always be part of the family."
And there will be a new Brit this year, with Gus Greensmith securing a nine-rally programme with M-Sport. He made his WRC debut last year in Portugal, before deputising for the injured Evans in Finland and Germany, doing enough to earn a shot.
"I'm not as expected to deliver points, so I can go at it flat out and take risks and see where I can end up at the end," he says confidently. "But who knows? If I drive well enough those nine rallies could grow. But I'm just thinking of this year rally by rally."