Formula E — the new power generation
Despite supply issues and tech trouble, Formula E returned in Mexico City for its much-vaunted Gen3 dawn. Sam Smith reports on how the likes of Porsche, Jaguar, Andretti, McLaren and Nissan were coping with their new, zippier cars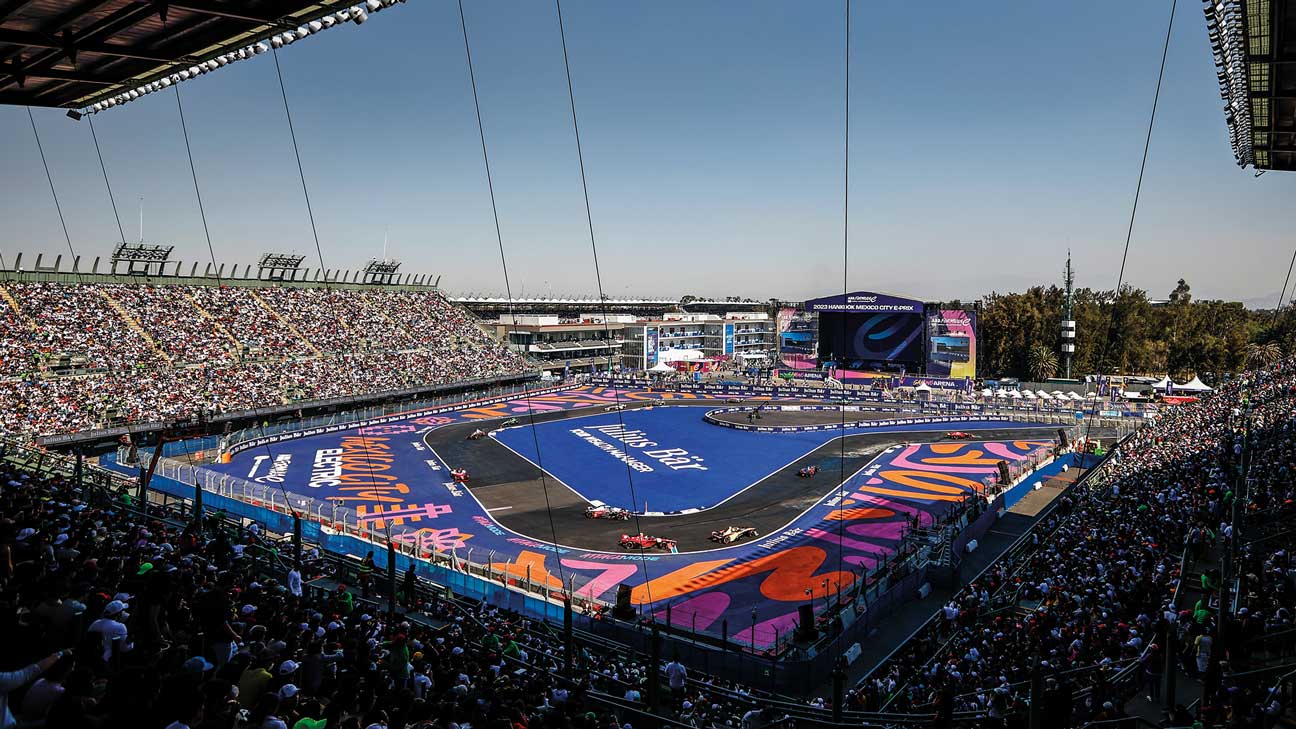 Almost a decade on from Formula E's birth, its third generation of cars brought a new electric circus to Mexico City in January. But whether its big-top performers created the desired spectacle is still to be decided upon.
When former FIA president Jean Todt presided over the birth of what he often described as 'his child', the notion of an electric championship seemed fanciful and foolhardy. Since 2014, when its fitful first season began, it has attracted more manufacturers than most other international series put together, achieved a fully fledged world championship status and become known as one of the best paydays for drivers outside the top Formula 1 echelons.
The boom season was 2019-20. That was when the four German giants Audi, BMW, Mercedes and Porsche first did battle with each other. Since then, three have abandoned the sport leaving Porsche as the slightly awkward- looking last German standing.
The Gen3 racers were supposed to quash the notion of the series' demise. They are the most technologically advanced seen so far. They are wringing much more regenerative energy, have no rear friction brakes, are lighter and more powerful and eventually will be able to carry out fast-charging pitstops.
"There was a palpable sense of trepidation as the cars took to the track"
Getting them on track has been no easy task. Problems have plagued development and delayed the start of the season by a month as teams struggled to be ready in time. For a start the pouch cells in the Williams Advanced Engineering-supplied battery had to be changed last February after it became evident they did not meet the tender spec. Then, a problem with oscillations affecting the unit curtailed several manufacturer track-testing days, causing Porsche to publicly express its displeasure.
This issue was eventually cured. But it meant that the plans for a fast charging pitstop, which would see cars recharge in 30 seconds, would be delayed until at least halfway through the season. It will mean a wholesale change of the sporting regulations mid-campaign.
The most concerning challenge though is of implementing a secondary mechanical braking system to be used in case the 'brake-by-wire' and regenerative braking systems failed in the event of a technical fault.
Testing of the new system was anything but successful resulting in several crashes, one of which saw test driver Theo Pourchaire leave the track and end up on a sandbank at Circuit Calafat in Spain. Investigations established that the implementation of a front MGU to increase regeneration, by reclaiming energy into the battery at double that of its Gen2 predecessor, was part of the problem.
This was because the regen capability of 600kW combined (front and rear), being achieved by using both powertrains, was making use of the front friction brakes minimal. So when there was a shutdown of either the Rechargeable Energy Storage System (RESS) or powertrain the cars – with no rear hydraulic brakes and stone-cold fronts – were inclined to be involved with accidents.
The FIA has promised to fast track a working 'secondary braking system' but that it wouldn't be ready for the opener at Mexico City. The result was that far from there being an atmosphere of excited anticipation, there was instead a palpable sense of trepidation in the paddock as the cars took to the track.
It appeared in the first practice session that any fears were unfounded, but then Mitch Evans pitched his Jaguar into the wall on his in lap. That triggered an investigation at Jaguar, but it was confirmed that a non-manufacturer part of the car had begun this particular chain of events. There were almost audible sighs of relief when no similar accidents played out in qualifying or the race itself.
The reliability, in fact, was good in the race, which for the first time for three seasons was held to laps rather than the previous 45min and one lap race distance.
Sam Bird's driveshaft failure on his Jaguar was the only one of five retirements that was mechanical. There were, however, other issues during the race, such as Jean-Éric Vergne's battery derating on the final lap and a problem with the LED lights that state when a car is in the more powerful attack boosted mode.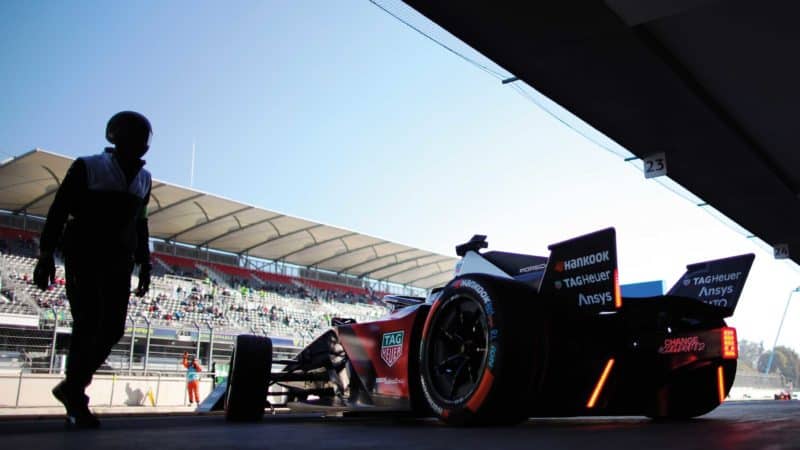 The race itself was intriguing, with Porsche coming to the fore with both its works and customer team Avalanche Andretti, which produced a landslide of points via Jake Dennis's imperious drive and a supporting fourth from ex-Porsche works team member André Lotterer.
Dennis has gone from sensational rookie to likely title contender in a little over two years of racing, reigniting a career that in single-seaters, at least, looked to have dimmed if not extinguished completely. He claimed a sensational front row start despite a dilapidated front-wing in the closing stages of the one-versus-one knock-out duels phases, and only lost out to eventual pole sitter Lucas di Grassi thanks to two small but crucial braking errors.
In the race it was di Grassi's turn to misjudge the breaking point for Turn 1. This allowed Dennis to pounce and then immediately build a lead from which he was never challenged.
"On the evidence of Mexico City the season looks promising"
A winning margin of 7.8sec is gargantuan in Formula E terms and triggered wild celebration from team principal Roger Griffiths, who told Motor Sport after the race how prized Dennis is to the Michael Andretti-owned squad. "He's a phenomenal talent, really strong in all areas and he never stops impressing us," he said. "I think we suit his style and his personality here at Andretti. He's got a great engineering team around him and he's a driver who needs stability. He keeps getting better."
Porsche's day improved further when the 2022 Mexico City ePrix winner Pascal Wehrlein made it through from sixth on the grid to second behind Dennis, while di Grassi fought tooth-and-nail in an energy poor Mahindra to hold off a pack of four drivers to take a surprise podium in his first race for the Indian-owned, British-based manufacturer.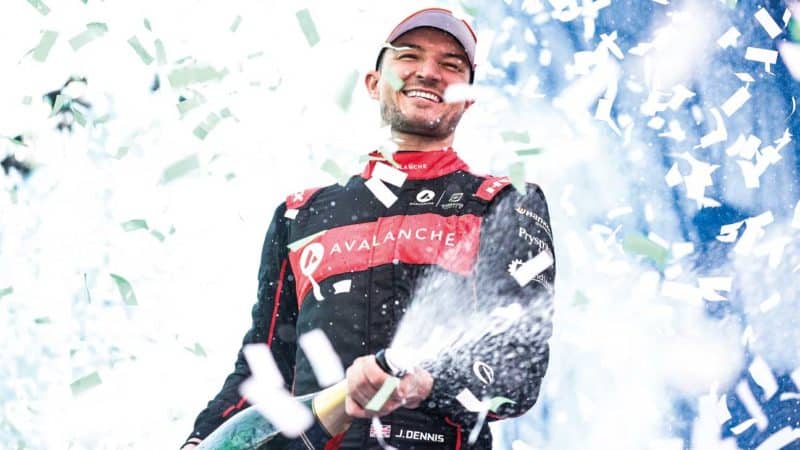 One of the stars of the weekend though was Formula E newcomer Jake Hughes driving for NEOM McLaren. Starting his first race from third he held his own until the second phase when he was cleared by Wehrlein and then was the victim of a Lotterer mugging at the back chicane on the penultimate lap.
While there was joy for some there was pain for others, and in Robin Frijns' case it was literal. The ABT Cupra driver had an innocuous looking accident when he was rear-ended by Nissan driver Norman Nato on the first lap. In reality his hand got caught in the steering wheel and he suffered several broken bones in his left hand and wrist.
It will be a long road back for the Dutchman too because the Gen3 cars are extremely physical to drive. That, added to the mental gymnastics of sending crypto messages on energy levels back and forth to engineers is really testing the dexterity of the drivers.
"We have no steering assistance at all on these things and they take a fair bit of ringing their necks," Envision's Nick Cassidy said. "They are lively and incredibly difficult to optimise. With the power-to-grip ratio its super hard to get to maximum speed. We'll be playing with these things all season I'm sure."
On the evidence of Mexico City the season looks promising; the closeness of competition in Formula E is something it revels in and in the first Gen3 race the qualifying groups were incredibly tight with just 0.2sec covering the first eight of the initial group. Getting the new Hankook tyres in to the temperature sweet spot for the knock-out phases is going to be a common trait and is sure to mix up the grids.
Additionally, the races look like they will see less of the tombola-style position changes as in previous seasons. The cutback on attack boost still means strategic racing but with more draggy cars – mainly due to the open-wheeler nature of them compared to the all-enveloping bodywork of Gen2 – the task of making moves is more difficult.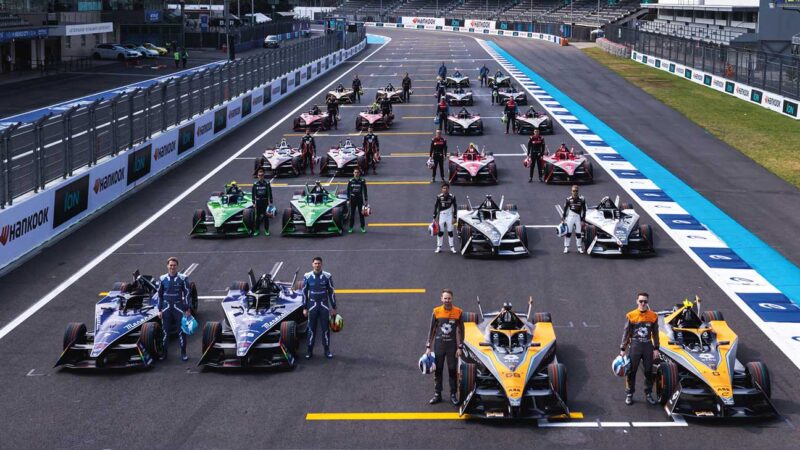 That should present a decent championship narrative and with unknown tracks at Hyderabad, Cape Town, São Paulo and, in the US, Portland, surprises will be a feature.
Beyond the track Formula E has a lot to do to establish itself and it can no longer rely on some of its old tropes. One of these was embellished by Formula E chairman Alejandro Agag in Mexico City when he said that the issues faced by teams ahead of the 2023 season were merely "part of the unique challenge".
"I love the process of Gen3," said Agag. "Of course, you will have heard in the paddock about how difficult it is, how many challenges there are, that this and that doesn't work, it's difficult and tricky. That's what Formula E is about. The challenge."
That may rile those who have struggled to get their cars on the grid amid a chronic parts shortage in the run up to the pre-season test in Valencia and disruption caused via the reliability problems of the spec battery.
Beyond that, Formula E needs to penetrate further than it is doing. While it claims to be attracting fans, its TV packages are still erratic. For example, the big Gen3 opener in Mexico City, on a weekend when the only other motor sport show was the Dakar, was not available live on any UK terrestrial channel. Rather it was shown on Channel 4's YouTube platform.
Formula E needs more consistency. Its core ingredients are there but it needs a leg up to a new level. In a fast-changing world it has to prove it can be the future of motor sport rather than be viewed as a niche curiosity.
---
What's new for 2023?
Formula E's most striking changes this season can be found in its Gen3 racing car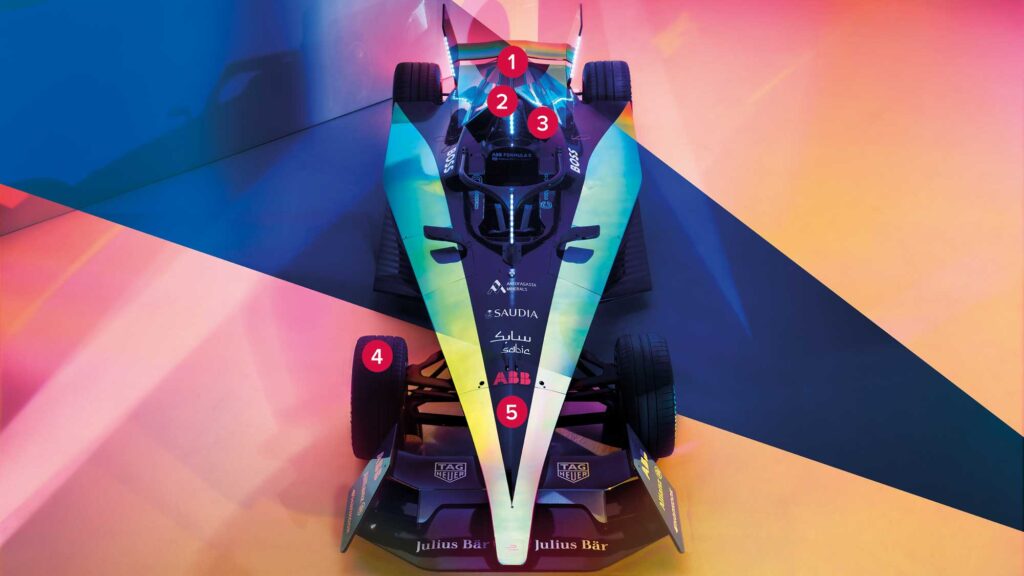 1.  Fast charging
Introduction of fast-charging pitstops lasting just 30sec is expected mid-season with an ultra-high-speed charging capability of 600kW for extra energy during a race
2. Powertrains
The front powertrain brings 250kW to the 350kW manufacturer powertrain cluster at the rear, more than doubling the regen capability of its Gen2 predecessor
3. Power efficiency
There is now around 95% power efficiency from the electric motor delivering up to 350kW of power (470bhp equivalent), compared to approximately 40% for an internal combustion engine
4. Regen braking
More than 40% of the energy used within a race is now produced by regenerative braking on a car that features no conventional rear traction brakes
5. Race pace
Despite the additional power the increase in pace at the pre-season Valencia test was just 0.7sec like-for-like on the Gen2